Hello Friends, let's talk about StockEdge Premium Version.
Our free features of StockEdge App are so user-friendly that you can't resist knowing more. You must have seen our scans which is a powerful tool to filter stocks in a flicker of a second. This makes your work much easier and saves your time so makes your trading and investing more targeted.
Thus we focus on making stock markets much easier for you through our charts, scans and ready tools. So we provide you with a full platter of StockEdge premium features to trade right and sit tight.
Let us see what we have in our StockEdge Premium version of the Stockedge App for you.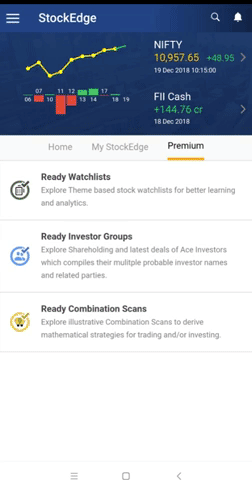 Feature 1: Advanced Technical Scans
We have inbuilt Bullish and Bearish Technical scans to help you filter out stock within seconds to trade in. We have many scans like Exponential Moving Averages (EMA), MACD, ADX, ATR, Bollinger Band, Stochastic & Parabolic SAR as paid scans. These algo based scans help you identify stocks for next day just by a single click.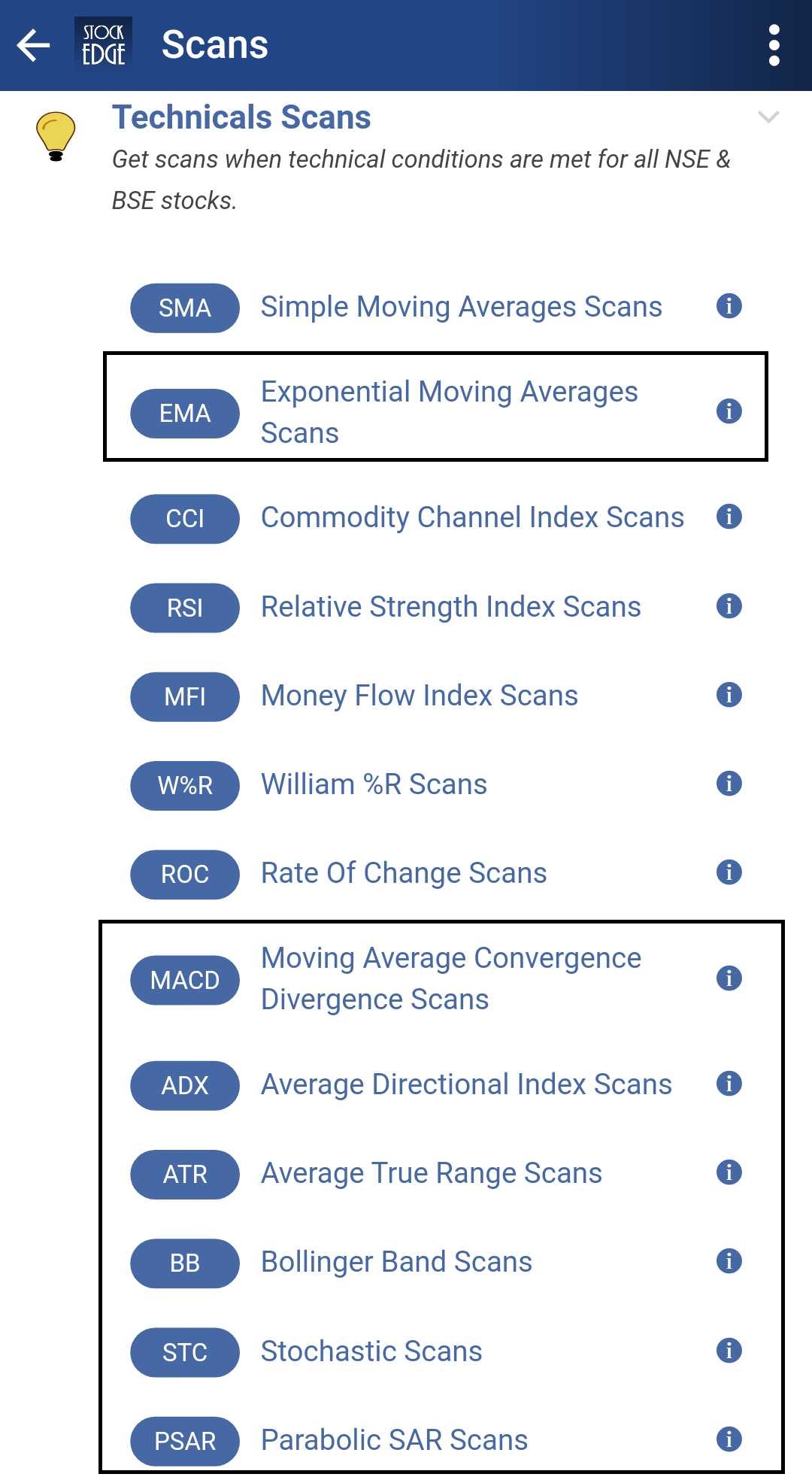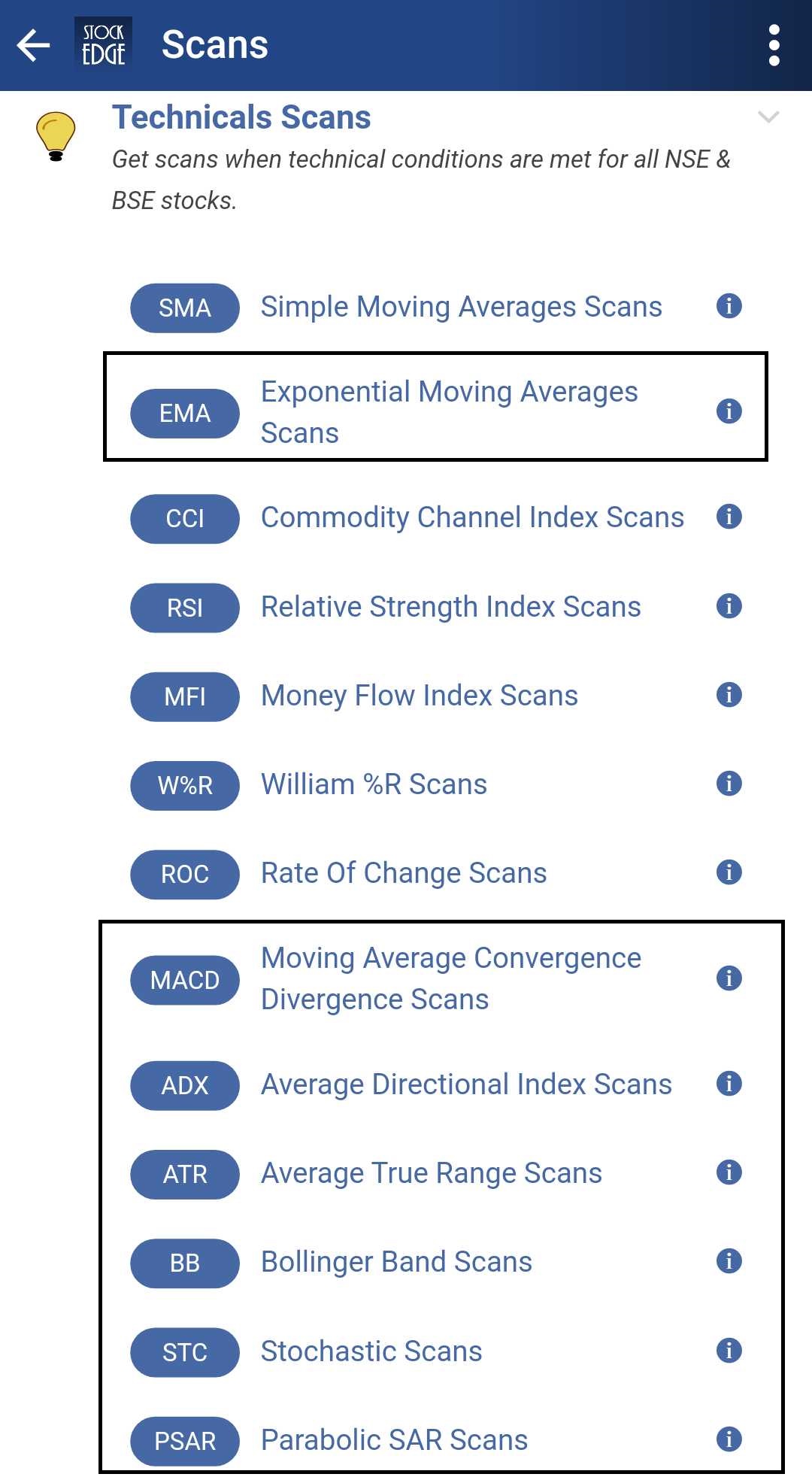 Feature 2: Fundamental Scans
We also have inbuilt Fundamental scans which will help you to filter good or bad stocks without having to spend hours on fundamental research. We have 50+ fundamental scans based on profitability, sales, PAT, EPS, important ratios like Free-cash-flow, Operating cash flow, PE ratio, DE ratio etc. These scans will also help you with your trading as well as investment decisions.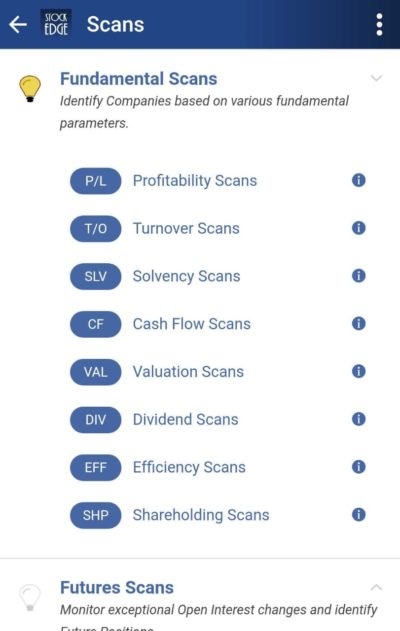 Feature 3: Combination Scans
You can even combine Technical and fundamental parameters and see its effects on the charts or build your own techno-funda parameter with a combination scan to identify stocks which will fulfil the combination of parameters selected by you.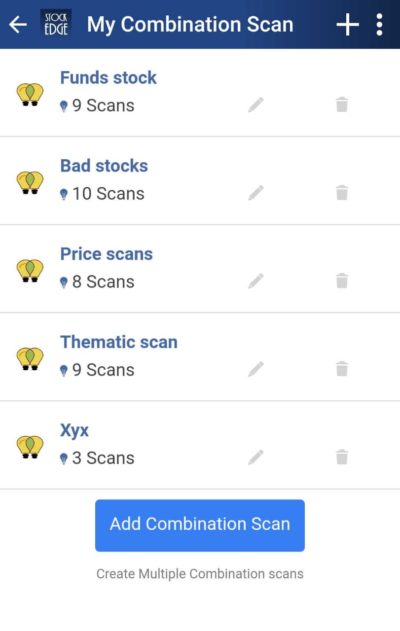 Feature 4: Advance charts
This is for the first time that you can plot fundamental indicators in the chart that too on a mobile app. The Advance charts will let you plot your own indicators to understand the technicals with fundamentals in the charts. You can even save the template for future use.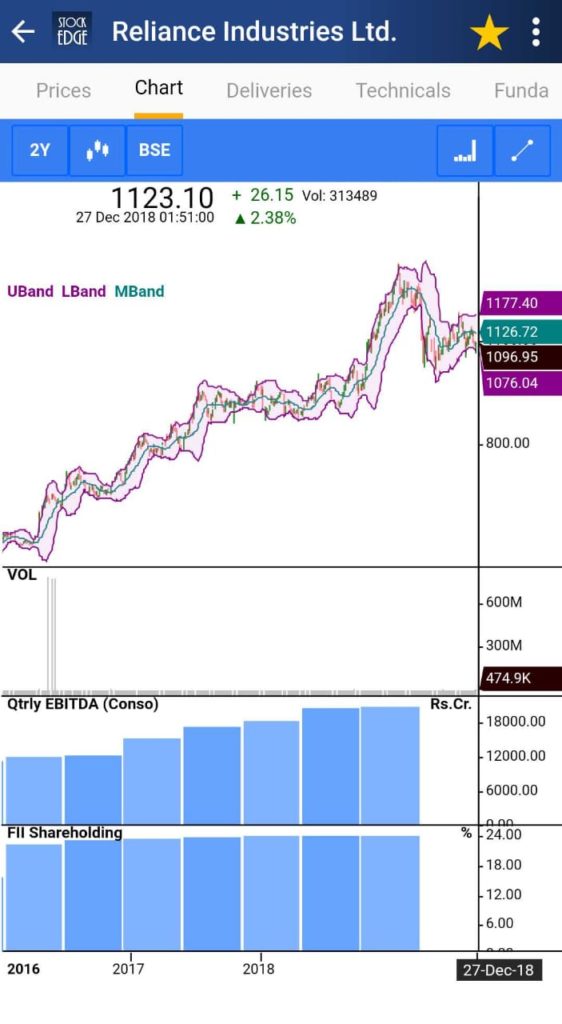 Feature 5: Ready Investor Groups
Get access to the Readymade portfolio of more than 150 Ace Investors like Rakesh Jhunjhunwala, Dolly Khanna, Porinju Veliyath, Vijay Kedia, R K Damani and many more. Start following them and understand their investment style. With this feature, we have solved the problem faced in having a holistic view of these investors as the investments are in different names which include spouse, children different entity etc. For eg, we have combined all 76 investors and give you latest consolidated holding of Rakesh Jhunjhunwala. 76 names include his wife Rekha, father Radeshyam, Rare Enterprise etc..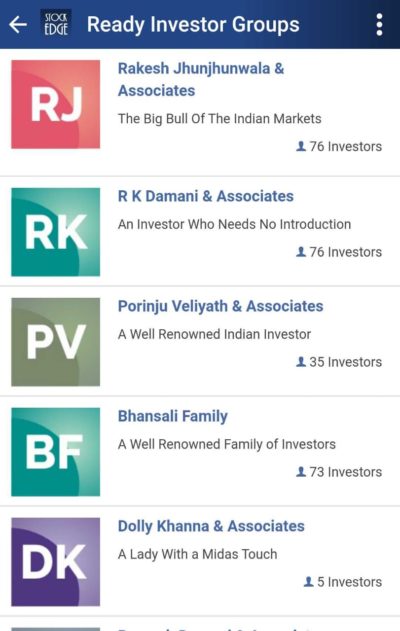 Feature 6: Ready Combination Scans
Now learn, analyze and apply trading strategies from a choice of bullish and bearish intraday or swing trading strategies. We design them from a combination of multiple scans while you can focus on identifying quick opportunities.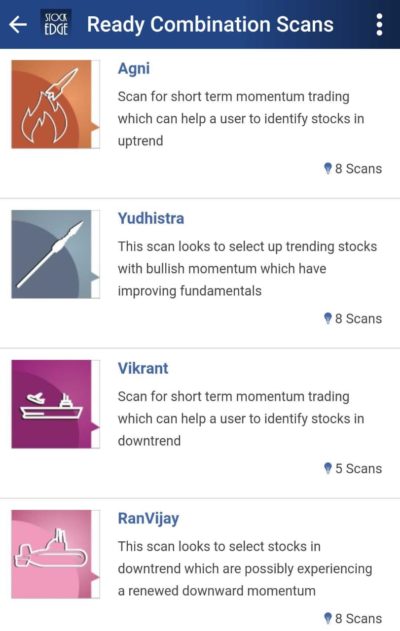 Feature 7: Ready Watchlists
Identify and track stocks which are likely to be impacted by current themes like Rising crude prices, Falling Rupee or Upcoming Elections. Regularly updated by us, Readymade for you!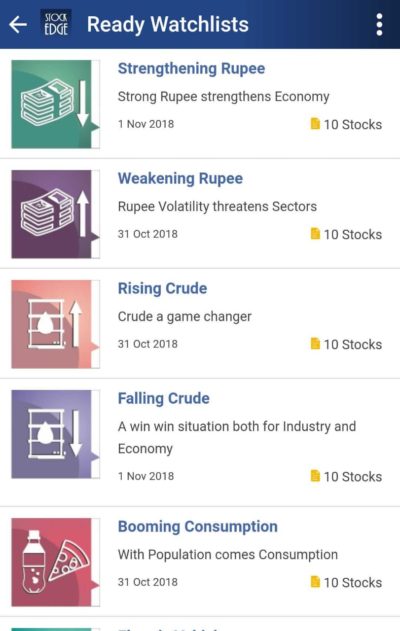 Stockedge Club
You can become our paid member by one more criterion that is to join the Stockedge Club. There you will not only have the facility to use all our paid features but also have another facility to have access to our Technical as well as the Fundamental Club to help you to understand on a real-time basis and solve all your query regarding any stock. Thus we help you out with any stock that you are stuck in based on which you can take your own prudent decision. We help you to understand and gain knowledge in the club and become a smart investor.
There are also some freebies which come with the club membership, you have access to our 12 paid informative webinars which are free for our members and attend 1 Annual Chapter meet in your Chapter city which will be exclusively for Club members only.
Bottomline
To be an Informed and Intelligent Investor our app is the one which will make you stand out of the crowd and make you a more prudent and wise investor in undertaking the right decisions.
So what are you waiting for subscribe for our App, become our member and be a Happy Investor or a Trader.
Subscribe Now: StockEdge Club