Let's discuss about Fundamental Stock Scanners:
In the stock market many a times, companies despite having a good business model and steady top-line growth, fails to survive in the long run due to inefficient debt management or operating expenses management.
Moreover, any economic slowdown along with the fears of policy paralysis, political instability, etc. set the stock market in a downward spiral and also has a much more pronounced impact on companies, having higher levels of debt on their balance sheet.
Thus, it becomes imperative for investors then, to stay away from high debt companies, as such companies may find it difficult to maneuver financial growth and meet their estimates, especially during fear or uncertain situation.
But during these situations one should think of buying some fundamentally sound stocks at reasonable valuations, but when it does become cheap, the fear factor grasps the mind.
Thus here StockEdge comes as a relief for Investors to find fundamentally sound stocks.
How to start
For finding stocks from 5000 listed entities you need to check out Fundamental stock scanner under StockEdge. So let's understand its importance for understanding in picking right stocks for investing with sound Financials.
By using the My Combination Scan under My StockEdge feature you can filter out the potential companies that have reported improved profitability along with steady financial risk profile, to determine the best investment option.
My Combination Scan
StockEdge App allows its Premium Members to devise their combination scans by using the various scans available, under the seven broad scan parameters. However, one needs to keep in mind that only 10 scans under the broad parameters can be incorporated in a single combination scan.
This way one can create multiple scans based on various profitability and solvency criteria. One can create 20 such combination scans in the App.
How To Create My Combination Scan?
At first, click on My Combination Scan under My StockEdge. Thereafter, click on Add Combination Scan, where you can name the scan, as per your preference, and then click on Add.
Next click on the scan name, this will lead you to a blank page with a plus sign on the right corner. By clicking on the plus sign, you can add scans of your preference (maximum 10), available under the seven broad parameters.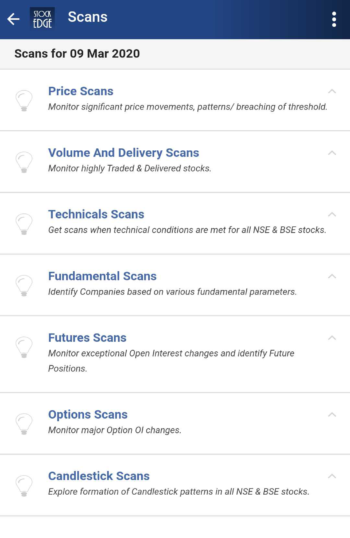 Here, we are discussing scans that will help you to screen stocks with improved profitability and solvency. Thus, you need to choose your set of scans from the Fundamental Scans segment.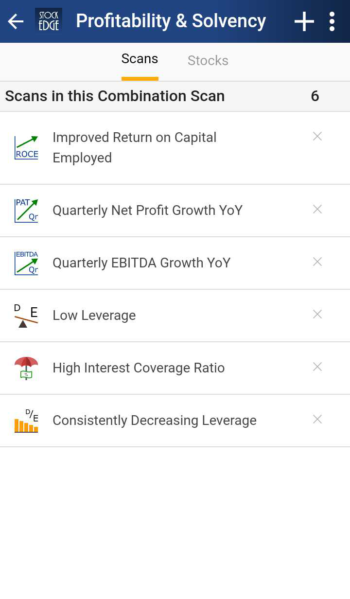 For Profitability and Solvency Scan, we have chosen six scan parameters, belonging to the above segment, which are:
Improved Return on Capital Employed
Quarterly Net Profit Growth YoY
Quarterly EBITDA Growth YoY
High Interest Coverage Ratio
Consistently Decreasing Leverage
Once you have added the preferred scan parameters, thereafter click on 'Stocks'. This will provide you with the list of all stocks that conform to the set scan parameters of improving profitability along with strong financial risk profile, using which you can determine the best investment option.
Filtering Companies
One can choose filters, available in the filter section, to limit the stock flow in the scan such as Market Cap, Sector, Price and others.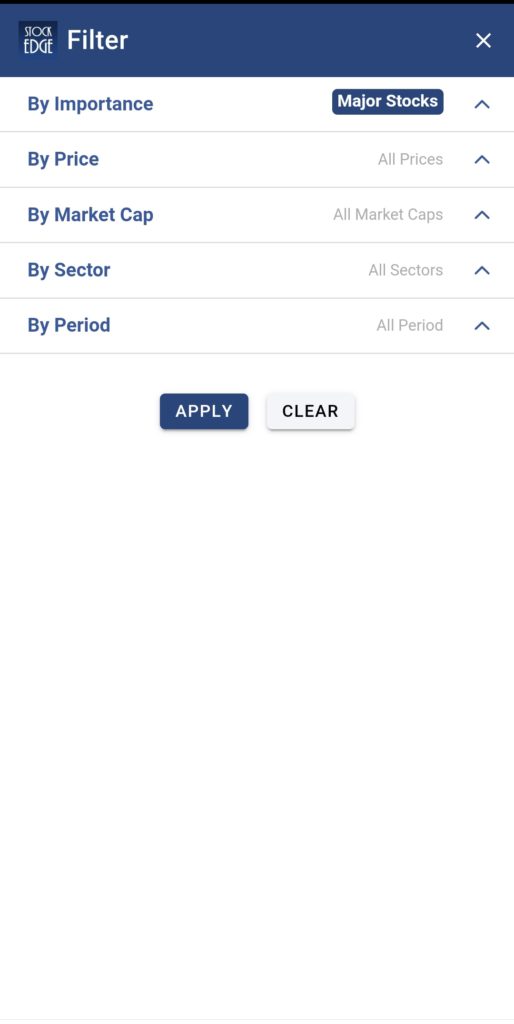 Conclusion
So StockEdge is the only app where you get filtered information, which helps in making your analysis faster, better and easier within minutes. So what are you waiting for start using scans today and become a profitable and smart trader cum investor. These scans are part of the premium offerings of StockEdge app.
The above scans should be viewed both in isolation and in combination (using the unique feature of StockEdge called Combination Scans) as per the user's preference or requirement. The scans will help in filtering the noise and help to pick good companies.
Rather than getting extremely pessimist when the market slides, one should look for companies which can outperform based on their reported Financial numbers and various other parameters.
From the history it is evident that the markets have shown strength after all the major crisis, be it Dot Com bubble, Lehman Crisis, Demonetization, Br-exit and many more.
Few scans discussed are free while few are part of the Premium section.
Join StockEdge Club to get more such Stock Insights.

You can check out the desktop version of StockEdge.