Let's discuss about Total Funds.
We all love to keep our savings in Fixed Deposits and earn good interest on it !!! Right.
But have you ever wondered if the banks only pay us interest and do not lend out to receive interest then how will they ever survive?
The interest expense is the amount paid on the deposits accepted by the bank. It tells us about the cost of funds with respect to deposits. Interest expense is a non-operating expense shown in the income statement. It represents interest payable on any borrowings such as bonds, loans, convertible debt or lines of credit.
Watch the video below on Interest Expended to Total Funds (%):
Importance
The amount of interest expense has a direct bearing on profitability, especially for companies with a huge debt load. Heavily indebted companies may have a hard time servicing their debt loads during economic downturns. The lower the percentage, the better it is. While interest expense is tax-deductible for companies, in an individual's case, it depends on his or her jurisdiction.
Impact
The interest expense should not be too high for any banks. If it is high, it would mean that the banks cost of funds is very high, which means that the bank is accepting deposits and paying interest on it but is unable to deploy the same to generate higher returns on those deployed funds, which will affect the profitability adversely. Lower the interest expense, better it is for any bank or financial institution.
Formula
Interest Expended to Total Funds (%) = (Interest Expense/Total Deposits) X 100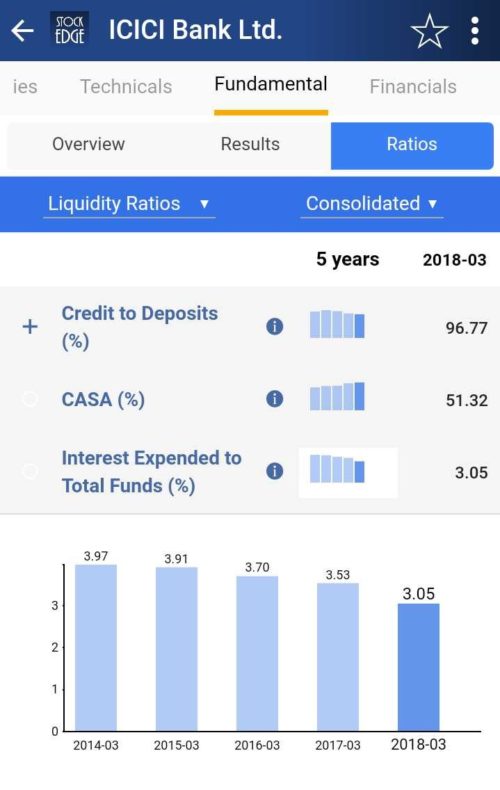 Explanation
Suppose a bank ABC has an interest expense of Rs. 60,000 and its total deposits is Rs. 10,00,000 Lakhs.
Then,
Interest Expense to Total Funds (%) = (60000/1000000) X 100 = 6%
It is presumed that a ratio lower than 10% is expected to be good for the banks.
See also: Interest Income To Total Funds (%)
StockEdge App
With Stockedge we don't have to calculate Interest Expended to Total Funds ratio (%). It gives us the Interest Expended to Total Funds ratio of the last five years of any company listed in the stock exchange. We can look and compare Interest Expended to Total Funds ratio (%) of any company and filter out stocks accordingly.
Suppose we want to look at Interest Expended to Total Funds ratio of ICICI Bank Ltd for the last 5 years then, click on the fundamentals tab of ICICI Bank Ltd, we will get Ratios tab.  Then in the Ratios tab click on the Liquidity Ratios, we will get Interest Expended to Total Funds ratio (%) of ICICI Bank Ltd.
Bottomline
Interest Expended to Total Funds (%) of any bank is an important financial component to look at when analyzing a Bank. It can be compared on a yearly basis and with other banks to understand the cost-efficiency of different banks. With a click of a button, you can see the comparison of bank'sInterest Expended to Total Funds ratio (%) for five years.
Click here to know more https://www.stockedge.com/Plans/basicmembership.