Hey Guys, what's up?
StockEdge, have you heard of it? Enjoying the rally in the market? Not yet? But why? Common, the kids have started flaunting about their recent profits and the cab drivers have started discussing it which they made using our app.
The Stock Market has been booming for quite a while now. Participation in the market has increased, regulations have been tightened up by the SEBI, to protect the investors and encourage more participation. Markets have been constantly rewarding the smarter breed. Don't you want to be in that club? Of course, you do, but how?
We believe that all individuals with varying levels of risk appetite, financial competence, and knowledge have the ability to understand the markets and reciprocate their learnings in their trades and investments, with one motto and that is to make you INDEPENDENT when it comes to stock analytics and research. We as a team have been working very hard to add new features in every app release to get you the best of our product.
So to help the trading/investing community and encourage the Millenials to learn, StockEdge has come up with varied free and paid features to filter out the noise and get crisp and precise data points that will help the users to start to understand the core concepts from scratch and enhance their research/trading skills to gain a competitive edge over the other players in the market.
Below is the list of some key free features provided by StockEdge for their users :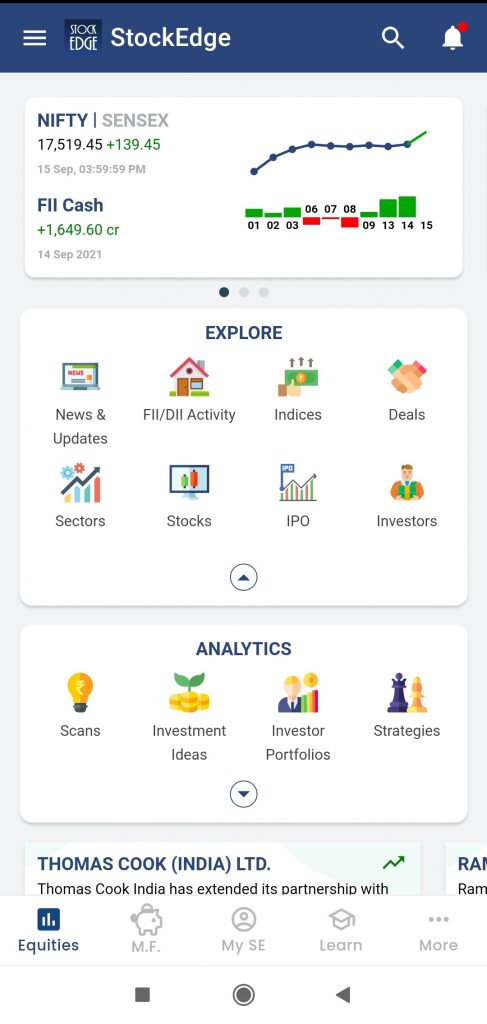 Below is the list of some key free features provided by StockEdge for its users :
Tracking Markets
Daily Updates
To be an active participant and get benefitted from the market, one needs to be real-time updated with all the key news, announcements, forthcoming corporate actions and results, daily stats of indices, and all kinds of bulk, block, and insider deals happening on a daily basis. Thereby, Stock Edge brings all these key and crucial data points under one section – 'Daily updates' further divided into tabs and subtabs giving users a simple and easily accessible experience.
Filtered News and Announcements can be checked in seconds.
Track the FII DII activity in all segments
Know the forthcoming corporate actions and results before hand to time your investments.
Track the market performance and trends via tracking how the indices have performed.
Get a daily update of filtered bulk, block and insider deals to track your favorite stocks and investors.
Track the activity of all major 4 participants in the index and stocks.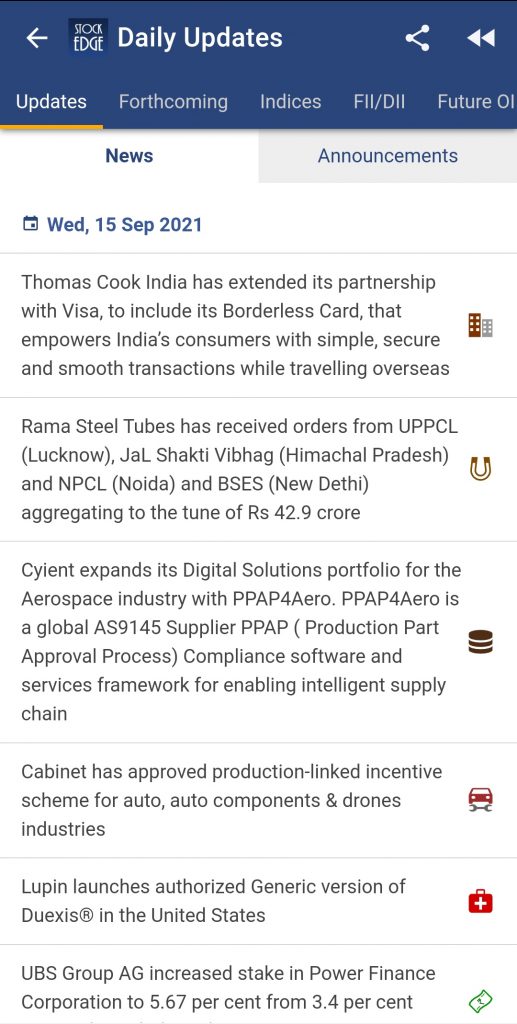 Scans
StockEdge comes with 300+ powerful scans with more than 100+ free scans. There are 7 categories of scans with respect to usability and value. For trading, there is a function called price scan that will filter out stocks that are qualified for fulfilling the respective criteria of the price movement. It could be the price movement over the last three days, weeks, or even months. When you click on a stock, a technical chart relating to that stock will appear, showing you the direction of the stock's price movement. As a result, you can determine if it has been in a growing or decreasing trend, and then take trades accordingly.
You also have Volume and Delivery Scans, which will tell you if any of the stocks have had big volumes or high deliveries, allowing you to do your own research via tracking the activity in your respective favorite stocks before initiating trades.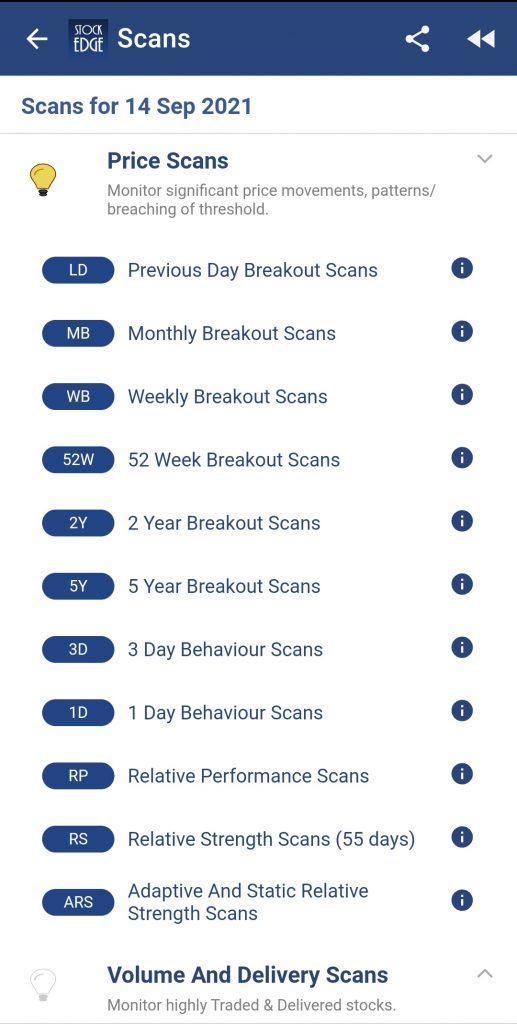 Some technical and fundamental scans are also available for free, allowing you to filter out stocks based on free criteria such as SMA, CCI, RSI, MFI, and others. Futures, Options, Candlesticks, and another fundamental scanning, such as filtering stocks based on ROE, Turnover, Leverage, PE, Dividend, and so on. For example. Stocks that move above the 50 SMA are considered strong, while those that move below it are considered weak in the current period.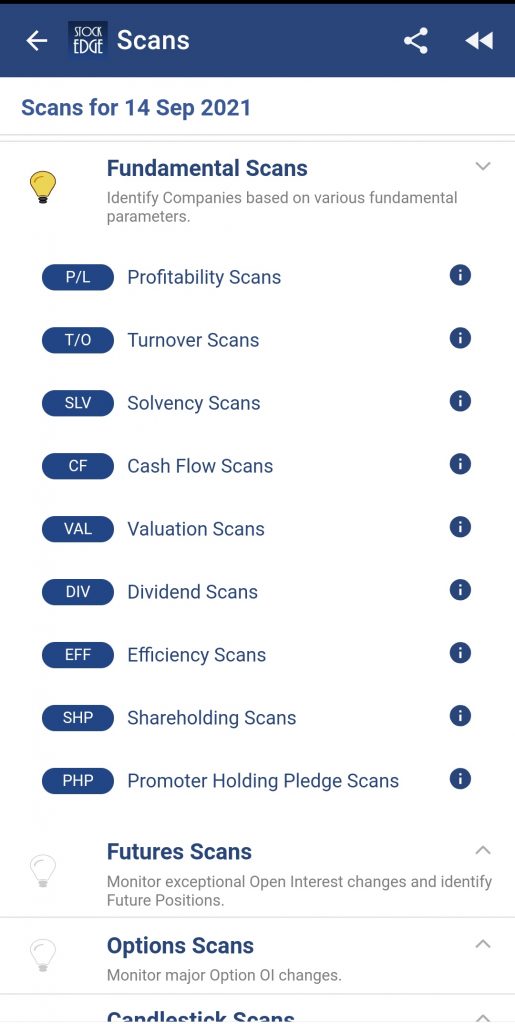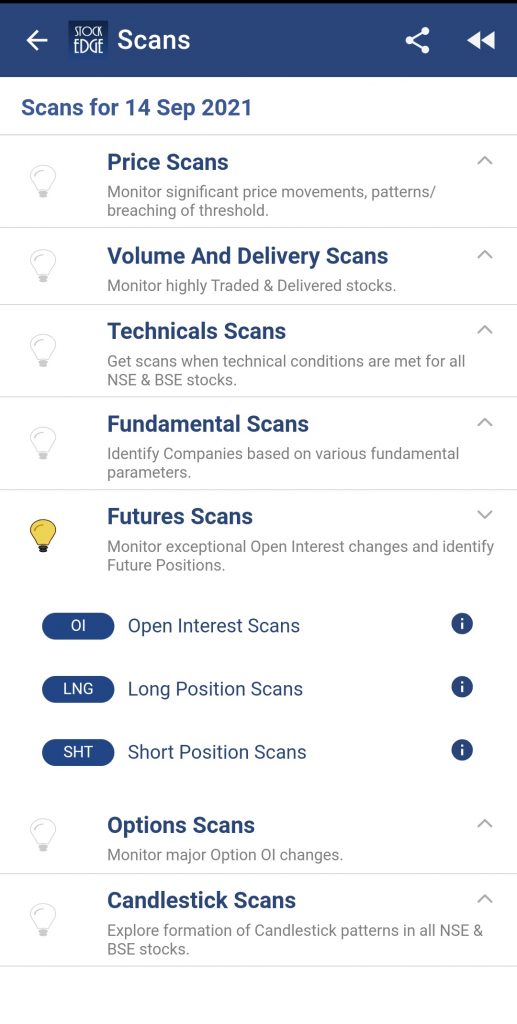 Fundamental
To invest in any company, it is very important and vital for the investors to know about the fundamentals of the company, the management structure, financials, key ratios, and many more.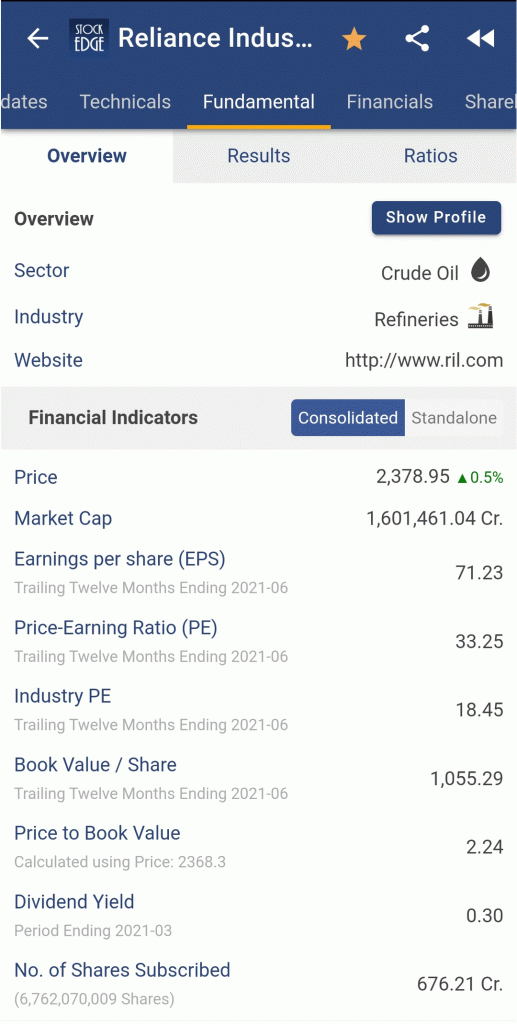 A full report on any company, including profit and loss, cash flow, balance sheet, quarterly results, ratios, deliveries, and holdings, may be viewed in one click for 9 years of data. You can get a more complete report on the data by clicking on any candle, such as Inventory, Cash from operations, Accounts Payables or Receivables, Free Cash Flow, and so on. As a result, you'll have a more complete picture of the stock, which will help you decide if it's a good or terrible investment.
The app also includes standard information about the company's operations, shareholding patterns, corporate actions, and key ratios such as PE, P/B, EPS, Book Value, Face Value, No. of shares subscribed, and technical charts, technical scans, and fundamental scans, as well as technical charts, technical scans, and fundamental scans. As a result, its everything about a stock under one section.
Mutual Fund Data
StockEdge provides its users a Mutual Fund section which provides each and every data point required for researching and analyzing different schemes at ease with categorized and well-designed structures. Data is classified and provided as per the AMCs, Schemes, Classes, Fund Managers. There is also a section named AUM Analysis that provides key analysis on the basis of assets under management with respect to schemes, AMCs, and monthly periods.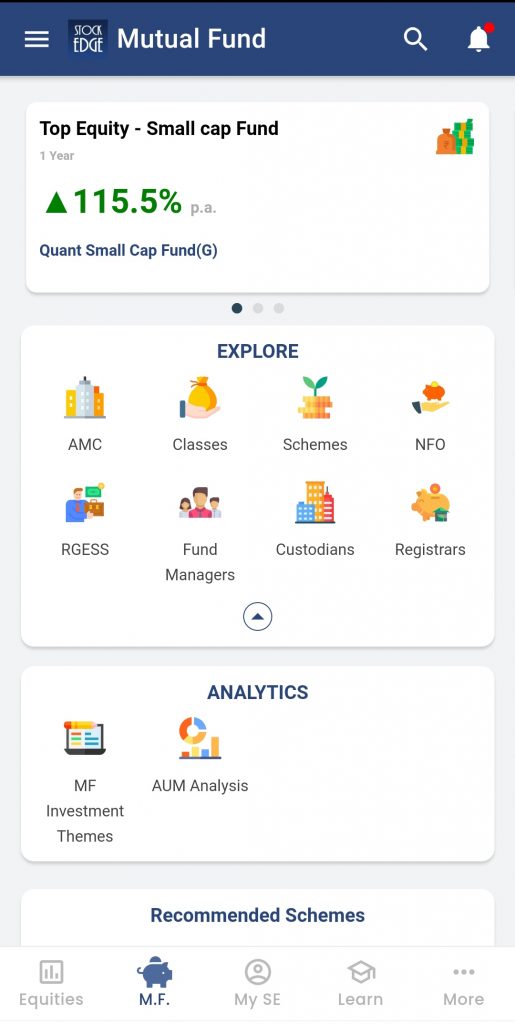 Learning
StockEdge also provides a Learn section wherein with different app tutorials and videos and courses that will guide the users to understand technicals and fundamentals in the app and enhance their understanding of varied market concepts through Youtube videos and courses.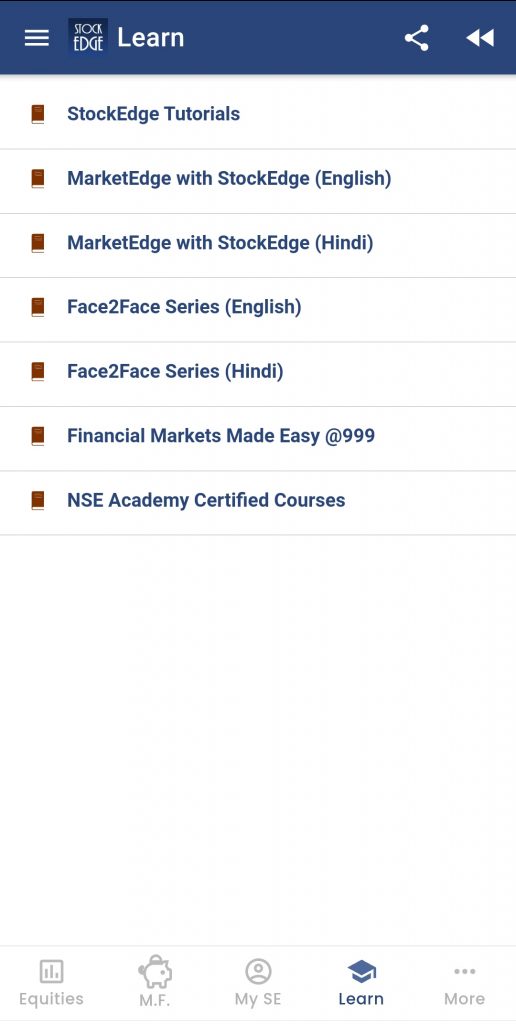 My StockEdge
The app also features areas that are specifically designed to allow you to personalize it so that you can easily make your own trading selections. My Watchlist, My Investor Groups, and My Targets are all available in the My StockEdge section. You can use them to make your own watchlist and stay up to date on your stock's fundamental and technical movements in minutes. In our Investor communities, you may establish your own investor list of people you admire and stay up to speed on their current portfolio. You can even set your own goals and trade only the stocks that meet your requirements.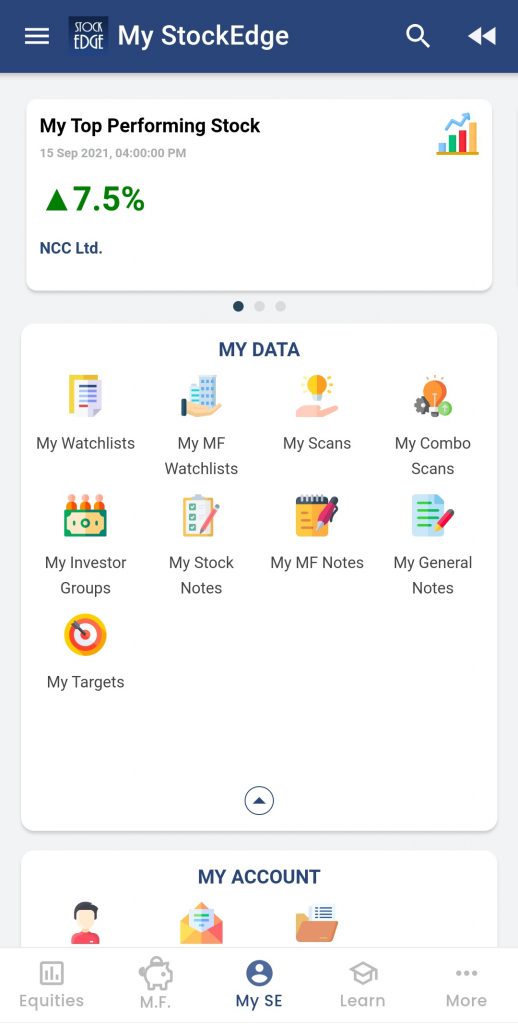 Bottomline
StockEdge strives to provide you with a better stock-screening experience, which is why we keep on adding an array of scans and filters. So, head over to the app and start using our free features right away! And we can promise, you will agree to the fact that there are a lot of free features available and you will share this wonderful app with your loved ones, to them help them get financially independent.
So don't wait! Download it right now and enjoy making money from our App.
Subscribe to StockEdge for various plans.
Visit StockEdge blog section to read more blogs.