Everyone wants to make money from the stock market but do not have time to go through the lengthy process of research, stock selection, and the right trading strategy.
Students want to make pocket money and housewives want to earn some for their special requirements. Some want to earn because their passion is stock markets others have heard that trading in stock markets is very easy if you want to make a quick buck. Thus, if you don't have time to research or read the news then too you can trade with various options given under our Stockedge App.
Yes, the Stockedge App is the one stop shop, for all your trading strategy requirements.
Now the question arises how? Is it possible? So here's the answer.
StockEdge App has made it very easy for all kinds of Traders and Investors to trade swiftly and easily. You can not only find good stocks with ease but can also see the price movement and charts to decide your trading strategy and all this comes for free.
So how do you go about it?
First Trading Strategy- Technical Scans
We have some scans like price scan, options scan, futures scan which help you filter out stocks having a bullish momentum or a bearish momentum. Thus with a click of a button, you are ready to trade without much hassle. We also have an option for people to set their targets or stop losses for their stocks as an alarm in the App. Thus this helps you to do your work with ease and even trade without tracking on a regular or a daily basis.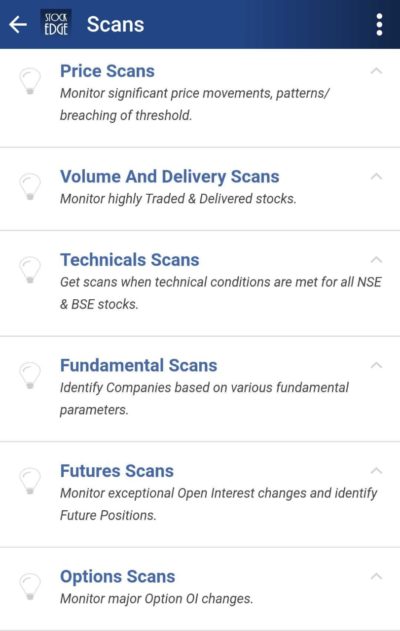 Second Strategy- Bulk/Block Deals
We have a feature called deals in the home page of our App. Now, these deals are regularly updated. Thus based on these deals you can decide quickly for a trade. Whenever an ace investor enters or exits a stock you can also follow them in their footsteps.
Third Strategy- My Investor groups
My Investor, under this you can create your own Investor group then with the add button you can add 50 investors at a time in one group by clicking on the star icon. When you click on their names you can see the various deals done by them and the price at which they bought or sold.
Click on the stock it will by default take you to the chart. So if the angel Investors like RJ or Porinju etc have bought or sold those stocks and if the charts are favourable then you can follow them. Thus without research within minutes, you have an idea with the help of the Stockedge. We also have an Investor group section which tells you which investors were recently active in which stock thus looking at them you can take your own trading decision.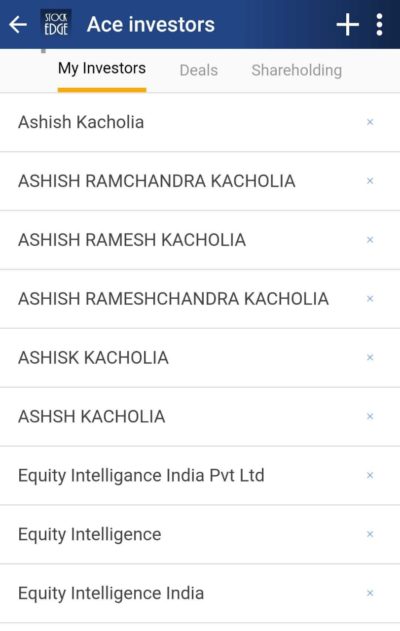 Fourth Strategy- My Watchlist
We have an option whereby you can create watch lists of your own stocks under my StockEdge and stay updated with the movement of your stock. With the inbuilt scan feature available you can devise strategy according to what our scan says about your stock. When the scan seems favourable then you can think of adding more to your portfolio or vice a versa.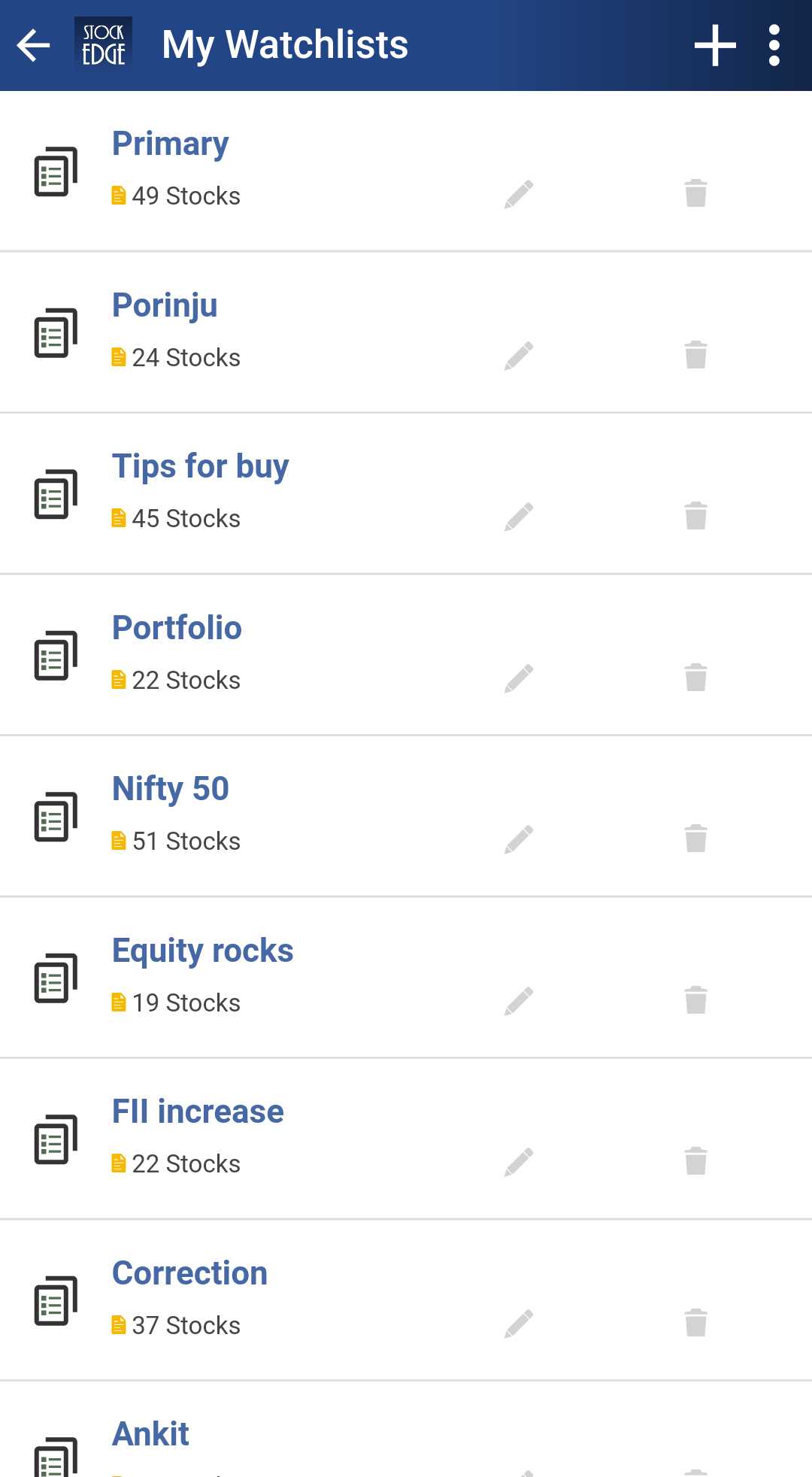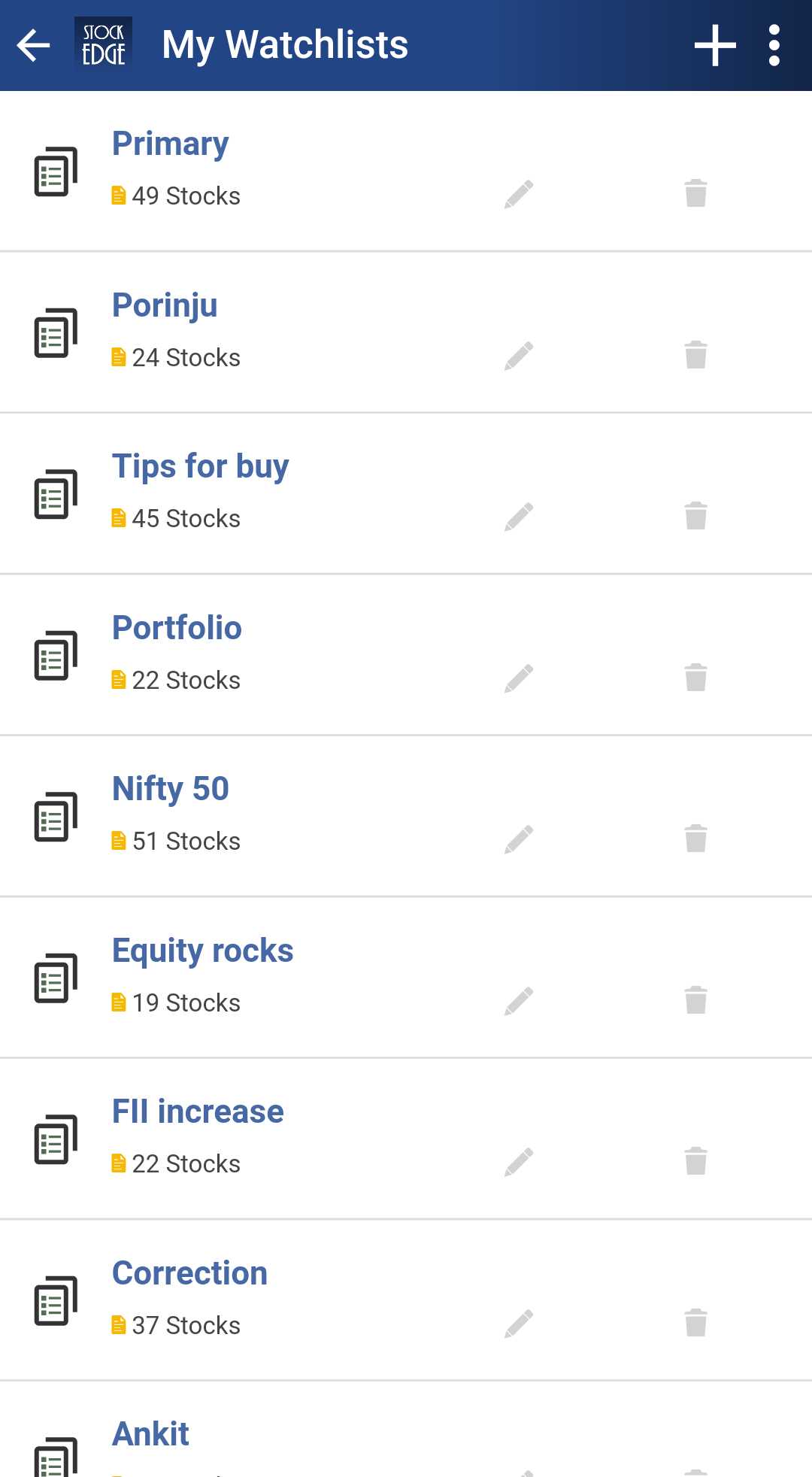 Fifth Strategy- Volume & Delivery
We have a Volume and delivery scan option where you can check which stock saw a high percentage of delivery and thus you can trade in that stock for a short term trading strategy.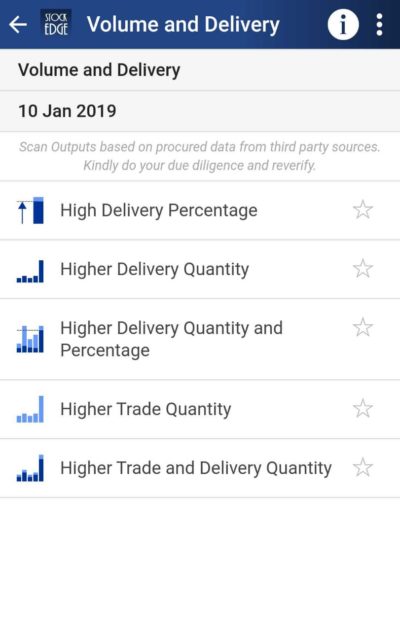 Sixth Strategy- Open Interest
We have open Interest window whereby you can take your own decision to trade by looking at an increase or decrease in open interest at what rate or price.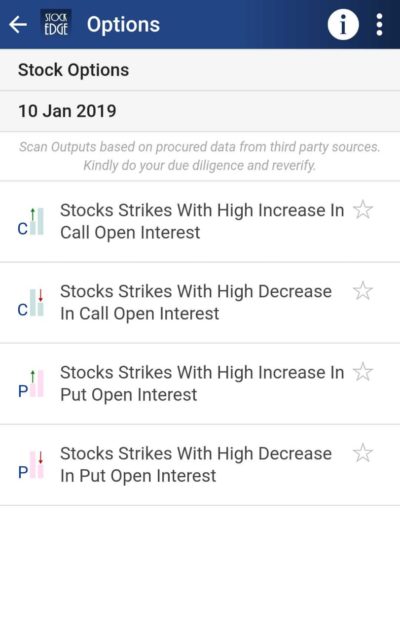 Seventh Strategy- Candlestick Scans
We have Candlestick Scans for those who can understand technical charts and carry out scans by getting filtered stocks in minutes for their trading decision.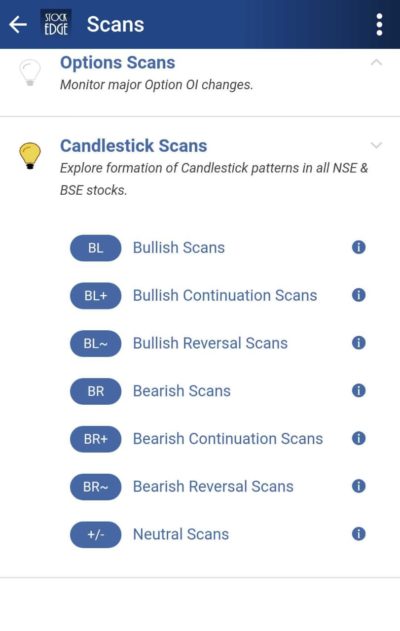 So far we were discussing the free features. To advance your research further, we have a premium version where you get access to
Ready Combination Scans to learn, analyse and apply trading strategies from a choice of intraday or swing trading strategies. We design them from a combination of multiple scans while you can focus on identifying quick opportunities
Ready Watchlists to help you Identify and track stocks which are likely to be impacted by current themes like Rising crude prices, Falling Rupee or Upcoming Elections. Regularly updated by us, Readymade for you!
Ready Investors Groups where you get access to readymade portfolio of more than 50 Ace Investors like Rakesh Jhunjhunwala, Dolly Khanna, Porinju Veliyath, Vijay Kedia, R K Damani and many more. Start following and learn from their investing style.
Interactive Edgechart Interactive EdgeChart is a unique Charting Tool within the StockEdge Platform that helps you plot candlesticks, OHLC, end of day technical indicators, fundamental parameters and draw trend lines. Its tight integration with the scans is of maximum benefit to the users.
Advanced Filters: This makes your research faster as you can narrow down your list of stocks by filtering stocks by MCap, Price, Sector, Industry etc.
Bottom Line
Thus be it any trading strategy intraday or positional we have it all under one App thus whichever model suits you, use it to stay ahead of others. So what are you waiting for? Subscribe to our App at the earliest and be known as a trading wizard in your group.
Subscribe to StockEdge to avail various technical scans and stock market updates.