There are many ways one can select a stock for trading or investment strategy. Some may use purely technical scans; some may mix derivative and fundamental scans along with technical analysis to select stocks for trading. In the Stockedge app, you will find more than 200 such individual scans and in the combination scan section, you can combine a few of them to create your customized stock selection criteria.
Our in-house research team at StockEdge has created many such strategies and front-tested them over many months and in the Strategies section, we have listed a few of them which came out with the best results over the period of testing. We continue to work on more such strategies and look forward to enriching this section in the coming days.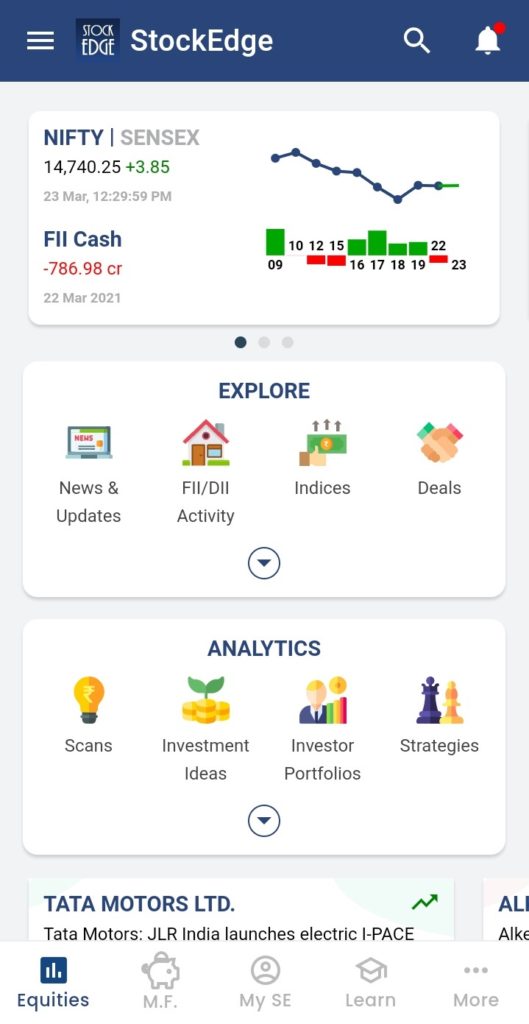 Strategies
When you open the StockEdge app, the home page will automatically open up. In the Analytics section, Click on the "Strategies" Tab to see various technical scans.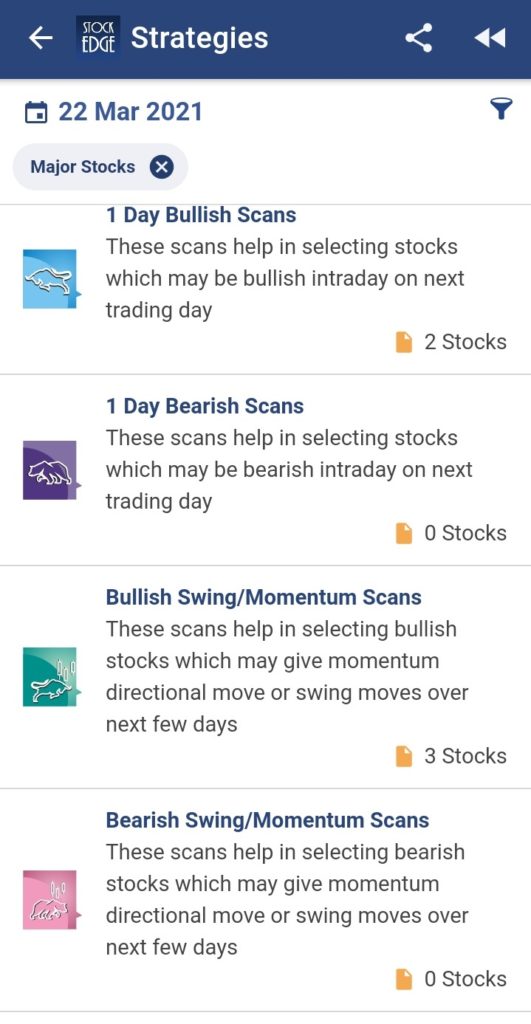 Under the "Strategies" Tab, there are four broad categories based on Intraday and Swing bullish and bearish view. Depending upon your style of approaching the market and time frame, you may look for intraday and swing scans.
Say you click on the first option- "1 Day Bullish Scan", which is a bullish intraday scan. You have a number of intraday scans based on the combination of different technical parameters. Let's look into one of the scans and discuss it.
When you click on the first scan which is "Bhima", you get the following three sub tabs as you can see in the below picture.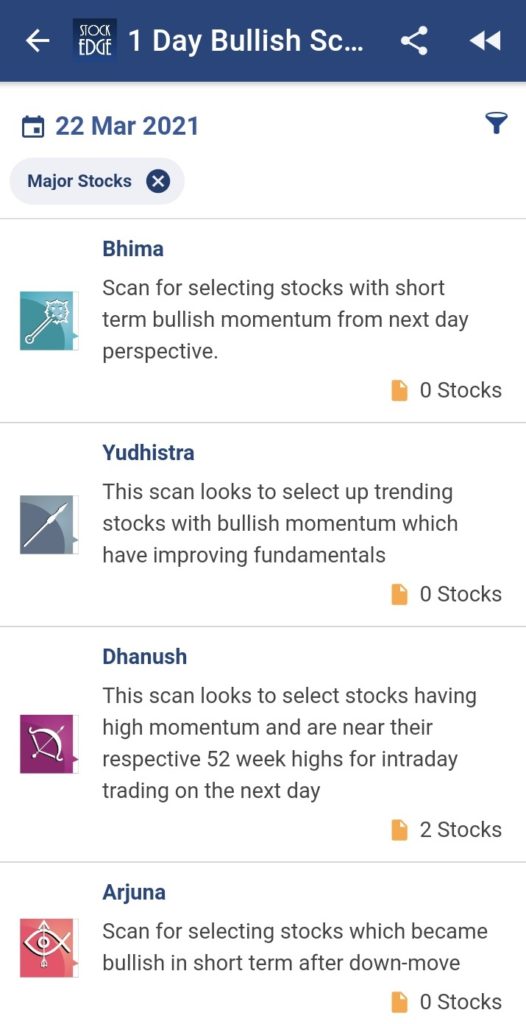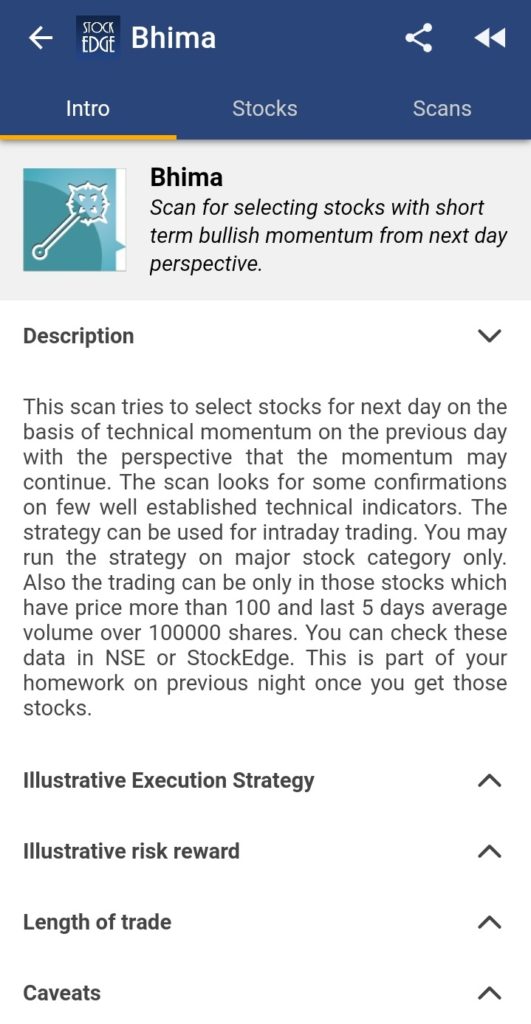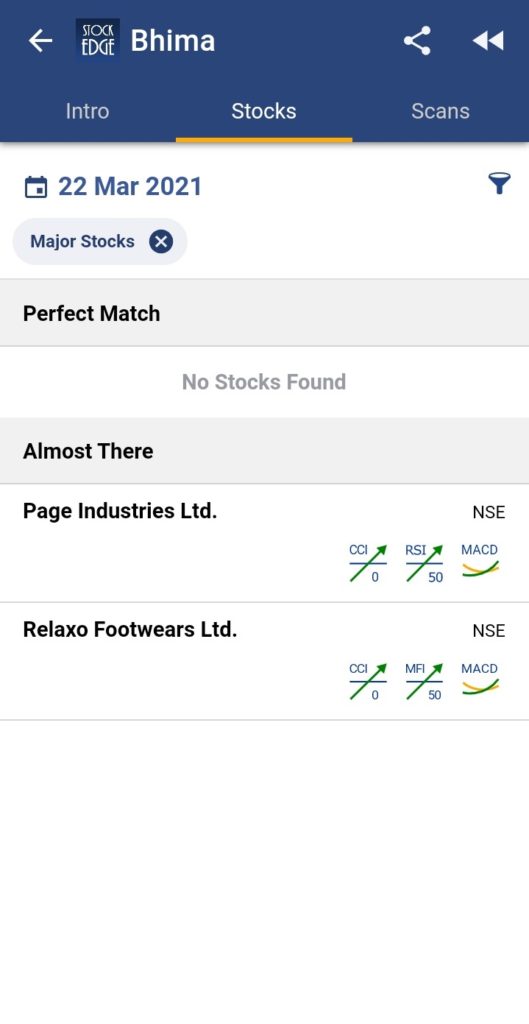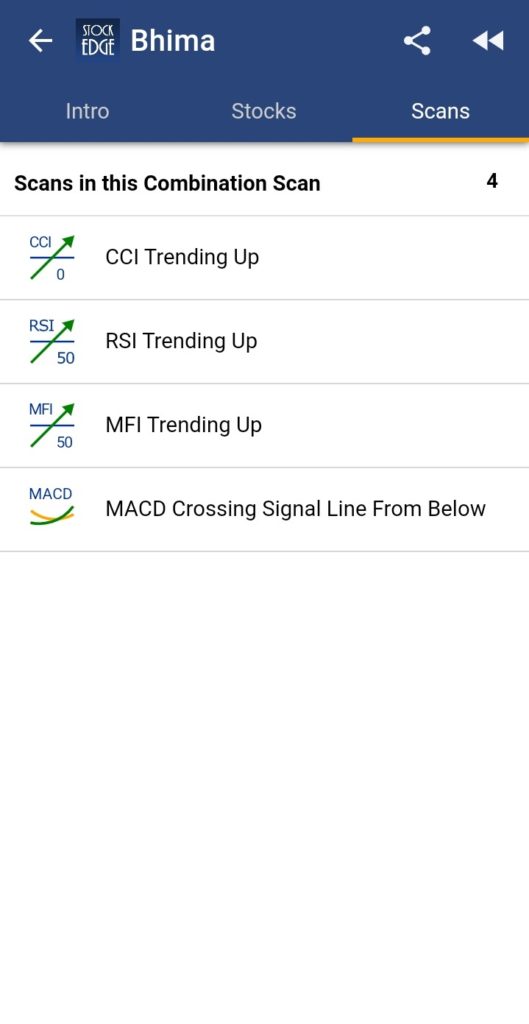 Further, you can click on Stocks to get a list of shares that fulfil the Criteria set in Bhima Scan. Stocks under Perfect Match are the stocks that fulfill 100% criteria. While Stocks in Almost there are the ones that fulfil 75% of the criteria.
Similarly, you may select other scans based upon your trading style whether intraday or swing.
Watch full tutorials of Combination Scans by Vivek Bajaj.
Basic Guidelines
The first sub-tab talks about basic guidelines in general about the intraday scan which includes execution criteria, risk-reward, length of trade etc.
Suppose if someone wants to trade based on this intraday scan, here are some of the guidelines he/she should know before executing the trade:
The buy-side intraday position will be taken only above the high of the first 15 minutes candle.
The intraday target will be 1.5% from the entry; keeping 1% as a stop loss.
The buy position will be taken only if the price breaks the high of first 15 minutes candle before 1 p.m.
Every day at 2:30 pm one may put cost price as SL for trades that are in profit and may look to square off between 3-3:15 pm.
Some other important guidelines which you need to keep in mind when you should avoid doing the trade:
In case of any important political event like the Indian state election
If there are any major global events like Brexit poll or US Presidential election.
iii. If there is any major movement in the US market overnight (excess of 2% in Dow)
When the movement in Crude overnight or intraday; rises more than 5%
In case India VIX moves by 5% up or down within 9:30 am from the previous day's level
More such guidelines are mentioned in General Trading Guidelines in "Intro" sub-tab of the respective scans.
Bottomline- Trading/ Investment Strategy
The best part of using combination scan is that you do not need to hunt for stocks in an arbitrary manner and moreover following the guidelines helps you to maintain discipline. With risk-reward of about 1.5:1 will fetch you profit even if you are right with 50% of your trades.
Also, we want to mention here that these scans are not in any way recommendations from team StockEdge for trading and investing. We have experimented with some rules and just put forward the strategies that we found good over time. It may very well happen that the market dynamics and volatility may change and these combination scans may cease to provide great results. We recommend you to experiment with your own strategies and try to improve them over time.
Disclaimer: These are only suggestive technical rules that have been found to work well over time in the market. These are not any trading or investing recommendations. We suggest you to take advice from certified experts for trading and investing. Neither StockEdge nor any of its associates are responsible for any trading or investing loss.
Read more blogs on StockEdge blog sections.