The currency headwind is of utmost importance for a growing economy like India as it heavily depends on imports for its major requirement the Crude Oil. Huge export-import bill gets affected adversely when the rupee strength is weak as more money flows out of the system to buy dollars for the balance of trade payment. Thus to balance its fiscal trade deficit, India has to rely heavily on international trade. Thus rupee volatility is a highly likely factor to impact its overall economy.
Foreign Trade impact on Rupee Strength
Rupee Strength is beneficial for the country's economy. It benefits the importers favourably and is a big drag on the exporters. The rising rupee is a sign of improving economic scenario and macro conditions of a country. Rising rupee makes the country competitive with any other country currency. Rising bond yield or treasury yields also impacts rupee adversely.
Global macros impacting Rupee Strength
Trade tensions, geopolitical tensions, rising interest rates, any unforeseen election results, any economic downturn, shaky political and economic environment, warlike situations or any kind of policy war also acts as a catalyst which impacts rupee strength adversely.
Rising rupee strength impact on Economy
The rising rupee is a sign of improving the macroeconomic scenario of a country. The rising rupee is also an indication of a stronger economy. The Balance Of Payments is positively impacted and Fiscal deficit and current account deficit are pruned leading to chances of rating upgrades by Global rating Agencies. The economic growth is heightened leading to raised GDP ratio. The FDI inflows and IMF loans are easier to get when rupee is on an upward swing.
Rising rupee impact on Industry
Rising Rupee makes Imports reasonable. With Strong Rupee sectors impacted positively are cement, tiles, and selective FMCG companies/power sector, building material companies like tiles especially importers. Plastic companies, Chemical companies and tyre companies etc.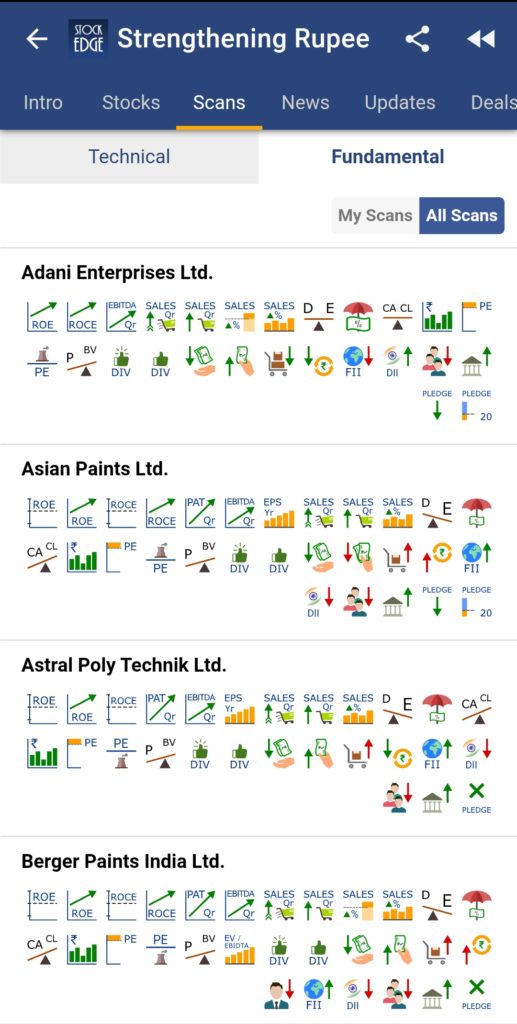 Where can you find them
Under the Stockedge App in Premium tab, we have a ready watchlist section which outlines some themes and stocks which can get impacted from various criteria like the Government policies, the trade war, the monsoon, the rising crude, the rising rupee etc. Here you can check out all the scans which the stocks fall under, all the news flow in the outlined stocks and any corporate announcements or corporate actions which have taken place for the stocks outlined. You can even check out if any bulk or block deals have happened for the chosen stocks. All in all you can have a 360-degree outlook on the theme that is playing out. Thus if any of these themes catches markets fancy then you can know which stocks can generate the best return for you.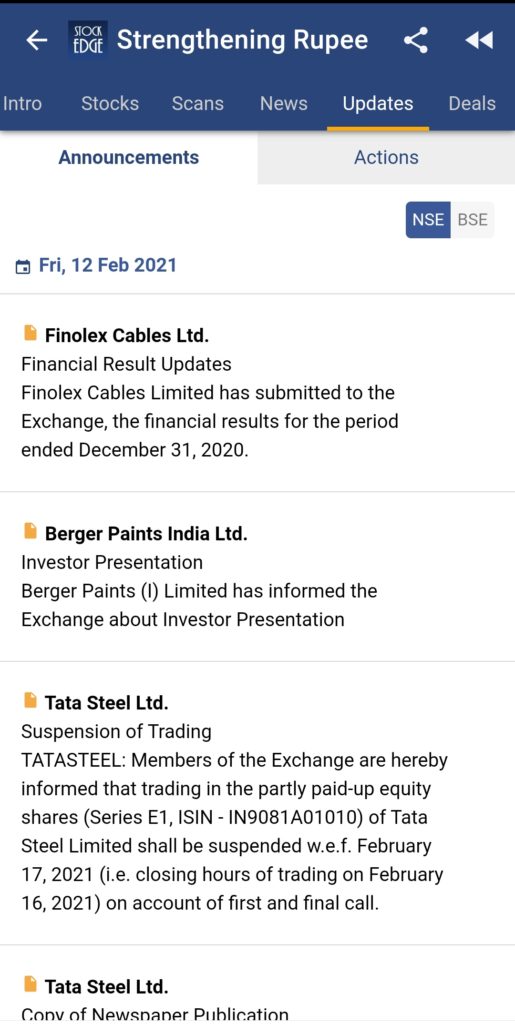 Bottomline
If you want to know more about the companies impacted by the same then subscribe to know more about the premium features click here: Premium Features of StockEdge App and if you haven't subscribed to our app then click here to become a Premium member
Click here to know more about the Premium offering of StockEdge.

You can check out the desktop version of StockEdge using this link.