Indo Count Industries acquires GHCL's home textile division.
The Story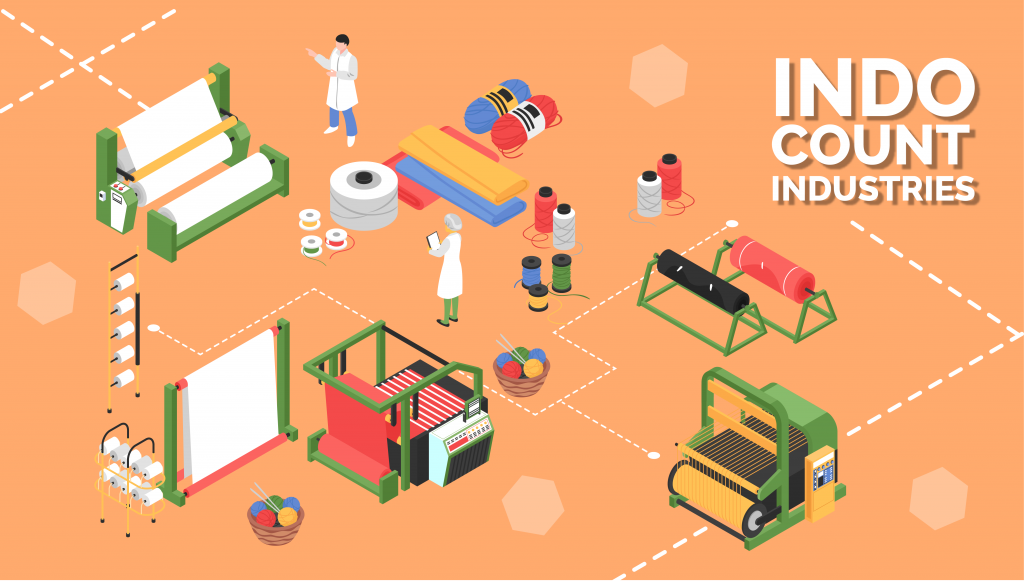 Indo Count Industries was founded in the early 1990s and is one of India's largest home textiles manufacturers. It is one of India's leading manufacturers and exporters of bed sheets, bed linen, and quilts, as well as one of the top three bed sheet suppliers to the US.
The company has a diverse product portfolio in the premium segment, including sheet sets, fashion bedding, utility bedding, and institutional bedding.
In Kolhapur, the company operates a cutting-edge manufacturing facility with an annual bed linen processing capacity of 90 million metres. It sells its products through well-known retailers and currently exports to over 54 countries on five continents. As of today's date, this is Indo Count Industries share price.
Indo Count Industries acquires GHCL's home textile division
GHCL Ltd., a textile-to-chemicals major company, announced on Monday(6th Dec 2021) the sale of its home textiles business to lndo Count Industries Ltd. for an amount of Rs.596 crore.
The news came after the company's Board of Directors approved the sale of its home textiles business, as well as the identified assets of its wholly owned subsidiary in the United States, Grace Home Fashions LLC.
The decision to divest the textiles division follows GHCL's ongoing process of demerger of the textiles business into GHCL Textiles Limited.
The company has been in the textile segment for the past 15 years, but it has not been a strategic fit for the company's growth.
The home textiles business will be transferred for a consideration of 539 crore, including 340 crore as fixed consideration and 199 crore towards net realizable current assets to be paid by lndo Count to GHCL, as part of the consolidated transaction worth 596 crore.
In addition, the GHF will transfer identified assets to lndo Count Global Inc., USA, an lndo Count subsidiary in the United States, for an agreed-upon consideration of 37 crore. Furthermore, the company expects to make a profit of 20 crore on its own account. As of today's date, this is GHCL share price.
New demerger plans for GHCL
There are times when a diversified company chooses to focus on its core businesses while transferring its other business operations to a different company. This is the simple concept underlying a popular corporate restructuring activity known as demerger.
GHCL was no exception to this. Despite having different plans post demerger initially, where GHCL would demerge the business verticals but keep them under its control, they have changed this ongoing plan to selling the verticals to a different company in totality. The GHCL Board of Directors has approved the changes to demerge the entire textile business. They have proposed that the current scheme of demerger should be withdrawn for NCLT approval, and that the remaining textiles business, the spinning division, be demerged to GHCL Textiles Limited.
According to the company, this will have the same shareholding as GHCL Limited.
Companies' Managing Director Mr. RS Jalan said "GHCL intends to use the cash flow from the slump sale of Home Textile Business to focus on its core business, namely, chemical and spinning."
The company expects to complete the slump-sale of Home Textile business by the end of March 2022, subject to regulatory, shareholder, and other approvals.
To get more detailed analysis and Reports on Stocks, visit our Edge Report Section by subscribing to our StockEdge premium plans
Why is Indo Count acquiring the textile business of GHCL?
According to CRISIL's analysis of 50 companies that account for more than 60% of such revenue, exporters of home textiles are on track to grow their revenue by 20% this fiscal year and thus gain a larger global market share.
The expansion will be fueled by three tailwinds: strong retail sales in the United States and a better outlook for the upcoming holiday season in export markets; a continued focus on health and hygiene; and large customers' use of the 'China plus one' sourcing strategy.
Exports account for 60% of the Indian home textiles industry's Rs.55,000 crore revenue per year, which includes terry towels, bed sheets/spreads, pillow covers, curtains, rugs, and carpets. The remainder is accounted for by domestic sales.
Home furnishing retail sales in the United States – a key export market that accounts for 55% of the Indian home textile sector's export revenue pie – increased 42% year on year in the first half of calendar 2021, compared to 15% growth in the corresponding pre-pandemic period of calendar 2019.
In addition, the 'China plus one' strategy is clearly in play. This is evident in a significant increase in India's share of US imports of cotton bed sheets and terry towels to 51% in the first eight months of calendar 2021, up from 46% in calendar 2020, while China's share has decreased to 16% from 20%.
How Indo Count will benefit by this acquisition?
Indo Count will be able to nearly double its capacity, making it the largest Home Textile Bedding company in the world, with an annual capacity of approximately 153 million meters.
Aside from that, Indo Count's joint capabilities such as Design, Innovation, and Products will help to reach a previously untapped range of customers, resulting in a gain in global market share. The topline of Indo Count could increase by Rs.1,300 – 1,500 crores per year.
Another advantage that comes to our mind is the export advantage that GHCL has because it serves the United Kingdom and Canada, two countries where Indo Count does not have a presence.
Keeping in mind the above key points, there is only one question that remains! Will the above mentioned acquisition help the company's stock reach new heights? Well, that is something we will have to wait and see.
Until then stay tuned for the next blog and keep watching this space for our midweek and weekend editions of 'Trending Stocks".
And, share it with your friends & family.