Among the other trending stocks, we talk about a specialty Chemicals Company and a leading producer of fluoropolymers, fluorospecialties, refrigerants, and chemicals, i.e. Gujarat Fluorochemicals Ltd.
The Story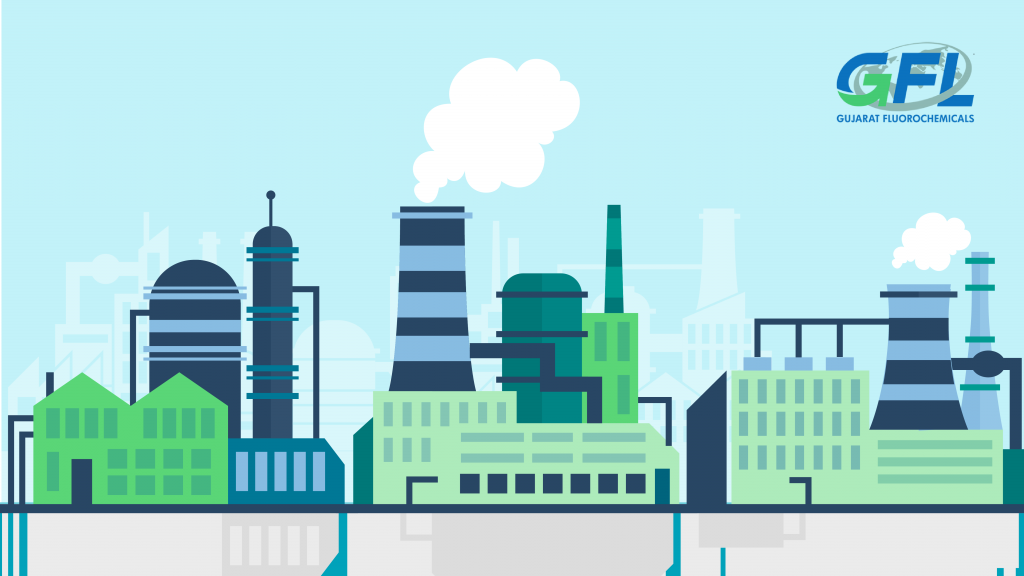 We have covered a lot of chemical companies over the last few months, and you might be wondering what is so special about this company, that we thought of discussing it.
Well, it's the business of Gujarat Fluorochemicals which caught our attention. And by the end of the article, you will be amazed to know the future potential of this company.
So without further delay, let us start.
Gujarat Fluorochemicals began its operations in 1989 as India's largest refrigerant manufacturing company, based in Ranjitnagar, Gujarat. The company is part of the INOX group. It primarily operates in four business verticals: bulk chemicals, fluoropolymers, new fluoropolymers, and specialty chemicals. As of today's date, this is Gujarat Fluorochemicals share price.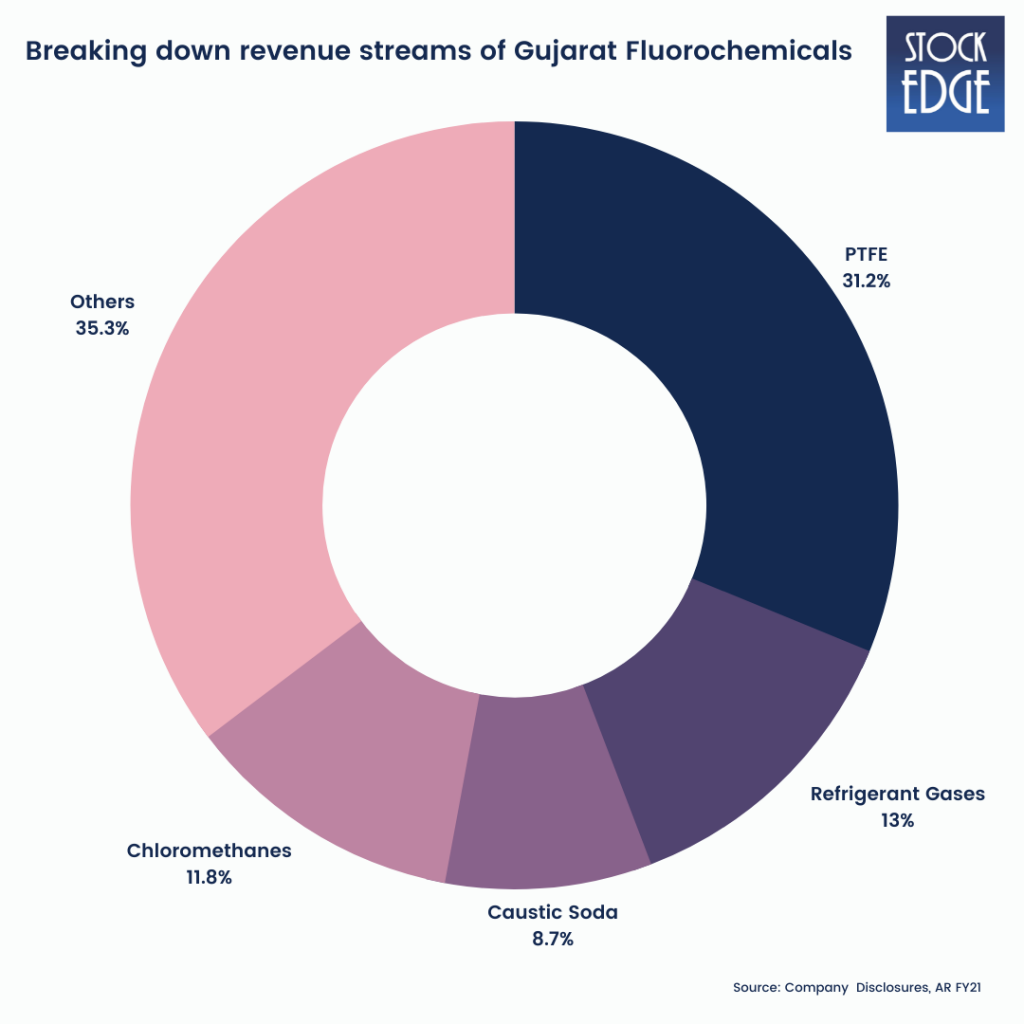 Let us try to understand the business of each vertical one by one!
Gujarat Fluorochemicals makes bulk chemical commodities like caustic soda which is manufactured by electrolysis of saltwater. It is primarily used in the production of pulp and paper, aluminum, soap and detergents, petroleum products, chemical production, water treatment, food, textiles, metal processing, mining, glass making, and others.
As a result of this process, we get chlorine as a byproduct which is used in the commercial production of chloromethane by treating it with methanol.
This gives us Methylene dichloride (MDC), chloroform, and carbon tetrachloride as the main products of chloromethane production.
Carbon tetrachloride is primarily used as a cleaning agent and in the production of fire extinguishers, whereas Methylene dichloride is used in the production of synthetic rubber, agricultural chemicals, and silicones.
The company also makes Refrigerant Gases, the production of which is seasonal because air conditioner sales are higher in the summer. GFCL sells its refrigerants under the brand name 'Refron.' It is India's largest HCFC22 manufacturer and the preferred supplier of leading OEMs (original equipment manufacturers).
Now coming to the next business vertical, which is Fluoropolymers that accounts for a major chunk of the company's revenue. Poly Tetrafluoroethylene (PTFE), also known as Teflon, is the company's primary end-product made from HCFC.
Because of its chemical properties, it has a wide range of applications in a variety of industries. It is an extremely versatile material with numerous applications including chemicals, textiles, automobiles, electricals, semiconductors, aerospace, medical, pharmaceuticals, and a few others.
The most common consumer-related applications for PTFE are cable and wires, nonstick cookware, and consumer solar electricity.
Then comes New fluoropolymers. These include FKM (fluor karbonmaterial), FEP (fluoroethylene propylene), PFA (per fluoroalkoxy alkane), PVDF, micropowders, and PPA (polymer processing aid). FKM is used in the automotive industry.
PFA is used in chemical accessories, FEP is used in electrical wiring whereas PVDF is used in the electric insulation of wires, battery binders, and pipes.
PPA is used in the extrusion of films and pipes. Micropowders are used in inks, greases, and coatings whereas PFA is used in the high-value semiconductor industry.
Finally, we have Specialty Chemicals. These are fluorospeciality chemicals, which are fluorine-containing compounds with niche applications in pharmaceuticals, agrochemicals, pesticides, and fungicide intermediates.
Let's look at the Financial Performance of Gujarat Fluorochemicals
Click here to check out the entire data.
Gujarat Fluorochemicals revenue has grown by 56% on a year-on-year basis (Q2 FY21 to Q2 FY22) — from Rs.617.31 to Rs.964.01 crores whereas Net Profit has grown by 162% from Rs.79.06 crores to Rs.207.15 crores. The growth has been so remarkable that the company's share price has grown by 320% in the last one year.
The company expects fluorospecialty chemicals to generate Rs800 crore to Rs900 crore in revenue in FY22-23, up from Rs65 crore in the previous quarter. Currently, the vertical has underperformed due to intense competition from China and the shift of pharmaceutical intermediaries into COVID-related medicines.
According to current CAPEX plans, management anticipates an EBITDA margin of 30% and revenues in the range of Rs.4500-Rs.5000 crore. The company expects to fund new capital expenditures from internal sources and to reduce debt in the future.
To get more detailed analysis and Reports on Stocks, visit our Edge Report Section by subscribing to our StockEdge premium plans.
How good is the jockey?
Overall, the company is run by highly competent management led by Vivek Kumar Jain who has 34 years of business experience and is the managing director & chief executive officer. He is a B.Com graduate from St Stephens College, Delhi, and has done Masters in Business Administration from IIM Ahmedabad.
Road Ahead
Gujarat Fluorochemicals has ventured into New Age products such as electric vehicles (EVs), solar panels, and hydrogen fuel cells, which will see significant growth in the coming years.
The company has introduced several products in the field of electric vehicles, including PVDF electrode binders, battery chemicals, LiPF6, additives, electrolyte formulations, and battery casings. PVDF films and back-sheet are available in the solar panel segment of the company.
Fluoropolymers such as FKM, PTFE, and FEP are available in hydrogen fuel cells and electrolyzers, as well as membranes and charging accessories.
The margins will continue to grow as a result of the increasing contribution from these specialized products.
However, as with all high-growth companies, they face some very real existential threats, and we will have to wait and see how the company develops from here on out.
Until then stay tuned for the next blog and keep watching this space for our midweek and weekend editions of 'Trending Stocks". And, share it with your friends & family.
Happy Investing!