The Story
Supreme Petrochem Ltd is India's largest producer and global supplier of Polystyrene (PS), accounting for ~90% of its total revenue. They possess two state of the art production facilities at – Amdoshi-Wangani, Maharashtra and Chennai, Tamil Nadu. Apart from the conventional polystyrene, they have shifted their focus to discrete innovative products entering into Expandable Polystyrene (EPS), EPS 3D panel, Specialty Polymers and Compounds (SPC) and Extruded Polystyrene (XPS) that find its applications in a variety of industries ranging from home and electrical appliances, construction, food and non-food packaging industry and so on. As of today's date, this is Supreme Petrochem share price
Supreme Petrochem Ltd. is a joint venture between Supreme Industries Ltd. and the Rajan Raheja Group.
Further, the usage of products like EPS 3D panels and XPS boards being encouraged by the Government in the construction of Anganwadis for Gram panchayats will increase awareness of the products.
Pioneer in Polystyrene Market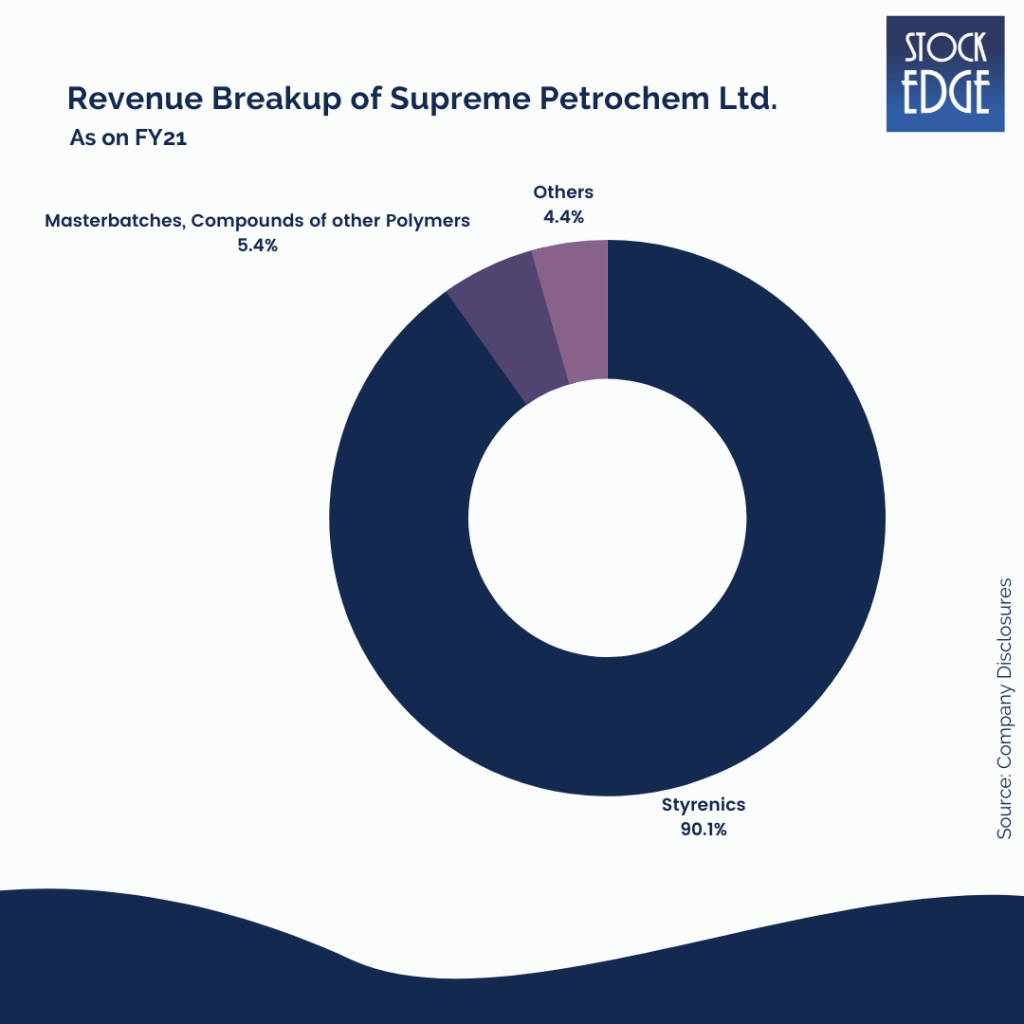 The market is segmented into polystyrene, acrylonitrile Butadiene Styrene, styrene-butadiene rubber, and other product types if we go by product type. Polystyrene, expanded polystyrene, and Acrylonitrile-Butadiene-Styrene (ABS) are the three largest Styrene derivatives representing nearly 70-80% of Styrene demand. Polystyrene is widely used in refrigerators, air conditioners, washing machines, artificial jewellery, household goods and electrical appliances.
Polystyrene is a versatile plastic that is used to make a variety of consumer goods. As a hard, solid plastic, it is frequently used in products that require clarity, such as food packaging and laboratory ware. Polystyrene is used to make appliances, electronics, automobile parts, toys, gardening pots, and equipment when combined with various colourants, additives, or other plastics.
Expanded polystyrene (EPS) is a thermoplastic product that is rigid, tough, and lightweight. EPS is a white material made of pre-expanded polystyrene beads. Because of its lightweight, strong, and excellent thermal insulation properties, EPS is ideal for the packaging and construction industries.
Acrylonitrile butadiene styrene, or ABS, is a common thermoplastic that makes light, rigid, moulded products such as pipe, automotive body parts, wheel covers, enclosures, and protective headgear.
Growing Packaging Industry to Drive Polystyrene Market – Due to the nature of polystyrene as one of the most trusted packaging materials used by mankind, the growth of the global packaging industry has been a significant driver for the global polystyrene market over the last few years. Polystyrene's water and thermal resistance, as well as it's high insulation properties, make it an ideal material for packaging. Furthermore, the growing e-commerce sector is expected to drive demand for effective packaging materials over the forecast period, resulting in a steady rise in demand from the polystyrene market.
Let's Look at the Financials of Supreme Petrochem Ltd.
In Q3FY22, Supreme Petrochem's revenue increased by 39.4%/8.8% on YoY and QoQ basis to INR 12,96 crore. EBITDA increased by 27.4% QoQ but declined by 6.3% YoY to INR 2,24 crore. Net Profit stood at INR 1,64.54 crore, down by 4.1% YoY and grew by 29.5% QoQ.
To get more detailed analysis and Reports on Stocks, visit our Edge Report Section by subscribing to our StockEdge premium plans.
Road Ahead…
Supreme Petrochem is increasing its Polystyrene and Expandable Polystyrene production capacity by 120,000 MT, which will be phased in between March and May 2022. The board has already approved Phase II expansion of its Expandable Polystyrene plant at Nagothane, Maharashtra, by 30,000 MTA. In addition, the board has also approved the setting of the second line of Extruded Polystyrene Board (XPS) with a capacity of 1, 00,000M3 and increasing the Masterbatch and Compounds capacity by 50,000 MTA. The CAPEX will be financed through internal accruals.
Supreme Petrochem's future growth will be fueled by increased capacity and healthy demand from end-user industries. The company's performance has been impressive in recent quarters.
However, as with such companies, risks like international pricing and raw material price inflation can impact the company's performance. In addition, a delay in capacity expansion could affect the company's performance.
So we will have to wait and see how the company develops from here on out.
Until then, keep an eye out for the next blog and our midweek and weekend editions of "Trending Stocks and Stock Insights." Also, please share it with your friends and family.
Happy Investing!