The Story
Century Plyboards (India) Ltd. was founded in 1986 by two visionaries, Mr Sajjan Bhajanka and Mr Sanjay Agarwal. Since then, the company has made tremendous progress, and it is now the largest seller of multi-use plywood and decorative veneers in the Indian organized plywood market with a 25% market share. The company has successfully created a niche in the highly competitive lifestyle segment as the pioneers in Borer Proof Plywood and Boiling Water Resistant (BWR) Decorative Veneers and Laminates in India. As of today, this is Century Plyboards share price
They have the right products to target different building needs, from flexible plywood that offers a unique blend of form and functionality to specially treated Fire Retardant plywood that finds use in various construction purposes.
CenturyPly has a distinct brand identity as the market leader, with industry standards offerings.
They have now expanded their services to include Medium Density Fibre (MDF) Boards, Veneer, Face Veneers, Block Boards, Laminates, Doors, Pre-Lams, PVC Sheets, Fibre Cement Board, and Container Freight Station (CFS).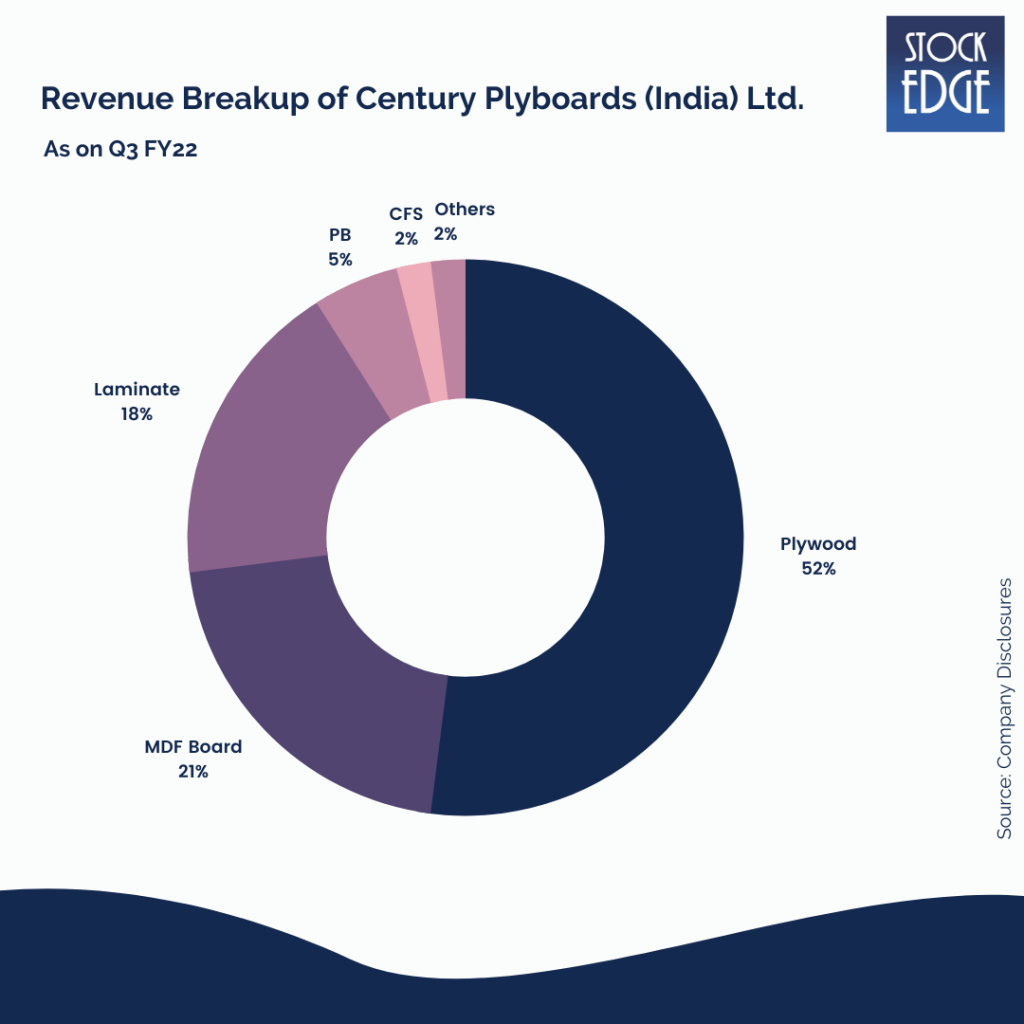 What are the growth drivers for the company?
Rising population: India's population is expected to grow from 1.38 billion in 2020 to 1.52 billion by 2036, increasing the demand for housing and furniture.
Demographic dividend: The median age of the Indian population is expected to be 28 years in 2022, compared to a global average of 30 years, indicating a youthful population willing to spend.
Urbanization: On a larger population count, India's urban population is expected to rise from 34.47 per cent in 2020 to 39 per cent by 2036, increasing demand for housing and furniture.
Real estate development: The Indian real estate sector is expected to grow from USD 180 billion in 2020 to USD 1 trillion by 2030, boosting demand for furniture.
Pradhan Mantri Awas Yojana (PMAY): 1.12 crore urban houses were sanctioned under the PMAY scheme, increasing furniture demand.
Policy support: With government initiatives such as 'Make in India' and 'Vocal for Local,' the Indian manufacturing sector has gained traction; the Government of India aims to increase the manufacturing sector's share from 16% to 25% by 2025.
Rental furniture: Due to increased financial uncertainty and economic contraction in the first half of FY 2020-21, the younger population opted to rent furniture from online portals instead of buying outright.
How is Century Plyboards (India) Ltd. differentiating its products?
Innovation: CENTURY PLY has been a market leader in innovating new products and introducing them to the market, thanks to its R&D unit. For example, CENTURY PLY was the first company in India to introduce anti-bacterial and fingerprint resistant laminates using nanotechnology. In addition, CENTURY PLY excelled at innovation even during the pandemic, introducing Virokill technology, which kills all viruses on the surface of plywood and laminates.
Multi-year Warranty: To increase customer trust in their products, the company was the first to offer a multi-year warranty on its Plywood, MDF. CENTURY PLY used to provide a seven-year warranty on its products. However, when the products remained undamaged for 20 years, the warranty was extended to 21 years.
Product Diversity: CENTURY PLY, which began with only its plywood division, has successfully expanded into other markets. This has reduced its reliance on a single segment. As a result, it not only sells a variety of products but also has different price ranges for each segment, allowing it to serve customers of all income levels, which adds to its diversification benefit. The company intends to continue expanding its product portfolio with new products while improving and making existing products more efficient.
To get more detailed analysis and Reports on Stocks, visit our Edge Report Section by subscribing to our StockEdge premium plans.
Let's look at the Financials of Century Plyboards (India) Ltd.
Century Plyboards reported a strong performance in Q3FY22, with revenue & PAT increasing by 29.5% and 42.7% year on year to Rs.854.79 crore. The company saw strong business traction across all divisions (despite some hiccups), leading to higher volume offtake at a healthy pace on year on year basis.
Road Ahead…
The management believes that the overall business environment appears to be encouraging, with the real-estate sector continuing to thrive. Therefore, the company intends to grow rapidly. Greenfield expansion will take place in Andhra Pradesh (AP) to establish plants for MDF and laminates, while brownfield expansion (for MDF) will take place in Hoshiarpur, Punjab.
In accordance with its strategy of exiting this non-core business, the company has hived off its CFS business to its wholly-owned subsidiary. However, the entire process will take 18-24 months. The company has begun soliciting bids for the sale of the subsidiary and has received positive responses both nationally and internationally.
Earlier, the company had bid for a project in West Bengal (Khidderpore) and bagged it.
However, as with any other company, there are risks such as raw material price inflation that can impact the company's performance. Furthermore, a delay in capacity expansion could affect the company's performance.
Another significant risk is that the raw materials used by the company are subject to future availability and sustainability. In addition, because the main component they require is timber, many countries may prohibit the company from cutting and using the plantation. As a result, the company's ability to obtain raw materials remains uncertain.
So we will have to wait and see how the company develops from here on out.
Until then, keep an eye out for the next blog and our midweek and weekend editions of "Trending Stocks and Stock Insights." Also, please share it with your friends and family.
Happy Investing!