Today we are going to talk about the merger between PVR and Inox Leisure and what might have led them to shake hands. In addition, we will also try to understand whether the multiplexes face any serious threat from OTT platforms like Netflix, Hotstar, Amazon Prime, etc.
The Story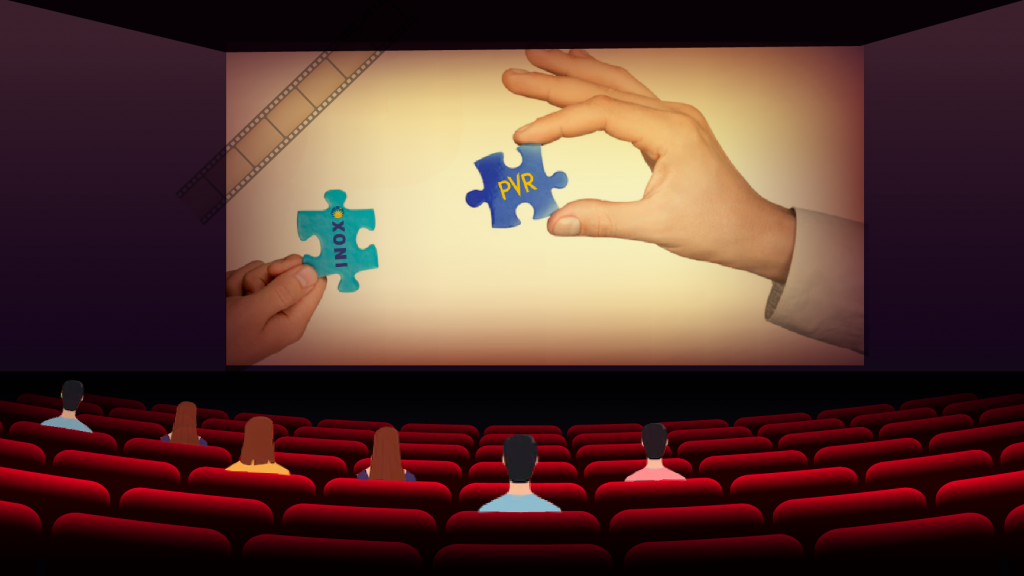 The merger was announced on 27th March 2022. The merger will be an all-stock deal between the two companies.
The merger of PVR and Inox will create a network of 1540+ screens, with PVR currently operating more than 870 screens and INOX operating more than 670 screens. Ajay Bijli will lead the combined entity post the merger, who is the Chairman & Managing Director of PVR Ltd.
However, as of now, the merger is subject to shareholder approval. All the new theatres that open up post the merger will be branded as PVR Inox.
The shareholders of Inox Leisure will receive three shares of PVR for ten shares of Inox.
Post the merger, PVR promoters will own 10.62% of the combined entity, while Inox promoters will own 10.66%, and a 10-member board will be formed, with equal representation from both promoter's families (two seats each).
Post-merger, they plan to keep around 10%-15% of the properties in the premium format.
What can be the reason behind the merger?
Operating a Multiplex is a very tough business as it is capital intensive, and the operating expenses are pretty high. As a result, even in a fast-growing market like India, multiplexes struggle to generate free cash flow.
The above is due to the high cost of real estate. Ticket prices are not rising at the same rate as real estate and property markets. Competition is increasing as the number of cinema screens in the country grows. The main issue that these multiplex owners face is a scarcity of high-quality real estate at reasonable prices.
The majority of the hardware equipment's and accessories used inside the multiplexes are imported; the same equipment costs 30-40 percent less in developed countries like United States, and ticket prices are one-fourth or one-fifth of what they charge in the United States and the United Kingdom. The cost structure of the equipment and rental rates are higher, and revenue streams account for one-fifth of the total.
To combat these problems, the companies might have decided to go for a merger of their businesses and have made an attempt at gaining market share, reducing the cost of operations, expanding into new territories, uniting common products, growing revenues, and increasing profits, which will ultimately benefit the company's shareholders.
Factors that will drive the growth of the multiplex industry in the near future can be advantageous for the merged PVR Inox.
Improving lifestyle: Choices of a young and large working population have led to an increased footfall at multiplexes. In addition, the lack of out-of-home entertainment options in India and a great aural and visual experience, good ambience, and comfortable seating are factors driving this demand.
Superior technology: The adoption of the latest market technologies (video, audio, and seating, among others) by multiplexes ensures that they can provide customers with a premium experience of watching cinema.
Increase in the number of malls: The number of malls has increased significantly over the last decade. They were previously only found in Tier-I cities but are now expanding to Tier-II cities. This increased footprint will also aid in the expansion of multiplexes.
Theatre penetration: Despite being a cinema-loving country, screen penetration in India is among the lowest globally. This will help both Inox and PVR (PVRs in north & south and Inox focus on east & west) as both are well-known because of their PAN India presence. The combined entity is targeting to open 200 to 220 screens per year. The emphasis is on accelerating growth by expanding into Tier-II and Tier-III cities and providing the best customer service possible.
Shutdown by Single Screen Owners: Single screens, typically owned and operated by regional players, are gradually declining, and more importantly, Covid-19 has taken a heavy toll on them, opening up opportunities for multiplex operators to expand their screen count. Another reason for the closure of these small screens could be a lack of better movie-watching options. As a result, consumers have begun to seek an alternative (to single screens), a more hygienic environment, improved sound and viewing quality, and an upgraded experience that only a multiplex can provide.
OTT vs Multiplexes
OTT (over-the-top) means any video streaming over the internet. These days, it's primarily associated with top streaming services like Netflix, Amazon Prime, Hotstar, Voot, etc.
In a subscription-based video-on-demand (SVOD) model, businesses charge a recurring fee for access to their video platform. Subscribers get full access and can stream as much video as they like. SVOD was first introduced by Netflix and continues to dominate popular OTT businesses today.
They are customer favourites as they allow consumers to access an entire catalogue of content for a flat rate, typically paid monthly, quarterly, and yearly. As a result, they offer excellent customer stickiness as long as they provide good content.
Due to the COVID-19 pandemic, the last two years have been extremely difficult for multiplexes. Cinema theatres faced severe liquidity issues with poor revenue numbers and high fixed costs. OTT platforms increased their subscriber base due to the pandemic on the other end of the screening spectrum. In the midst of this, an intriguing trend emerged in the film industry: movies began to forego theatrical releases in favour of 'direct digital release' (DDR); for example, "Gulabo Sitabo" starring big industry names such as Amitabh Bachchan and Ayushmann Khurrana.
But, the move of certain movies debuting on OTT was due to the COVID-19-led phenomenon of a temporary nature. A specific category of film is always preferred at multiplexes or big screens. Would you want to watch a "Marvel" movie on the OTT platform during your first viewing or a larger-than-life Bollywood movie like "Sooryavanshi"? Of course NOT! We all love the whistle-blowing and the shout-out at the actor's entry in the film.
You obviously would want to be a part of the cheers around the theatres when Pushpa said, "Pushpa Naam sunke flower samjhe kya? Flower nahi, fire hai main, Jhukunga nahi." And just as you know, KGF Chapter 2 has already announced its theatrical released date! Can't wait emoji

OTT does not compete with multiplexes because their product offerings are distinct and only marginally overlap. For example, multiplexes only show movies, whereas OTT draws customers primarily for its original content/tv shows like SUITS, Game of Thrones, Friends, Sacred Games.
On the other hand, multiplexes highlight the difference in the movie-viewing experience that they have brought—providing the ideal weekend outing with differential pricing and special offers based on days and show timings.
Further, these multiplexes have a specific window for films to run. It's no way like OTT, where you can log in and watch the movie again and again and watch it from where you left. These multiplexes have 6-8 weeks of time frame depending on the box office collection of the movies.
And hence, Multiplexes and OTT are part of the same ecosystem and can coexist comfortably.
To get more detailed analysis and Reports on Stocks, visit our Edge Report Section by subscribing to our StockEdge premium plans.
Road Ahead…
The profits that a producer could potentially earn through a theatrical release via a multiplex are something that cannot be achieved through OTT. No producer would want to miss such opportunities over a long period. Record-breaking revenue is done at the box office every alternate year, and considering that Multiplexes in India still have so much room for exponential growth in the future! Multiplexes will be the preferred option due to people's desire to go out.
Until then, Keep an eye out for the next blog and our midweek and weekend editions of "Trending Stocks and Stock Insights." Also, please share it with your friends and family.
Happy Investing!