The Story
Syngene International Ltd. was established in 1993 as a subsidiary of Biocon. The company is a contract research organization (CRO) that supports global innovative companies' R&D (research and development) programmes. In addition, they provide outsourced services to support discovery and development for organizations in pharmaceuticals, biopharmaceuticals, nutraceuticals, animal health, agro-chemicals, and others. As of today this is Syngene International share price.
Syngene International Ltd. experience spans multiple industry segments and partnerships with global leaders worldwide.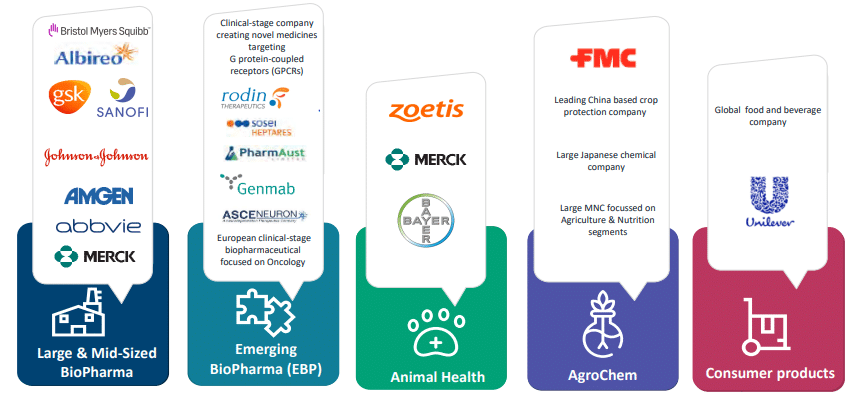 Let us try to understand each segment one by one!
Syngene International Ltd.'s business is divided into four segments: Dedicated R&D Centres, Discovery Services, Development Services, and Manufacturing Services.
Dedicated R&D Centres – Syngene International Ltd. provides Dedicated R&D facilities for strategic clients, with exclusive access to research teams, infrastructure, and project management to support the client's R&D needs.
Discovery Services – The discovery service vertical consists of multiple client engagements and necessitates a thorough understanding of small and large molecule discovery chemistry and biology.
Early-stage research ranges from target identification to the delivery of drug candidates for further development. For small molecules, capabilities include chemistry, biology, safety assessment, and research informatics; for large molecules, capabilities include recombinant DNA engineering, cell line development, Next Generation Sequencing, and protein sciences.
The client collaboration in Discovery Services is usually FTE-based. In Full-Time Equivalent (FTE) contracts, the company bills based on the number of scientists deployed. In these cases, clients have agreed to a minimum number of scientists dedicated to a client's work. The scope of services and deliverables under FTE contracts typically evolves. FTE contracts are renewed on an annual basis.
Development Services – Pre-clinical to clinical trials activities include drug substance and drug product development and associated services to demonstrate the safety, tolerability, and efficacy of the selected drug candidate, cGMP compliant manufacturing of clinical supplies and registration batches for small molecules.
Manufacturing Services – They manufacture small and large molecules for commercial supplies through cGMP-compliant facilities, a state-of-the-art API manufacturing campus, and a biologics manufacturing facility.
To simplify, the development and manufacturing services segment assists a molecule as it progresses from in-vivo testing to pre-clinical studies, clinical development, and finally, commercialization.
The client collaboration in the Development and Manufacturing Services divisions is primarily based on the FFS model.
Client collaboration is done under the FFS model to deliver agreed services within a defined scope. Flexible, on-demand personnel and research infrastructure are deployed to achieve the project objectives. The engagements may be short or long-term.
What are the growth drivers for the company?
R&D outsourcing has gradually evolved from a cost-cutting strategy to one of increasing R&D productivity and speed-to-market, as well as strategic decisions made by innovator firms to focus on their core competencies. The interaction of several factors, as explained further below, positions the CRO industry to grow steadily in the coming years.
Expertise in managing complexities: CROs assist client companies in efficiently navigating the complexities of the drug development process through their extensive scientific expertise and regulatory knowledge. CROs are also increasingly adopting and integrating advanced technologies such as high-throughput screening, bioinformatics, and cheminformatics to speed up compound discovery and development and improve R&D efficiency. As a result, according to Frost & Sullivan's research, CROs can cut the time to develop a new drug by one-quarter to one-third.
Collaboration in newer areas of innovation: The emergence of novel biological targets and therapeutic modalities provides exciting opportunities for breakthrough drugs. The growing demand for personalized medicines necessitates new approaches.
However, biopharmaceutical companies, particularly startups, do not always have the in-house expertise to capitalize on these developments. Client companies can discover and develop advanced therapies by entering into strategic collaborations with specialized CROs and leveraging their broad range of services.
Driving flexibility in costs: Cost flexibility is being driven by the outsourced model, which has significantly reduced the client's need to invest in in-house facilities, equipment, technology, and manpower. This enables them to convert their traditional fixed costs into variable costs, reducing investment risk. Externalization of R&D is also appealing to small and medium-sized businesses because it allows them to gain access to high-quality services without making long-term investments.
Let's look at the Financial Performance of Syngene International Ltd.
Syngene International Ltd.'s revenue for Q3FY22 grew by 9.7% year on year to Rs.641.4 crore, driven by Discovery Sciences and Dedicated Centers, while Development Services and Manufacturing Services also performed well. EBITDA margins increased 157 basis points year on year to 31.7%, owing primarily to lower other expenditures offsetting the increase in raw material expenditure. As a result, EBITDA increased 15.4% year on year to Rs.203.4 crore. Net profit increased by 1.8% year on year to Rs.104 crore.
To get more detailed analysis and Reports on Stocks, visit our Edge Report Section by subscribing to our StockEdge premium plans.
Road Ahead
Over the years, the client base of Syngene International Ltd. has grown to more than 400, which includes elite clients like Amgen, Zoetis, Herbalife, GSK, etc., and multiple year extension of BMS Baxter contracts. With years of experience operating in this niche of CRO/CRM, Syngene is well poised to capitalize on global growth opportunities. The Phase III expansion in Hyderabad is to be completed in FY22, and a new dedicated laboratory is to be built and operated for Amgen to scale-up small molecules. The infrastructure will house 250 scientists who will work on synthetic and organic chemistry projects and integrated drug discovery projects.
However, as with such companies, risks like regulatory concerns can impact the company's performance. In addition, a delay in capacity expansion could affect the company's performance.
So we will have to wait and see how Syngene International Ltd. develops from here on out.
Until then, keep an eye out for the next blog and our midweek and weekend editions of "Trending Stocks and Stock Insights." Also, please share it with your friends and family.
Happy Investing!