Yet another IPO from the healthcare sector: The latest IPO is from Jupiter Life Line Hospitals Limited, which is among the key multi-specialty healthcare providers in India. The company has come with its Initial Public Offering (IPO) with an issue size of ₹869 cr.
Investments in IPOs have been rewarding for many investors in the recent past. Some apply for listing gains, while others hold for long-term investments. In our last IPO blog on Vishnu Prakash R Punglia Ltd (VPRP IPO) the stock gained 52% over its issue price, whereas the previous IPO from the healthcare sector Yatharth Hospital IPO the stock gained 23% as of today. However, not all initial public offerings (IPOs) come with a promise of equal profits. So, it is essential to know the key factors of the IPO before you apply!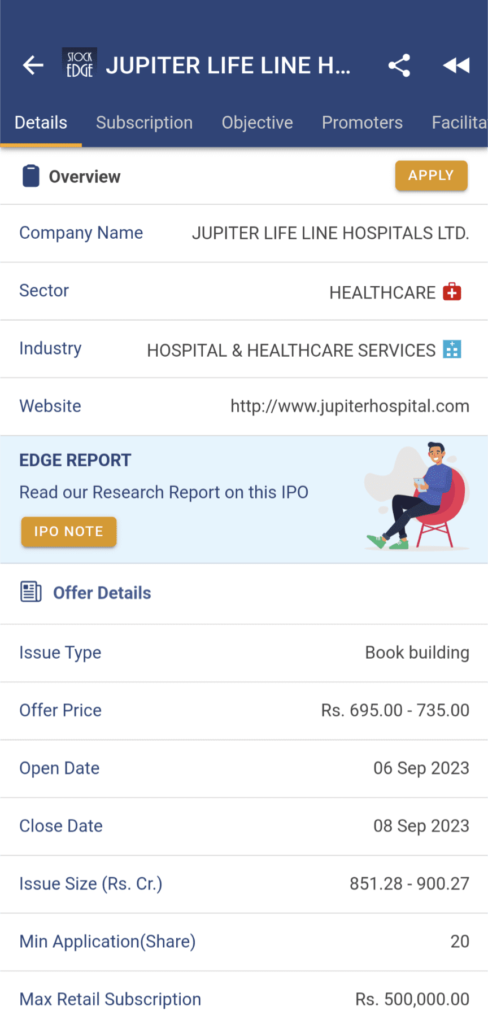 Jupiter Life Line hospitals IPO is open for subscription from today (6th Sep 2023) onwards!
Jupiter Life Line Hospitals Limited IPO Details:
IPO Open Date 6th September 2023, Wednesday
IPO Close Date 8th September 2023, Friday
Price Band ₹695 to ₹735 per share
Lot Size 20
Face Value ₹10 per share
Issue Size at upper price band ₹869 cr (Fresh Issue ₹542.00 Cr & Offer For Sale ₹327.08 Cr)
Listing exchanges NSE, BSE
Cut-off time for UPI mandate confirmation by 5 PM on September 8, 2023
The tentative timeline for the IPO are as follows:
Basis of Allotment 13th September 2023, Wednesday
Initiation of Refunds (if not allotted) 14th September 2023, Thursday
Credit of Shares to Demat (if gets allotments of shares) 15th September 2023, Friday
Listing Date 18th September 2023, Monday
About the Company
Jupiter Life Line Hospitals Limited, established in 2007, is a prominent healthcare service provider in Mumbai and western India. They have 1,194 hospital beds and 1,306 doctors, including specialists, physicians and surgeons, serving as of March 31, 2023. Jupiter Life Line Hospitals currently operates in Thane, Pune, and Indore. Each of their three hospitals is fully equipped and self-sufficient, offering various medical services from diagnostics to surgery and recovery.
The revenue across all three Jupiter Life Line Hospitals is ₹893 cr for FY 23. Check out the revenue mix from 3 different hospitals: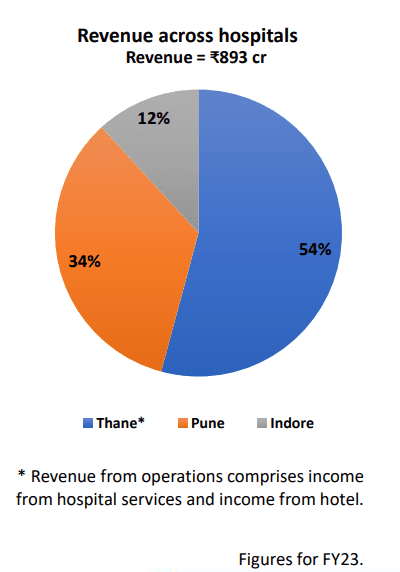 Jupiter Life Line Hospitals in Thane and Pune were built from scratch, and the company owns the land for all three hospitals without any ongoing land payments, giving them full control over operations and ensuring consistent, high-quality care, which leads to long-term operational and financial benefits. The hospitals are equipped with technologically advanced equipment & diagnostic instruments. The company is also into further expansion as they are in the process of establishing a quaternary care hospital in Dombivli, Maharashtra. The construction of the hospital commenced in April 2023 and has a planned capacity of 500 beds and construction is expected to be done in 30-36 months. In May 2023, they also commissioned an additional 11 beds in Thane Hospital.
The company has also entered into an agreement with a leading hotel chain & developed a hotel at its own cost on the premises of the Thane Hospital. The operations agreement is valid until 31st December 2030, and they are required to pay fixed fees towards expenses incurred on management distribution infrastructure and reservation/transaction fees in relation to the hotel. It supports medical tourism initiatives as well as helps in catering to patients' families and attendants by providing accommodation facilities.
Healthcare Sector in India: Outlook
In FY 2022, the Indian healthcare sector was worth ₹5,00,000 crore. The growth in affordability and the promising Ayushman Bharat scheme are the main factors driving this industry.
Another potential benefit is anticipated as international travel restrictions ease, leading to increased revenue from medical tourism. Medical expenses in developed nations are generally higher than in India, making India an appealing choice for medical tourists. India's advanced hospitals with specialized physicians and features like e-medical visas contribute to its attractiveness as a medical tourism destination.
According to the data available from the Ministry of Tourism, of the total foreign tourist arrivals in India, the proportion of medical tourists has grown from 2.2% (0.11 million tourists) in 2009 to 6.38% (0.62 million tourists) in 2019. More than 94% of medical tourists are from countries in Africa, West and South Asia.
Despite the healthcare prospects and possibilities in India, several challenges persist. These
include insufficient healthcare facilities and unequal service quality based on one's ability to pay and the way healthcare is funded. India's number of hospital beds per person not only falls short of the worldwide average of 29 beds but also lags behind other developing countries like Brazil (21 beds), Malaysia (19 beds), and Vietnam (26 beds). This creates ample opportunity and room for growth for India's healthcare sector, especially the hospitals.
You can read more about the sector and who are top listed players in this sector from this blog, Health is Wealth! Know the Top 3 Healthcare Stocks in India
Financial Performance
Jupiter Life Line Hospitals has demonstrated impressive financial performance over the past three fiscal years. Their revenue from operations saw significant growth, increasing from 486 crores in FY 21 to 733 crores in FY 22 and further to 893 crores in FY 23. The company's EBITDA also showed substantial improvement, climbing from 71 crores in FY 21 to triple digits at 157 crores in FY 22, and reaching an impressive 212 crores in FY 23. Notably, the company managed to turn around its net profit (PAT), transforming a (-2) crore loss in FY 21 into a profit of 51 crore in FY 22, and further boosting it to 71 crore in FY 23.
This strong financial performance reflects the company's growing operational strength and profitability.
Now, let's look at the key fundamental parameters of Jupiter Life Line Hospitals Limited and how it compares with its peer companies in this competitive landscape.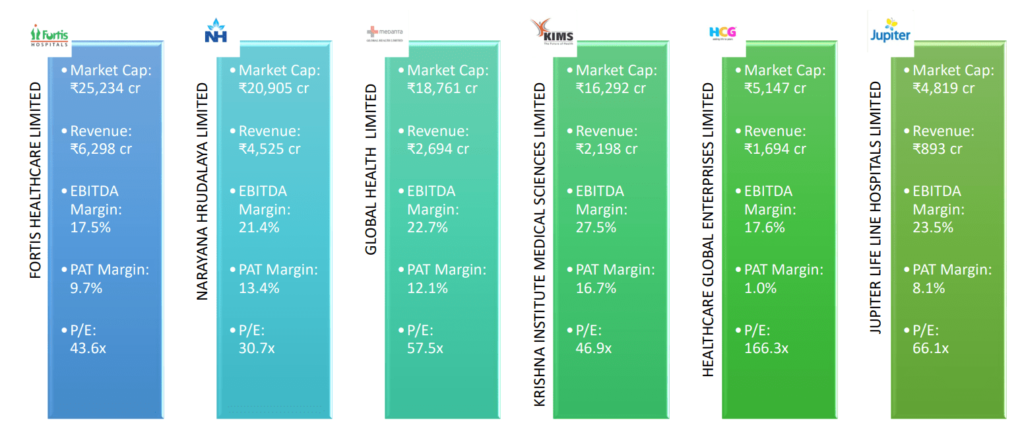 Jupiter Life Line Hospitals is positioned well among its peers with its own set of competitive advantages and has shown healthy growth and profitability. But what's the objective behind this IPO? Let's find out!
Objectives of the Issue
Jupiter Life Line Hospitals intends to utilize the net proceedings from the issue towards the funding of the following objects:
The net IPO proceeds of 542 cr. out of fresh issues are proposed to be utilized for repayment of borrowings up to ₹510 cr.
The rest is for General corporate purposes.
Jupiter Life Line Hospitals has a clear objective to cut down its debt from the balance sheet and make further expansions in other regions, but can it live up to the expectations of its shareholders or not? Only time will tell. There is no such investment in the market that is risk-free. Here are the risks that are highlighted for Jupiter Life Line Hospitals:
Risk Factors
Jupiter Life Line Hospitals relies heavily on its Thane Hospital for a significant portion of its revenues. All hospitals are situated in the western regions of India, making them vulnerable to regional economic downturns or political instability.
Substantial expenses are incurred in areas such as staffing, infrastructure, maintenance of medical equipment, ancillary items, and pharmaceuticals. Maintaining specialized hospital equipment is costly and ongoing.
The company is currently facing three legal proceedings. Allegations include improper land use for constructing a Fortune Park Lake City hotel at the Thane Hospital premises. An unfavourable outcome in these legal cases could harm the company's reputation and prospects.
Should you subscribe: Jupiter Life Line Hospitals IPO?
Knowing about the risks and rewards of an investment is very important before you enter. Hence, this blog provided comprehensive details about the opportunities and threats involved for Jupiter Life Line Hospitals Limited. Our team at StockEdge has given a Good rating for this IPO and also a detailed IPO Note, which talks about the company's financial position as well as gives you a SWOT analysis of the company that will provide you with a better understanding of the future prospect of the company and will help you make informed investment decisions.
StockEdge has a different section on IPO under the Explore tab, where you can see the list of upcoming IPOs, ongoing and recently listed IPOs.
Join StockEdge Club, where our team of research analysts will be dedicated to solve your query related to investments, trading or IPOs.
Happy investing!