Markets are flooded with IPOs one after another. The latest IPO is by a Jodhpur-based infrastructure company named Vishnu Prakash R Punglia Ltd. Currently, the infrastructure sector fuels India's exponential growth. But should you subscribe to the Vishnu Prakash (VPRP) IPO or not?
Investments in IPOs have been rewarding for many investors in the recent past. A few notable ones are the Yatharth Hospital IPO, SBFC Finance IPO and Concord Biotech IPO, which have gained around 31%, 55% and 31%, respectively, from their issue price as of today. However, not all initial public offerings (IPOs) come with a promise of equal profits, for example, in the previous blog on the IPO of TVS Supply Chain Solutions Ltd. The stock has gained only 0.6% as of now. So, in today's blog, let's analyze some key factors in the VPRP IPO before you apply!
VPRP IPO is open for subscription from today onwards!
Vishnu Prakash R Punglia Ltd; VPRP IPO Details:
IPO Open Date 24th August, Thursday
IPO Close Date 28th August, Monday
Price Band ₹ 94 – ₹99
Lot Size 150
Face Value ₹10
Issue Size at upper price band ₹309 cr (Fresh Issue & No Offer For Sale)
Listing exchanges NSE, BSE
Cut-off time for UPI mandate confirmation by 5 PM on Aug 28, 2023
The tentative timeline for the IPO are as follows:
Basis of Allotment 31st August 2023, Thursday
Initiation of Refunds (if not allotted) 1st September 2023, Friday
Credit of Shares to Demat (if gets allotments of shares) 4th September 2023, Monday
Listing Date 5th September 2023, Tuesday
About the Company
Vishnu Prakash R Punglia Limited is an engineering, procurement and construction ("EPC") company specializing in infrastructure projects like building roads, railways networks, water supply systems, and irrigation networks for government and private organizations in India. However, primarily, they are concentrated in the state of Rajasthan with a focus on water supply projects for which they have an order book of ~₹3,800 cr. The main objective of raising capital through an IPO is to purchase equipment and fund working capital requirements.
Some of the marquee clients for the company are PHED & Water Resource Department in Rajasthan, North Western Railway (NWR), RVNL, Jodhpur Development Authority, etc.
The business operation of the company can be broadly divided into four categories:
Water Supply Projects ("WSP"): The company majorly takes up tasks for water supply projects, which include everything from studying the area, planning and designing the project, building it, getting it up and running, and taking care of its ongoing operation and maintenance. It also involves putting down pipelines, creating water storage structures like tanks and reservoirs, setting up water treatment facilities, and installing pumping stations.
Railway Projects: These projects are responsible for placing railway tracks, building platforms, creating important bridges, constructing bridges over railway tracks, making station buildings, and constructing living spaces for staff.
Road Projects: They undertake projects that involve constructing and improving roads and highways using the Engineering, Procurement, and Construction (EPC) approach. This includes working on small and large bridges that go over roads and bridges that go over or under the roads.
Irrigation Network Projects: These types of projects involve creating tunnels, canals, water storage areas, pump stations, pressurized pipes, and the necessary mechanical and electrical setups. They also work on sewage treatment facilities, pipelines for sewage, drainage systems, etc. All of this is done under a single responsibility as a turnkey approach.
Here is the revenue- mix of the company for FY23: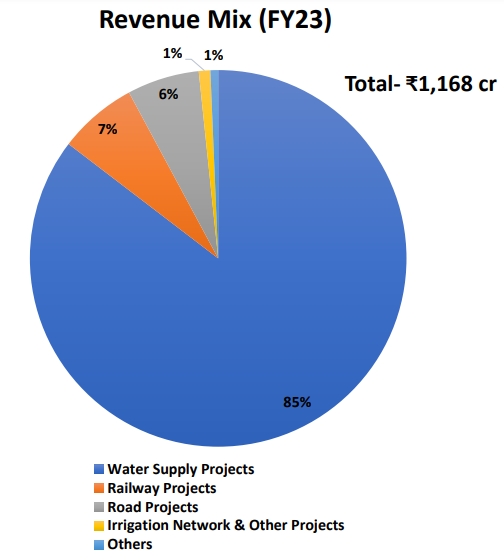 Infrastructure Sector in India: Outlook
The infrastructure sector is crucial in boosting India's economic growth by driving development in related areas like housing, urban infrastructure, and construction projects. The government introduced the National Infrastructure Pipeline (NIP) to support infrastructure sector growth. The NIP's funding is divided, with the central government contributing 39%, while the state and private sectors contributing 39% and 22%, respectively. This plan involves around ₹111 trillion of investments from the central government, state governments, and private sector between FY20 and FY25, offering significant opportunities for construction companies in India.
Around 18% of the targeted investment is expected to be directed towards road development. In collaboration with states, the government is implementing the Jal Jeevan Mission (JJM) to provide tap water connections. When JJM was introduced, only 17% of households had tap connections. However, as of December 31, 2022, after the implementation of JJM, this number has increased to 55%. The estimated cost of JJM is ₹3.6 trillion, and the FY24 Budget has allocated ₹700 billion to JJM, marking a 27% increase from ₹550 billion in FY23.
The government has also introduced a Public-Private Partnership model for railway station redevelopment. This initiative targets the redevelopment of 400 stations, presenting an investment opportunity of approximately ₹1 trillion.
Vishnu Prakash R Punglia Limited is a focused player in water supply projects. As of July 15th, 2023, it constitutes ~78% of the total order book. With the continued focus of the Central and State Governments on the 'Jal Jeevan Mission' and AMRUT scheme, they intend to maintain and strengthen their position in the execution of WSPs on a turnkey basis in India.
Financial Performance
Vishnu Prakash R Punglia Ltd. has shown a steady and impressive growth trajectory in its financial performance over the past three years.
The company's Revenue from Operations has experienced a substantial increase, climbing from 486 crore in FY21 to 786 crore in FY22 and further soaring to 1,168 crore in FY23.
This robust growth has been reflected in the EBITDA figures, which have risen from 45 crore in FY21 to 87 crore in FY22 and more than doubled to 157 crore in FY23. This upward trend in revenue and earnings is a positive indicator of the company's expanding operations and efficient cost management.
The Net Profit for the respective years also paints a similar picture of remarkable growth, with net profits climbing from 19 crore in FY21 to 45 crore in FY22 and nearly doubling yet again to 91 crore in FY23.
This financial performance underscores the company's successful strategies and strong market position, and it may continue to succeed in the coming years as well. In the infrastructure industry, the order book is considered one of the key indicators for a company's future performance since it represents a portion of anticipated future revenue.
As of 15 July 2023, they have 51 ongoing projects. The order book to sales ratio for the company has been 3x times. However, 62% of the order book is concentrated in the state of Rajasthan, followed by 16% in Uttar Pradesh and the remaining from other states.
Now, let's take a look at the key fundamental parameters of Vishnu Prakash R Punglia Ltd. and how it compares with its peer companies in this competitive landscape.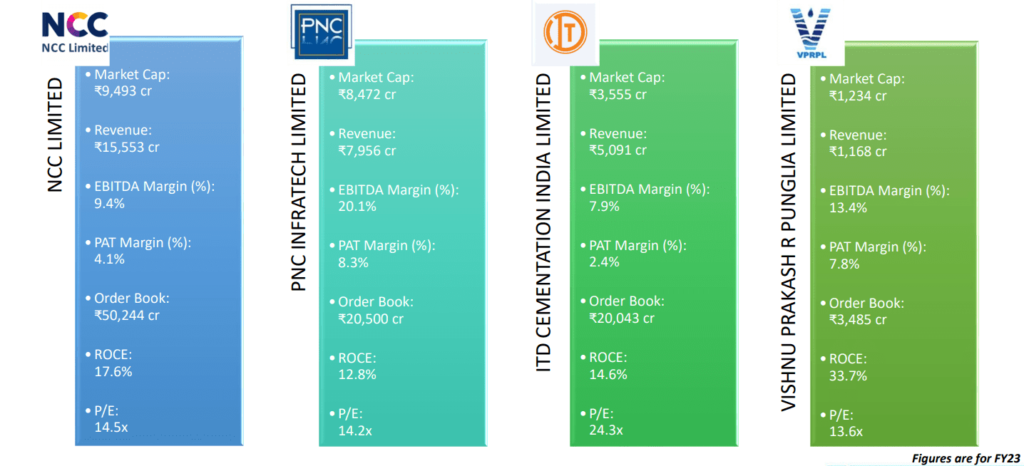 Although Vishnu Prakash R Punglia Ltd is positioned well among its peers with its own competitive advantages and performing exceptionally well considering its strong order book and varieties of infrastructure projects, what's the objective behind this IPO? Let's find out!
Objectives of the Issue
The company is raising 390 crore, which is an entirely fresh issue. The net funds raised through the IPO will be put to use for two main objectives, which include:
Funding capital expenditure for the purchase of equipment/machinery
Funding working capital requirements as the company is planning to bid not only for a higher number of projects but also for higher value projects.
General corporate purposes.
Vishnu Prakash R Punglia Ltd. has a clear objective to scale up its operations, but can it live up to the expectations of its shareholders or not? Only time will tell. There is no such investment in the market that is risk-free. Here are the risks which are highlighted for VPRP:
Risk Factors
The company's operations are centered mainly in Rajasthan, accounting for approximately 67% of its revenue in FY23. However, any slowdown specific to this region, unfavorable weather conditions, shifts in government policies, or other related factors could affect the company's business activities.
The company derives 85% of its revenue from water supply projects, and a considerable portion comes from a small group of clients, which is a significant risk for the company.
As of March 31, 2023, the company has a contingent liability of around ₹278 crore due to performance guarantees.
Should you subscribe?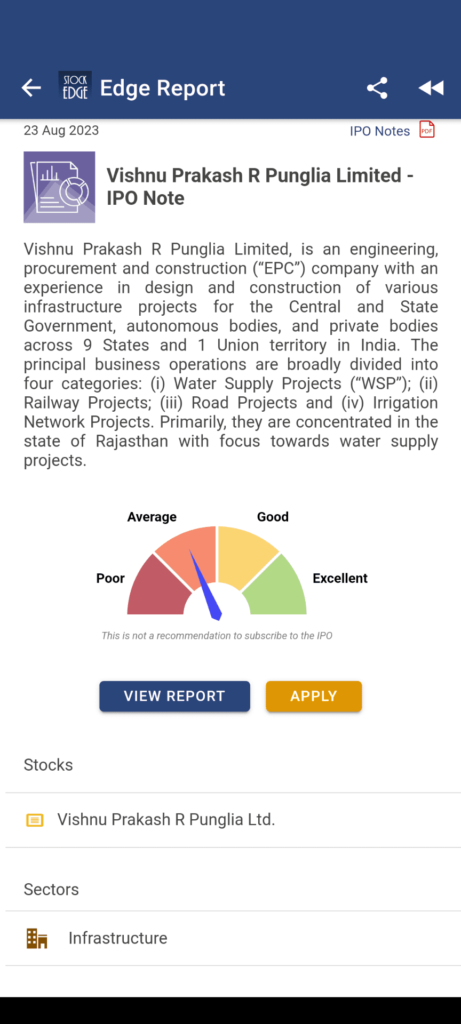 Having a thorough grasp of the possible risks and rewards associated with an investment is vital before making a commitment. In this article, we have provided detailed information about both the advantages and possible downsides related to participating in the IPO of Vishnu Prakash R Punglia Ltd. Our team of experts at StockEdge has given an Average rating to this IPO and has created a comprehensive IPO report. This report delves into the company's financial position, encompassing in-depth analysis, which gives readers a deeper understanding of the company's future potential. This knowledge will ultimately assist individuals in making well-informed investment decisions.
StockEdge has a different section on IPO under the Explore tab, where you can see the list of upcoming IPOs, ongoing and recently listed IPOs.
Join StockEdge Club, where our team of research analysts will be dedicated to solve your query related to investments, trading or IPOs.
Happy investing!