Currently, the stock market is offering many opportunities to invest in IPOs. Investing in a company's Initial Public Offering (IPO) can be rewarding for many investors if applied in the right IPO and gets allotment, then it can offer jaw-dropping listing gains and may also turn out to be a good investment opportunity.
For example, recently, the VPRP IPO, which is the Vishnu Prakash R Punglia Ltd, an engineering & construction company from the infrastructure sector, has listed at 67% premium over its issue price. That's simply a phenomenal return, right?
Today, another company from the same infrastructure sector and in the business engineering & construction named EMS Ltd. has its initial public offering open for subscription. But the question is, can this EMS IPO offer the same return as the other one, which is the VPRP IPO? The answer is nobody is 100% sure because not all initial public offerings (IPOs) come with a promise of equal profits. So, it is essential to know the key factors of the IPO before you apply!
In today's blog, let's understand whether the EMS IPO is worthy of your consideration for subscription or not.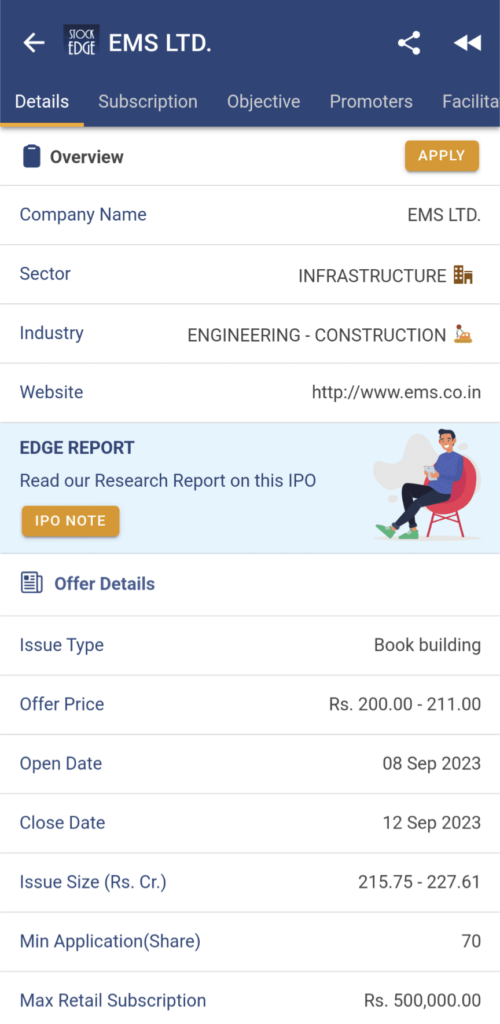 EMS IPO is open for subscription from (8th Sep 2023) today onwards!
EMS IPO Details:
IPO Open Date 8th September 2023, Friday
IPO Close Date 12th September 2023, Tuesday
Price Band ₹200 to ₹211 per share
Lot Size 70 shares
Face Value ₹10 per share
Issue Size at upper price band ₹321 cr (Fresh Issue ₹146 Cr & Offer For Sale ₹175 Cr)
Listing exchanges NSE, BSE
Cut-off time for UPI mandate confirmation by 5 PM on September 12, 2023
The tentative timeline for the IPO are as follows:
Basis of Allotment 15th September 2023, Friday
Initiation of Refunds (if not allotted) 18th September 2023, Moday
Credit of Shares to Demat (if gets allotments of shares) 20th September 2023, Wednesday
Listing Date 21st September 2023, Thursday
About the Company
EMS Limited, which was established in 2010 and is based in Delhi, is a versatile company that specializes in providing comprehensive services for water and wastewater management projects. They handle everything from planning to execution, making it easier for their clients. They've secured government contracts for various projects, including sewage solutions, water supply systems, wastewater treatment plants, electrical transmission, road construction, and more. To ensure high-quality work, they have a team of 61 engineers who receive support from external experts and consultants.
The company's revenue majorly comes from 4 major states which are Uttar Pradesh, Bihar, Rajasthan and Uttarakhand. You can check the revenue breakup of the company across geography in FY 23: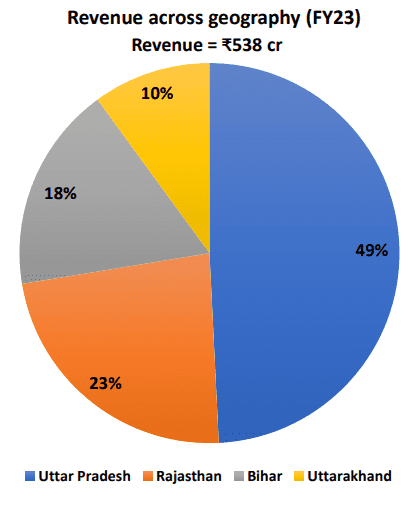 EMS Ltd. currently operates in four different segments, which are:
Sewage Treatment Plants & Sewage Schemes: A Sewage Treatment Plant (STP) uses pipelines and pumping stations to gather all the dirty water that gets cleaned, meeting strict rules, so it can be used again for things like gardening, cooling, and industry.
Common Effluent Treatment Plants: The company also provide specialized tailor-made solutions for recycling and reuse of contaminated wastewater produced by different industries.
Water Treatment Plants and Water Supply Schemes: This involves preparing the untreated water, making it clear, filtering out impurities, and making it safe by removing germs.
Operations & Maintenance (O&M): The company participates in competitive bids for most complete projects related to Wastewater Scheme Projects (WWSPs) and Water Supply Scheme Projects (WSSPs). These projects often come with long-term Operation and Maintenance (O&M) contracts, which can vary based on what the customers need. These O&M contracts typically cover tasks like running and looking after the systems, as well as providing necessary materials, ensuring a steady stream of income.
Currently EMS Ltd. is operating & maintaining 18 projects including WWSPs, WSSPs, STPs & HAM worth ₹1,745 cr & 5 O&M projects worth ₹99 cr.
Infrastructure Sector in India: Outlook
India has a population of 1.4 billion, has a predominantly rural population of 65%, while 35% reside in urban areas, as per the data provided by the United Nations in 2019. The country's rapid economic growth and reforms have led to significant expansion in metropolitan cities. However, this expansion is not sustainable without proper city planning and delivering essential services, particularly clean and affordable water. In urban areas, water allocation is typically managed from a shared resource pool, with various sectors competing for water needs.
As the Central Pollution Control Board (CPCB) reported, rural areas in India generated nearly 39,600 million litres per day (MLD) of wastewater. At the same time, urban regions produced an estimated 72,368 MLD in the year 2021. That makes this industry lucrative and offers immense growth opportunities for companies like EMS Ltd.
The Government of India (GoI) has taken significant steps to address water-related challenges, emphasizing water conservation and restoration. Consequently, the number of polluted river stretches decreased from 351 in 2018 to 311 in 2022, with observed improvements in water quality in 180 polluted river stretches in 2018. (GoI) has implemented various schemes for wastewater management, including the Jawaharlal Nehru National Urban Renewal Mission, Atal Mission for Rejuvenation and Urban Transformation, Namami Gange program, and Swachh Bharat Mission, demonstrating a commitment to enhancing water resources and environmental sustainability in the country, which will provide various benefits to companies operating in this sector.
Financial Performance
The company has exhibited a notable upward trajectory in its financial performance over the past three fiscal years. In FY21, the company generated revenue from operations amounting to 331 crores, which increased to 360 crores in FY22 and experienced a significant leap to 538 crores in FY23. This growth in revenue reflects the company's expanding business activities.
Similarly, the EBITDA of the company (Earnings Before Interest, Taxes, Depreciation, and Amortization) has been on an upward trend, increasing from 99 crores in FY21 to 113 crores in FY22 and further climbing to 149 crores in FY23. Moreover, the company's net profit, or PAT (Profit After Tax), has also been consistently improving, reaching 72 crores in FY 21, 79 crores in FY22, and achieving a significant milestone by crossing the triple-digit mark at 109 crores in FY23. This remarkable financial performance indicates the company's effective management and successful endeavors in its respective industry.
Now, let's look at the key fundamental parameters of EMS Ltd. and how it compares with its peer company, VA Tech Wabag Ltd., in this competitive landscape.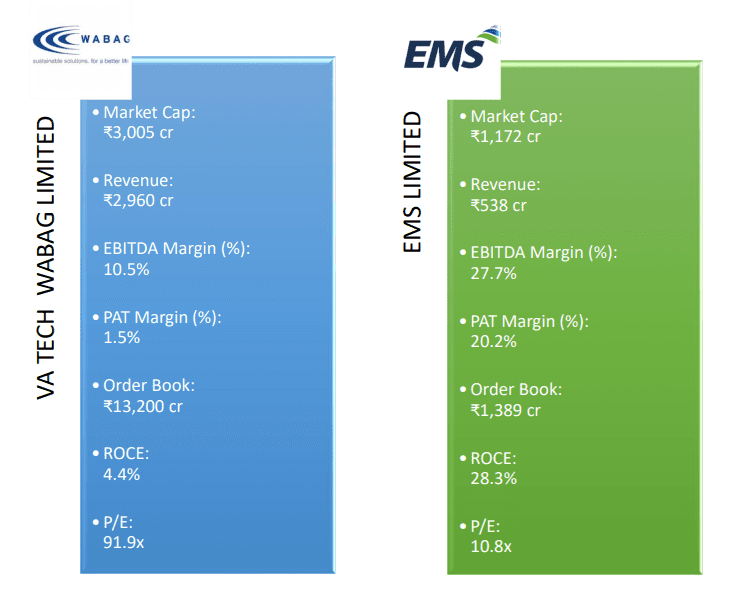 EMS Ltd. does not have many direct peers in the industry. However, considering its current market cap, the company has grown fairly for the past three financial years. But what's the objective behind this IPO? Let's find out!
Objectives of the Issue
EMS Ltd. intends to utilize the net proceedings from the IPO issue towards the funding of the following objects:
The net proceeds of ₹321 cr, out of which the fresh issue of ₹ 146 cr, will be deployed towards funding working capital requirements up to ₹101 cr in FY24.
The rest is for General corporate purposes.
EMS Ltd. has a clear objective for its working capital requirements, but can it live up to the expectations of its shareholders or not? Only time will tell. There is no such investment in the market that is risk-free. Here are the risks that are highlighted for EMS IPO:
Risk Factors
EMS Ltd. has a clear objective for its working capital requirements, but can it live up to the expectations of its shareholders or not? Only time will tell. There is no such investment in the market that is risk-free. Here are the risks that are highlighted for EMS IPO:
The company's success is closely tied to government projects, and shifts in government regulations regarding environmental and water treatment matters may affect the company's revenue.
In the past, the company faced penalties from two government authorities. They were black-listed due to two primary reasons. Firstly, they were found to have provided insufficient safety equipment and measures for their laborers, which indicated subpar workman-ship and tragically resulted in the deaths of five laborers. Secondly, they were penalized for inaccurately and deceitfully reporting incorrect information in Forms 2 and 3B of the Standard/Model Bid Documents (SBD). These forms are typically submitted in response to invitations for bids on specific projects.
This raises a concern that the company's corporate governance could be a red flag for the company's management.
Should you subscribe to EMS IPO?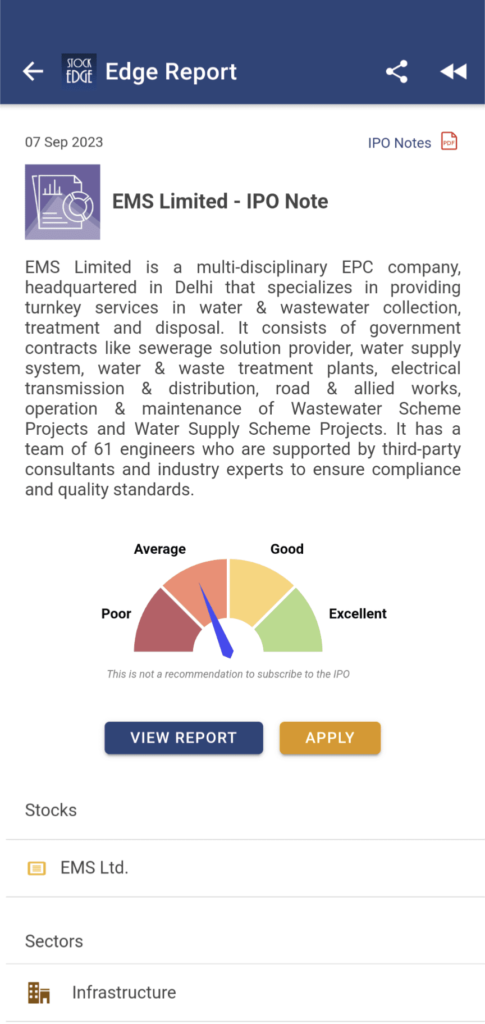 Before you decide to invest, it's crucial to have a strong understanding of the potential risks and rewards involved. In this blog, we've presented a detailed overview of both the benefits and possible drawbacks associated with participating in the initial public offering (IPO) of EMS Ltd. Our team of experts at StockEdge has assessed the EMS IPO and provided an Average rating. Additionally, we've compiled a comprehensive IPO Note that dives deep into the company's financial standing and SWOT analysis, offering thorough analysis to provide you with a more profound insight into the company's future prospects.
StockEdge has a different section on IPO under the Explore tab, where you can see the list of upcoming IPOs, ongoing and recently listed IPOs.
Join StockEdge Club, where our team of research analysts will be dedicated to solve your query related to investments, trading or IPOs.
Happy investing!
FAQs about Initial Public Offering (IPOs)
Here are some commonly asked questions related to IPOs:
What IPO stands for?
IPO stands for Initial Public Offering. It is a method of raising capital from the public by floating shares of the company and getting listed on the stock exchanges. 
Who decides IPO Price?
The price of an IPO is decided by the company and its merchant bankers, who are experts in handling the IPO process. There are two methods to set the price of an IPO: fixed price offering and book building offering. In a fixed price offering, the company and its merchant bankers set a specific price for the shares. In a book building offering, the company and its merchant bankers set a price range with a floor and cap price, and investors can bid for their desired price and number of shares.
How IPO is allotted?
The allotment of shares in an IPO depends on the demand and supply of the shares in the market. There are different categories of investors who can apply for an IPO, such as qualified institutional buyers (QIBs), non-institutional investors (NIIs), and retail investors.
Can IPO be applied after market hours?
The stock exchanges accept IPO applications during the IPO subscription period from 10 am to 5 pm. However, many brokers/banks offer the opportunity to submit IPO applications after 5:00 p.m., except on the last day of the subscription period. If your broker offers this option, you may place your orders after the market closes, once the IPO is open for public subscription. However, the application will only be uploaded to the exchange system by 10 AM the next day.
Offline IPO orders can be submitted to the broker at any time during the IPO window before 5 pm on the last day.