Nifty has touched 20K! For a successful option trader, it doesn't make too much of a difference as they make money in all market scenarios! But Wait! Option trading is not that easy!
The Securities and Exchange Board of India (SEBI), published a study revealing that 90% of active traders involved in futures and options (F&O)trading, faced losses during the fiscal year 2021-2022. The primary reason behind this phenomenon is the deficiency in understanding options trading and a lack of awareness regarding risk management when engaging in futures and option trading among major retail market participants.
Option trading has gained huge popularity in India in recent years. As per data provided by the National Stock Exchange (NSE), option trading turnover has increased 50x from 2015-2022.
The Options turnover which was 3x that of the combined Cash and Futures volumes in 2015 has increased to 70x in 2022.
We at StockEdge are thrilled to announce and invite you for our exclusive online event, OptionsEdge. This event spans seven hours and promises an enriching experience where you'll have the opportunity to delve into the world of option trading. Renowned market experts will be your guide, sharing their valuable trading strategies for successful option trading, right from concept building to execution of advanced strategies.
The focus will be on the right process and consistency, which is the key to success in the world of Option trading.
With OptionsEdge, we are embarking on an initiative to transform the option trading landscape for retail traders. If you're new to option trading and encountering challenges in crafting profitable strategies, then this event is tailor-made for you.
How will you benefit from OptionsEdge?
Trade Mastery- Master the art of options trading from basic principles to advanced strategies.
Learn Trading Setups– Don't just believe in words, but in actions. See how the experts use their setups and beat the markets.
Actionable Strategies: Acquire actionable strategy and implement immediately in your trading style.
DIY to master the Science – Participate in real-time quiz and concept questions, curated by experts and get clarity on concepts.
Master Your Emotional Quotient (EQ) – Learning and creating strategies are all good, but what sets a professional market participant apart is acing your Emotional Quotient (EQ)
Learnings are endless and earnings are limitless in option trading. OptionsEdge which is a 7 hour learning session on Saturday, 23rd September 2023 have a total of 7 market experts (Speakers) who will be guiding you through complexities of option trading.
Meet Your Speakers
These market experts, having several years of experience, are constantly guiding and mentoring over 20,000+ retail traders and investors on StockEdge Club, which is India's fastest growing premium stock market community. Our market experts have over 70% of accuracy in their trading strategies and will be guiding you through a live session.
Here is the list of market experts:
Vivek Bajaj
MBA (IIM Indore), ACA, ACS, M.Com
17+ years of experience as a trader in equities, options, currencies, and commodities.
Jyoti Budhia
Post graduate and Masters in Finance
35+ years in the markets, and empaneled as a Trainer with NSE, BSE, NISM.
Thoviti Brahmachary
Masters (Communication & Journalism), MBA, MA
Senior technical analyst with 30 years of experience in trading and investing and trained 5000+ traders.
Vivek Gadodia
MS- Artificial Intelligence and Machine Learning
12 years of experience in trading and financial markets and has set up Institutional Algo Desk at MF Global India
Dilip Sagar
Post graduate and Masters in Finance
20+yrs of experience in Trading & Investing. Creator of proprietary pattern analysis system.
Nikita Goenka
Post Graduate Diploma in Management(Financial Markets)
8+ years in Options Trading, Derivatives Analyst at StockEdge
Soham Sharma
Post Graduation Program in Global Financial Markets
5+ years of experience in trading and investing in the financial markets.
OptionsEdge is an online event which starts at 11 AM in the morning and ends at 6 PM. The itinerary for the event is as follows:
Event Itinerary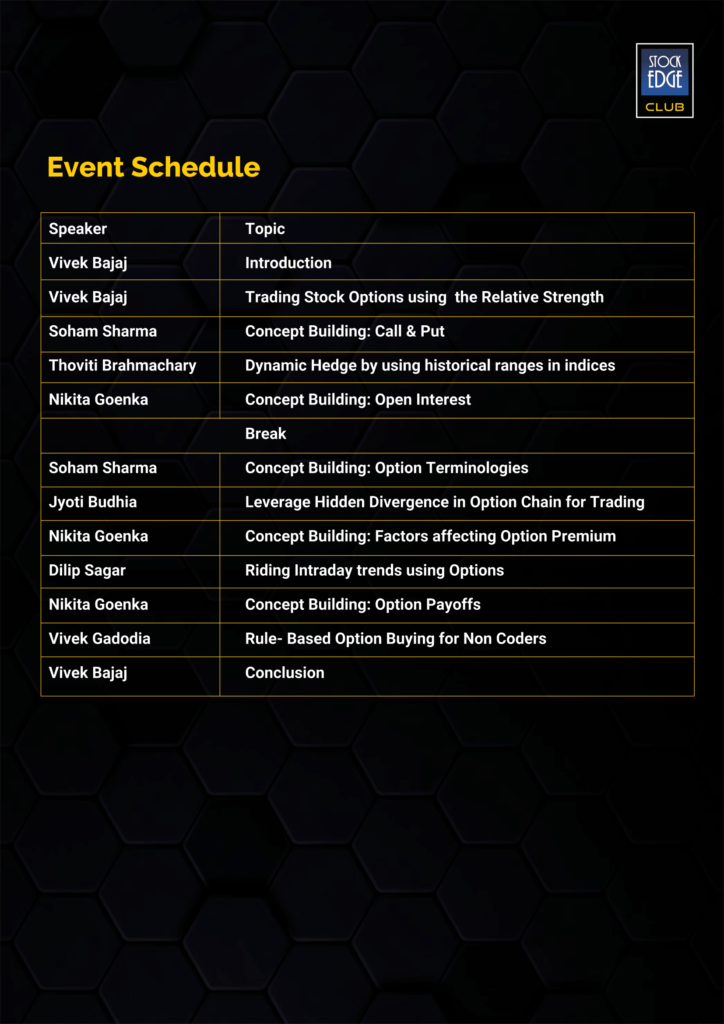 The event will go as scheduled and with the list of all stock market experts there is immense opportunity to learn option trading the right way.
Join StockEdge Club
So, what are you waiting for? Go ahead and attend OptionsEdge by becoming a StockEdge Club member today. This event is an exclusive event for StockEdge Social Community.
We also have a powerful feature on StockEdge, called "Derivatives Analytics" which you learn to use from one of our blog: Derivative Analytics: Unlock the Power of Derivatives to analyze Stocks!
Happy Trading!