Do you know investments in IPO have been rewarding for investors in the recent past? In today's blog, we will discuss some key factors you should consider before applying for the Yatharth Hospital IPO.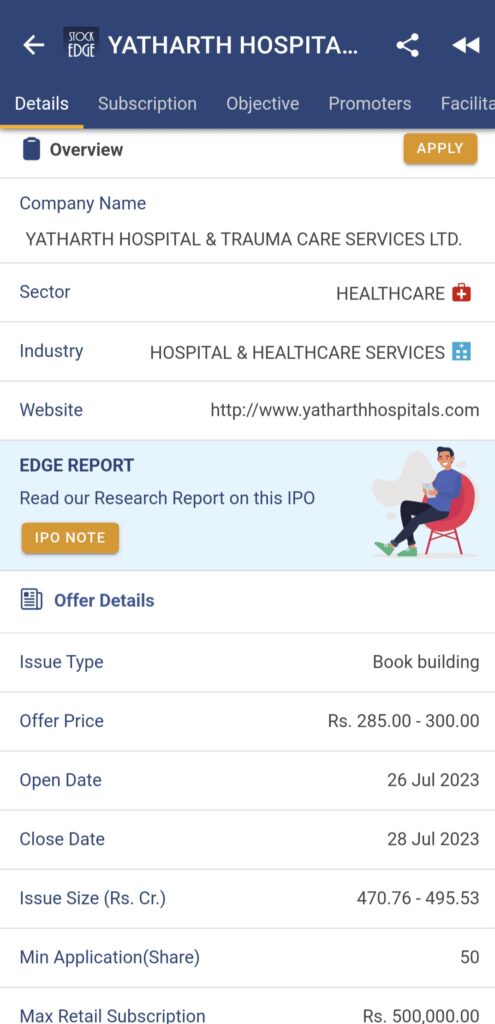 Investors become extremely excited whenever a latest IPO (Initial Public Offering) enters the market. It offers to acquire a stock at the initiation stage in a developing business to get listing gains and possibly make money over the long run.
Some recently listed IPOs, like Utkarsh Small Finance Bank, made a listing gain of almost 60%, and the stock has almost doubled as of today at a CMP of 50 per share from its issue price of Rs. 25 per share. On the other hand, Senco Gold Ltd. gave a listing gain of 35%, but as of today's CMP, the stock fell by 10.7% from its listing price of Rs. 417 per share, and the return as of today is just 21.5%. Hence, it's crucial to remember that not all initial public offerings (IPOs) come with a promise of equal profits. Because of this, it is essential to consider a number of considerations before making an IPO investment.
Yatharth Hospital IPO as it is open for subscription from today onwards!
Yatharth Hospital IPO Details
IPO Open Date 26th July 2023, Wednesday
IPO Close Date 28th July 2023, Friday
Price Band Rs. 285 to Rs. 300 per share
Lot Size 50 shares
Face Value Rs. 10 per share
Issue Size at upper price band ₹687 Cr (Fresh Issue 490 Crs & Offer For Sale 197 Crs)
Listing exchanges NSE, BSE
Cut-off time for UPI mandate confirmation 5 PM on Jul 28, 2023
The tentative timeline for the IPO are as follows:
Basis of Allotment Wednesday, 2 August 2023
Initiation of Refunds (if not allotted) Thursday, 3 August 2023
Credit of Shares to Demat (if gets allotments of shares) Friday, 4 August 2023
Listing Date Monday, 7 August 2023
About the Company
Yatharth Hospital & Trauma Care Services Limited runs private medical facilities majorly in the Delhi NCR area. The hospital offers a complete range of healthcare services, covering various specialities and super-specialities, including Medicine, Cardiology, Neurosciences, General Surgery, Nephrology & Urology, Pediatrics, Gastroenterology, Pulmonology, Gynecology, Orthopedics & Spine, and Rheumatology. These medical centers are headed by Dr. Ajay Kumar Tyagi and Dr. Kapil Kumar, who come from a family of doctors.
Here is geographical wise revenue break-up of the company for FY23: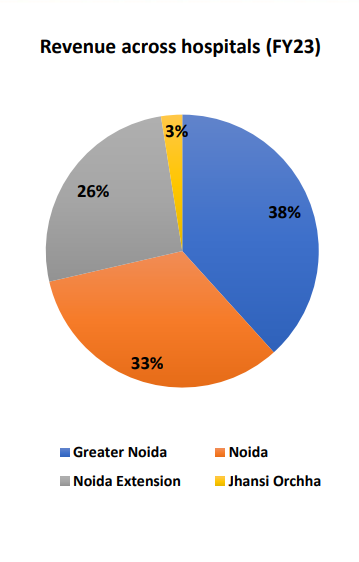 The company has made two major acquisitions before the IPO:
In the fourth quarter of FY22, the company purchased Ramraja Multispeciality Hospital & Trauma Centre Private Limited through a share purchase agreement. Before the acquisition, the hospital had been non-operational since FY20. However, after the acquisition, it resumed its operations starting on April 10, 2022 and is currently functioning under the company's ownership.
In FY17, the company acquired AKS Medical & Research Centre Private Limited, which is presently engaged in operating Noida Extension Hospital. Starting from June 2020, the hospital underwent a transformation and exclusively served as a Covid-19 hospital until June 2021.
Now that you have a brief understanding about the company, let's analyze what's the current outlook of the healthcare sector in India.
Healthcare sector in India: Outlook
In India, healthcare spending is biased towards private hospitals in comparison to public hospitals. Government health expenditure accounts for approximately 37% (CY20) of the total, while the remaining majority is covered by private expenditure. That's a major shift that has taken place post the covid era.
In 2019, risk factors, including unhealthy diet, high blood pressure, high blood sugar, high cholesterol, and overweight, which are primarily responsible for conditions like ischemic heart disease, stroke, and diabetes, accounted for approximately 27% of the total disease burden. This has increased the demand for hospitals across India. The majority of healthcare establishments in India are concentrated in urban regions.
As urbanization continues to rise, with more people migrating from rural to urban areas, there is an anticipation of increased awareness among the general population regarding the presence and accessibility of healthcare services for both preventive and curative healthcare.
You can read more about the sector and who are top listed players in this sector from this blog, Health is Wealth! Know the Top 3 Healthcare Stocks in India
Financial Performance
Here are some financial highlights for Yatharth Hospital & Trauma Care Services Limited:
Yatharth Hospital & Trauma Care Services Limited has shown impressive financial performance in recent years.
The company's revenue from operations has exhibited a steady upward trend, reaching 229 crores in FY21, followed by a significant increase to 401 crores in FY22, and further growth to 520 crores in FY23.
The EBITDA figures also demonstrate a similar positive trajectory, rising from 67 crores in FY21 to 111 crores in FY22, and continuing to improve to 134 crores in FY23.
The net profit has seen substantial growth as well, with 20 crores in FY21, a significant jump to 44 crores in FY22, and a remarkable 66 crores in FY23.
These financial highlights reflect the company's successful management and growth in the healthcare sector.
Now let's take a look at key fundamental parameters of Yatharth Hospital and how it compares with its peer companies in this competitive landscape.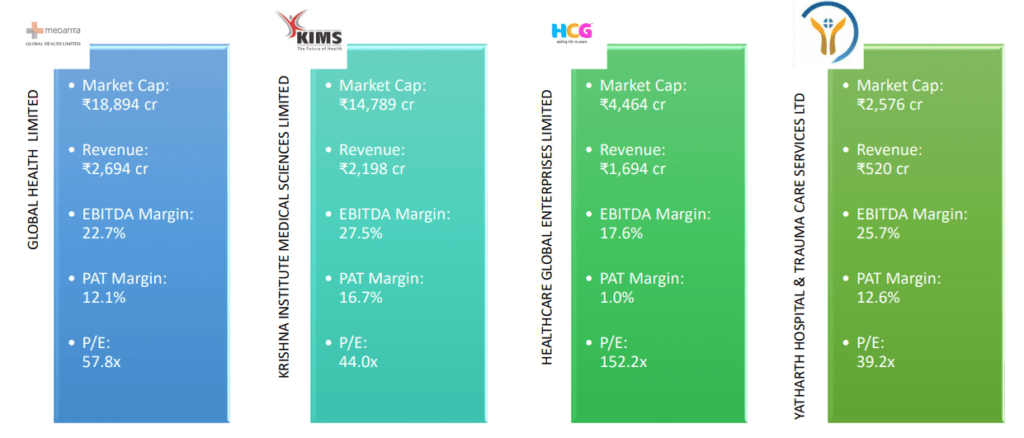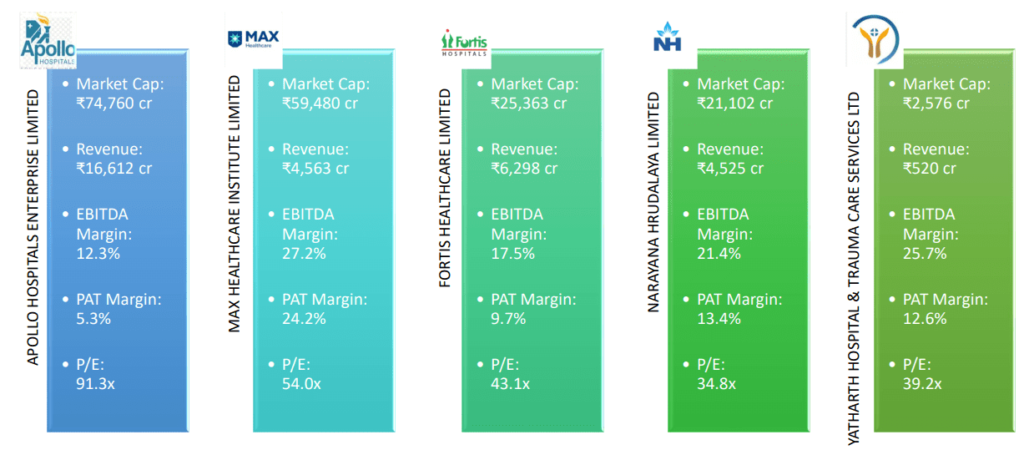 Although Yatharth Hospital is positioned well among its peers with its own set of competitive advantages and performing exceptionally well considering its geographical presence, what's the objective behind this IPO? Let's find out!
Objects of the Issue
The company intends to utilize the net proceeds for various purposes, including:
Repayment or partial prepayment of certain borrowings taken by the company.
Repayment or partial prepayment of borrowings taken by the subsidiaries, namely, AKS Medical & Research Centre Private Limited and Ramraja Multispeciality Hospital & Trauma Centre Private Limited.
Funding the capital expenditure requirements of the company for two hospitals, namely, Noida Hospital and Greater Noida Hospital.
Funding the capital expenditure requirements of the subsidiaries, AKS Medical & Research Centre Private Limited and Ramraja Multispeciality Hospital & Trauma Centre Private Limited, for their respective hospitals.
Utilizing funds for inorganic growth initiatives, such as acquisitions and other strategic ventures.
Utilizing the proceeds for general corporate purposes to support overall business operations and expansion.
As the objectives of the net proceeds are very clear by the company, what are the risks involved in it? Let's find out!
Risk Factors
Government-imposed price restrictions can impact the company's pricing flexibility, especially during events like the COVID-19 pandemic. Such restrictions limit the company's ability to adjust prices in line with market conditions and adapt to shifts in supply and demand.
The company experiences a significant attrition rate, reaching 96.4% in FY23. Among different categories, the attrition rate for doctors (including resident medical officers and consultants but excluding visiting doctors) was 47%; for nurses, it was 74%; for other healthcare professionals, it was 56%; for medical professionals, it was 63%, and for housekeeping & support staff it was as high as 134%.
Most of the company's operations are focused on the Delhi NCR region, contributing about 97% of the total revenue in FY23. This is a concentration risk.
The business's success heavily relies on the strength of its brand and reputation. Failing to uphold and improve the brand name and reputation, as well as facing negative publicity or media allegations, could significantly impact the market's recognition of and trust in their services in a potentially adverse manner.
Should you subscribe?
Knowing about the risk and rewards of an investment is very important before you enter. Hence this blog provided you with comprehensive details about the opportunities and risks involved for Yatharth Hospital & Trauma Care Services Limited. Our team at StockEdge has provided a detailed IPO Note, which talks about the company's financial position as well as gives you a SWOT analysis of the company that will provide you with a better understanding of the future prospect of the company that will help you make informed investment decisions.
StockEdge has a different section on IPO under the Explore tab, where you can see the list of upcoming IPOs, ongoing and recently listed IPOs.
Join StockEdge Club, where our team of research analysts will be dedicated to solve your query related to investments, trading or IPOs.
Happy investing!