"Ever heard the saying 'Health is Wealth'? Get ready to witness a stock market angle on this age-old wisdom! In today's blog, we will unravel the true meaning of this famous quote, as we delve into the booming world of India's healthcare sector. Brace yourself for mind-boggling stats and surprising insights as we explore how healthcare has become a power house, not just in terms of revenue and jobs but also in the hearts of investors. So, let's dive in and uncover the fascinating relationship between health and wealth in the context of the stock markets!"
Post-Pandemic, the healthcare industry saw unprecedented growth due to changing habits and mindset of the people in India. As India's economy is growing at a faster pace than the rest of the world, and rising per capita income led to more people being able to afford private healthcare. The National Statistical Office (NSO) has estimated that the per capita income in India (at current prices) for 2022–2023 will be INR 172,000, which was just INR 86,647 in 2014–15. This is a nearly 100% growth.
India is facing an epidemic of lifestyle diseases such as diabetes mellitus, heart disease, and cancer. Also, Indians are becoming more aware of the importance of preventive healthcare and seeking more medical care driving demand for healthcare service in India.
In the recent Union Budget for 2023-24, the Ministry of Health and Family Welfare (MoHFW) received a significant allocation of Rs. 89,155 crore (equivalent to US$ 10.76 billion). To enhance India's healthcare infrastructure, the government is also set to introduce a credit incentive program valued at Rs. 500 billion (approximately US$ 6.8 billion).
The Government is also investing heavily in the healthcare sector, further boosting growth. The launch of Ayushman Bharat Yojana was the stepping stone for the national digital health mission for the country. Also, more Indians are now covered by health insurance, giving them access to a wider range of healthcare services. Therefore all these factors are fueling the overall growth of this industry.
A NITI Aayog report published in 2021, says "India's healthcare industry has been growing at a Compound Annual Growth Rate of around 22% since 2016. At this rate, it is expected to reach USD 372 Billion in 2022. Healthcare has become one of the largest sectors of the Indian economy, in terms of both revenue and employment. In 2015, the healthcare sector became the fifth largest employer, employing 4.7 Million people directly. As per estimates by the National Skill Development Corporation (NSDC) healthcare can generate 2.7 Million additional jobs in India between 2017-22 — over 500,000 new jobs per year."
Hence, in this blog, we will talk about the key players in the healthcare sector, which could be an investment opportunity for you!
To know how we have identified this outperforming sector, you may read this blog: Beat the street with Sector Rotation Strategy
Top 3 stocks from the healthcare sector
1. Dr. Lal Pathlabs Ltd.
Company Overview
Dr. Lal Pathlabs, a renowned diagnostics company in India, boasts over 70 years of experience. With its established brand and prominent presence in the pathology laboratories service segment, the company is well-positioned to reap the advantages of its leading position. Driven by a commitment to innovation, it remains dedicated to introducing novel tests in diverse fields such as Neurology, Oncology, and post-organ transplant monitoring. These advancements aim to assist medical professionals in delivering precise diagnoses to their patients, further enhancing the company's reputation and reliability.
The company dominates the NCR-Delhi region, which accounts for 32% of the overall revenue, whereas the rest north of India accounts for 30% of the company's total revenue. Although the northern region accounts for the majority of the company's revenue, they have their presence all over the country as well as internationally. Here is geography wise revenue break up for (FY23):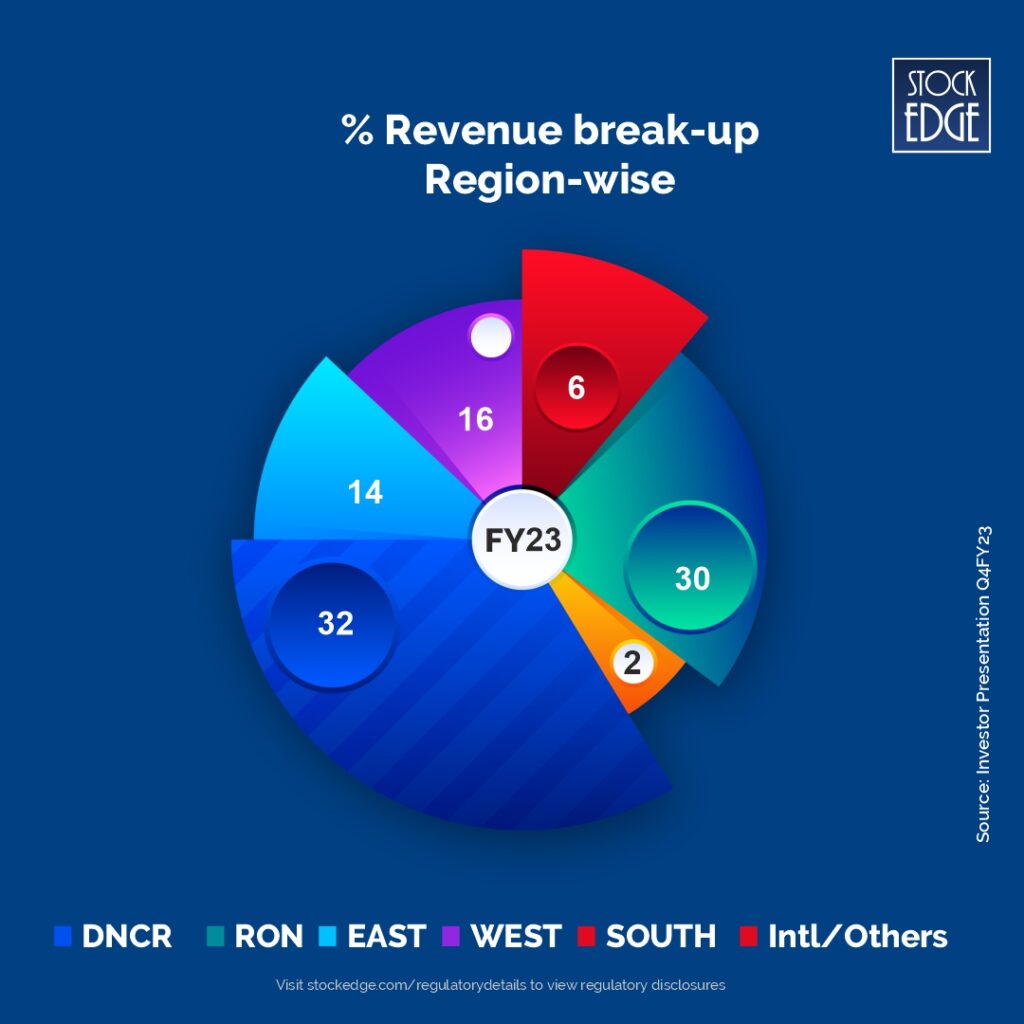 Financial Performance
In FY23, the sales growth dips -3.4% YoY because this year was financially challenging for the entire industry due to a nearly 80% to 90% decline in COVID and COVID-related revenues. However, the company registered 6.3 million patient visits in Q4 FY23, generating a total revenue of Rs.491 crore, which is 1.13% more than its previous year's March quarter.
The COVID and allied tests contributed only Rs.11 crore, or 2% of the overall revenue.
Covid and allied test's share of overall income fell from 19% in FY22 to 3% in FY23.
But in the same period, the non-Covid business revenue increased by 15.5% YoY to Rs. 1,954 crore, which seems healthy.
The revenue realization per patient in Q4 FY23 grew by 6% YoY to ₹774 as against ₹728 in Q4 FY22. In FY23, PAT dropped 31.2% YoY, mainly due to high depreciation expenses. However, the Operating Profit stood at 490 Cr, which is still higher than the 5-year average.
The company's revenue realization per patient increased by 6% for the fourth quarter of FY23, driven by pricing increases. According to the management's conjecture, the company has optimized costs and boosted operational effectiveness by utilizing technology and digital tools. This has led to a decrease in debtor outstanding and inventory to 28 days.
Future Outlook
The company has focused on core operations across the country, expanding in Tier-2 and Tier-3 cities. It also continues to add new tests to its test menu.
The company's unique bundle test portfolio continues to do very well and contributed nearly 22% of Q4FY23 of non-COVID business. Swasth-fit portfolio generated a revenue of Rs.370 crore in FY23.
To read more about the company's fundamental, read our edge report
2. Narayana Hrudayalaya Limited
Company Overview
Narayana Hrudayalaya Limited, established in 2000, is a company based in Bengaluru, India, that focuses on providing affordable healthcare services. They have a strong presence in Karnataka and eastern India and are expanding in western and central India. The company operates several multispecialty and super-speciality hospitals in India. They either own and run these hospitals themselves or enter into agreements to manage hospitals on a revenue-sharing basis. In 2013, the company changed its name to 'Narayana Health', intending to deliver high-quality and affordable healthcare services to a wider population using an efficient business model.
As of December 31, 2022, Narayana Health has a network of 44 healthcare facilities with 6,584 beds. They own 19 hospitals, including subsidiaries, joint ventures, and associates, and manage two hospitals. They also operate 18 primary healthcare facilities, four heart centers, and one hospital with 110 beds in the Cayman Islands. Narayana Health offers various healthcare services in multiple specialities, such as heart care, digestive system care, cancer treatment, kidney care, brain and nervous system care, and bone and joint care.
The company has a plethora of speciality mixes. However, the major one is the cardiac science division which is around 35%. Take a look at the speciality mix of the company as of FY23.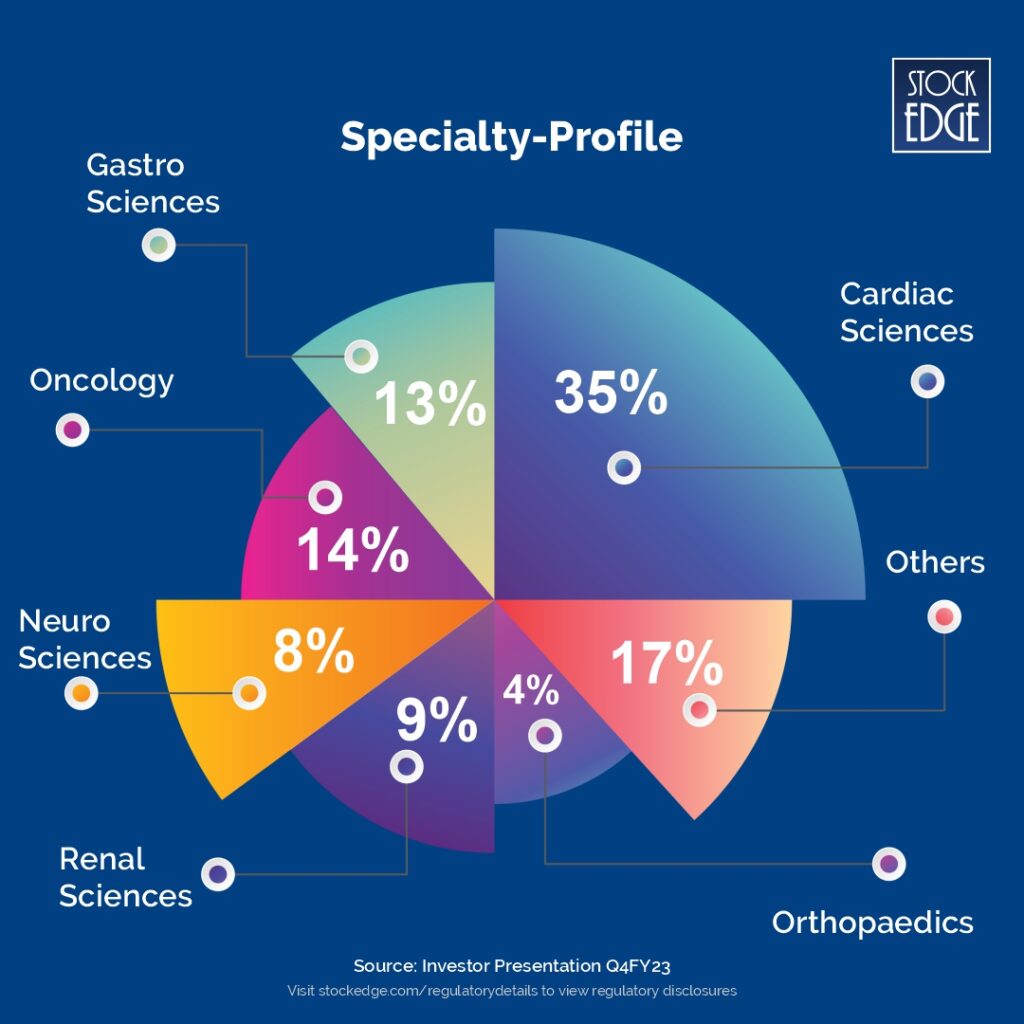 The company's major revenue comes from India, which is around 80%. Whereas the rest 20% is from its unit at Cayman's Island, which has 110 operational beds. ARPOB (Average Revenue Per Operating Bed) for FY22 stood at $1.9 million. In Q4 FY23, operating revenue stood at $29.32 million, an increase of 20.1% YoY.
In FY23, the revenue distribution in India across various geographies are as follows: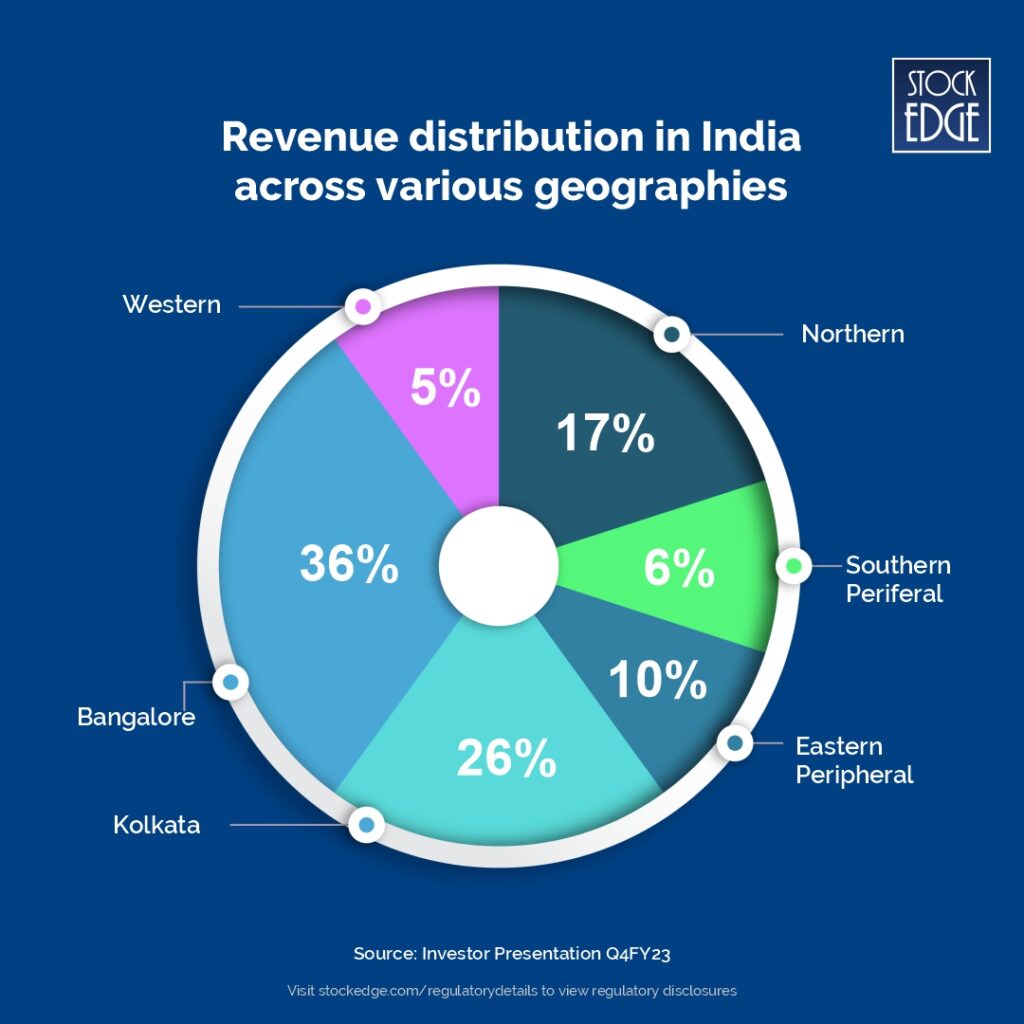 In Q4 FY23, the Average Revenue Per Occupied Bed (ARPOB) varied across geographies. Bangalore recorded an ARPOB of ₹1.7 crores, whereas Kolkata and the Northern region had an ARPOB of ₹1.4 crores each. In contrast, the Eastern and Southern Peripheral regions achieved an ARPOB of ₹1 crore each. The Western region, on the other hand, saw an ARPOB of ₹1.2 crore.
Financial Performance
During FY23, the company experienced a substantial 22% growth in revenue, primarily driven by its flagship hospitals. The Bengaluru and Kolkata hospitals played a significant role, contributing 64% to the total operating revenue and achieving impressive year-on-year growth rates of 38% and 16%, respectively. The net profit also saw a remarkable growth of 77% year-on-year.
With a total capacity of 6,186 beds, the company ensured that 95% of its beds were operational during FY23. The Bengaluru facilities stood out with the highest average revenue per occupied bed. Notably, in Q4 FY23, there was a sequential increase of 4% and 5% in the average revenue per patient for inpatient and outpatient services, respectively.
Considering the digital revolution in the healthcare sector, the company is undergoing a transformation to provide comprehensive, patient-centric, and digitally-driven healthcare services while improving operational efficiency. The aim is to deliver high-quality healthcare at an affordable cost, targeting the mass market.
Future Outlook
As per a recent management con call in May 2023, the company stated that it had started its operation at its New Bone Marrow Transplant Wing in Health City Campus in Q4 FY23, making it one of the largest such hospital facilities in India and the Asia Pacific region.
As the company has leadership in Cardiac Care, it continues to grow, with Cardiac Hospital in Bangalore performing more than 2,250 Cardiac arrest surgeries in the last quarter.
The company's Greenfield expansion strategy involves investing ₹150 crores in acquiring land in Kolkata. The management conference call revealed that this project is expected to take approximately 2.5 to 3 years to complete. Despite the possibility of initial margin dilution, the company is confident in this investment, given the presence of its flagship asset, existing clinical workforce, and strong brand.
The company is actively prioritizing infrastructure enhancements such as adding operation theaters (OTs), intensive care units (ICUs), diagnostics facilities, and laboratory billing services. These initiatives aim to boost revenue and expand the company's capacity to serve its customers better.
3. Rainbow Children's Medicare Ltd.
Company Overview
Founded in 1998, Rainbow Children's Medicare Limited (Rainbow) has established itself as a pioneer in India's multi-speciality pediatric and perinatal care. With a strong commitment to offering comprehensive healthcare services tailored to pediatric, women's, fertility, and perinatal care, Rainbow aims to provide exceptional care within a child-friendly hospital environment. The organization is dedicated to expanding its nationwide network, ensuring that patients from various regions can benefit from its services. Rainbow's unwavering dedication to delivering high-quality healthcare has positioned it as a prominent hospital chain in India. The organization remains fully committed to providing end-to-end solutions, catering to the healthcare needs of expectant mothers, fetuses, newborns, infants, and children. The company remains the only listed pediatric hospital chain in India.
The company has a strong presence in South India, and its healthcare network has expanded to six major cities across India.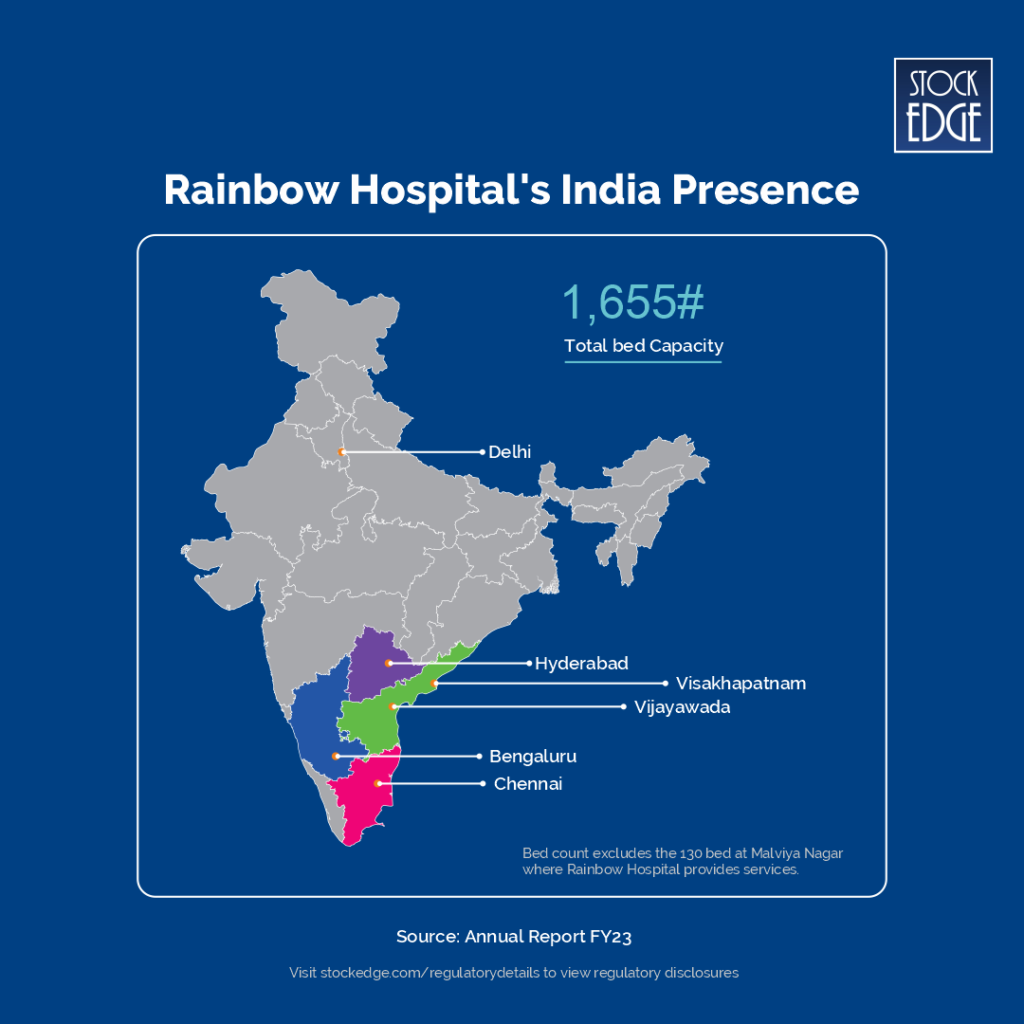 The company adopts a unique operating model known as hub-and-spoke, in which the hub hospital offers various outpatient and inpatient care services, with a particular emphasis on tertiary and quaternary care. On the other hand, the spoke hospitals provide emergency care for pediatrics and obstetrics, as well as comprehensive outpatient services and specialized care for obstetrics, pediatrics, and Level 3 Neonatal Intensive Care Unit (NICU) services.
This operational model has been successfully implemented in Hyderabad and is gaining momentum in Bengaluru. The company aims to replicate this approach in Chennai and extend it to the National Capital Region. Furthermore, Rainbow has plans to expand its presence to tier-2 cities in Southern India as part of its future growth strategy.
Financial Performance
Over the past two years, the company has achieved significant growth in both revenue and net profit. In FY23, the company experienced a 21% year-on-year increase in revenue and a remarkable 52% year-on-year growth in net profit. The net margin also saw a substantial improvement of 377 basis points during the year.
The company increased its bed capacity by 10% in FY23 to accommodate the growing demand. This expansion resulted in a 31% year-on-year growth in inpatient volume and a noteworthy 48% increase in outpatient volume compared to FY22. The occupancy rate also improved, standing at 55.4% as opposed to 44.59% in FY22. However, there was a decline in both the average length of stay and the average revenue per occupied bed during the year.
The management anticipates achieving an EBITDA of ₹420 crores, representing a high teen growth in revenue. The company's costs have increased due to the inclusion of new hospitals, marketing expenses, and repair and maintenance costs. The addition of new beds may exert some pressure on the company's margins.
The company aims to reach break-even for the new hospitals within approximately 1.5 years. Future revenue growth will be driven by establishing new centers and fostering growth in existing ones. To support these initiatives, the company has outlined a capital expenditure plan of ₹2-3 crores for implementing a Hospital Information System (HIS) and acquiring new software.
Future Outlook
As per the concall by the management, the company has added a 100-beds hospital in Hyderabad and plans to add 270 beds across various geographies in Hyderabad, Bangalore, and Chennai. It is also planning to expand Haryana with two greenfield hospitals.
The company has a strategic vision of establishing a super-specialty children's hospital in Gurgaon, encompassing all pediatric specialties, extensive intensive care services, and advanced quaternary care facilities. Unlike their regular children's hospitals, the Gurgaon hospital will be a high-capital expenditure (capex), multi-specialty institution. The Average Revenue Per Occupied Bed (ARPOB) for the Gurgaon hospital is expected to be comparable to that of multi-specialty hospitals. The Greenfield project in Gurugram is projected to take approximately three to 3.5 years to complete, with an estimated payback period of seven to eight years.
The company's primary focus is on achieving strong clinical outcomes and providing exceptional patient care. They aim to strengthen their hubs by offering a wide range of multi-specialty and quaternary care services. Additionally, they plan to expand their successful Hub and Spoke model in Bangalore and Chennai.
Moreover, the company expects to witness an increase in occupancy numbers for their newer hospitals within the next year or two. This projection aligns with their commitment to growing and establishing a strong presence in the healthcare industry while delivering high-quality care to their patients.
The Bottom Line
In conclusion, the healthcare sector in India has demonstrated remarkable outperformance, showcasing significant growth and progress. With a focus on delivering exceptional patient care services, expanding infrastructure, and adopting innovative operating models, healthcare companies have witnessed robust revenue growth and improved clinical outcomes. The sector's success can be attributed to factors such as increased investment in healthcare infrastructure, technological advancements, and a growing demand for quality healthcare services. As the industry continues to evolve, the healthcare sector in India is poised for further expansion and development, ensuring access to superior healthcare facilities and services for the population.
Happy Investing!