An explainer on how to use the "Sector Rotation" feature.
"If you are in the right sector at the right time, you can make a lot of money real fast."

– Peter Lynch
What is Sector Rotation?
Sector rotation is a top-down investing strategy involving moving money from one industry sector to another in anticipation of different business cycle stages to beat the market.
It is just like the tactical asset allocation strategy, but instead of asset class and liquidity shifting, the money moves as per the expected performance of sectors. The prediction of Sector rotation is plausible because the market moves in reasonably predictable cycles, and a specific set of industries dominate a given market cycle.
Sector Rotation Strategy with StockEdge App
The entire feature has been broken into three segments, making it easy to understand.
So, when you click on the icon, you will be taken to the "Breadth" tab of that feature.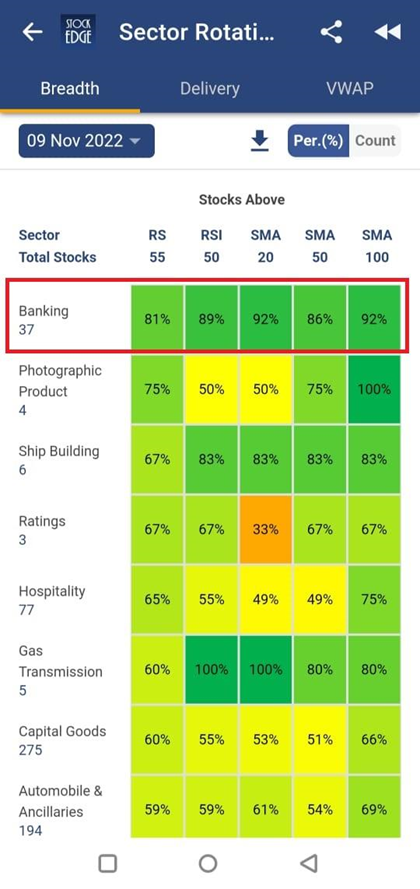 Now you can see that "Banking" is at the top spot with the greenest shades under different headers of RS 55, RSI 50, SMA 20, SMA 50, and SMA 100.
Under each header for the respective sector, you will see a % which indicates that % of stocks in that sector satisfy the criteria to be under that header.
E.g.:- 81% of stocks out of the 37 stocks in banking fulfill the criteria to be in RS 55, 89% of stocks in RSI 50, 92% in SMA 20, 86% in SMA 50, and 92% of stocks from banking in SMA 100.
The banking sector is the strongest among all sectors, with approx 90 % of stocks with great momentum and trend. It's slightly overheated, and some profit booking may be expected at these levels. Further check of the technical chart setup validates the view.
NOTE:- A word of advice from our Co-founder Mr. Vivek Bajaj "Extreme green and extreme red indicate high greed and fear zone. So, if someone entered Banking when it was in the lighter shade of green and now when you see that stocks from the Banking are in extreme green shade or zone, it's time to book profits.
Now, let's take a look at where the Banking Sector was 7 days back by clicking on the drop-down section of the Date.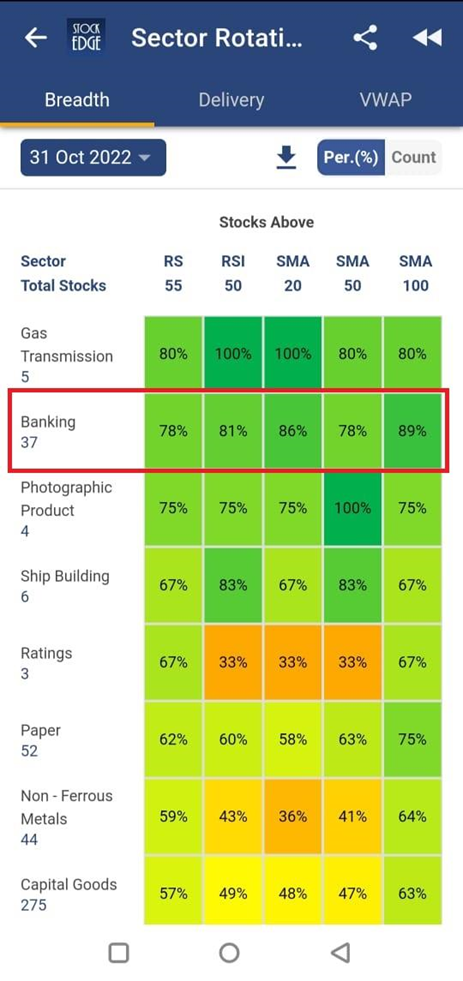 We clicked on 31st Oct 2022.
Now, we see that Banking was in the 2nd spot. You can see the data for each header and how stocks have gained momentum and have gradually moved to the top spot-on 9th Nov 2022.
You will also notice that stocks from the Gas Transmission sector were heavily bought as of then, and that's when profit booking should have been done.
On 9th Nov 2022, we see Gas Transmission at the 6th spot and momentum shifting to banking and other sectors like Photographic products and Ship Building.
Coming to the next tab, which is the "Delivery "tab.
This tab gives us a picture of how the delivery data looks daily.
Looking at the picture below, you will see that stocks in the "Diversified" Sector are at the top spot. And that's because there is a spike in delivery by 312.5% and a spike in volume by 384.5%.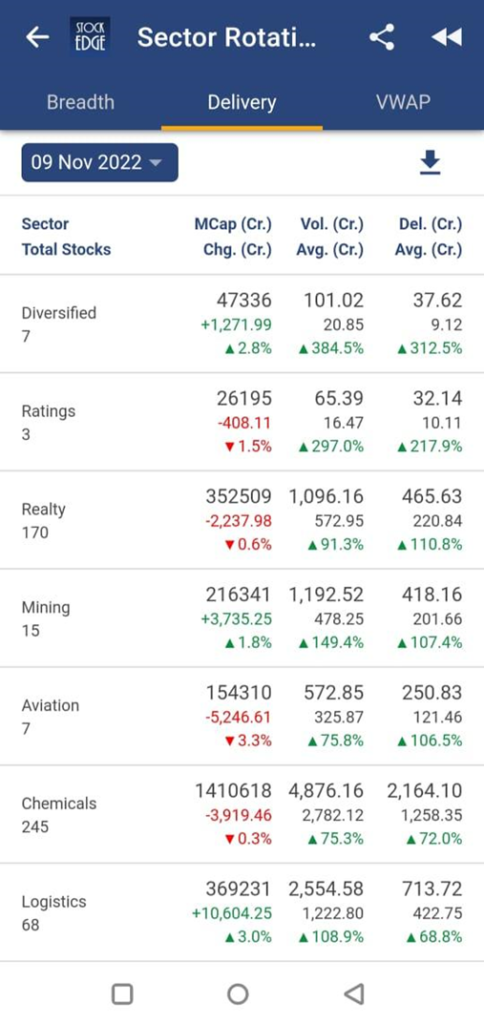 The 3rd and last tab is the "VWAP" tab.
To give perspective, VWAP is the average price a security has traded throughout the day, based on both volume and price. It is important because it gives traders an insight into a security's trend and value.
So, from this data, you get to know that out of 37 stocks, 26 stocks' closing price is above VWAP.
You need to combine these insights and use them for your trading/investment strategy.
How to identify the right Sector?
Generally, the best sectors where the participants can trade or benefit is from the 2nd row to the 5th row.
Traders and Investors can use the Edge Chart, other indicators, and the financials section to validate their decision before entering any stock.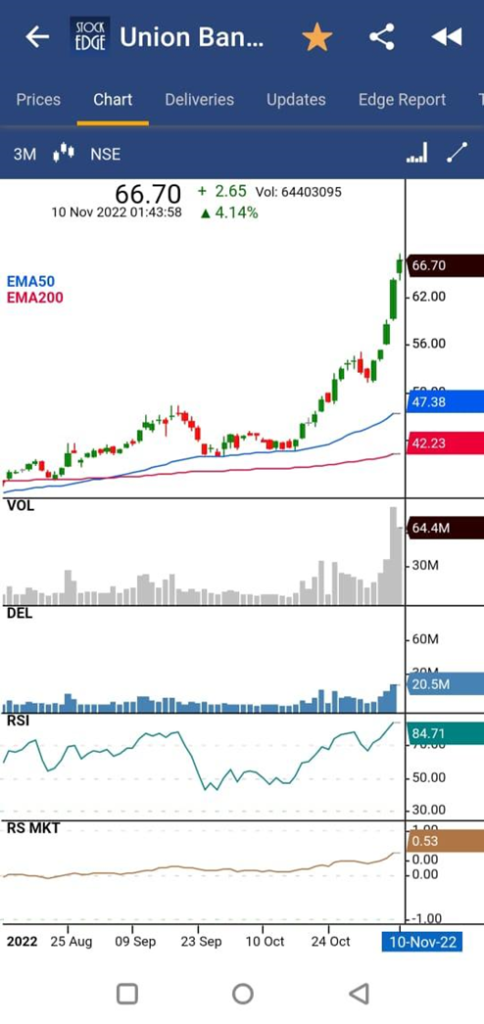 Where to find Sector Rotation in the App?
When you open the StockEdge App, go to the Premium Analytics Section. Under this, you will see Sector Rotation. Click on the icon, and you will be able to use it.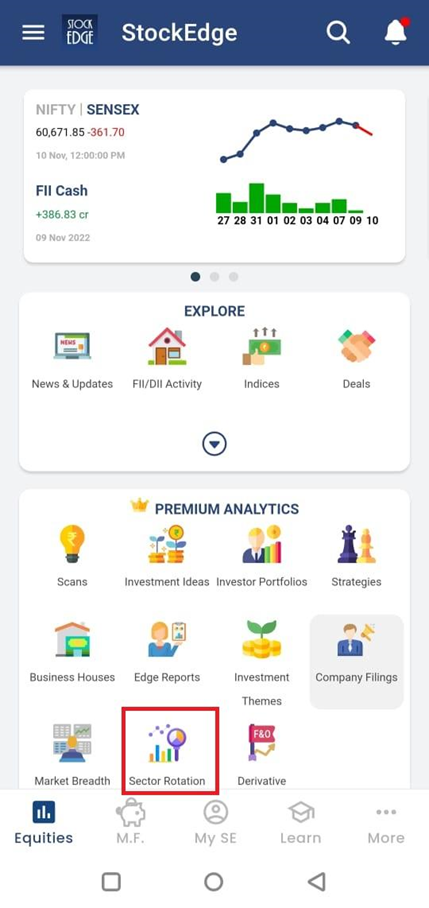 The Bottom Line
Sector rotation is a popular way to pursue an active investing strategy by moving in and out of sectors based on economic conditions.
One thing to remember is that sector rotation only makes sense for some investors. This type of investment strategy necessitates more frequent investment decisions than a traditional buy-and-hold strategy.
It may also increase overall risk and volatility in your portfolio and introduce transaction costs and taxes that you would otherwise avoid.
And that's why most experts recommend people who aren't professional investors stick with passive, index-based investing.
We hope now you have understood the concept of Sector Rotation.
Our team at StockEdge puts in a tremendous effort to deliver such powerful and meaningful features with absolute thoroughness to make every user of our product "Financially Empowered." That being said, every user must do their research before investing in the markets.
So, what are you waiting for? It's your time to flaunt your profitable trades on Twitter using hashtags. And hey, don't forget to tag us this time. We would love to know and become a part of your success stories.
If you enjoy using StockEdge, don't hold back from sharing the platform with your near and dear ones.
And hey, we are offering a very reasonable price for StockEdge Premium to get the most out of it. Use Coupon Code SR100 for a free 7-day trial.
Also, watch this space for our midweek and weekend editions of 'Stock Insights.