The latest IPO of TVS Supply Chain Solutions Ltd. will become the 13th listed company from the TVS group. Should you apply for listing gain, or can it become an excellent long-term investment?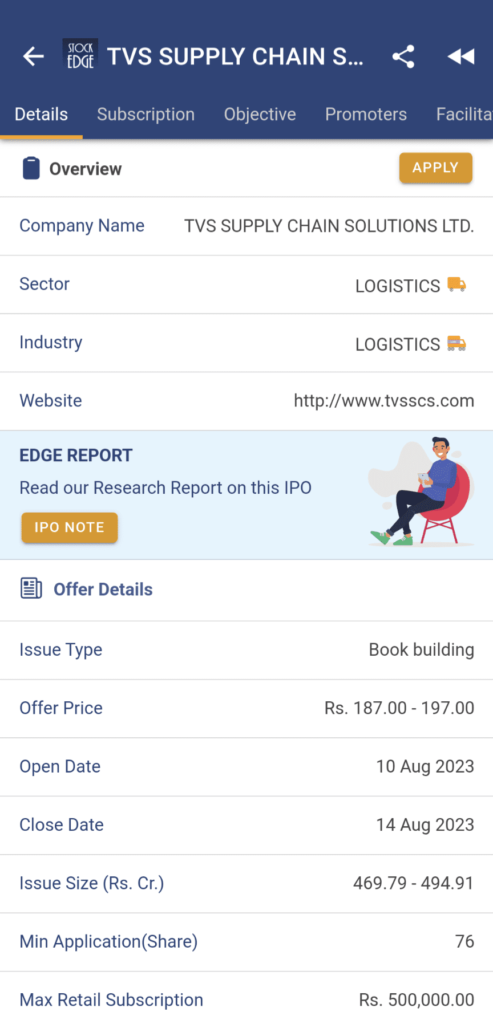 Investments in IPO have been rewarding for many investors in the recent past. In the previous blog on the IPO of Yatharth Hospital, in which our team had given an average IPO rating, gave a listing gain of nearly 13% above its issue price.
But before subscribing to any IPO that hits the market, it is vital to know the company's details, its financial performance and other details which gives you the confidence to apply for the initial public offering by the company. Also, it is essential to remember that not all initial public offerings (IPOs) come with a promise of equal profits, so in today's blog, let's analyze some key factors on the TVS Supply Chain Solutions IPO before you apply!
TVS Supply Chain Solutions IPO is open for subscription from today onwards!
TVS Supply Chain Solutions IPO Details
IPO Open Date 10 August 2023, Thursday
IPO Close Date 14 August 2023, Monday
Price Band ₹187 to ₹197 per share
Lot Size 76 Shares
Face Value ₹1 per share
Issue Size at upper price band ₹880 Cr (Fresh Issue 600 Crs & Offer For Sale 280 Crs)
Listing exchanges NSE, BSE
Cut-off time for UPI mandate confirmation 5 PM on Aug 14, 2023
The tentative timeline for the IPO are as follows:
Basis of Allotment 18 August 2023, Friday
Initiation of Refunds (if not allotted) 21 August 2023, Monday
Credit of Shares to Demat (if gets allotments of shares) 22 August 2023, Tuesday
Listing Date 23 August 2023, Wednesday
About the Company
TVS Supply Chain Solutions Ltd. specializes in supply chain logistics solutions, equipped with worldwide capabilities and an extensive network spanning the entire value chain to facilitate versatile deployment. The operational divisions consist of integrated supply chain solutions and network solutions. Originally established by the esteemed TVS Group, a well-regarded Indian business conglomerate, it now falls under the umbrella of the TVS Mobility Group. The company was incorporated on 16th November 2004 and is currently one of the largest integrated supply chain solutions providers in terms of revenues in FY23.
The company's entire value chain can be divided into two major segments. They are:
Integrated Supply Chain Solutions (ISCS)
Network Solutions (NS)
The ISCS segment handles sourcing, procurement, integrated transportation, logistics centers, in-plant operations, finished goods, aftermarket fulfillment, and supply chain consulting. The NS segment covers global forwarding (GFS) for end-to-end freight management, warehousing, port storage, value-added services, and time-critical final mile solutions (TCFMS) encompassing logistics support, spares, refurbishment, engineering, and courier management.
The company has an asset-light model which enables them to expand to geographically dispersed locations, scale up volumes, optimize loads and maintain flexibility in handling seasonal variations and changes in client requirements. Apart from operating in India, they have operations in the UK, Europe, North America, Australia and New Zealand.
Here is the complete revenue break-up in terms of industry, segment, and geography: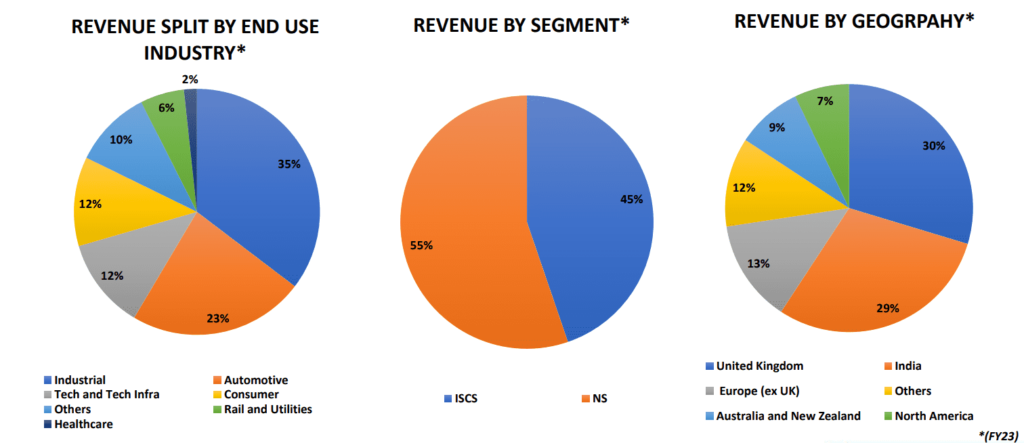 Now that you have a brief understanding of the company and its business operations, let's analyze the current outlook of the logistics sector.
Logistics Sector in India: Outlook
The logistics sector in India, once highly fragmented, has witnessed significant expansion in the organized segment in recent times. From 2018 to 2021, the market grew from $342 billion to $435 billion, achieving an 8% compounded annual growth rate (CAGR). In FY22, the outsourced supply chain solutions market (excluding e-commerce) was valued at $7.5-$7.7 billion, projected to experience a robust CAGR of 20-22%, reaching around $20-$21 billion by FY27.
In FY 2022, organized players constituted approximately 5.5%-6% of the logistics market division (encompassing road transportation, warehousing, and supply chain services exclusively). These organized entities are projected to expand at a CAGR of 32% from FY22 to FY27, elevating their portion to 12%-15% by the conclusion of FY27.
You can read more about this growing sector from one of our previous blog: What drives Logistics growth
Financial Performance
Here are some financial highlights for TVS Supply Chain Solutions Ltd:
TVS Supply Chain Solutions Ltd achieved remarkable financial growth over the years, with its revenue from operations witnessing an upward trajectory: from 6,934 crores in FY 21, it rose to 9,250 crores in FY 22 and further to 10,235 crores in FY 23.
This impressive expansion was complemented by an increase in EBITDA, reaching 387 crores in FY 21, 613 crores in FY 22, and 684 crores in FY 23.
A noteworthy transformation was observed in the company's Profit After Tax (PAT) figures: from a loss of 74 crores in FY 21 and a loss of -45 crores in FY 22, it turned profitable with 42 crores in FY 23.
These financial highlights underscore TVS Supply Chain Solutions Ltd's consistent and substantial progress in the market.
Now let's take a look at key fundamental parameters of TVS Supply Chain Solutions and how it compares with its peer companies in this competitive landscape.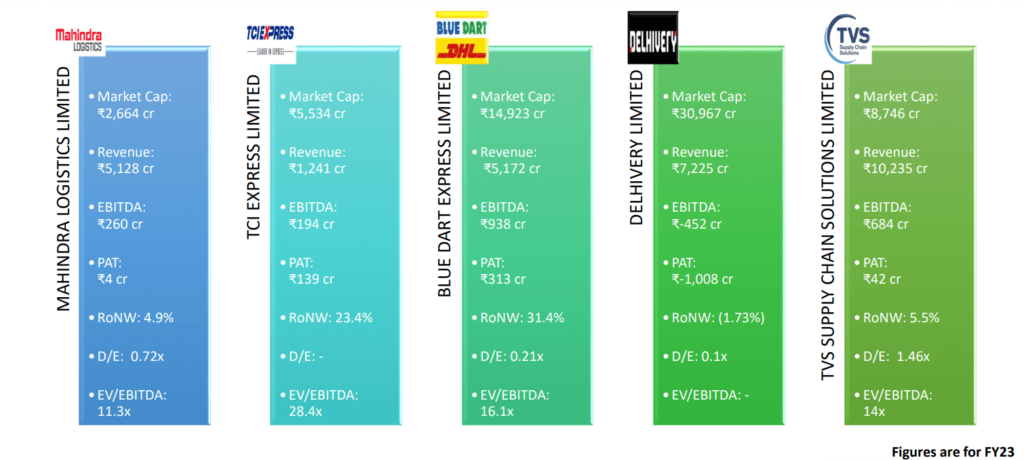 Although TVS Supply Chain Solutions is positioned well among its peers with its own competitive advantages and performing exceptionally well considering its presence in different industries and geographical areas, what's the objective behind this IPO? Let's find out!
Objectives of the Issue
The net funds raised through the IPO will be put to use for two main objectives, which include:
Clearing or partially repaying specific existing borrowings obtained by the company and its subsidiary, TVS LI UK
Inorganic growth strategy and general corporate purposes.
Although the company's objectives are clear, can it achieve its objectives and live up to the expectations of its shareholders or not? Only time will tell. There is no such investment in the market which is risk-free. Here in this IPO also, a few risks are highlighted as follows.
Risk Factors
The technological infrastructure is critical to business operations and growth prospects. Hence, failure to improve or ineffective utilization could harm its operations, reputation and growth prospects.
The company's increased working capital requirement is a warning sign, and additional financing may be required later.
A significant portion of revenues comes from the international market (~70% in FY23). Therefore, currency risk is heavily involved.
Should you subscribe?
To have a clear understanding of the potential risks and rewards associated with an investment is crucial prior to getting involved. Thus, in this blog we have furnished in-depth insights into both the opportunities and potential drawbacks linked with investing in the IPO of TVS Supply Chain Solutions Ltd. Our experts at StockEdge have assigned a favorable rating to this IPO and have compiled a comprehensive IPO Note. This IPO note delves into the company's financial status and includes a SWOT analysis, offering readers enhanced insight into the company's future prospects, ultimately aiding informed investment choices.
StockEdge has a different section on IPO under the Explore tab, where you can see the list of upcoming IPOs, ongoing and recently listed IPOs.
Join StockEdge Club, where our team of research analysts will be dedicated to solve your query related to investments, trading or IPOs.
Happy investing!