ITC Limited was established in 1910 under the name Imperial Tobacco Company of India Limited. Later in 1970, the name of the Company was changed to India Tobacco Company Limited and then to ITC Limited. in 1974.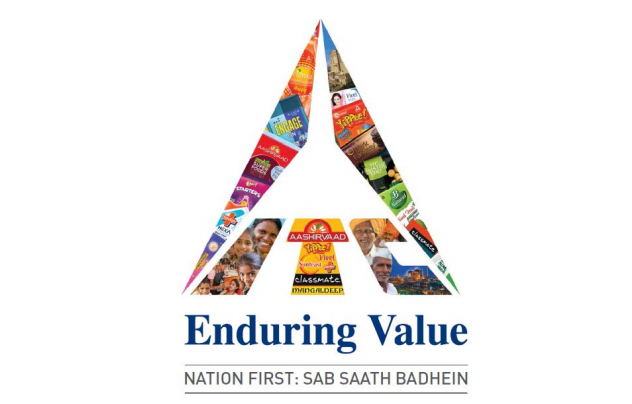 ITC Limited is an Indian multinational conglomerate with diversified presence in cigarettes, hotels, paperboards & specialty papers, packaging, agri business and FMCG products.
It basically operates through four segments: FMCG; Hotels; Paperboards, Paper and Packaging, and Agri Business.
It has the largest market share of 75% in Branded Cigarettes – Owns, Manufactures and Markets some of the most renowned brands like "Classic", "Gold Flake", "Navy Cut", "Scissors" and others. As of today's date, this is ITC Ltd. share price.
Its other prominent brands include: Aashirvaad, Sunfeast, Candyman, Gum On, Dark Fantasy, and Bingo! , Yumitos, YiPPee! , Vivel, Superia, Engage, Wills Lifestyle, Classmate, Fiama Di Wills, John Players, Mangaldeep and Aim, among others.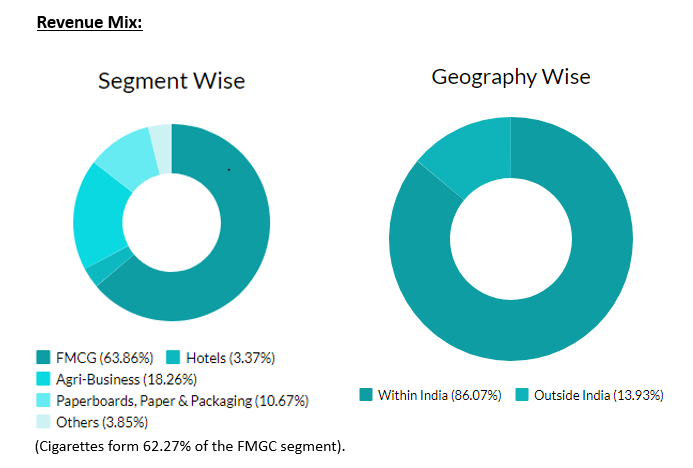 ITC limited Operational Highlights:
The company's revenues in Q2 FY21 was Rs.13, 147.81 crore, a growth of 2.18% YoY. The marginal improvement was on the back of easing of lockdown restrictions.
Segment wise:
(I) FMCG– Cigarettes segment reported a net sales of Rs.5627.67 crore, a decline of 3.67% YoY. Cigarette volumes declined 12%, which was lower than peers, as per management. Volume/mix was affected by localized lockdowns in key markets in July/August.
The Other segment of the FMCG segment was Rs.3, 930.63 crore, a growth of 19.25% YoY. The segment delivered another quarter of good performance driven by Staples, Convenience Foods, and Health & Hygiene products.
Rural sales are witnessing strong growth on the back of government initiatives promoting better rural income, better monsoon leading to improvement in farm income, reverse migration and lower infection levels.
The pandemic has led to a surge in demand for essentials categories (especially for health, wellness, safety and hygiene products). While the demand for discretionary categories and those with higher 'out-of-home' consumption salience was adversely impacted.
Also Read : FMCG Sector – How consumer goods are driving Growth?
(II) Agri business – Reported net sales was Rs.3040.85 crore, growth of 13.74% YoY. The demand was mainly driven by trading opportunities in rice, mustard, coffee and higher wheat supplies for Aashirvaad Atta. However, the growth was partially offset by subdued demand for leaf tobacco in international markets and adverse business mix.
(III) Paper & Packaging – The net sales were Rs.1458.67 crore, a decline of 6.82% YoY. This was mainly due to subdued demand for wedding cards, publication, and notebooks segments.
(IV) Hotels business performed the worst and declined by 80.32% YoY. Demand pick was seen as people are traveling to leisure locations. However, it still remains far from pre-COVID levels.
Sales through the e-Commerce channel more than doubled during the quarter, taking its proportion to over 5% of segment revenue. However, modern trade channels grew at a slower pace as localized lockdowns impacted footfalls and consumers preferred neighborhood/online stores as safer options.
EBITDA was Rs.4, 401 crore, a decline of 9.12% YoY. EBITDA margin was 33.47% YoY, a contraction of 416 bps YoY. Operating performance was impacted by inferior product mix (reduction in contribution from cigarette business) and negative operating leverage (especially from the hotel segment).
This was primarily due to raw material inflation (tobacco leaf), increased cost in transportation, and high losses from hotel business.
PAT was Rs.3, 418.69 crore, a decline of 18% YoY. The decline in operating profitability and reversal of tax in the base quarter lead to PAT dip being higher than EBITDA dip.
The company has Rs.24, 000 crore of cash and cash equivalents.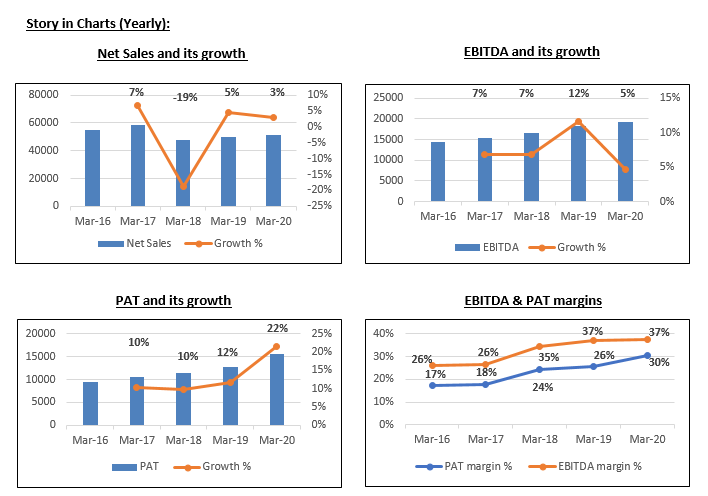 Future Outlook:
The management is constantly focusing on improving its market standing while sharply focusing on cost reduction measures across each element of its value chain.
The margins improve by FY22E once the production and supply chain constraints reduce and the demand picks up.
Sunrise acquisition is margin accretive (~50bps accretion) and should add Rs.6-7 billion in revenues. More aggression on inorganic opportunities will be a positive.
The company expects Savlon sales (consumer spends) to reach Rs.1000 crore in FY21 (Rs.250 crore in FY20), which would become one of the largest brands in the hygiene space despite entry of many new brands in the category.
The cigarette demand, being an addiction, is unlikely to be hurt significantly over continued higher tax impositions and inflationary pressures. And the new product launches and a strong brand will help the FMCG business maintain competitive advantage despite reduced discretionary spending.
Its hotel business remains a challenge on the ability of the company to de-lever its fixed costs until travel restrictions are lifted. Thus, will have a bearing on the company's topline performance.
ITC limited has set a turnover target of Rs.1 trillion from its FMCG business by 2030 as it moves to expand revenues beyond its cigarettes business. Its cigarette portfolio has been consistently declining from 63% in FY16 to 41% in FY20 as the company focuses on its diversification strategy.
The robust pipeline of the company primarily comprises packaged foods and hygiene segments.In response to the surge in demand of packaged food and hygiene products post Covid threat, the company has scaled up manufacturing manifolds in these products.
With the completion of CAPEX in the hotels segment and limited expansion in its FMCG, the capital allocation would rationalize.
Key risks: regulatory risks in the cigarette business; competitive pressures in the FMCG segment; volatility and commoditized nature of raw materials.
StockEdge Technical View
ITC limited made a pullback to the breakout area in the weekly chart and is likely to see a bounce in the near term till the stock holds 190 level on closing basis. Technical parameters look neutral to positive as of now and suggest possible bounce in the stock. Further momentum to take place above swing high of 220 level.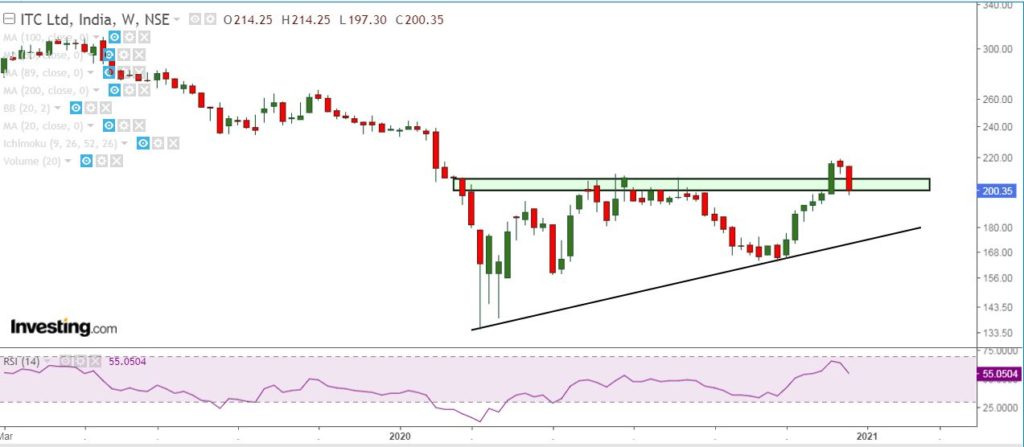 Bottom Line:
ITC Ltd. has presence in diverse businesses, and a dominant position in the Indian cigarette market, with strong sustainable profitability. It will also continue to maintain its robust financial risk profile and strong market position in the various segments in which it operates, over the medium term.
The company is gradually scaling up its FMCG segment, so as to move beyond the cigarette business. Its FMCG portfolio will continue to register strong performance led by strength of core brands across segments coupled with a robust distribution network. Thus, its strength and scale of its non -cigarette portfolio and its potential to drive long term earnings remains key monitor able.
The cigarette business continues to face various regulatory headwinds. The increased duty on cigarettes, which has widened the price gap between ITC and smuggled cigarettes, leading to market share loss by ITC.
As economic activities pick up pace, it is expected to witness growth prospects to improve across all of its verticals in the months ahead. However, the pace of pickup in volumes and demand remains key monitor-able.
Join StockEdge Club to get more such Stock Insights.

You can check out the desktop version of StockEdge.
Disclaimer:
This document and the process of identifying the potential of a company has been produced for only learning purposes. Since equity involves individual judgements, this analysis should be used for only learning enhancements and cannot be considered to be a recommendation on any stock or sector. Our knowledge team has limited understanding and we all are learning the art and science behind this.