From manufacturing a single soap brand : Sunlight Soap Bars in 1888 to being the India's Largest Fast Moving Consumer Goods Manufacturing Company of 21st Century, Hindustan Unilever Limited., the Indian subsidiary of Unilever PLC a British-Dutch multinational company has had a remarkable journey achieving its vision of creating a better future every day and helping people feel good, look good and get more out of life. Unilever has 67% shareholding in Hindustan Unilever. As of today's date, this is Hindustan Unilever share price.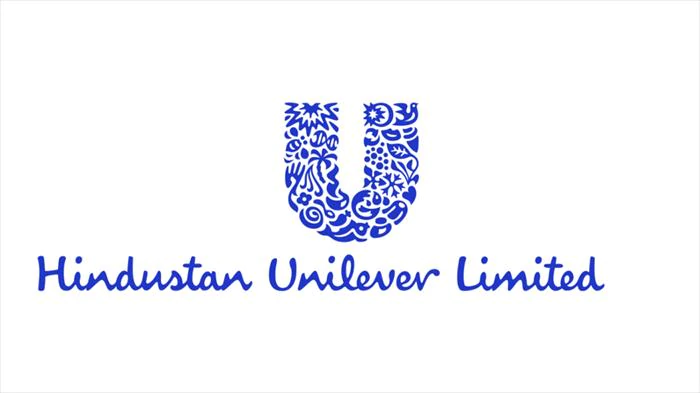 With over 35 brands covering 20 distinct categories : soaps, detergents, shampoos, deodorants, cosmetics, tea, coffee, frozen snacks, ice cream, toothpastes for skin care and water purifiers., it is the largest FMCG (Fast Moving Consumer Goods) business in India.
Thus, the company is a part of everyday life of millions of consumers across India.
Few of its prominent brands are: LUX, Lifebuoy, Surf Excel, Rin, Wheel, Pond's, Vaseline, Lakme, Dove, Clinic Plus, Sunsilk, Pepsodent, Closeup, Kwality Walls, Pureit and others.
The Company has about 21,000 employees and has sales of INR 38,273 crores (the financial year 2019-20). HUL is a subsidiary of Unilever, one of the world's leading suppliers of Food, Home Care, Personal Care and Refreshment products with sales in over 190 countries and an annual sales turnover of €52 billion in 2019. Unilever has over 67% shareholding in HUL.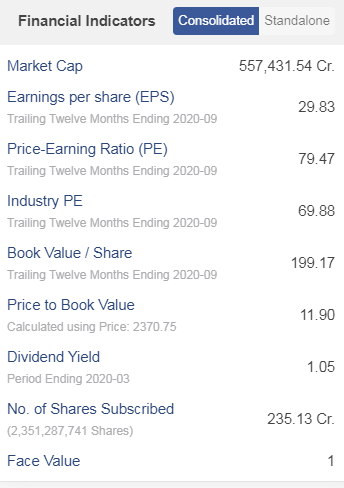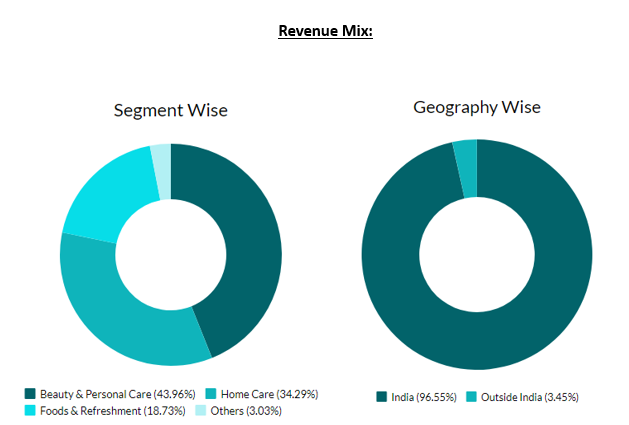 Operational Highlights: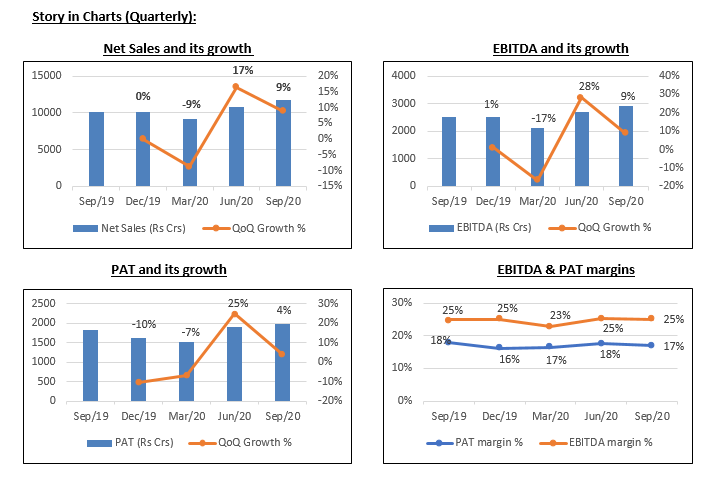 In Q2FY21, the net sales was Rs. 11,683 crore, a growth of 15.62% YoY. The essentials continue to do well while discretionaries are improving gradually. The revenue growth was partially impacted by supply disruptions.
Its 80% of portfolio including (health, hygiene and nutrition products) continue to perform well with 10% growth in Q2 FY21.
Discretionary portfolios such as skin care, colour cosmetics and deodorants that contribute ~15% to total revenue, declined by 25% affected by supply constraints and lower demand. However, the segment showed sequential improvement. Its out-of-home consumption portfolio which includes water, ice cream and food solutions which contributes ~5% to total revenue declined by 25%.
The sales from the e-commerce channel grew 2x on YoY basis.
(I) Home care – revenue was Rs. 3318 crore, a decline of 1.57% YoY.
(II) Beauty & Personal care – revenue was Rs. 4,550 crore, a decline of 0.65% YoY.
(III) Foods & Refreshment – revenue was Rs. 3,379 crore, a growth of 82.94% YoY
(IV) Others (includes exports, infant & feminine care etc.)– Revenue was Rs. 436 crore, a growth of 41.56%
During the quarter about 90% of its domestic portfolio gained market share while 70% portfolio is gaining penetration.
EBITDA was Rs.2, 925 crore, a decline of 16.63% YoY. EBITDA margin was 25.03%, an expansion of 21 bps YoY, aided by lower advertisement and promotional expenses. However, the growth was partially offset by higher input costs, especially higher tea and palm oil prices.
PAT was Rs.1, 974 crore, a growth of 8.58% YoY. Profitability was impacted by lower other income and higher tax incidence.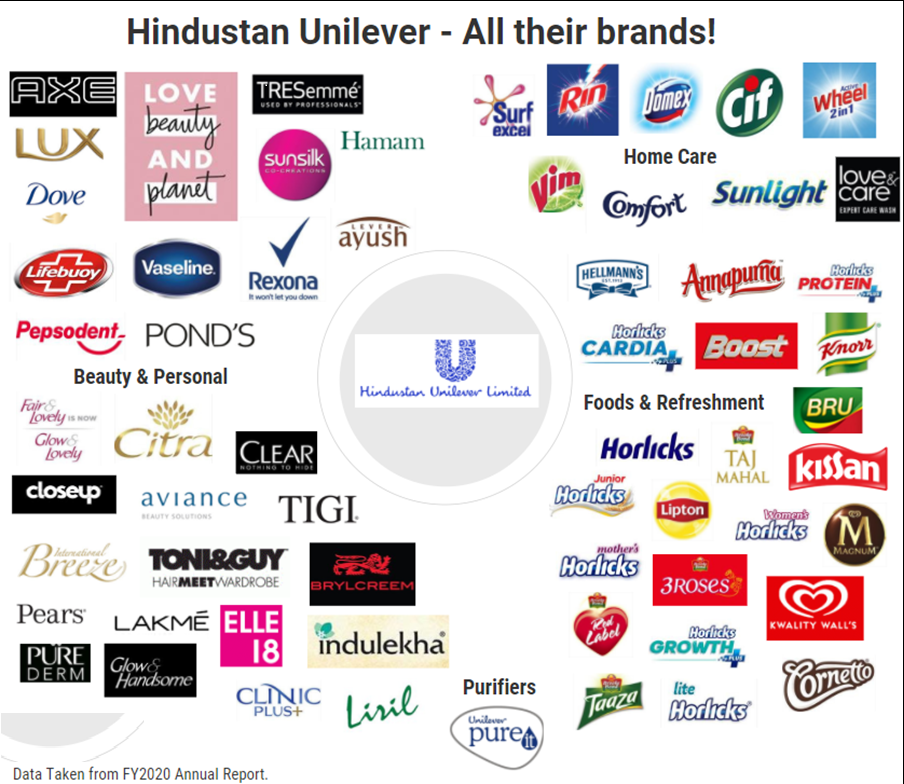 Future Outlook:
The management expects a shift in consumer demand to health, hygiene and nutrition. It has therefore, increased its innovation intensity with major focus on the hygiene and nutrition segment.
The management is cautiously optimistic on improvement in its overall demand, especially on the back of strong recovery in rural demand.
The higher input prices may impact the margins in the near term, however, the management has guided or maintained modest margin expansion. It has planned for calibrated price hikes in key portfolios and aims to focus on cost efficiencies to mitigate the impact.
Recently, the company completed the merger of GlaxoSmithKline Consumer Healthcare Limited (GSKCH) with itself, and forayed into the Wellness Segment and it also opened up the chemist channel for the company, as it will distribute brands like Eno, Crocin, Sensodyne, etc. in the country.
Additionally, the acquisition of VWash brand (50% of market share) gives entry into the rapidly growing female hygiene segment. This is a nascent category with low urban penetration, thus providing ample headroom for growth.
The synergistic benefits would contribute to the top line growth. And with the cost rationalization measures it will also help to improve the operating margins.
The skin-care portfolio will improve gradually and could see better demand during the onset of winter. On the other hand, out-of-home consumption products such as deodorants and colour cosmetics will take some time to post recovery in sales.
Hindustan Unilever Limited has launched its B2B (business to business) ordering app 'Shikhar', wherein retailers will be able order from distributors as and when required. Thus, helping the company's supply chain to become more efficient.
The company is considering shifting its supplier base away from China which may have a bearing on its raw material costs, in the near term. Goods from China form nearly half of the company's total imports at around Rs 900 crore in FY20.
The company's current focus is to gain market share from the unbranded players, which is ~50% of the market.
Other key risks: volatility in raw material prices; any slowdown in the overall economy (especially in the rural areas) and intensifying competition in the FMCG industry.
Business Verticals
• The company's 80% of the portfolio comprises Health, Hygiene and Nutrition which had witnessed a growth of 10%. Discretionary products comprised 15% of the portfolio and saw a de-growth of 25% whereas Out-of-home consumption which comprised 5% of the portfolio saw a decline of 5%.
• Home care revenue stood at ₹3,318 crore in Q2 FY21. It witnessed a double digit growth across segments. The Domex range (with a higher hydrochloride base) expanded pan India. Category consumption of laundry has been adversely impacted due to confined living. Purifiers had recovered well due to strong execution from e-commerce. Concall Summary HINDUSTAN UNILEVER LIMITED
• The beauty and personal care segment revenue was at ₹4,535 crore. Its contribution towards revenue was as follows: skin cleansing grew in double digits backed by strong performance from Lifebuoy and Lux. Hand sanitizers and hand wash segments delivered good growth. Oral care grew in double digits with momentum gain in Close-up. Hair care grew in double digits. Glow and Lovely & Glow and Handsome has been included in shelves. There has been a slump in demand in winter skin care due to muted trade sentiment and liquidity constraints.
• The food and refreshment segment revenue stood at ₹3,379 crore. The segment revenue was as follows: Foods, tea and coffee sustained good growth momentum. Boost drink launched nationally. Ice cream, foods solutions and vending businesses continue to remain impacted due to out-of-home consumption loss. Performance of the nutrition business was impacted by supply chain disruption which has now been restored.
• It witnessed a 2x sequential growth from e-commerce.
• The company's revenue has mostly been driven by rural consumption demand rather than urban, due to confined living in metropolitan cities.
Digitization of Trade
• Hindustan Unilever Limited has entered into a partnership with SBI to offer digital payment and financing solutions for small store owners and distributors of the products through its app. It will also provide UPI based solutions to its retailers to assist with cashless payments.
• It has launched an electronic B2B app named as Shikhar and has on-boarded 2.7 lakh outlets till date.
StockEdge Technical View
Hindustan Unilever trading at hourly support zone in the hourly chart and likely to stay positive in the short term if the stock holds 2300-2315 zone. Probable resistance in the near term comes at 2350 and then at 2390 level. Further momentum to take place above 2395 level if the stock holds 2390 on hourly closing basis.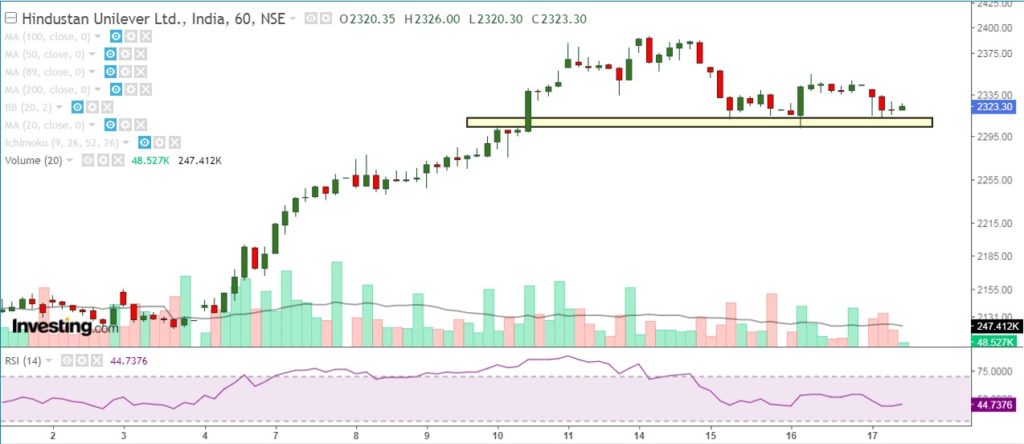 Peer Comparison
Hindustan Unilever Limited is the largest company in its sector along with having the highest PE Ratio among all its peer companies as we can see in the following image. For doing further research on Hindustan Unilever Limited and its peer companies in their respective sector on the basis of key fundamental parameters like Price/ Book Value Ratio, Debt/Equity ratio, ROE, SALES PAT,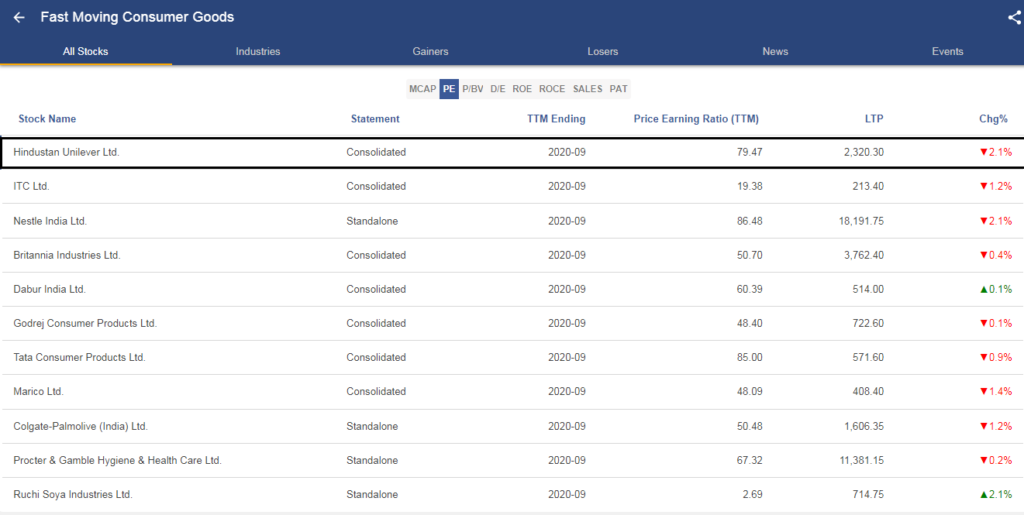 Bottom Line:
Hindustan Unilever Limited is the largest FMCG Company in India with strong brands across categories. And its brands continue to have high visibility and maintain its leadership position especially in highly penetrated categories such as soaps, detergents and shampoos.
The recent acquisitions will help the company to strengthen its earnings base.
Going forward, healthy product mix, product innovation, re-launches, foray into new categories, premiumization, strong distribution network along with supply chain efficiencies would be the key revenue drivers for Hindustan Unilever Limited.
The recovery in the rural demand and strong demand for essential products will also help to drive the earnings growth.
A strong financial background, robust cash generation ability and leadership position in some key categories give the company an edge over other companies.
Join StockEdge Club to get more such Stock Insights.

You can check out the desktop version of StockEdge.
Disclaimer:
This document and the process of identifying the potential of a company has been produced for only learning purposes. Since equity involves individual judgements, this analysis should be used for only learning enhancements and cannot be considered to be a recommendation on any stock or sector. Our knowledge team has limited understanding and we all are learning the art and science behind this.