"HAVE IT YOUR WAY", Yes you got us right. Whenever we see or hear this tag, there is only one name that comes to our mind and that is the Burger King India Ltd.
Burger King India Ltd have been filling the empty stomachs of the millennials with its tastiest and yummylicious burgers and now it has also decided to fill the hunger of investors and traders in the Indian Stock Market via launching Burger King IPO today i.e. 2nd December 2020 leading to compete with its peer brands in the market.

Let us have a brief look on the fundamentals and history of this Burger Giant.
Burger King India Limited, a part of the Quick Service Restaurant (QSR) Chain Market, is the national master franchisee of the BURGER KING brand in India and has exclusive rights to develop, establish, operate and franchise Burger King branded restaurants in India. The master franchisee arrangement provides it with the ability to use Burger King's globally recognized brand name to grow its business in India, while leveraging the technical, marketing and operational expertise associated with the global Burger King brand. The profitability of the company is a concern, however, the valuation is fairly reasonable. As of today's date, this is Burger King India share price.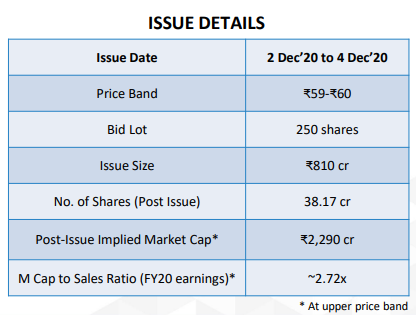 The globally recognized Burger King brand, was founded in 1954 in the United States and is owned by Burger King Corporation, a subsidiary of Restaurant Brands International Inc., which holds a portfolio of fast food brands that are recognized around the world that include the BURGER KING, POPEYES and TIM HORTONS brands. The Burger King brand is the second largest fast food burger brand globally as measured by the total number of restaurants, with a global network of 18,675 restaurants in more than 100 countries and U.S. territories as at September 30, 2020.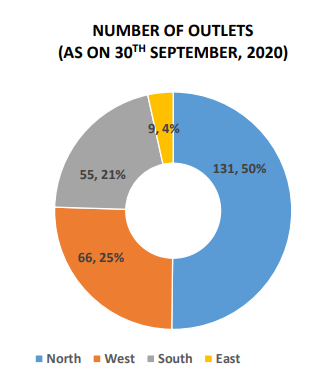 Burger King India Ltd., through its 268 Burger King restaurants comprising 259 company owned restaurants and nine sub-franchised Burger King restaurants offers products like veg burgers, non veg burgers, rice, snacks, desserts and beverages.
Their restaurants operate primarily in 4 different formats, which include high street locations, which typically have high impact and high visibility locations for brand awareness; shopping malls and food courts, which are both ready catchments to drive footfalls and transit locations

Promoter Background And Shareholding
The promoter, QSR Asia Pte. Limited has 94.34% of the shareholding. AIL (Amansa Investments Limited) has 5.12% out of 5.66% public shareholding. QSR Asia was incorporated on October 4, 2013 in Singapore.The principal activity of the Promoter is that of investment holding.
The company has undertaken pre-IPO placement by way of: (i) Rights issue of 1,32,00,000 Equity Shares to Promoter Selling Shareholder for cash at a price of Rs. 44 per Equity Share aggregating to Rs.58.9 crore. (ii) Preferential allotment of 15,712,820 Equity Shares to AIL for cash at a price of Rs.58.50 per Equity Share aggregating upto Rs.91.9 crore . Rajeev Varman is the Chief Executive Officer and Whole Time Director of the company.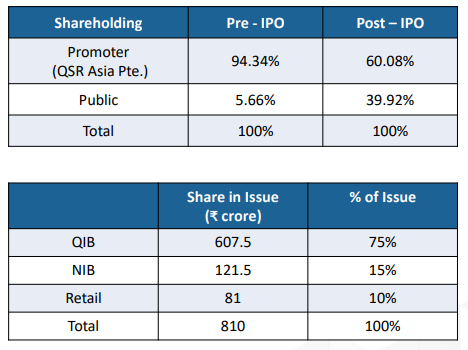 Burger King IPO Timeline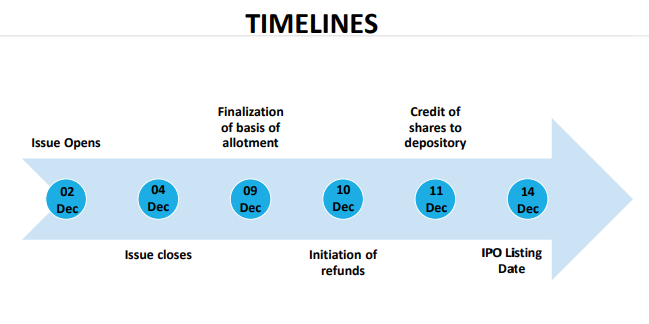 Frequently Asked Questions
What is Burger King IPO?
Burger King is the India's fastest growing quick service restaurant chains. The promoter of the company is QSR Asia Pte. Ltd. Burger King India plans to raise money through IPO for following purposes-
→To finance the roll-out of new company-owned Burger King Restaurants.
→To meet the general corporate purposes.
When Burger King IPO will open?
The Burger King IPO open date is 2nd December, 2020, and the close date is 4th December, 2020.
What is the lot size of Burger King IPO?
The lot size for Burger King IPO is 250 shares.
How to apply for Burger King IPO?
You can apply for Burger King IPO through 2 ways:-
Online Application: Clients of broking services can apply for IPO shares online through its trading website or a mobile trading app. Online IPO applications are easy and quick to enter as client data is uploaded from the trading/demat account, which helps in reducing application time and simplifying the form fill-up process.
Offline Application: Clients can also subscribe to an IPO in person by visiting the nearest branch of their brokerage firm.
In both the cases, you will have to fill an Application Supported by Blocked Amount (ASBA) application form, and provide necessary KYC details. The ASBA facility is mandatory, as it authorizes your banks to block the money in your bank account.
On the day of allotment, the amount gets debited, but only to the extent of the shares allotted. After applying successfully for the IPO, you will get an acknowledgement slip with a reference number.
When is Burger King IPO allotment?
Burger King IPO allotment date is on 9th December, 2020.
When is Burger King IPO listing date?
Burger King IPO listing date is on 14th December, 2020.
To know whether to invest or not in the IPO of Burger King India Ltd, Read the detailed report on the StockEdge website by clicking here
Disclaimer:
This document is published for learning purposes only and nothing contained herein shall be construed as a recommendation on any stock or sector.