Bharti Airtel Limited is one of the leading global telecommunications companies with operations in 18 countries across Asia and Africa.
The Company had over 419 million customers across its operations at the end of Q3 FY 20.
In India, the company's product offerings include 2G, 3G and 4G wireless services, mobile commerce, high speed home broadband, fixed line services, DTH, enterprise services (including national & international long distance services to carriers).
In other countries, it offers 2G, 3G, 4G wireless services and mobile commerce.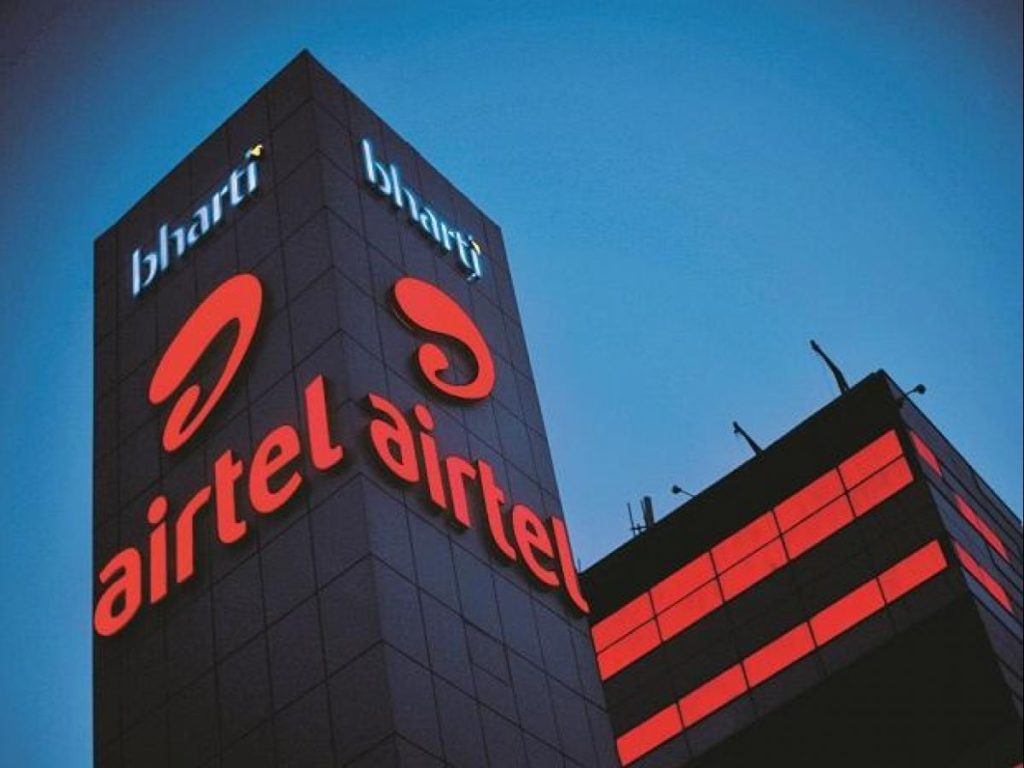 The Company deploys and manages passive infrastructure pertaining to telecom operations through its subsidiary company, Bharti Infratel Limited, which also owns 42 of Indus Towers Limited. As of today's date, this is the share price of Bharti Airtel Limited.
Together, Bharti Infratel & Indus Towers are the largest passive infrastructure service providers in India.
Revenue Mix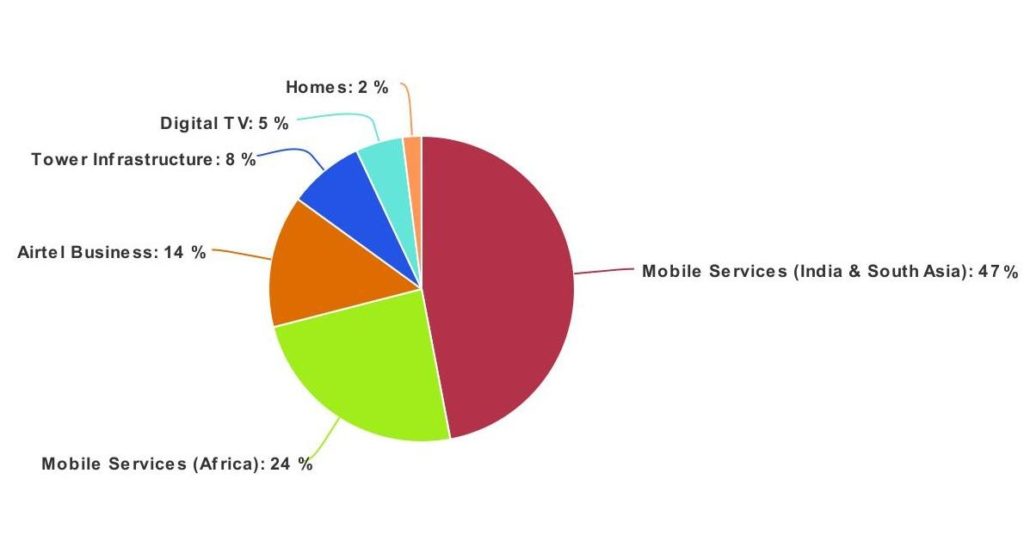 Operational Highlights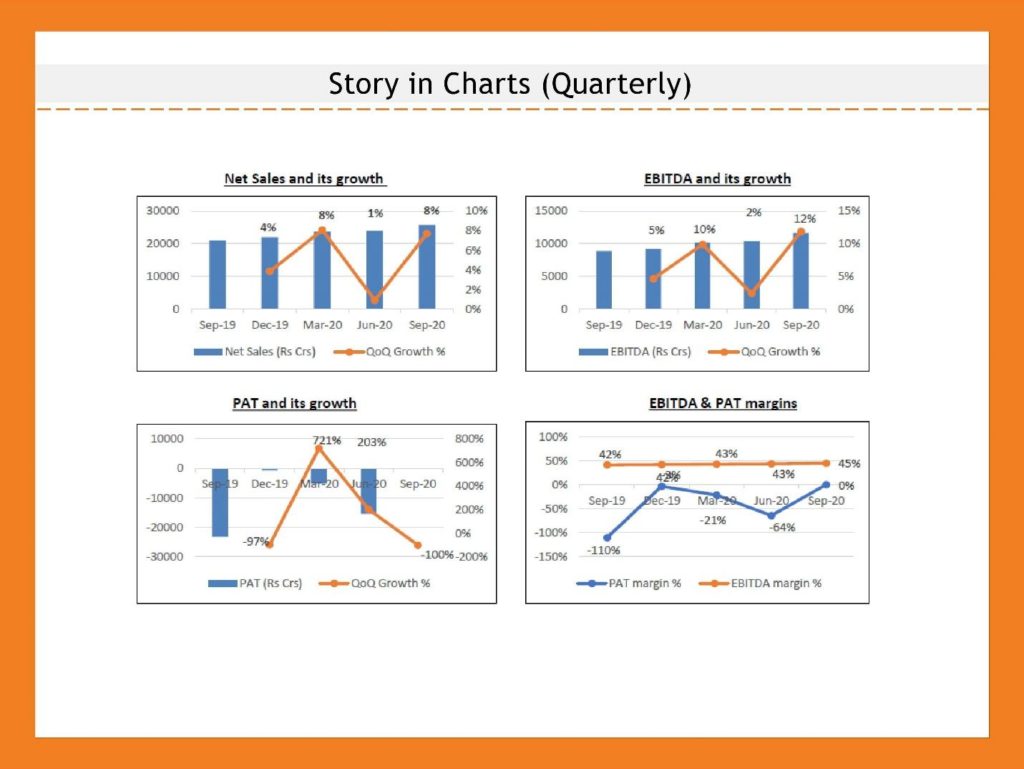 The revenues grew during Q2 FY 21 at Rs 25785 cr as compared to Rs 21131 cr in Q2 FY 20 The company reported its highest-ever quarterly revenue during the quarter India mobile services revenues saw growth during the quarter on both QoQ and YoY basis
The EBITDA grew to Rs 11642 cr in Q2 FY 21 as compared to Rs 8837 cr in Q2 FY 20 The India mobile business EBITDA and margin both showed improvement during the quarter The company have steeply narrowed its losses during the quarter
The company added 14.4 MN 4G users, higher than 10-12 MN average quarterly adds in FY 19-20 Management commentary indicates that half of these were gains from rivals. Postpaid subscriber addition also improved management attributed this to a strong brand, network, and effective Omni channel strategy.
The ARPU for the quarter stood at Rs 162 (a 3.2 % gain on a QoQ basis) Despite a slight decline in data usage per subscriber per month, the ARPU had shown improvement on the capex front the company has fared well during the quarter.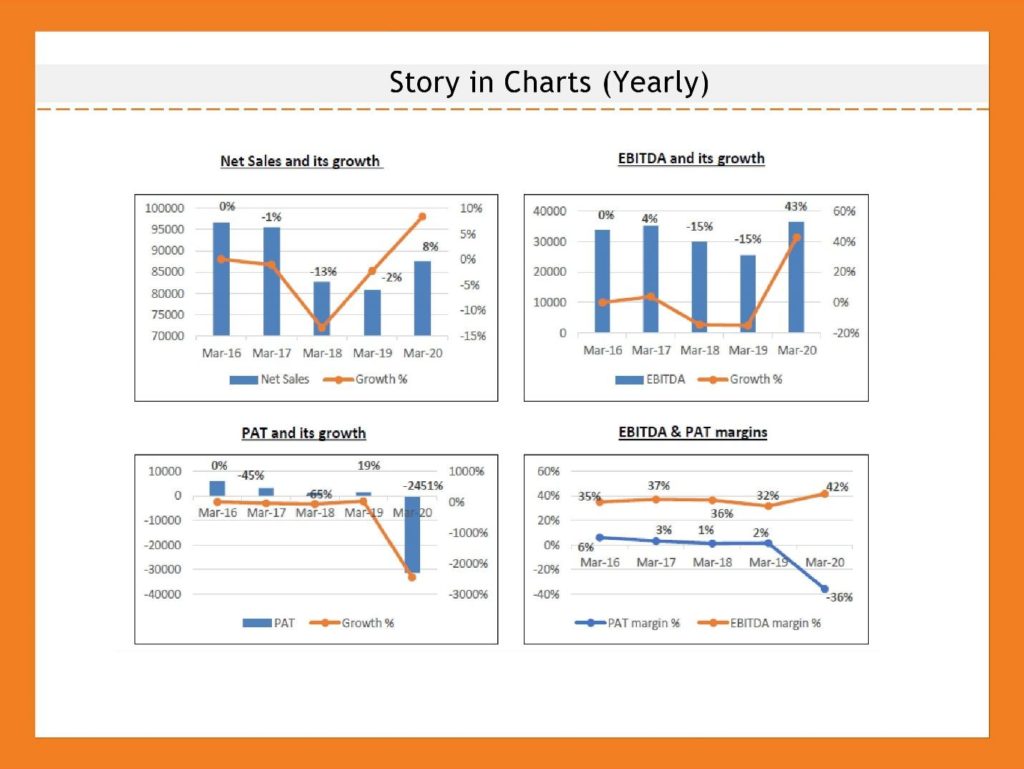 Future Perspectives
With lower churn, higher ARPU (Average Revenue per User), record revenues and strong margins can make the path going ahead very promising for the company.
Bharti Airtel Limited is also gearing for the next battle of 5G by creating a partner ecosystem to build and develop a local 5G product ecosystem.
The company is in talks with handset manufacturers to launch low cost smartphones to enhance its 4G customer base and also convert the 2G customers to 4G.
See also: Tata Consumer Products Limited: Delighting Consumers Globally
Management Updates
The company launched airtel cloud by signing a multiyear strategic collaboration agreement with Amazon web services (AWS) to deliver a comprehensive set of cloud solutions to customers in India.
Due to increase in work from home and online education, Bharti Airtel doubled the broadband services through rapid expansion of its own coverage and accelerated local cable operator's partnership.
It launched 4G services in Andaman and Nicobar Islands with the commissioning of the submarine optical cable fiber project.
StockEdge Technical Views:
Bharti Airtel faced resistance from weekly resistance zone and likely to stay positive till it holds 495
level. RSI too turned from mid 50 level suggesting underlying weakness in the stock. Immediate
short term support comes at 445-450 zone and crucial support in medium term comes at 400 level.
Breakout to take place only if the stock sustains above 500 level on hourly closing basis.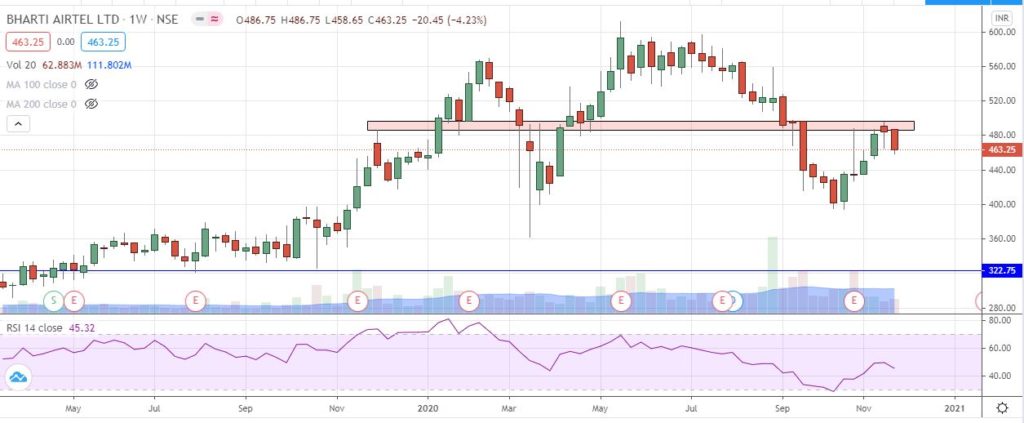 Frequently Asked Questions
What is the difference between Airtel and Bharti Airtel?

Bharti Airtel is the Indian telecommunications company which has a global presence, concentrating mainly in Asian and African markets whereas Airtel is the brand name under which Bharti Airtel offers its services.
Why is Airtel Bharti falling?

Jio recently launched postpaid plans which are at 6-20% discount to the Airtel and Vodafone Idea's plans. This move of Reliance Jio is mainly to increase the post-paid subscribers in its subscriber mix.
Airtel is also focusing on improving its profitability (ARPU) and plans to double its ARPU in upcoming years. Jio has more content offerings in terms of tie-ups with the OTT platforms like Netflix, etc as compared to Bharti Airtel and Vodafone Idea.
This might also force the two players (Airtel and Vodafone Idea) to increase the content offerings, thus increasing costs and taking toll on margins.
Jio also said that it is ready for 5G trials as soon as the spectrum is made available. World-class 5G service in India can be ready for field deployment next year. Deploying 5G in India anytime soon would hurt the other two private operators as the same would need much more capital expenditure. To deploy 5G, the operators would not only have to invest in the spectrum, but also on equipment.
Is Bharti Airtel in loss?
Bharti Airtel reported a net loss of ₹763 crore for the 2nd quarter ended September 30, 2020. Bharti Airtel posted a ₹2,866 crore loss in Q1FY20, against ₹97 crore profit in the year 2019, its first quarterly loss in 14 years.
In which countries Airtel is available?
The countries covered by Airtel's One Network services are: Kenya, Burkina Faso, Chad, Congo Brazzaville, Democratic Republic of Congo, Gabon, Ghana, Madagascar, Malawi, Niger, Nigeria, Rwanda, Seychelles, Sierra Leone, Tanzania, Uganda, Zambia, India, Bangladesh and Sri Lanka. Airtel Uganda has recently added Jordan to the One Network roaming plan for its customers.
When 5g will launch in India?
5G networks were expected to be launched in India by late 2020 or early 2021, but it's now highly unlikely that this could happen before mid-2021. 
Who is owner of Bharti Airtel?
Sunil Bharti Mittal is the Chairman and Founder of Bharti Airtel. Bharti Telecom Limited owns 36% stake.
Bottom Line
Bharti Airtel Limited continues to report a gain in revenue market share with stable KPI across and also enjoys a comfortable leverage vis à vis peers.
Bharti Airtel is well placed to drive additional ARPU growth and market share gains given the vulnerability of its peers. And this ruling is in line with the company and for the growth and survival of the company.
This should help Bharti Airtel Limited generate healthy Free Cash Flow (FCF) and subsequent deleveraging in the future. With a resilient performance amid challenging times, Airtel is one of the better-placed telecom players.
Although with the recent launch of JIO postpaid plans, the stock has seen some pressure, we believe that the company has sailed through the turmoil in the telecom sector over the years and can take up the challenges.
There would be some tariff hikes going ahead and Airtel is a well-managed company that might have some short term hiccups but the medium to long term outlook still remains positive for the company.
Do you think Bharti Airtel will once again become a profit making Telecom Company where Reliance Jio has already disrupted the space along with its strategic tie – ups?
Let us know your thoughts in the comment section.
Join StockEdge Club to get more such Stock Insights. Click to know more!

You can check out the desktop version of StockEdge.
Disclaimer
This blog and the process of identifying the potential of a company has been produced for only learning purposes. Since equity involves individual judgments, this analysis should be used for only learning enhancements. Please do not consider it to be a recommendation on any stock or sector. Our knowledge team has limited understanding and we all are learning the art and science behind this.