Tata Group, is an Indian Conglomerate which is known for its remarkable business culture and which has refined the principles of working and achieved supreme heights in their fields.
Headquartered in India, the group comprises 30 companies across ten different lines. The group has its operations in more than 100 countries, with a mission to improve the quality of life of the communities which they serve globally, through long-term stakeholder value creation based on Leadership with Trust.
With its omnipotent presence in every sector, employing more than 7, 50,000 employees throughout its offices, they have proved their mettle and can safely be called one of the greatest business houses of India.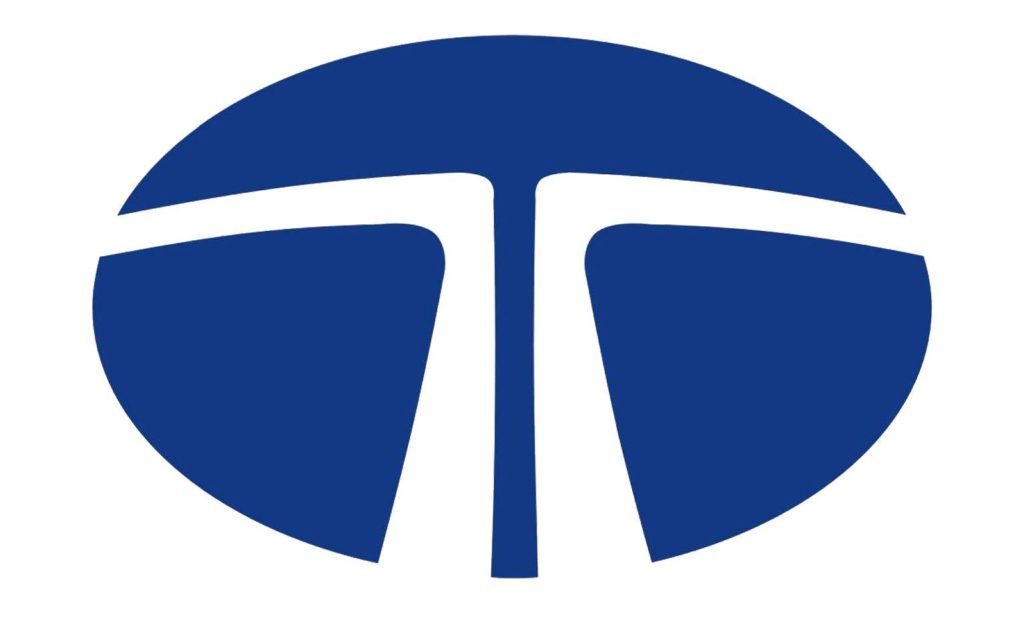 The Tata Group's promoter and principal holding company is Tata Sons. Founded in 1868 by Jamsetji Tata as a trading company, Tata Sons was primarily involved in the tea trade before gaining control of the Tata Group. Over 66% of Tata Sons' equity capital is owned by philanthropic trusts that promote education, health, art, culture and various social activities.
Tata Group has a unique hierarchy of management structure where every company has a different set of leaders and top management. The company has grown by leaps and bounds since its inception as it entered into unlinked segments with the sole purpose of revolutionising the way business is conducted in the Indian Subcontinent.
The timeline of its activities is as follows –
In 1868, Jamsetji Tata invested Rs.21, 000 and started a trading company, the early beginning of what would one day become the Tata group.
In 1874, Jamsetji established a textile mill in Nagpur named the Empress Mill. This marked the beginning of the rich philosophy of Employee Welfare advocated by Jamsetji.
In 1903, the Taj Mahal Hotels started its operations in India. It was one of Jamsetji's biggest dreams and the only one that came into existence during his lifetime.
Sir Dorabji Tata, son of Jamsetji, became the chairman after the demise of his father in 1904.
In 1907, Sir Dorabji established Tata Iron and Steel (TISCO) in the remote village of Sakshi. In the same year, Tata Limited opened its first global office in London.
In 1910, Tata Power was established as Jamsetji's view to start a Hydro Power Plant was brought to life.
In 1917, the group entered into the consumer space segment by establishing Tata Oil Mills Co (TOMCO).
In 1936, The Tata Institute of Social Science was established to culminate social work education in India.
In 1938, JRD Tata was made the chairman of the group, the youngest in the company's history.
In 1939, Tata Chemicals was incorporated in the isolated region of Mithapur.
In 1945, Tata Motors was founded which first started as a locomotives company.
Women across the country celebrate in the year 1952 as the group launches India's first cosmetics brand, Lakme. It was later sold to Hindustan Unilever in 1984.
In 1952, JRD Tata found an airline and named it Tata Air Services.
In 1962, the group entered into the beverage space by launching Tata Finlay (Now Tata Global Beverages).
In 1968, Tata Consultancy Services was born and became India's first software service company.
In 1983, the Desh Ka Namak, Tata Salt was born.
In 1991, Sri Ratan Tata was made the chairman of the Group.
In 1994, Titan a tata group company revolutionises the Indian jewellery market with the launch of the Tanishq brand
The Tata Group made a significant number of acquisitions including Tetley (2000), Corus Group (2007), Jaguar and Land Rover (2008).
In 2017, Natarajan Chandrasekaran was appointed as the chairman of the board of Tata Sons.
In 2019, TCS became the first Indian IT company to cross US$ 100 bn in market capitalization.
Business Segments of the Tata group subsidiaries
The Tata Group has diversified its way onto various business sectors and its performance in all the sectors has been quite remarkable. From aviation to beverages, it has covered a wide range of segments and is a market leader in quite a few.
Some of the major Tata group companies are –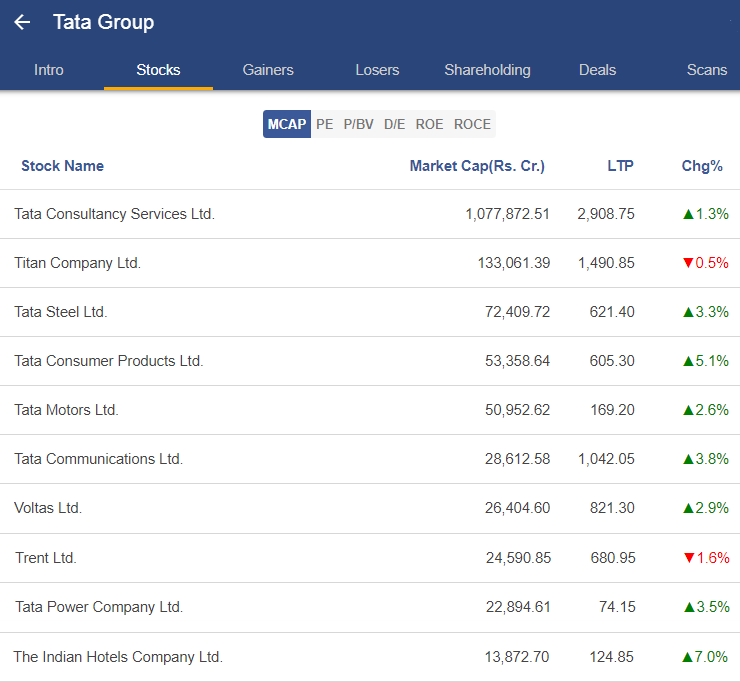 Tata Consultancy Services Ltd. – It is an IT service, consulting and business solutions organization that has invested in some of the largest global institutions and acted as the medium of change in the sector. The company has gained recognition because of its place in global sustainability indices and is among the top 10 Global IT firms in the world. As of today's date, this is Tata Consultancy Services share price.
Titan Company Ltd. – It is India's leading player in the jewellery, watches and eyewear categories with several successful brands. It is the fifth largest integrated own brand watch manufacturer in the world. Titan's popular brands include Tanishq, Fastrack, Sonata and Raga. It recently entered the perfume business with Skinn and launched Taneira, for sarees. As of today's date, this is Titan Company share price.
Tata Consumer Products Ltd. – In the FMCG space, iconic brands such as Tata Salt, Tata Tea, Tetley Tea, Himalayan Mineral Water and Tata Coffee Grand are operated by Tata Consumer Products. The company has a combined reach of over 200 million households in India alone. The company also has many Joint Ventures with foreign companies such as Starbucks, PepsiCo. As of today's date, this is Tata Consumer Products share price.
Tata Steel Ltd. – This Company is the leading global steel company with an annual steel production capacity of 33MnTPA. Established in 1907, the company has broadened its scope of operations by means of expanding both vertically and horizontally. It currently operates in 5 continents and has an employee base of 65000. In addition, the company also manufactures products like Wires, Tubes, Agricultural equipment and Industrial by-products. As of today's date, this is Tata Steel share price.
Tata Communications Ltd. – Tata Communications carries around 25%-30% of the world's internet routes. The company also owns the world's largest submarine fibre network – more than 500,000 km of subsea fibre, and more than 210,000 km of terrestrial fibre. As of today's date, this is Tata Communications share price.
Tata Motors Ltd. – It is a leading global automobile manufacturer. It operates in various places like India, UK, South Korea, Thailand, etc. and is a home to 109 subsidiaries including Jaguar and Land Rover. As of today's date, this is Tata Motors share price.
Trent Ltd. – Trent was established in 1998 and is a player in the branded retail industry in India. The company primarily operates stores across four formats – First is Westside, which is Tata's own branded fashion apparel and is the mainstay of the retailing business of the company. The company also operates Zudio, a fashion shop with a vivid collection of trendy clothing. The third brand is Star, which is a fresh food and grocery retail chain. The fourth is a chain of bookstores, Landmark. As of today's date, this is Trent share price.
Voltas Ltd. – Voltas is the largest Indian air conditioning company. It was founded in 1954 and today generates a revenue of around US$ 1 bn. It also deals in products related to refrigeration, electro-mechanical projects, electrification, textile machinery, mining and construction equipment and management. As of today's date, this is Voltas share price.

Tata Power Ltd. – It is India's biggest integrated power company, which is present across the entire value chain of conventional & renewable energy, power services and future customer solutions including solar rooftop and EV charging stations. As of today's date, this is Tata Power share price.
Indian Hotels – The Indian Hotels Company Limited (IHCL) and its subsidiaries put together a group of brands and companies offering a mix of warm Indian hospitality and world-class service. These include Taj, the iconic hospitality hallmark, SeleQtions, a named hotel collection, Vivanta, sophisticated upscale hotels, and Ginger, which is revolutionizing the segment of lean luxury. As of today's date, this is Indian Hotels Company Limited share price.
Conclusion
The Tata Group plays a central role in the Indian markets and is currently at the helm of globalizing the Indian economy. The foundation of Tata's brand recognition is the core values of integrity, innovation, quality and outstanding work ethic. Since the majority of its shares are owned by philanthropic trusts, the organisation aims to set standards in the field of Corporate Social Responsibility with the guidance of Sri Ratan Ji Tata in order to eradicate the problems of healthcare, education and health problems.
Watch the entire video on the Journey of TATA Group here:
Know more about TATA Group by using the Business Houses tab in the StockEdge Web

Business Houses are one of the paid tools offered by the StockEdge App

Check out StockEdge Premium Plans.