IRCTC Ltd is a central public sector company under the Ministry of Railways, Government of India, 'Mini Ratna (Category-I).' As an extended arm of the Indian Railways, IRCTC Ltd was formed on 27 September 1999 to upgrade, professionalise and manage catering and hospitality facilities at stations, trains and other locations, and to promote domestic and foreign tourism through the creation of budget hotels, special tour packages, information packages & commercial publicity and global reservation systems. The authorized capital of the company is 250 crores and paid-up capital is 160 crores, fully subscribed by Ministry of Railways, Government of India. It's registered and Corporate Office is situated at New Delhi.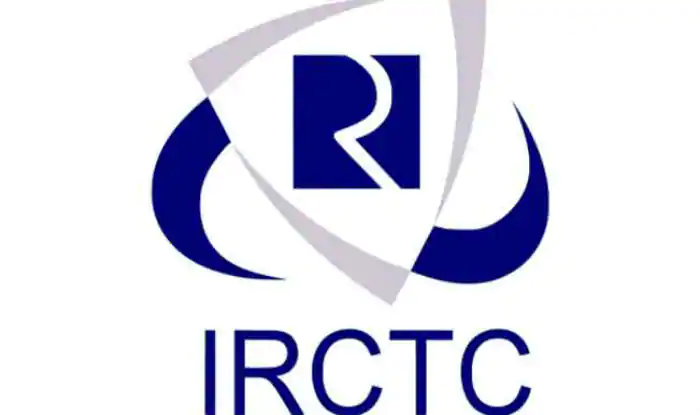 As a Central Public Sector Enterprise with its 87.4% stake owned by the Govt. of India and under the administrative control of the Ministry of Railways, the company is the only entity authorized by Indian Railways to provide catering services to railways, online railway tickets and packaged drinking water at railway stations and trains in India. As of today's date, this is IRCTC share price.
It was incorporated with the objective to upgrade, modernize and professionalize catering and hospitality services managing hospitality services at railway stations, on trains and other locations and to promote international and domestic tourism in India through public-private partnership. It has also diversified into other businesses, including non-railway catering and services such as e-catering, executive lounges and budget hotels, which are in line with its objective to build a 'one stop solution' for its customers.
The core activities of the Company are detailed below:
Catering & Hospitality
Internet Ticketing
Travel & Tourism
Packaged Drinking Water (Rail Neer)
At present, the Company operates through:
Fourteen Rail Neer Plants at Nangloi-Delhi, Danapur-Bihar, Palur-Tamil Nadu, Ambernath-Maharashtra, Amethi (Uttar Pradesh), Parassala-, Tamil Nadu, Bilaspur (Chhatisgarh) Hapur (Uttar Pradedh), Sanand- Gujaratd, Mandideep-Madhya Pradesh, Jagiroad-Assam, Maneri-(Madhya Pradesh), Nagpur, (Maharashtra) and Sankrail-Kolkatta
11 Base Kitchens at located at New Delhi, Howrah, Ahmedabad, Patna, Mumbai Central, Mumbai CST, Ballarshah, Nagpur, Balasore, Sealdah and Kharagpur Jn 5 Zonal Offices, namely, New Delhi, Mumbai, Kolkata, Chennai, Secundrabad;
Five Zonal Offices at New Delhi, Mumbai, Kolkata, Chennai & Secundrabad
Ten Regional Offices at Lucknow, Chandigarh, Jaipur, Bhopal, Ahmadabad, Guwahati, Bhubaneswar, Patna, Ernakulam and Bangalore;
One Internet Ticketing Office at New Delhi
One Tourism office at New Delhi.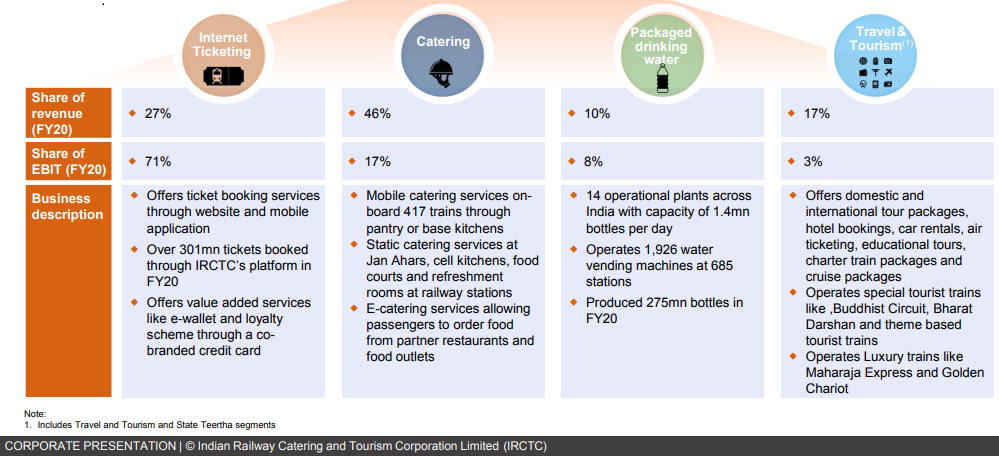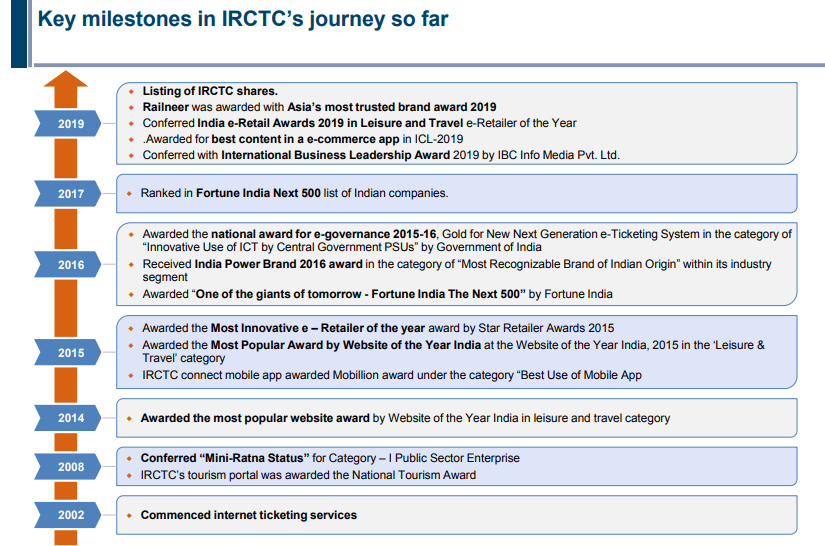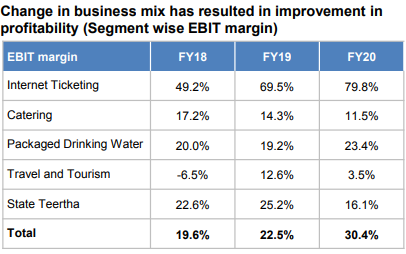 Revenue Mix (Q2FY21):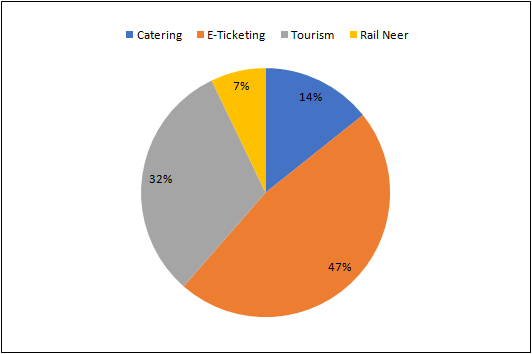 Operational Highlights
The revenues declined during Q2FY21 at Rs. 89cr as compared to Rs. 513 cr. in Q2FY20.The company reported decline as railway operations remained suspended due to COVID-19.
The EBITDA declined to Rs.(6 cr.) in Q2FY21 as compared to Rs. 142 cr. in Q2FY20. Except for Internet Ticketing which reported EBIT of Rs. 613mn (has low fixed overheads), the other 3 segments viz; Catering, Rail Neer and Tourism & State Teertha reported EBIT loss of Rs. 205 mn/Rs. 23 mn/Rs. 87 mn respectively due to limited absorption of fixed costs in lockdown.
The PAT declined to Rs. 33 cr. in Q2FY21 as compared to Rs. 100 cr. in Q2FY20. However, after adjusting for exceptional gain of Rs. 424mn (excess provisions of Rs. 258 mn relating to performance related pay and Rs. 164 mn relating to claim made on railways) loss stood at Rs. 97mn
The cash on books is Rs. 15.3 bn.
Future Outlook:
The company is a perfect play on the unlocking theme with gradual relaxations in travel restrictions.
With the relaxations getting eased and things getting back, the company will bounce back the fastest.
Also the capacity expansion of Rail Neer and the impact of price hike announced in catering will play out in the future going ahead.
Segment Wise Outlook: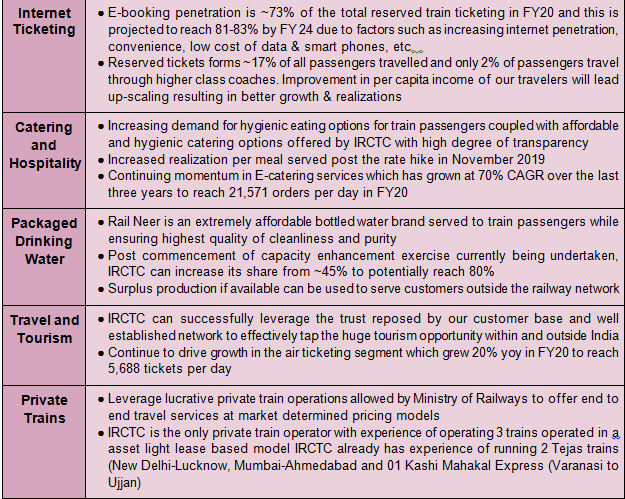 StockEdge Technical Views :
IRCTC Ltd. has been taking strong support from the 1300-1360 zone and till the stock stays above the above level, we may see possible bounce in the near term. Probable resistance in the medium term comes at 1590-1600 zone. Technical parameters look neutral as of now.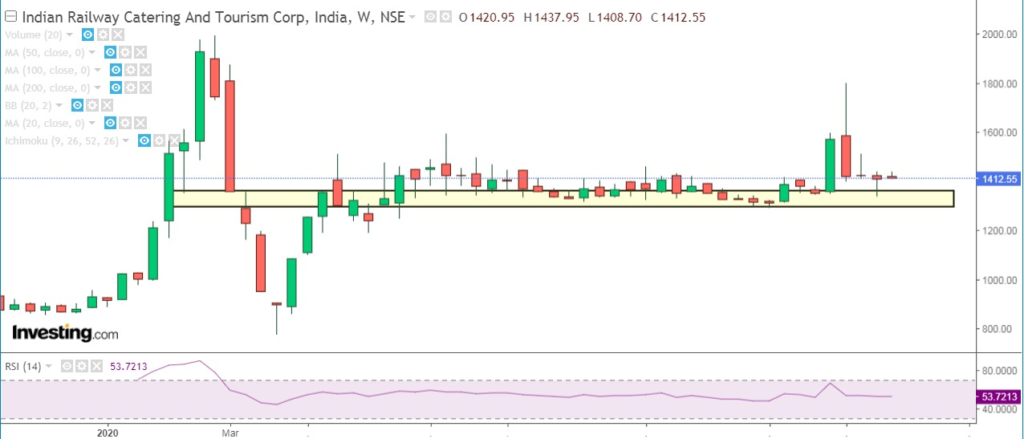 Bottomline
IRCTC Ltd. is a monopoly play in the train services, e-ticketing space. IRCTC Ltd. has been impacted in H1FY21 due to the lockdowns because of coronavirus. However, the company has been catering for the essential services. But with the lockdown getting eased and restrictions getting lifted the company will bounce back faster. Also with the capacity expansions in the different segments, the future would be better for the company. The impact on the topline and bottomline has been clearly visible due to the services getting impacted. But with things getting normalised we expect the stock to perform in a healthy manner going ahead.
Join StockEdge Club to get more such Stock Insights.

You can check out the desktop version of StockEdge.
Disclaimer:
This document and the process of identifying the potential of a company has been produced for only learning purposes. Since equity involves individual judgements, this analysis should be used for only learning enhancements and cannot be considered to be a recommendation on any stock or sector. Our knowledge team has limited understanding and we all are learning the art and science behind this.