The journey of Hero Group can be traced back to 1956 when Hero Cycles Limited was set up by the Munjal siblings, specifically Dayanand Munjal, Satyanand Munjal, Brijmohan Lall Munjal and O. P. Munjal. The company has since got inseparable from two-wheelers in India. Today, Hero MotoCorp (Formerly Hero Honda Motors Ltd.) is the world's biggest producer of bikes.
The Hero Group is an Indian conglomerate with interests and tasks in automotive manufacturing, financing, sustainable power source, electronics manufacturing and education. The Group has its offices and production facilities spread across five continents. The Hero Group incorporates Hero MotoCorp, Hero FinCorp, Hero Future Energies, Rockman Industries, Hero Electronix and the BML Munjal University.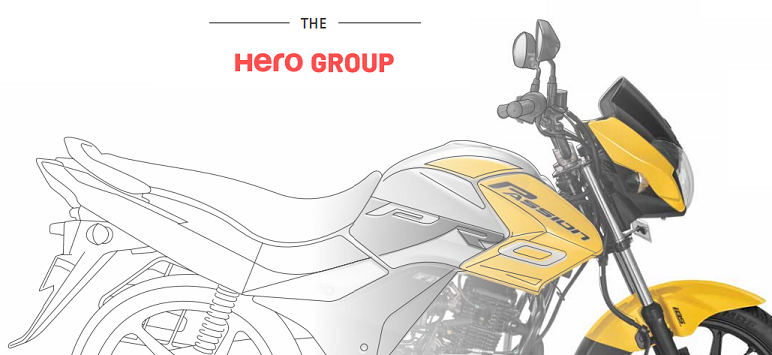 With development at the center of its way of thinking, the New Delhi (India) settled Hero MotoCorp has been at the front line of planning and growing mechanically progressed cruisers and bikes for clients around the globe. It turned into the world's biggest bike maker in 2001, regarding unit volume deals in a schedule year, and has kept up the pined for title for as long as 18 sequential years.
The timeline of operations of the Hero group are as follows –
In 1956, Brijmohan Lall Munjal started as a bicycle company along with his three brothers Om Prakash Munjal, Dayanand Munjal and Satyanand Munjal.
In 1978, the group had managed to acquire a license for mopeds – this marked the venturing of the company into 2- wheeler business.
In the early 1980s, Hero Cycles had already crossed the production mark of 1 million bicycles and decided to diversify into various fields- textile spinning, financial services, and cold-rolling steel mill.
In 1983, Hero hit another milestone by collaborating with automobile company Honda of Japan. The JV Company, incorporated as 'Hero Honda Motors Ltd' rolled out their first motorcycle 'CD100' in the year 1985.
In 1986, Hero Cycles registered with the Guinness Book of World Records as the largest bicycle manufacturer in the world; with production of 19,000 bicycles per day.
In 1991, Hero Honda Finlease was established in order to finance the motorcycles for customers.
In 2010, Hero Realty and Infra was established with an aim to diversify the business segments.
In 2011, after separating from Honda, Hero group renamed the company as Hero MotoCorp.
In 2013, the group established Hero Future Energies which operates as a power producer
In 2015, the group established Hero Electronix, a venture into the technology space with a vision to create leading technology businesses out of India.
Hero Group – Major Company Segments
Hero MotoCorp Ltd. –
It is India's one of the leading two-wheeler manufacturer companies, which has been continuously providing customers with an excellent range of two wheelers that ensure both style and comfort. Today, Hero MotoCorp has made it its central goal to turn into the best bike organization, in India as well as around the world by setting benchmarks in style, execution and innovation. They have eight around the world benchmarked producing offices, with six located in India and one each in Colombia and Bangladesh. As of today's date, this is Hero MotoCorp share price.
Hero Cycles Ltd.-
The company started manufacturing cycle components and slowly it started paving its way onto becoming one of the 'Best Cycle Brands' in India. Today, it is undoubtedly the largest manufacturer of bicycles in India which produces 5.2 million cycles per annum. Beginning from a little unit to making a tremendous worldwide impression, Hero Cycles creation unit in Ludhiana is completely furnished with an in-house R&D office delivering significant bike parts under rigid quality boundaries conforming to every worldwide norm.
Hero Future Energies Ltd.-
Hero Future Energies Private Limited (HFE) operates as a power producer. The Company specializes in wind and solar power generation. HFE additionally offers arrangements and establishment of vitality frameworks. HFE is already a heavyweight in India with 1.3GW installed renewables capacity and another 1.5GW under construction in both the domestic and overseas markets. The organization has aspirations to work across Europe, Asia and African business sectors.
Hero Fincorp Ltd.-
It is an Indian Non-Banking Financial Company (NBFC) which is engaged in consumer finance businesses and commercial lending. The business includes financing Hero MotoCorp two-wheeler, Loyalty Customer Loans and provides Loans against property. They are available at about 2000 retail financing touch-focuses across Hero MotoCorp's organization, and have joined forces with more than 2000 fulfilled corporate customers.
Hero Electronix Ltd.-
It is the Group's venture into the technology space with a vision to create leading technology businesses from India. Through key ventures and associations in the computerized and hardware space, the organization plans to lead India towards the Digital India Initiative.
Munjal Auto Ltd.-
The company is a leading auto component manufacturer which produces exhaust systems complete for two wheelers & four wheelers, Spoke rims for two wheelers, steel wheel rims for two wheelers & four wheelers, fuel tanks for four wheelers, seat frames for four wheelers and other automotive assemblies. As of today's date, this is Munjal Auto share price.
Munjal Showa Ltd.-
Established in 1985, in collaboration with Showa Corporation of Japan, who are the pioneering global leaders in the manufacture of shock absorbers. As of today's date, this is Munjal Showa share price.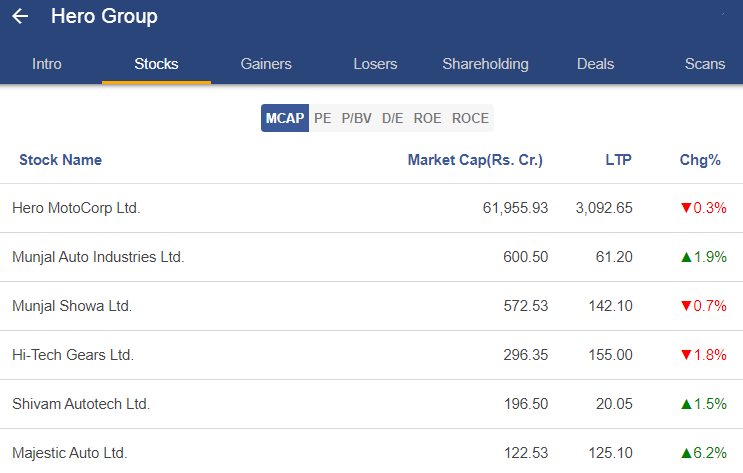 Conclusion
From manufacturing cycle to two-wheelers, a characteristic advance was witnessed by the Hero Group. They have been consistently making progress towards cooperative energy between innovation, frameworks and technology to give items and administrations which meet the quality, execution, and value goals of the clients.
Like each example of overcoming adversity, Hero's adventure contains a component of soul and venture; of accomplishment through coarseness and assurance, combined with vision and fastidious arranging.
Watch the entire video on the Journey of Hero Group here:
Know more about Hero Group by using the Business Houses tab in the StockEdge Web
Business Houses are one of the paid tools offered by the StockEdge App
Check out StockEdge Premium Plans.