Indiabulls Housing Finance Ltd. (IBHFL) is India's 2nd largest private housing finance company. It is registered with the National Housing Board (NHB), and is engaged in the business of mortgage finance (home loans, loan against property and lease rental discounting), and corporate mortgage loans.
The company's portfolio consists of mortgage finance (housing loan and LAP) (84% of consolidated AUM of Rs.1, 02,335 crore as on December 31, 2019) and corporate mortgage loans (16% of AUM) which is lease rental discounting and residential construction finance.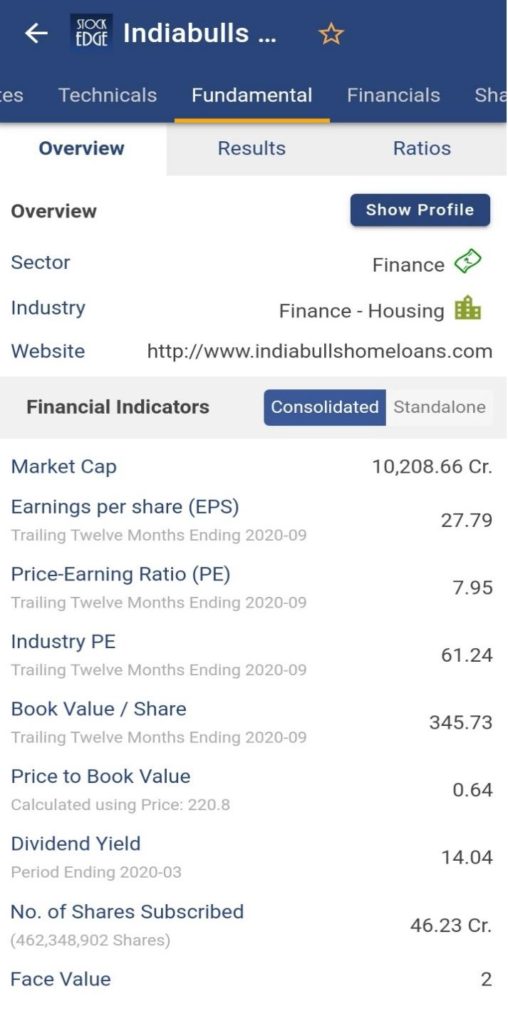 Indiabulls Housing Finance Company has a nationwide network of 270+ branches and over 8000+ external channel partners.
Operational Highlights:
The Revenues from Operations continue to fall by 27% YoY basis to ₹2,534 cr as the Interest Income during the quarter de-grew by 20%.
In Q1FY20, Indiabulls Housing Finance company disbursed a total of ₹ 72,791 cr depicting a flattish de-growth over Q1 FY21. Indiabulls Housing Finance has stated that the loan book has started growing as per company's business plan of on balance sheet growth and sell down to, and co-lending with the banks. As of today's date, this is Indiabulls Housing Finance(IBHFL) share price.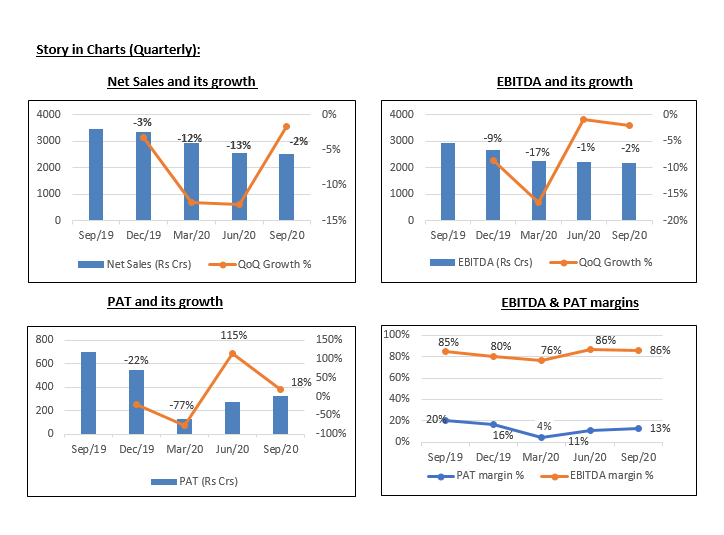 The book spread came in at 2.5% in Q2 FY21 vs 3% in Q2 FY20. The Management has indicated that as the business model is shifting towards the retail, this spread will tend to move towards 2.7% and is expected to be stable from there onwards.
The Asset quality during the quarter improved as the GNPA came in lower to 1.98% vs 2.20% in Q2 FY21. The Provision Coverage Ratio was also lower at 97.8% as compared to 98.53% in Q1FY20.
The PAT de-grew significantly by 54% YoY from Sep 2019 to Sep 2020 on account of lower Interest Income during the quarter.
Future Outlook:
Indiabulls Housing Finance is focusing completely on retail over the past few quarters in an effort to change the business model to asset light retail focused business. Company continues to do disbursements around the construction finance projects. In the next 24 to 36 months the retail part of the book is expected to be ~90%.
The recent liquidity crisis has also brought about consolidation in the real estate space, especially in development of commercial real estate projects. Weaker developers are exiting the industry with large organized developers gaining market share. This consolidation is positive for the sector as buyers have clear visibility of delivery, boosting customer confidence and service levels.
ALM management has always been a core operating consideration for the company, in the period of liquidity squeeze for the wider market. IBH was able to successfully allay concerns by demonstrating a fully matched ALM.
Co-origination Business Model:
Company has entered into co-origination arrangements with few public sector banks.
Loans originated by the IBH team under a jointly drawn up credit policy. IBH will also service the loan account through the life of the loan.
80% of the loan will be on the bank's balance sheet and remainder 20% on IBH's.
Indiabulls Housing and the banks charge different rates linked to their respective benchmarks on their respective portion of the loan.
The Co-origination business model had been framed by the Ministry of Finance in September 2019 to ensure sufficient liquidity is present in the system and also address the credit growth rate during the liquidity crisis.
Under the co-origination tie-ups the risk is shared between the NBFC and Bank, which should be in 20:80 as per RBI guidelines.
The Co-origination model would help the company offer home loans at rates as low at 8% and in tier II, tier III markets as high as 10% and thereby earn us a healthy spread. Between securitization, co-originations and smart city home loans we will be able to achieve a ROA of 2.8% which will also get us to a ROE of well north of 20%.
StockEdge Technical View
Indiabulls Housing Finance is consolidating in a range in the weekly chart from quite long and momentum breakout to take place only above swing high of 264 level. Crucial resistance for the stock comes at 240-260 zone. Technical parameters look neutral as of now. Probable support on a positional basis comes at 190 level as of now. (Read more about technical analysis of stocks.)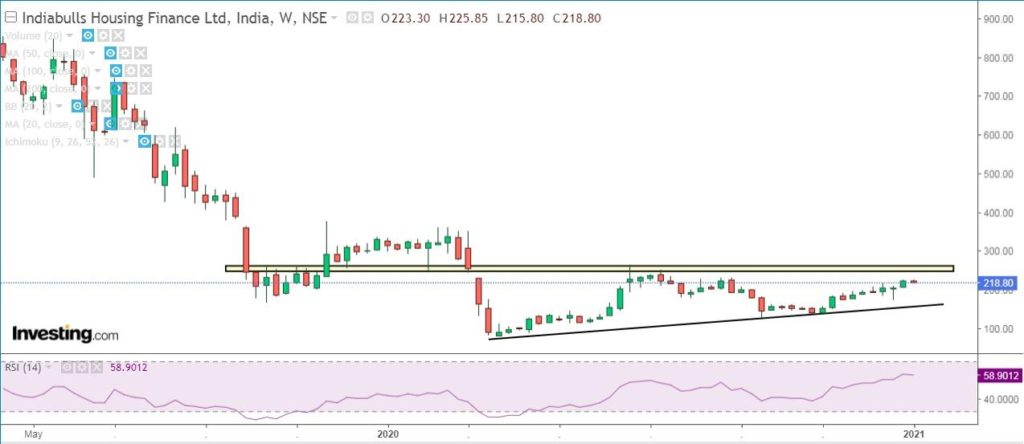 Bottom Line:
Indiabulls Housing Finance continued to report a subdued quarter on the back of changing business models and subdued housing loan demand in the economy. This has also been impacting the profitability of the company over the past few quarters. In order to focus on retail lending the company was downtrading the wholesale loan book which has also impacted the loan spreads.
Going forward, the company had guided that it would start growing its loan book as per the business plan that blends co-origination with banks for retail loans and with funds for developer loans as two important pillars. The AUM is also expected to witness a significant growth in H2FY21. Indiabulls Housing Finance company has plans to grow its balance sheet by 7-8% in FY21E.
Join StockEdge Club to get more such Stock Insights.
You can check out the desktop version of StockEdge.
Disclaimer:
This document and the process of identifying the potential of a company has been produced for only learning purposes. Since equity involves individual judgements, this analysis should be used for only learning enhancements and cannot be considered to be a recommendation on any stock or sector. Our knowledge team has limited understanding and we all are learning the art and science behind this.