Investment Themes are strategies through which retail investors can focus on long-term trends rather than specific companies or sectors, allowing them to capitalize on structural, one-time shifts that can transform an entire industry.
Thematic investing employs research to identify companies relevant to a specific theme and then groups them into lists, baskets in which you can invest. Themes, as opposed to sectors, can include investments across multiple industries.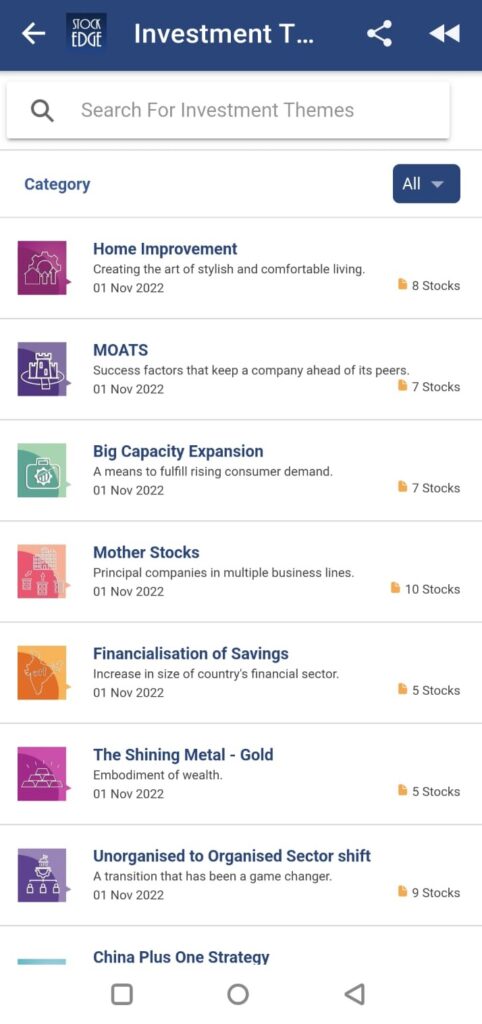 How are these themes created?
Thematic strategies begin with an idea or trend and seek out publicly traded companies that appear to be relevant.
As a result, it is a research-intensive style of investing. Why? The thematic relevance of a company may not be obvious from its name or main business line. For example, a company that manufactures solar panels may be easy to categorize as part of the renewable energy theme, but other themes may be more difficult. How do prospective investors select companies that represent the future of workplace diversity?
Investment themes will help you to identify investment opportunities that support those themes.
Categorization of Themes
Our investment themes are categorized under 6 different headers: Macroeconomy, Government Policy, Business Model, Company Financials, Environment, and Others. Under each header, we have different themes with a basket of stocks identified by our StockEdge analysts. You get all the information required for that theme under the intro section of that theme It gives you a brief idea about the theme and a list of stocks for each theme. Every stock has its own unique feature with synergy to the scheme it is in. Thus every stock gets affected in a different way under the same theme.
Check Out Also: Strengthening Rupee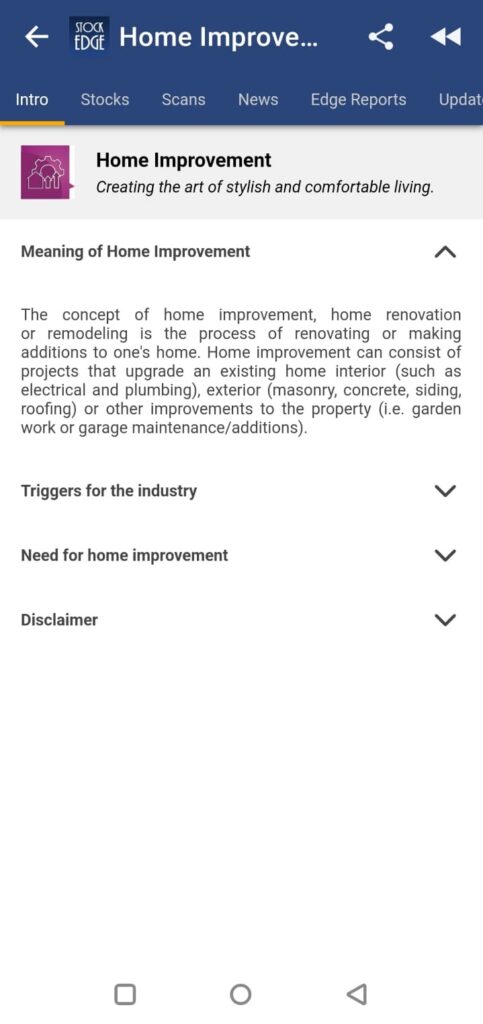 Kinds of Investment themes and their components
Urbanization is a growing phenomenon that has spread beyond the metropolises. The rise of 'The census Towns' and visible 'rurban' sprawl, indicating a shift to the tertiary sector as employment patterns shift, indicates changing lifestyles and consumption patterns. Rising income and higher living standards will increase demand for ceramic tiles and sanitary ware products. Demand for modular kitchens and premium bathroom fittings is expected to rise as the urban middle class expands. Our research confirms the growing demand for a variety of home products.

So now we look at 8 different home improvement companies in our investment theme, "Home Improvement." Let us look at the performance of these stocks on a 2 yrs. timeframe!

Our StockEdge Analyst team picks these stocks which fit well under these themes based on their financial performance, other qualitative parameters like management experience, and other tailwinds for that industry.
The team also prepares Edge Reports on these stocks, which have all the relevant information related to that stock.
The growing interest in Investment Themes stems from the need to identify future drivers of return (such as technological breakthroughs) from equity investments, giving them the potential to outperform traditional broad market indexes that reflect market movement.
Early identification of structural change potential and investment in anticipated transformations is a key driver of successful investing. This is especially important for long-term investors who want to ensure that their portfolios are well-positioned for future growth.
Bottomline
Investment Themes will allow investors to invest based on their convictions about how things are going or should be going. This approach also allows for new types of diversification and the incorporation of clever research into your investment portfolio.
Explore our Investment Themes Section by subscribing to our StockEdge premium plans.
We hope you liked our content, so keep an eye out for the next blog under the "Stock Insights" section. Also, please share it with your friends and family.
Happy Investing!