In today's stock insights, we will talk about Cochin Shipyard Ltd., a PSU stock that provides shipbuilding and repair services in the Defense, LNG, large commercial, and small vessel space. Cochin Shipyard share price has been in the news for quite some time now.
The Story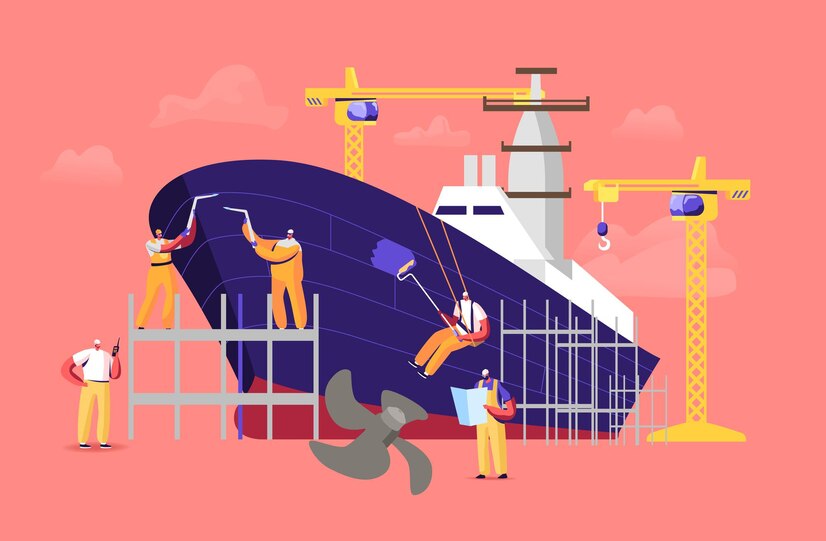 On 28th July 2022, Cochin Shipyard Ltd. delivered the country's first indigenously-made aircraft carrier (IAC-1) to the Indian Navy. The Navy said the indigenous Aircraft Carrier (IAC) 'Vikrant' was delivered to it after "extensive user acceptance trials" and called it a "momentous day in the Indian Maritime History."
Cochin Shipyard was established as a Government of India company in 1972, with the first phase of facilities opening in 1982. Cochin Shipyard is India's largest shipbuilding and maintenance facility. The yard can build vessels weighing up to 1.1 million tons and repair vessels weighing up to 1.25 million tons per year.
Cochin Shipyard has recently received shipbuilding orders from internationally renowned companies in Europe and the Middle East.
They are strategically located on India's west coast, halfway along the main sea route connecting Europe, West Asia, and the Pacific Rim—a busy international maritime route. Their shipyard is near the Kochi Port and offshore oilfields on India's western coast and relatively close to the Middle East.
Cochin Shipyard has progressed from the construction of bulk carriers to the construction of smaller and more technically sophisticated vessels such as platform supply vessels (PSV) and anchor handling tug supply vessels (AHTS).
They had built and delivered 166 vessels as of March 2022, including 27 defense, 20 large, 35 offshore support, and 84 small and medium vessels. This includes 47 vessels exported to the most demanding clients in Norway, the Netherlands, Cyprus, the United States, Germany, and several other countries.
Cochin Shipyard has collaborated with several industry leaders, including Rolls Royce Marine (Norway), GTT (France), Vard Group (Norway), and others.
Aside from shipbuilding, Cochin Shipyard can perform complex and sophisticated ship and oil rig upgrades, routine maintenance, repairs, and ship life extension. They are India's only yard that has performed dry dock repairs on the aircraft carriers INS Viraat and INS Vikramaditya. They have also entered into agreements for the management and operation of ship repair facilities with the Mumbai Port Trust, the Andaman and Nicobar Administration, and the Kolkata Port Trust.
Cochin Shipyard operates at three locations: Kochi, Kolkata, and Malpe. In addition, they operate four ship repair facilities in Kochi, Mumbai, Kolkata, and Port Blair. They have India's largest hull fabrication shop, with a monthly capacity of 2,000 tonnes of steel.
Their dock is served by two gallant cranes weighing 150 and 300 tonnes. Cochin Shipyard employs an integrated hull outfit and painting (IHOP) system for sound and efficient vessel construction, as used in Japanese yards.
Cochin Shipyard's notable clients include the Indian Navy, the Indian Coast Guard, the Shipping Corporation of India, and the Oil and Natural Gas Corporation (ONGC).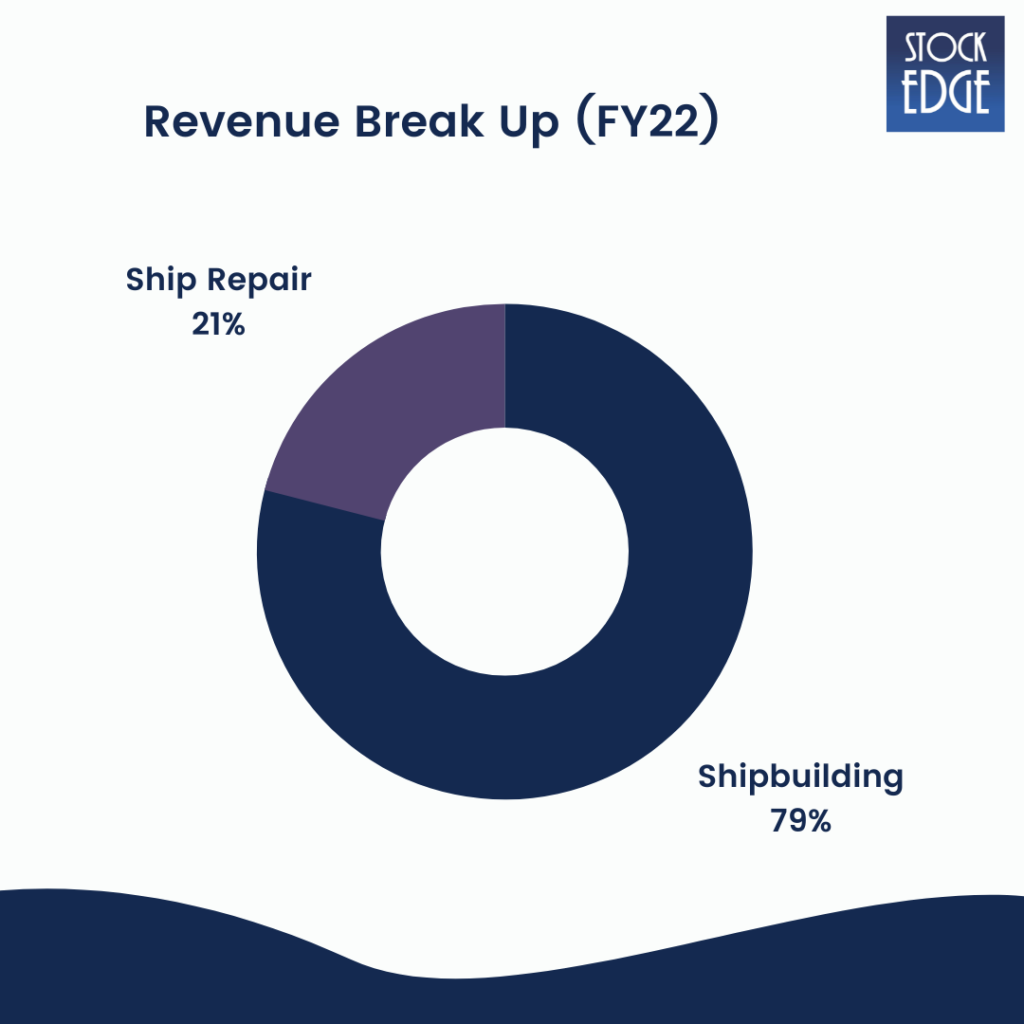 Let us try to understand the business model of Cochin Shipyard!
Cochin Shipyard primarily engages in two business segments: shipbuilding and ship repairs. They serve clients in the Indian defense sector as well as clients in the commercial sector worldwide. More than 80% of the top line comes from defense. Shipbuilding for clients in the defense sector should be complex and time-consuming but not cyclical, whereas contracts in the commercial sector should be less complex but cyclical. Ship repair is the more profitable of the two segments.
Contracts are awarded through the nomination and competitive bidding. Nomination entails placing orders for warships with selected public sector shipyards without competitive tendering. All high-value orders for Indian shipyards are obtained through nomination. Nominated orders from the defense ministry give public sector yards a huge advantage in the bidding process, creating an unequal playing field for the private sector.
Let us look at the Financials of Cochin Shipyard!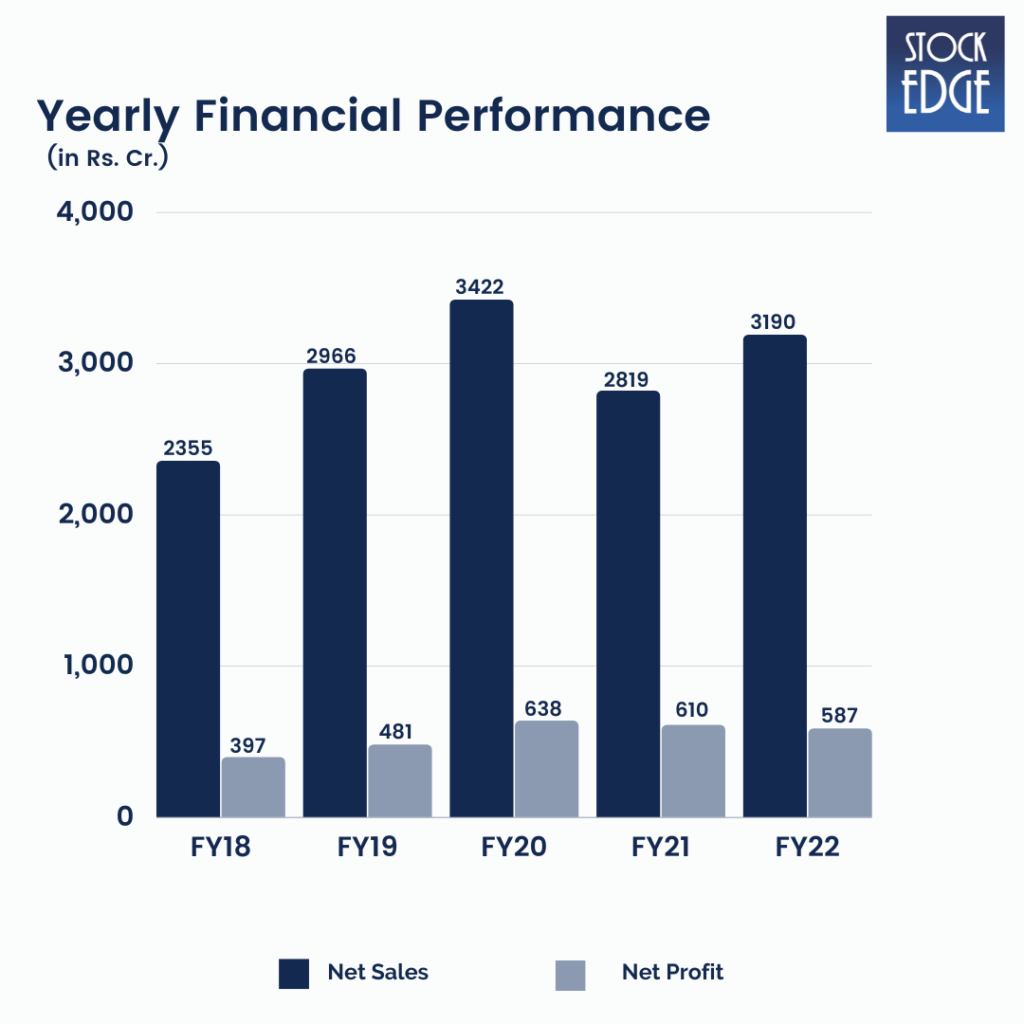 Revenue increased by 13% YoY to Rs.3,191 crore in FY22. Shipbuilding sales increased by 4% year on year to Rs.2511 crore, with IAC accounting for Rs.1793 crore, and Rs.2700 crore is still to be booked from this project. They have also delivered six floating border outpost vessels, with the remaining three in advanced stages of production.
Additionally, Cochin Shipyard designed and delivered the first hybrid electric aluminum catamaran hull vessel for the Kochi Water Metro Project, resulting in a revolutionary sustainable urban mobility water transportation solution. Due to technical issues, the remaining 19 vessels scheduled for delivery have been delayed.
Ship repair sales increased 64% year on year to Rs678 crore. They repaired 12 ships from their single dry dock in Cochin during FY22. They began ship repair operations in Port Blair in November 2021 with an emergency repair of the MV Sindhu, followed by a dry dock repair of the MV Rajhans.
As a capital asset, ships require regular maintenance, so the ship repairing business provides a consistent source of income for Cochin Shipyard. Cochin Shipyard has the necessary expertise and is India's only yard with repaired aircraft carriers. Cochin Shipyard will likely emerge as the frontrunner in any large project requiring national security and extensive experience.
As a labor-intensive industry, the cost of labor is a major determinant of a company's competitive position concerning others.
Cochin Shipyard has the lowest employee cost in the industry because they execute projects efficiently thanks to its prudent subcontracting model, with most of its workforce working on a contract basis.
Revenue in Q2FY23 was at Rs.683.2 crore, a 1.9% decrease YoY due to subdued execution in the ship-building segment. Revenue increased 55% QoQ. EBIDTA was at Rs.135.3 crore, down 17.7% YoY due to higher RM and other costs. EBITDA margin fell 382 basis points YoY, primarily due to margin contraction in the shipbuilding segment. PAT was at Rs.112.8 crore, down 14.1% YoY but up 167.4% QoQ.
One can track the dividend and share price of Cochin Shipyard from the link given here.
Who is sailing the ship?
Madhu Nair is the chairman and managing director of Cochin Shipyard. He did his Bachelor of Technology (naval architecture and shipbuilding) from Cochin University of Science and Technology and a Master of Engineering (naval architecture and ocean engineering) from Osaka University (Japan).
He has over 34 years of professional experience with Cochin Shipyard, starting as an executive trainee in 1988 and spanning the entire shipyard management spectrum.
Road Ahead
Cochin Shipyard is building two major expansion projects in Kochi: a new dry dock and an international ship repair facility (ISRF). ISRF is an Rs.970-crore project that the government approved in May 2016. The facility can repair up to 80 vessels, increasing Cochin Shipyard's capacity by 70% for the number of ships that can be repaired annually. This project, which was supposed to be completed in 2020, has been pushed back to the end of 2023 due to various factors, including COVID-19 and financial difficulties encountered by the appointed contractor. The construction contract was eventually terminated in February 2022.
The physical progress of construction works reported until contract termination is 78%. They are in the process of appointing alternate contractors to complete the ISRF project's work. However, no cost overruns are anticipated as a result of this.
Cochin Shipyard is also constructing a new dry dock within its main premises to support shipbuilding and ship repair activities, such as the construction of larger capacity vessels and the repair of offshore rigs. The new dry dock, which features a 600-tonne gantry crane, will allow the company to construct larger ships such as Suezmax, 70,000-tonne aircraft carriers, jack-up rigs, and LNG (liquefied natural gas) vessels, to name a few. This facility will cost Rs1,799 crore and is scheduled to open in
Cochin Shipyard's order book has grown over the years and now stands at Rs11,260 crore, or 3.5x FY22 revenue. This includes an Rs. 6000 crore contract for constructing eight anti-submarine warfare corvettes and an Rs.10,000 crore order for next-generation missile vessels. It was the lowest bidder for the construction of six next-generation missile vessels (NGMV), and the Indian Navy's order for these vessels is nearing completion and is expected to be placed soon.
They also entered the European short-sea shipping segment by signing an Rs.742 crore contract with HS Service GMBH & Co KG (Germany) to build eight HS Eco Freighter vessels. This opens up a new avenue for the company to secure additional orders.
Cochin Shipyard has also delivered two autonomous zero-emission vessels to Norway, the world's shipping behemoth.
Cochin Shipyard also made history by signing an Rs.800 crore contract with Dredging Corporation of India (DCI) to build India's largest dredger with technology and design assistance from IHC Holland, the world's largest dredger builder.
Dredger construction is an inherently high-entry-barrier business, giving Cochin Shipyard an advantage because it has the necessary infrastructure.
Cochin Shipyard now has a new business vertical and expects to receive two more orders for dredgers.
They have established a separate division called 'CSL Strategic & Advanced Solutions (C-SAS)' to focus on green energy and future maritime technologies. They are constructing the country's first indigenous hydrogen-powered electric vessels as part of a pilot project funded by the Ministry of Ports, Shipping, and Waterways.
The hydrogen fuel cell vessel, known as the fuel cell electric vessel (FCEV), is expected to cost around Rs.18 crore and is based on low-temperature proton exchange membrane technology (LT-PEM). The FCEV is part of India's transformative efforts in green energy innovation, new technology, and sustainable, cost-effective alternate fuels.
The Indian Navy has sought permission to build a third aircraft carrier since 2015. The carrier would be India's second indigenous aircraft carrier (IAC-2) and a 65,000-tonne warship if approved. Cochin Shipyard will construct the proposed warship, INS Vishal, at approximately Rs.50,000 crore cost. The Navy hopes to have it in service by 2030. However, due to the high cost of building warships, the Centre has yet to approve the third carrier.
However, as with such companies, there are risks as Cochin Shipyard derives most of its income from the Indian defense sector, primarily the Indian Navy. Then, the shipbuilding industry is directly linked to the shipping industry and is cyclical.
Most of the shipbuilding contracts are fixed-price in nature. Any rise in commodity prices would result in a cost overrun. Also, delays in the execution of contracts would impact profitability and the Company's performance.
So, we will have to wait and see how Cochin Shipyard develops from here on out.
Until then, keep an eye out for the next blog through "Stock Insights." Also, please share it with your friends and family.
To get more detailed analysis and Reports on Stocks, visit our Edge Report Section by subscribing to our StockEdge premium plans.
Happy Investing!