Did you know the fish and other seafood we eat don't really come from the sea/oceans? In reality, over 50% of the seafood we consume comes from farms, which continues to increase.
While wild-caught seafood is still available, many varieties of seafood, including shrimp, oysters, and a variety of fish, are now raised in aquaculture farms.
"Aquaculture is the farming of fish, shellfish, and seaweeds. It's similar to agriculture, but with fish instead of plants. While traditionally seafood has been harvested from the wild, aquaculture is a far more sustainable option if done properly."
Aquaculture Farms (image credit: Global Seafood Alliance)
As the human population and the demand for seafood continues to grow, aquaculture is becoming increasingly important. In the next decade, it is estimated that 62% of the seafood we consume will be farm-raised.
Avanti Feeds Limited is a company that operates in the value chain of Shrimp aquaculture and is a fully integrated player in this domain and as of today, this is avanti feeds ltd share price
Let's understand the business of Avanti Feeds :
Avanti Feeds, est.1993, predominantly manufactures and sells shrimp feed.
"Shrimp feed is the food given to shrimps and is an integral raw material for commercial shrimp farming. It provides a balanced diet and nutrition for farmed shrimp. It accounts for over 50%-60% of the production cost for farmers."
With time, Avanti has expanded into other verticals such as Shrimp Processing & Export, Shrimp Hatchery, and Shrimp Farming. Making Avanti largely fully integrated across the shrimp farming value chain.
Avanti Feeds is one of the largest shrimp feed manufacturers in the world and has a market share of 48%-50% in India. They export to the USA, China, and Japan.

The shrimp feed manufacturing industry is quite concentrated. Only a few large players operate, such as CP Aqua, 2nd to Avanti in market share. Then there is Waterbase Ltd. which has around a 7-8% market share.
Business Structure:
Avanti derives over 80% of its revenue by selling shrimp feed. It operates 5 feed manufacturing units with a combined production capacity of 6,00,000 MT, of which 60,000 MT is in Gujarat and the balance in Andhra Pradesh.

Avanti Frozen Foods, a subsidiary of Avanti Feeds, is involved in shrimp processing & export of processed shrimp. Avanti Feeds derives close to 19.65% of revenue from this division. This division is supported by the technical expertise and quality systems of Thai Union Group(a global leader in the shrimp business). Thai Union also owns a more than 20% stake in the company.

Avanti Frozen has 2 shrimp processing & export facilities with a total capacity of 22000 MT. It offers raw, cooked, and value-added shrimp products.

Avanti Feeds also operates a hatchery division in the Visakhapatnam district. A hatchery is where shrimp seeds/eggs are produced through captive breeding techniques. The facility has a total capacity of 600 million seeds. The revenue contribution from this division is negligible.

Avanti Feeds also has 4 windmills in Karnataka with a power generation capacity of 3.2MW.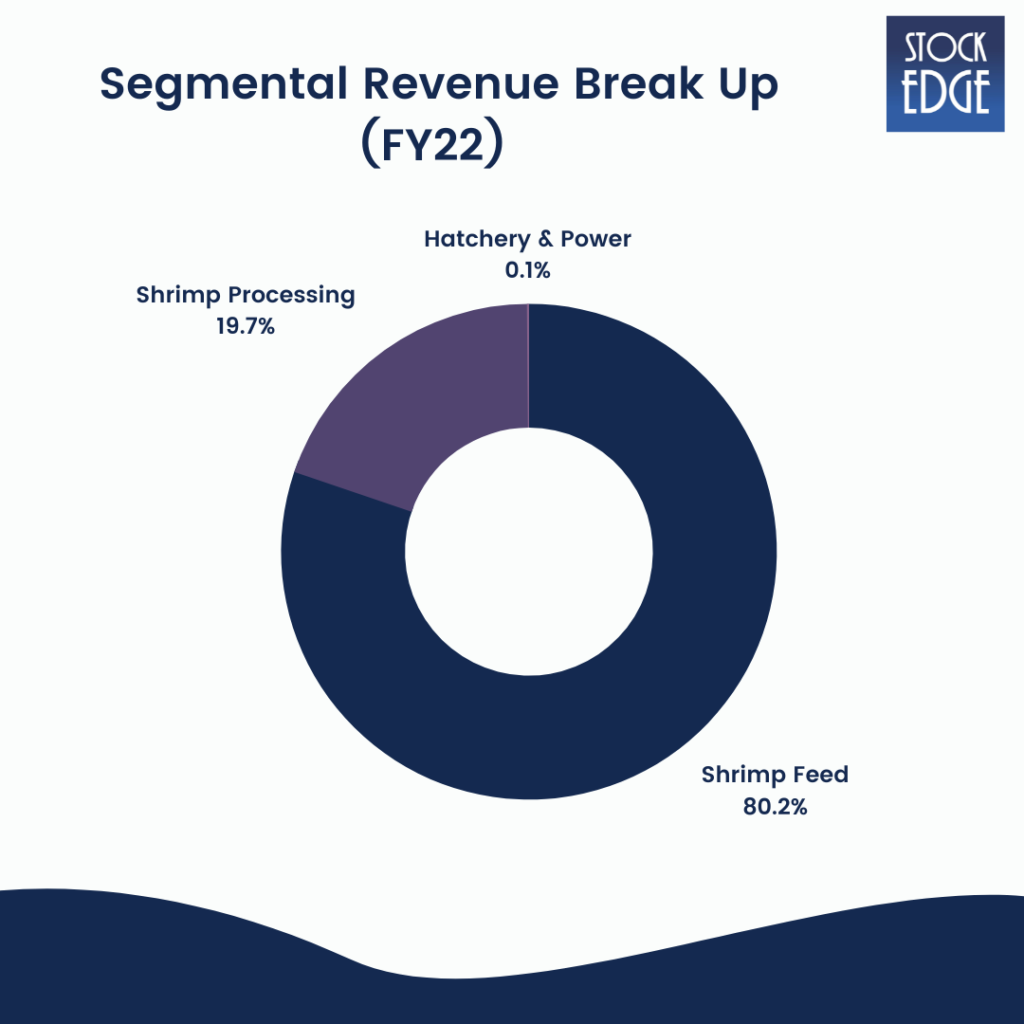 Let's Look at the Financial of Avanti Feeds!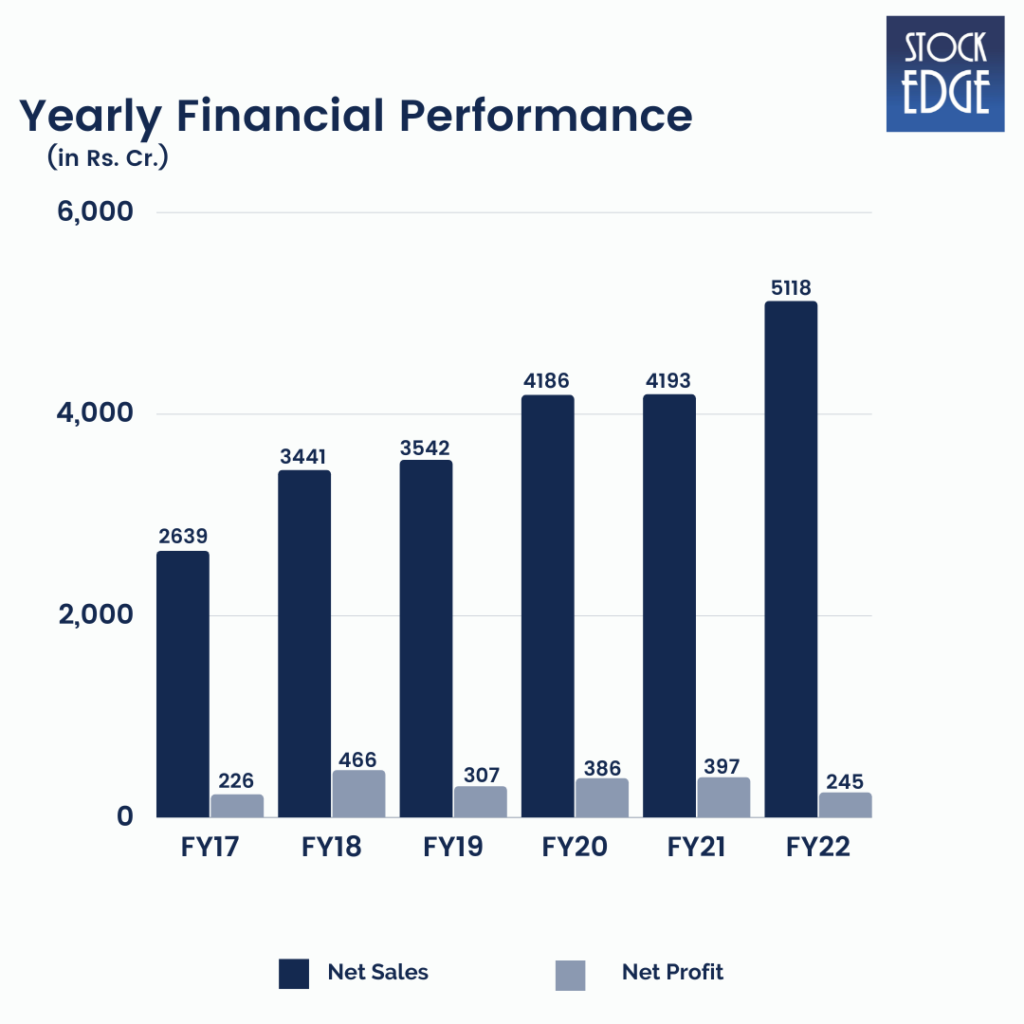 For more financial insights of Avanti Feeds, like dividend details, share price, EBITDA Margin, PAT Margin, ROCE, ROE, etc., click here.
The Shrimp Price Chain:

The Shrimp Feed price determines the cost of shrimp production, and the profitability of the shrimp farmer depends on the Farmgate price of shrimp.
"Farmgate price is the price at which the Shrimp Processing units purchase shrimp."
Meanwhile, the Farmgate price depends on global Shrimp prices as processors export their products at global prices. The global shrimp prices again depend on many factors, such as total global shrimp production, the demand for shrimp as a seafood staple, weather patterns, seafood disease outbreaks, shipping costs, and geopolitics.
A farmer's sustenance depends on balancing feed price and farmgate price. Therefore, to ensure sustainable growth of Shrimp Culture in India, feed producers such as Avanti can pass on the cost in the case of feed only to a limited extent, absorbing the balance.
Now that we've understood Avanti Feeds' business model, let's take a broader look at the Shrimp Industry and its prospects.
Shrimp Industry – Cyclicalities Galore
The global shrimp market reached a value of US$ 62.8 billion in 2021. Looking forward, the market is projected to reach US$ 84.2 billion by 2027, exhibiting a CAGR of 4.8% during 2022-2027. The US is the largest market, while China, along with other Asian Countries, is also growing.
India is the world's top exporter of shrimp in terms of value. However, India faces stiff competition from the rising South American nation Ecuador in the shrimp export market. In fact, Ecuador is now the largest shrimp exporter in terms of volume.
The US is India's largest export market leading with a 40% share in Indian shrimp exports, and is expected to touch 4,00,000 tonnes in the coming months, followed by China at 20%, expected to touch 2,00,000 tonnes. Japan holds a 5% share and is expected to move to 10,000 tonnes. India's domestic market for shrimp consumption remains small at less than 50,000 tonnes per year.
India's Shrimp market growth has a lot to do with Luck!
India's shrimp farming took off after introducing a shrimp beed known as SPF L. vannamei. Farms previously culturing black tiger shrimp experienced a boost in productivity due to higher stocking densities, lower incidence of diseases, and animal growth rates. Farmers switched to SPF L. vannamei swiftly, and today more than 90 percent of Indian shrimp production is for this species.
Then between 2013-2016, a deadly virus hit the global shrimp industry known as Early Mortality Syndrome (EMS) disease. This devastated many Asian producers and Mexico.
How India's capitalized on the struggling global Shrimp Supply chain
On the other hand, India was spared, and farmers conversely saw significant gains in production from 2013 to 2016. Investments were made in new hatcheries, feed mills, and processing plants to support the expansion of farming areas.
The Indian Ministry of Commerce urged the industry to raise exports by 31% to $7.8 billion in FY22.
However, the logistic hiccups and adverse farming conditions challenge shrimp exports. The Indian aquaculture industry continues to grapple with challenges like inadequate infrastructure facilities, particularly 1) Unregulated input raw material costs, 2) Power supply to aquaculture farms, 3) Lack of adequate cold chain to store produce,4) Affordable financial support to aqua-farmers, 5)presence of viruses and other chemicals in produce.
Other areas of concern from a business point of view are 1) the volatility of international prices of shrimps and 2) the US Anti-Dumping Duty.
Despite several challenges, the aquaculture industry is making continuous and consistent efforts to overcome the weaknesses through suitable actions by the governments and other stakeholders. However, the industry remains cyclical, and its growth largely depends on macroeconomic cycles.
Headwinds faced by Avanti Feeds:
Avanti Feeds has faced several headwinds due to a downcycle in the global seafood industry over the past few quarters, which evidently has also been priced in the stock to a great extent.
Increasing Cost of Raw Materials – The key ingredients of Shrimp Feed are fish meal, Soybean Meal, Wheat, Vitamins & Minerals premix.
Soybean Meal Prices have risen sharply since 2020
Source: BusinessInsider
The price of every shrimp feed ingredient has risen sharply since 2020. In contrast, there have been limitations in increasing the finished product price, leading to subdued margins for players such as Avanti Feeds.

To add to the woes, global shipping costs increased exponentially in 2021. However, they have come back near pre-pandemic levels recently.

Moreover, most of the materials have been brought under the levy of GST (less than 25 kg pack, branded Wheat Flour), resulting in increased raw material costs without adjustment to input credit, as the final product should be exempt from GST.
Seafood Disease Outbreaks – The global shrimp industry is prone to frequent disease outbreaks due to various recurring viruses. Between 2020 and 2021, the US FDA asked Avanti to recall its processed shrimp products exported to the USA due to a disease known as Salmonella.
Demand Slowdown – Although the year began on a bright note, floods, diseases, a drop in farm gate prices, and a sluggish export market at the end of the main harvest season caused shrimp culture to fall short of expectations. Moreover, the industry has registered a de-growth compared to last year's corresponding period.
To get more detailed analysis and Reports on Stocks, visit our Edge Report Section by subscribing to our StockEdge premium plans.
Competition from Ecuador – The South American nation of Ecuador is now the largest shrimp producer and key export rival.
Source: TheHindu
Due to its proximity to the US market, it enjoys the benefit of lower shipping rates. As a result, Indian shrimp exports are losing market share to Ecuador in the US(which is the main export market for India).
Future Outlook – Headwinds to continue?
The entire shrimp culture industry is going through a difficult period.
Earlier in 2022, the Shrimp Feed consumption in India was expected to grow by 15% vs. CY21, with an estimated sales of 12 lakh Mts. However, due to a slump in shrimp demand, the shrimp Feed consumption in CY22 is now expected to be at 9.75 – 10 lakh Mts, even lower than the 11 lakhs Mts consumed in CY21.
India's Shrimp production is likely to decrease in CY22 to around 6.50 – 7 lakh mt, vs. 8.50 lakh Mt in CY21. Avanti's shrimp exports during FY22 were 12,836 mt and are expected to be around the same level in FY23.
According to Avanti's management, a sluggish shrimp culture activity is likely to continue even in the 2nd half of FY23 due to a decrease in demand for shrimp exports, reports of recession in the USA & Europe, and covid lockdowns in China.
Avanti has limited room to increase the Feed price as and when the RM cost increases. Farmers may resort to a crop holiday or look for other farming options if shrimp farming becomes expensive.
There are worries about farmers planning to go for a crop holiday till April'23 due to the above factors. If this happens, the financials of Avanti may deteriorate further.
All of the above factors have led to a sharp decrease in the stock price of Avanti Feeds and have given investors relatively no returns since 2018.
However, considering Avanti Feeds' leadership position in the industry, we believe as the above issues resolve in a couple of quarters, the stock has the potential to make investors significant returns in the long run as the downcycle in the seafood industry may soon revert. Although in the shorter term, the stock may continue to be under pressure.
Positive Triggers to Watch Out for
Avanti Feeds is a leader in a highly cyclical industry as Shrimp is a global product. The global macro conditions greatly drive shrimp prices, eventually affecting Avanti's financials.
Although it is very difficult to predict when this industry will bottom out, an investor should track the following to identify the possibility of a positive trend reversal for the industry:
Growing demand for Shrimp consumption in the US and China
The demand scenario in the US as the Christmas season gets closer in the US would be important. Moreover, a possible easing of covid norms around the Chinese new year next quarter would also be important.
Weakening of Soymeal and Wheat prices
Prices of raw materials should not stay elevated forever. As their prices adjust and inflation returns to normalcy, we should expect Avanti Feeds' margins to improve in time.
Feed Mill Friendly Government Regulations
A large majority of shrimp farming in India is done in Andhra Pradesh. The Andhra government, however, has farmer-friendly policies, which often result in problems for feed mills such as Avanti. An agreement between all parties for sustainable farming with raw material price regulations, subsidies, and export incentives would benefit everyone.
Entry into other Verticals
Avanti Feeds has been looking to enter into the fish feed segment. However, the management has highlighted that it would begin selling products under the fish feed category once the industry headwinds subside.
Capacity Expansion
Avanti Feeds is setting up a new shrimp feed manufacturing plant with an installed capacity of 1,75,000 MT per annum and expanding its processing capacity. During industry upcycles, this would help the co. to increase volumes and capitalize on tailwinds.
Is Avanti Feeds stock worth Investing in?
To sum up, the company is financially sound with strong management at the helm. However, it's not performed well in the bourses as the industry has been going through a downcycle.
Avanti could be a promising pick when green shoots in the industry are visible, which we believe should occur within a few months. Until then, an investor must surely have the company on their radar and track the latest developments around the company.
We hope you liked our content; keep an eye out for the next blog under "Stock Insights." Also, please share it with your friends and family.
Happy Investing!
Who is the owner of Avanti Feeds?
Alluri Indra Kumar is the Chairman & Managing Director of Avanti Feeds Ltd.
What does Avanti Feeds do?
Avanti Feeds manufactures shrimp feeds and exports processed shrimp.