Stockedge Free Features
Hello Friends
To understand the stock markets and to make money from it, you need strong guidance. StockEdge app has some free features which would be useful for your investment as well as trading needs. So here's whats free in Stockedge which can help you to make money in the stock market.
The app has some astonishing free features for technical as well as fundamental study in an easy to understand chart format. This gives an idea within minutes about a trade. Thus you can not only select stocks to trade intraday but also know detailed information about the company. You can check if your stock has any FII or DII interest or has it seen any Bulk or Block deals in the past or present. You can even check the Financial and the Valuation parameters of your stock in a user-friendly format.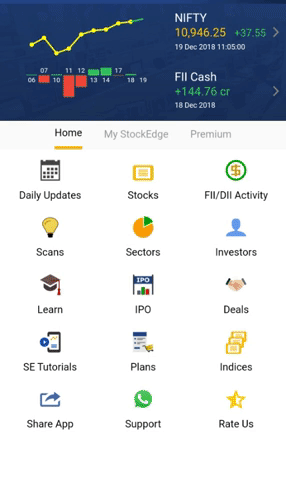 Feature 1: News
Daily updates and news can be checked in seconds. You have detailed data on FII and DII activities. Future corporate actions and upcoming results are also updated. Thus at one click you have all these data and much more in your hand. It also includes bulk, block and insider deals data and the names of Investors who participated in these deals. All of these get updated by EOD i.e 7 pm. The app also has data under the Investor section which details about which HNI investors have bought what in recent past.
Impact of any sector-specific news is captured within seconds and you can check the stock's under it and its reaction to the news. The stocks are displayed by their financial ratios, which by default is the market cap here.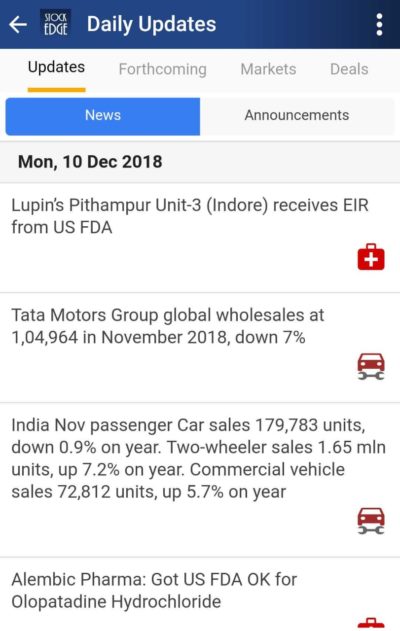 Feature 2: Scans
For trading there's a feature called the price scan which will filter out the stocks pertaining to the specific scan. It can be the price behavior for the last 3 days or week or even month. When you click on the stock displayed a corresponding technical chart will give you the direction of the stock's price movement. Thus you can check whether it has been in the rising or falling trend and then take your trading decision.
You also have volume and delivery scan which will inform you if there has been high volumes or high delivery in any of the stocks based on which you can do your own study to buy or sell it.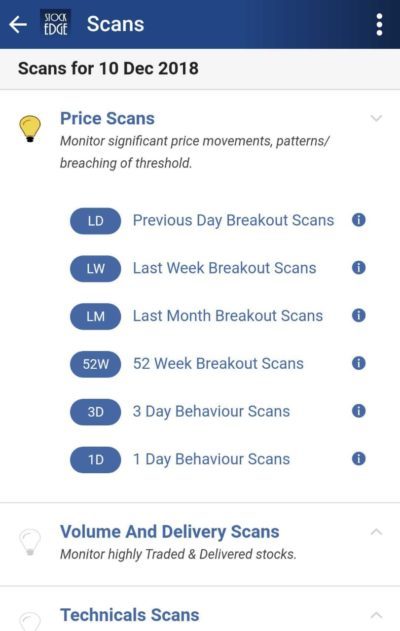 Feature 3: Trading
Some of the technical and fundamental scans are also free which will help you to filter out some stocks based on the free criteria's like SMA, CCI, RSI, MFI etc Fundamental scans like filtering stocks based on ROE, Turnover, Leverage, PE, Dividend etc. Futures, Options, Candlesticks,  etc. The stocks which are moving above 50 SMA are regarded as strong whereas the ones below it are regarded as weak.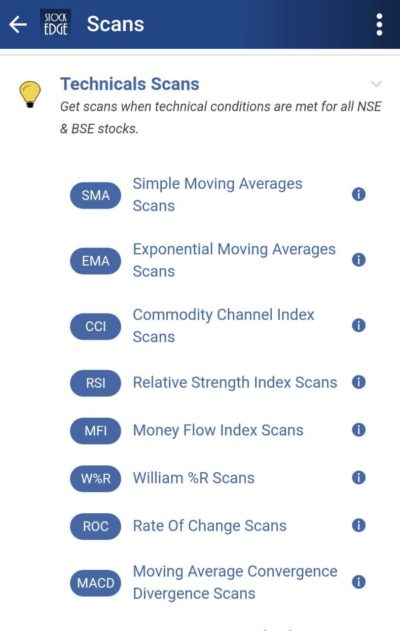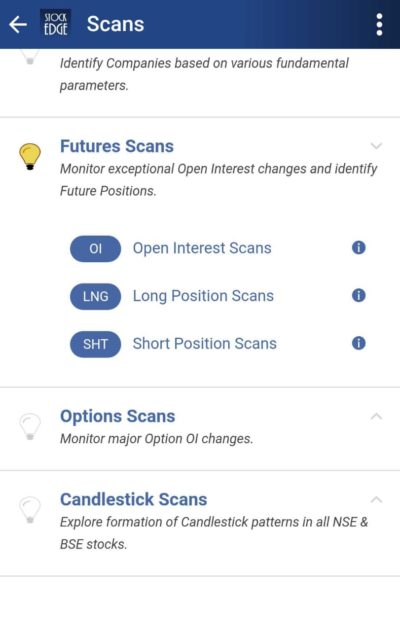 Feature 4: Fundamental 
A detailed report about any company be it Profit and loss, cash flow, balance sheet, Quarterly Results,  Ratios, deliveries or shareholding etc for 5 years data can be seen at one click. By clicking on any candle you will get a more detailed report on the data like Inventory, Cash from operations, Accounts Payables or Receivables, Free Cash flow and many more. Thus you can get a holistic view on the stock which will help you to decide whether it's a good or a bad investment.
The App also has normal Overview data about the Company's business, Shareholding pattern, Corporate Actions some important ratios to understand which PE, P/B, EPS, Book Value, Face Value, No. of shares subscribed etc and the Technical chart, technical scans, Fundamental scans etc. Thus there is a gamut of products under one App.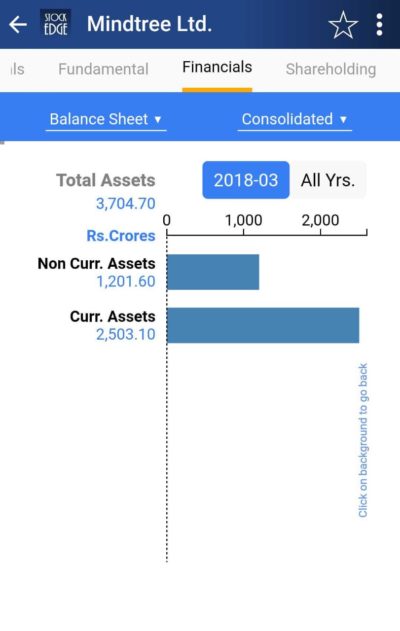 Feature 5: Learning
Then we have the Learning and the Tutorial section which helps you to understand the usage of StockEdge features. It guides you to understand technical and fundamentals in the app through Youtube videos.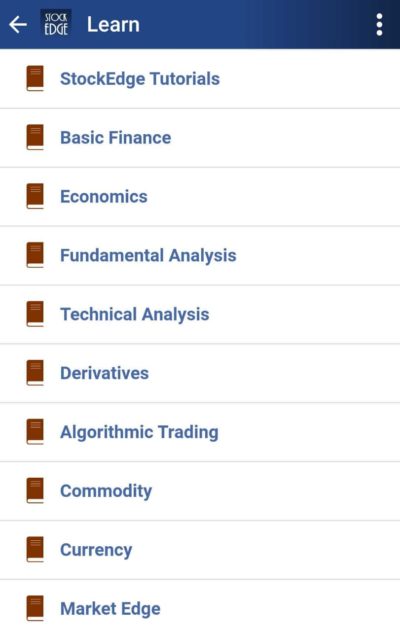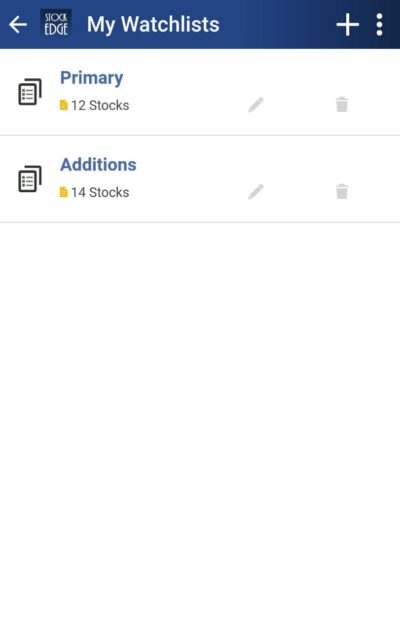 Feature 6: Client Usage
The app also has sections which are specially designed so that you can customize it to take your own trading decisions easily. In My StockEdge, you have My Watchlist, My Investor groups, My targets. Using these you can create your own stocklist and in minutes stay updated with the fundamental as well as the technical trends of your stock. You can create your own investor list whom you admire and stay updated with his latest portfolio in our Investor groups. You can even create your own targets and trade in the stocks which falls under your criteria.
Premium had been recently added which includes Ready Watchlists, Ready Investor Groups, Ready Combination Scans. These have been created by a highly skilled research team with the purpose of training you on how to create strategies and make your trading easier. Thus for an Idea about premium, you have one portfolio free in every group.
Bottomline
Thus you will agree that there are a lot of free features available and I am sure now you must be eager to download this app and make money and be an Intelligent and Informed Trader Right!!!
So what are you waiting for? Download it right now and enjoy making money from our App.
Thus subscribe to https://www.stockedge.com/Plans