In a diverse economy like ours, sector classification is tough as there are more than 5000 listed companies which operate and perform their business activities. The most prominent among them are normally listed in NSE and BSE exchanges. They come from different areas, different industries and as an investor, we put our hard–earned money in them.
But all of us understand this fact that different sectors have different dynamics of their own. If we have good rains then that is generally good for agriculture-related sector classification or FMCG sector, while the rainy season is time for lesser activity for construction and cement sector. Hence to invest in a stock, it is important to understand the drivers of any particular sector.
Different sectors have different valuations as they face different growth prospects, competition, entry-exit barriers and different economic realities.
Another important point is if a sector is having favourable economic or regulatory environment and as a result, they do good business, often a weak company in that sector benefits from the overall positive buzz around that sector.
On the contrary, if a sector does badly, often we may find that a good stock in that sector, having good management and business model, fails to generate wealth for investors for a span of few years.
Sector Classification in the Indian Stock Markets
Different sectors are different due to not only economic factors, they may see a different level of govt. interventions and that may reflect into share prices of companies of that sector. As we can see, Indian pharma sector stocks declined sharply in recent years due to US president Donald Trump's policies and drug pricing policies of the Indian government. So it is quite important to take note of the incumbent realities of any sector before investing any particular stock.
This is a general rule when it comes to sector classification. However this may not be true each and every time, but when a particular company is a dominant market leader, the influence of sector on return generated by a company is visible more than 90% of times.
Moreover, the market works on sector rotation. Some of the sectors lead any up move while some other sectors fall more than average in a down move. Among the leading sectors too, we often see the periodic rotation. This is like a relay race where the baton is passed from one sector to another among the overall leadership group as the market moves up in overall. Hence for a short-term trader too, it is very important to keep track of how different sectors are behaving.
It may happen quite often that, if we see that stocks of a particular sector are doing good, all do not move at one go. But, if we are aware of the behaviour of a particular sector we will be in a position to point out opportunities that are still existing within the sector.
The StockEdge app. revolutionizes the way you can track and analyze any particular sector. This app can be a one-stop data analytics tool for any investor. Let us explore the sector-specific features in the app.
In the home page, we can find an icon for the sector as indicated below.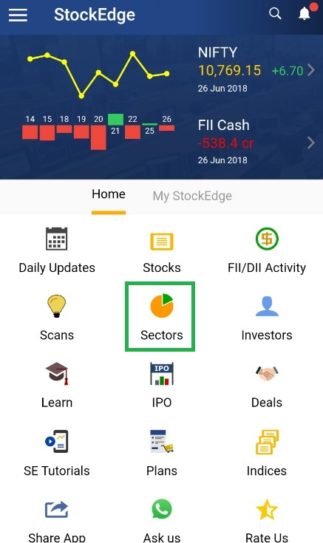 Once we click on the icon, we land in a page where all the stocks in the NSE and BSE are classified according to the sector they belong to. There are 41 sectors in which stocks are divided to help most appropriate classification.
There is a search option where we can find any particular sector. Now if we go inside the particular sector, we see all the stocks that are classified in that sector.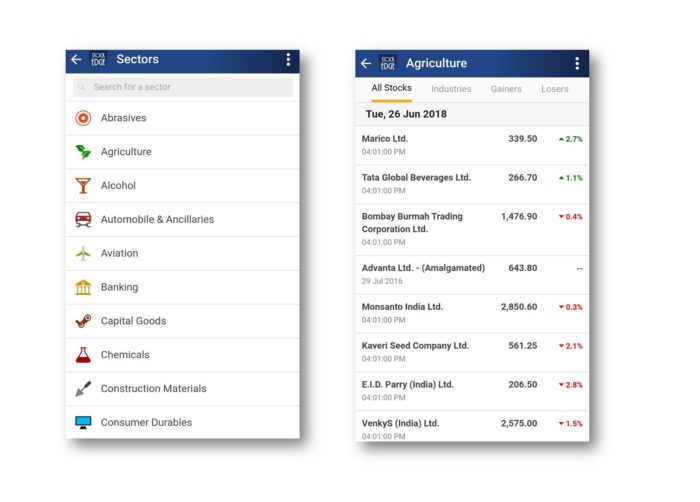 We can scroll down the list to know about more stocks within the industry. Now we can click on any individual stock to know more about any individual stock, any fundamental, technical parameters, shareholding, delivery data of past many days or any kind of update about the stock. Everything is available at our finger-tip inside this app. We can use the technical chart and add the parameters as shown below. We can add any stock to our watchlist.
Check Out Also: Understanding The Importance Of Creating Fundamental Scans
If we click on the industry icon inside the sector icon, further sector classification of stocks according to the particular value chain of any industry is available. Here we have shown in the case of the agriculture sector. Within any particular industry, all corresponding stocks are listed together. You would rarely find such detailed sector classification in any place – be it any app, database or website.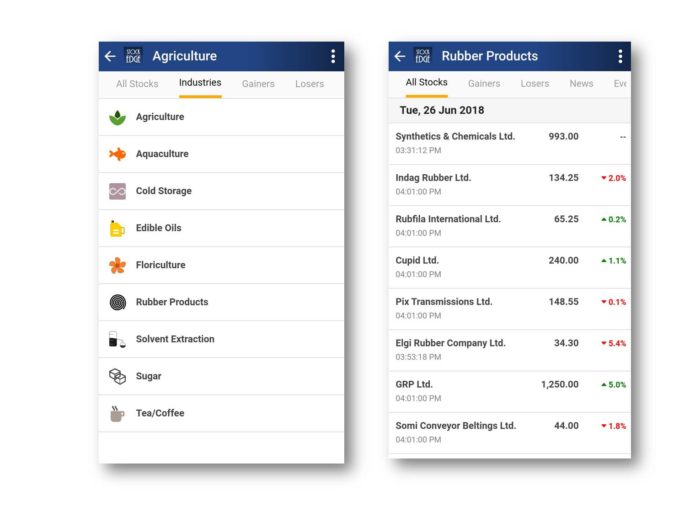 The StockEdge app also lets you spot the gainers and losers of the sector along with a spark line which shows one month trend of the stock.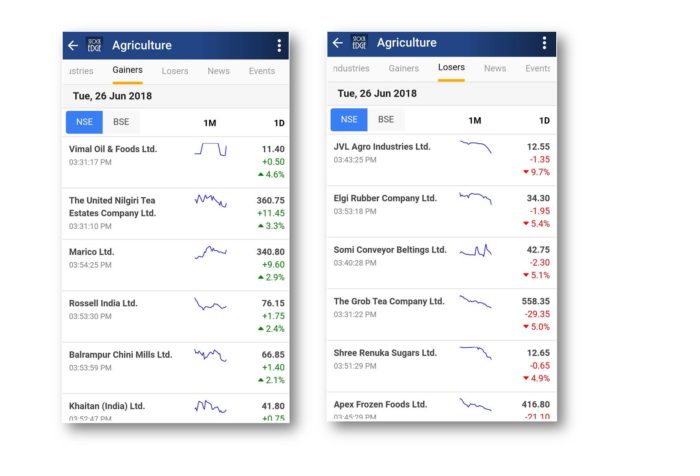 The News tab helps a user to track news of companies belonging to a particular sector.
One can further apply the sector and industry filter in scan section to narrow down their search which is a paid feature. Click here to know more about the basic subscription plan of Stockedge.
Look at the example below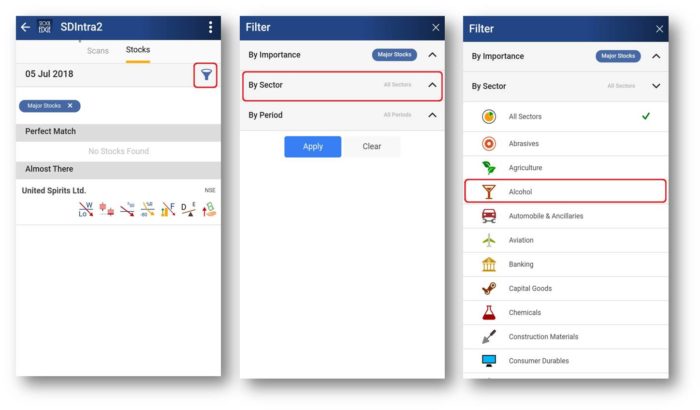 Bottomline:
Overall, this sector feature is a very useful feature to track and select stocks based on performance and dynamics of particular sectors. This helps a user to grow a  clear understanding of stock performances in particular sectors and do advanced research by proper classification of stocks.