In today's blog, we will discuss Sharda Cropchem Ltd., which has been outperforming its benchmark and sectoral index.
The Story
Sharda Cropchem was founded on March 12, 2004, in Mumbai as Sharda Worldwide Exports, a private limited company. To begin the company's operations, Ramprakash V. Bubna and Sharda R. Bubna established two sole proprietary firms. Following its incorporation as Sharda Worldwide Exports in 2004, its generic agrochemical and non-agrochemical businesses were transferred to it. The company was converted into a public limited company on September 18, 2013, and its name was changed to Sharda Cropchem. As of today's date, this is Sharda Cropchem share price
The business can be classified into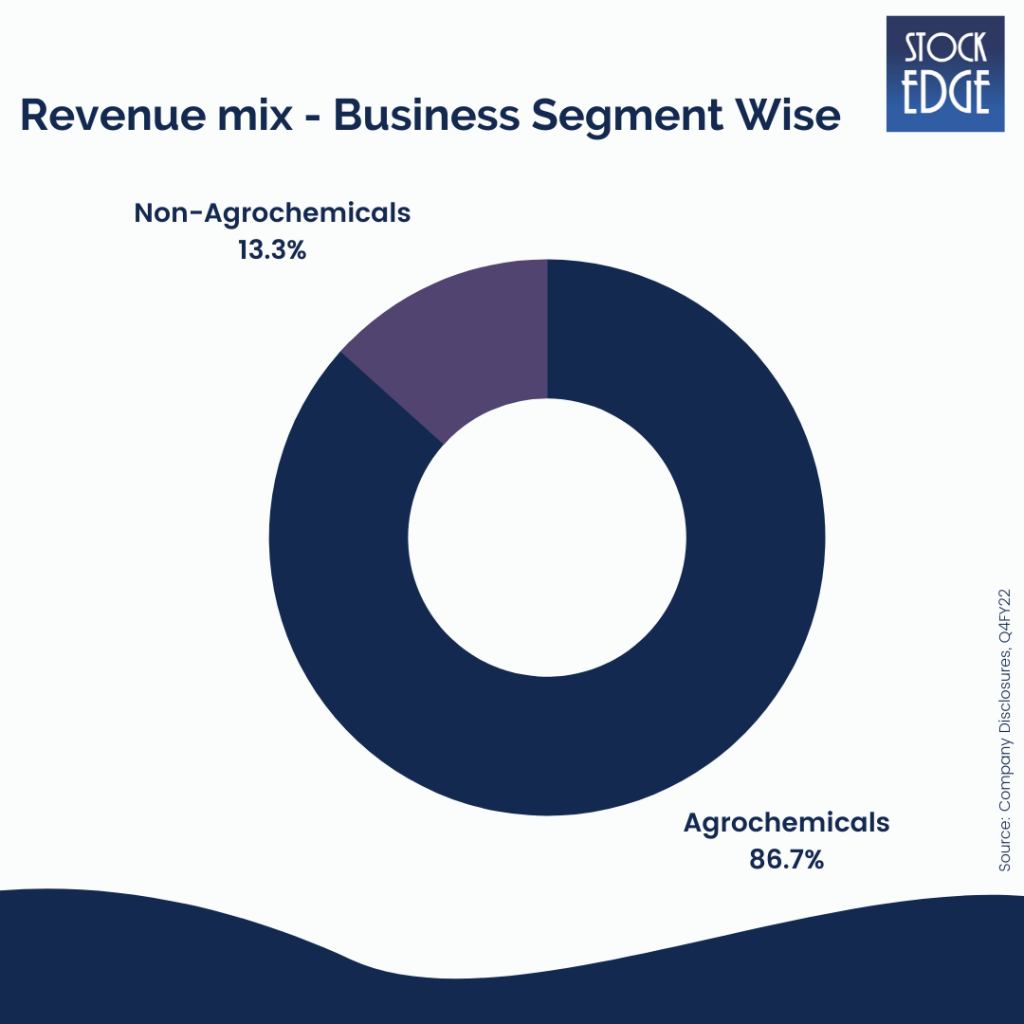 Agrochemicals – The Company sells a diverse range of formulations and generic active ingredients (fungicides, herbicides, and insecticides to protect various crops) and speciality markets and biocides around the world. It has a diverse product portfolio and focuses on identifying generic molecules, preparing dossiers, obtaining registrations, marketing and distributing formulations or generic active ingredients.
Non-agrochemicals – Under this division, Sharda Cropchem Ltd. is involved in the order-based procurement and supply of belts, general chemicals, dyes and dye intermediates. Sharda Cropchem sources these non-agrochemical products from Chinese or Indian manufacturers and supplies them to over 30 countries across Europe, North America, Latin America, Australia, and Asia.
Let us try to understand the Business Model of Sharda Cropchem.
Their business model entails identifying off-patent generic molecules (or those that will soon be off-patent), applying for and registering them in markets where demand is high. The identification process evaluates margins, local competition, and demand before beginning the registration process. They employ consultants who identify specific molecules and formulations. This business model is a key differentiator for an innovator company, allowing Sharda to save money, time, and resources on research and development.
The business model appears to be asset-light, but it necessitates significant investments in registering molecules. Registration includes the following: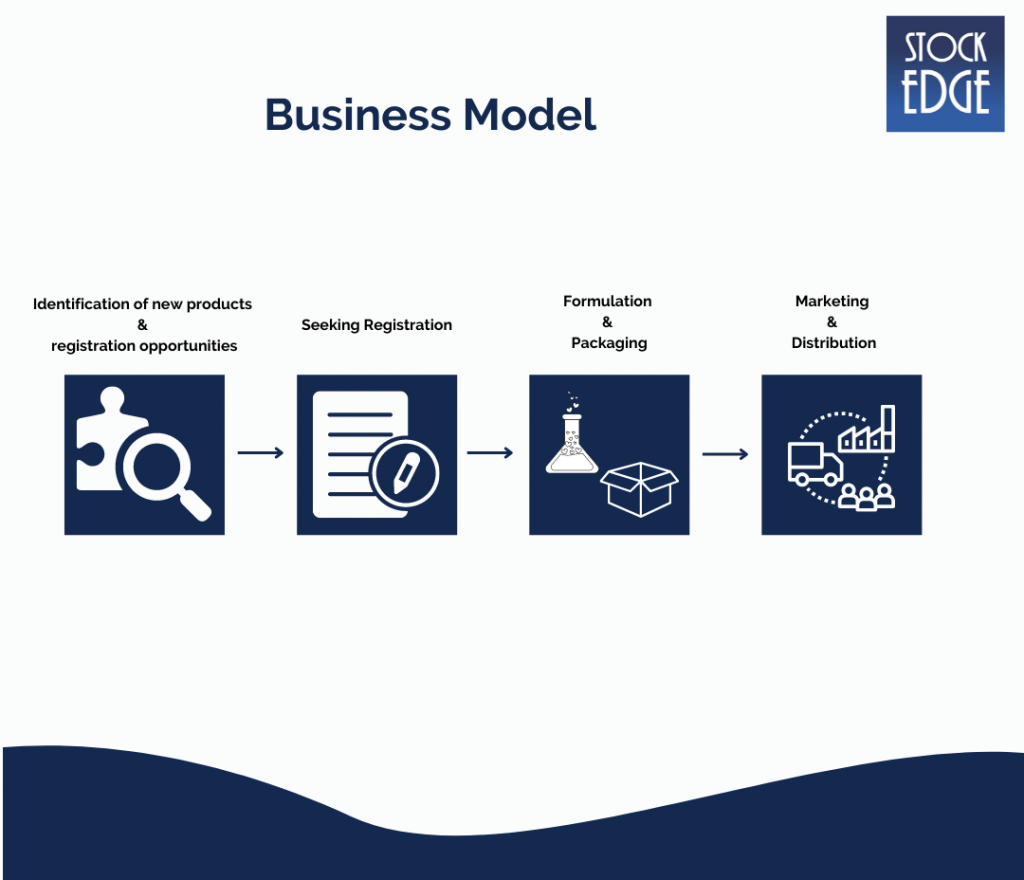 Identifying new products and registration: The Company's cornerstone is identifying formulations and generic active ingredients. The process considers competition, margins, entry barriers, market size and its global leverage ability, time to register, and marketing.
Registrations:
1. Dossiers' preparation contains information about the formulation or generic active ingredient, such as physical, chemical, and biological properties. The company seeks out good laboratory practice (GLP)-certified laboratories for research and testing. Five batch analyses, toxicity tests, physical-chemical testing, field trials, and risk assessments are carried out to prepare such dossiers.
2. Registration application – After identifying formulations and ingredients, the company examines the data and studies that must be submitted to apply for registration in relevant jurisdictions. If such data and studies are already available, it makes arrangements with the data holder to use them, relying on demonstrating product technical equivalence. Conversely, it conducts relevant studies or tests if data and studies are unavailable.
Manufacturing and procurement: The Company does not manufacture but instead buys finished goods from China or India. It usually enters into an agreement with a third-party manufacturer to obtain relevant generic active ingredients before filing for registrations. Furthermore, it obtains the generic active ingredients required for formulation preparation; however, formulation preparation is outsourced to third-party formulators, primarily in Europe and the United States.
Formulations and Packaging: Third-party formulators package and label formulations under country-specific specifications. The label includes the name under which the formulation or generic active ingredient will be sold and the identity of the manufacturer, registration holder, dosage, precautions, and usage instructions.
Marketing and distribution: The Company markets and distributes formulations in over 80 countries across Europe, North America, Latin America, and the rest of the world, primarily through over 500 third-party distributors and over 400 of its own sales force. The company sold its goods under its brand name.
Let's look at the Financial Performance of Sharda Cropchem.
Sharda Cropchem's revenue increased by 32% year on year and 63.04% quarter on quarter to Rs.1434.50 crores. The performance was primarily driven by higher agrochemicals growth across regions (with the exception of ROW, which was down 17% YoY), with Europe/NAFTA/LATAM up 14%/26%/174% /YoY, respectively. While the non-agrochemicals segment grew by 129% year on year, supported by 104% /213% /8% /70% year on year growth in Europe/NAFTA/ROW/LATAM, respectively.
PAT increased by 32% YoY to Rs.177 crores. Gross margins contracted by 210 bps YoY to 29.2%, led by higher freight costs.
To get more detailed analysis and Reports on Stocks, visit our Edge Report Section by subscribing to our StockEdge premium plans.
Who is sailing the ship?
The company is led by Ramprakash V Bubna, the Chairman and Managing Director. He has over 53 years of rich experience in agrochemicals and has played a key role in developing the business. He is responsible for the company's overall business operations and strategy, whereas Ashish R Bubna is a whole-time Director and has 30 years of experience. He is responsible for marketing, procurement, registrations and logistics of the agrochemicals business.
Road Ahead…
Sharda Cropchem intends to expand its own sales force network. Marketing and distribution, according to management, play an important role in the agrochemical value chain. Therefore, they are constantly expanding their sales force and reducing their reliance on third-party distributors.
The management team is focusing on expanding the company's geographical reach by utilizing the existing dossier library to penetrate existing markets further and enter new markets.
In addition, the Company continues to rely on smart IP management to identify generic molecules that are going off-patent and seeking registrations to strengthen its portfolio of formulations and generic active ingredients across Europe, NAFTA, LATAM, and the Rest of the World. Sharda Cropchem searches for new formulation registrations by leveraging its existing dossiers and portfolio of formulations and generic active ingredients.
The management is also improving operational efficiencies by focusing more on revenue-generating investments, margin improvements, and better cost management. The management guided for top-line growth of 15-20% for the next 3-4 years.
However, with such companies, risks such as dependency on monsoon, exchange rate fluctuations, and changes in government policies can impact the company's performance. So we will have to wait and see how Sharda Cropchem develops from here on out.
Until then, keep an eye out for the next blog and our midweek and weekend editions of "Trending Stocks and Stock Insights." Also, please share it with your friends and family.
Happy Investing!