The Story
Ludvig Fredholm founded Elektriska Aktiebolaget in Stockholm in 1883 as a manufacturer of electrical lighting and generators. Elektriska Aktiebolaget merged with Wenströms & Granströms Elektriska Kraftbolaget in 1890 to form Allmänna Svenska Elektriska Aktiebolaget, which was later abbreviated to ASEA.
Meanwhile, in Baden, Switzerland, Charles E. L. Brown and Walter Boveri founded Brown, Boveri & Cie (BBC) in 1891. Brown, Boveri soon became the first company to transmit high-voltage power.
ASEA and BBC merged in 1988 to form ABB, headquartered in Zurich, Switzerland. The group and the Indian entity operate in four key business segments – electrification, motion, process automation and robotics & discrete automation.
ABB is a leading global technology company that aids in the transformation of society and industry to achieve a more productive and sustainable future. ABB pushes the boundaries of technology by connecting software to its electrification, robotics, automation, and motion portfolios. ABB's success is driven by 110,000 employees in 100+ countries and has a history of excellence dating back more than 130 years.
ABB India is a 75% owned subsidiary of ABB Ltd, Zurich, and has been operating in India since 1949. Hitachi Energy acquired the group's power products and systems business in 2018 and its India subsidiary. As of today's date, this is ABB India share price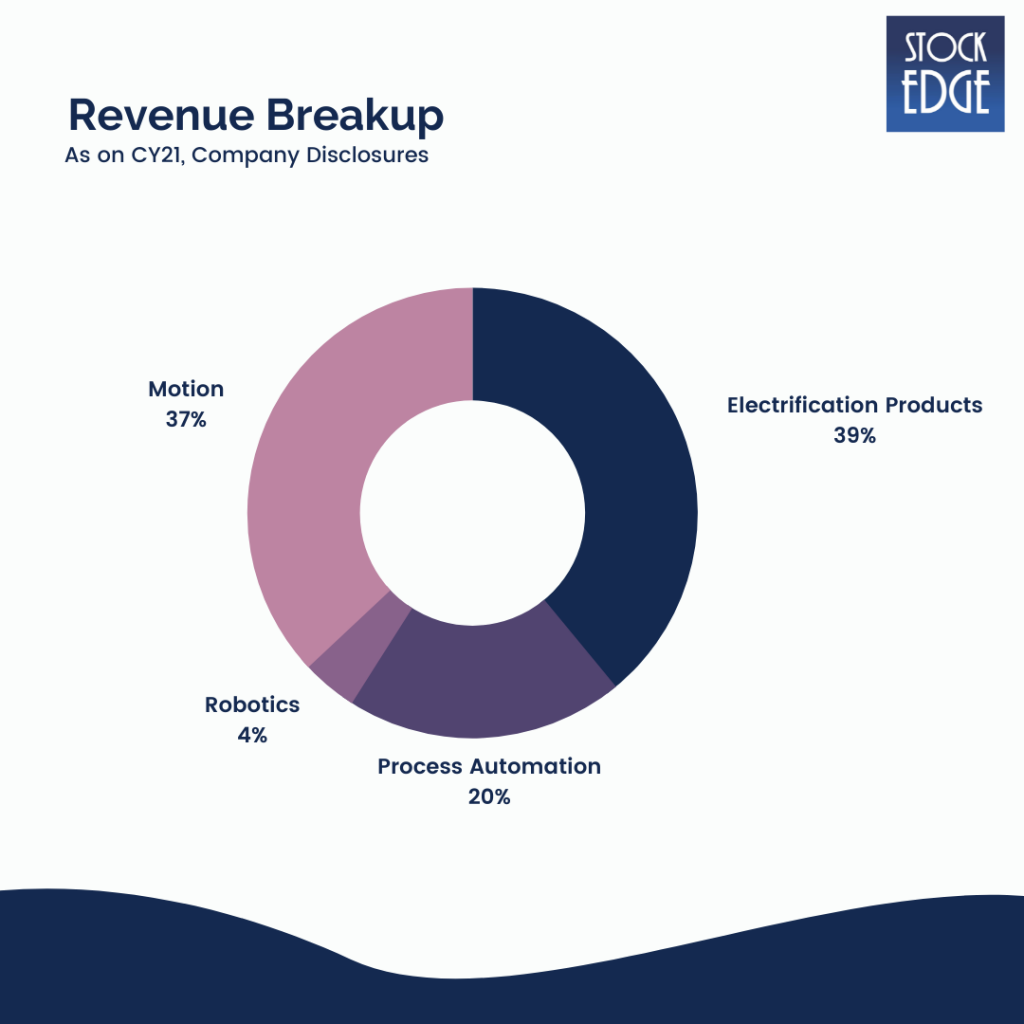 Let us try to understand each segment one by one!
Electrification – ABB India's electrification business provides a diverse portfolio of products, digital solutions, and services that enable safe, smart, and sustainable electrification from substations to sockets. Digital and connected innovations for low- and medium-voltage solutions, such as EV infrastructure, modular substations, distribution automation, power protection, wiring accessories, switchgear, enclosures, cabling, sensing and control, are among the offerings.
Motion – ABB India's Motion division is the world's largest supplier of drives and motors. It offers a comprehensive range of electrical motors, generators, drives, and services to customers, mechanical power transmission products, and integrated digital powertrain solutions.
The company provides automation solutions for various applications in transportation, infrastructure, and the discrete and process industries.
Process Automation – ABB is the global market leader in Process Automation. Its Process Automation division provides a wide range of solutions for process and hybrid industries, such as industry-specific integrated automation, electrification and digital solutions, control technologies, software and advanced services, measurement and analytics, and marine and turbocharging offerings.
Robotics & Discrete Automation – ABB India's Robotics & Discrete Automation business provides value-added robotics and machine and factory automation solutions. The company's integrated automation solutions and its application expertise across a wide range of industries and global presence provide tangible customer value. In addition, the company's focus on innovation includes extensive work in artificial intelligence, an ecosystem of digital partnerships, and the continuous expansion of its production and research capabilities.
Let's look at the Financial Performance of ABB India.
ABB India's revenue increased by 20.8% year on year to Rs.1968 crore, driven by 35% /13% /36% /5% YoY growth in the Robotics/ Motions/ Electrification/ Process Automation segments. EBITDA increased 81.5% year on year to Rs.188 crores, with margins increasing 319 basis points to 9.5% due to improved product mix, operational efficiency, and increased capacity utilization. During the quarter, ABB reported exceptional profits of Rs290 crores from the sale of its turbocharger business. PAT was Rs.150 crore (up 56% year on year).
To get more detailed analysis and Reports on Stocks, visit our Edge Report Section by subscribing to our StockEdge premium plans.
Who is sailing the ship?
The company is led by Mr Sanjeev Sharma, the Country Head and Managing Director of ABB India and the Chairman and MD of ABB Global Industries & Services P. Ltd, a wholly-owned subsidiary of the ABB Group for Technology Development and Business Services. He has been with ABB for over 30 years in various roles across geographies.
Road Ahead…
The business is now less prone to cyclicality due to its diversification into various user industries. Management anticipates that Greenfield CAPEX and OPEX will accelerate in core industries such as steel, cement, and chemicals. In addition, demand for robotics and automation is expected to increase in the food and beverage, logistics, electronics, electrification, and automotive industries.
Management anticipates 15%+ growth from renewables, water & wastewater, logistics, and electronics and 10%+ growth from F&B, pharma, data centres, railways, metro, power distribution, and other industries.
The market is shifting toward more dependable and high-quality products in digitalization and energy efficiency in residential buildings, offices, and industrial complexes. This bodes well for ABB India's product portfolio. As a result, more and more markets, such as North and South America geographies, are being allocated to the company (as part of the group's global allocation).
ABB is constantly expanding and investing in organic capacity. It is also looking at inorganic opportunities globally.
However, as with such companies, risks such as commodity price inflation and rising competition in the electrification products segment can impact the company's performance. So we will have to wait and see how ABB India develops from here on out.
Until then, keep an eye out for the next blog and our midweek and weekend editions of "Trending Stocks and Stock Insights." Also, please share it with your friends and family.
Happy Investing!