Among the other trending stocks, we are going to talk about how ITC is scaling up its FMCG Business.
The Story
The Imperial Tobacco Company was founded in 1910 and was known for selling cigarettes for six decades. Until the mid-1970s, when the company decided it was time to grow and venture into new markets.
Today, ITC has a diverse presence in cigarette manufacturing, fast-moving consumer goods (FMCG), hotels, packaging, paperboard, and specialty papers, and agribusiness.
Over the last decade, the company's relatively new consumer goods business has established a vibrant portfolio of many world-class Indian brands that create and retain value.
ITC's world-class FMCG brands, such as Aashirvaad, Sunfeast, Yippee, Bingo, B Natural, ITC Master Chef, Fabelle, Sunbean, Fiama, Engage, Vivel, Savlon, Classmate, Paperkraft, Mangaldeep, and Aim, have attracted positive consumer franchise in a short period of time.
The Extraordinary growth in FMCG business in FY21.
ITC has done well in expanding its FMCG business over the years by developing and growing its own brands as well as through an inorganic expansion strategy. ITC has expanded its FMCG offerings with the addition of new categories such as Chocolate, Dairy, and Coffee.
The 'FMCG' business grew strongly in FY21, owing to increased in-home consumption of noodles, biscuits, snacks, and atta (wheat flour), particularly in the first half.
The impressive margin expansion in FY21 was driven by low commodity costs, low trade discounts (due to healthy demand), and likely lower ad spending to sales.
But despite all these efforts, the dependency on the cigarette business will continue to remain.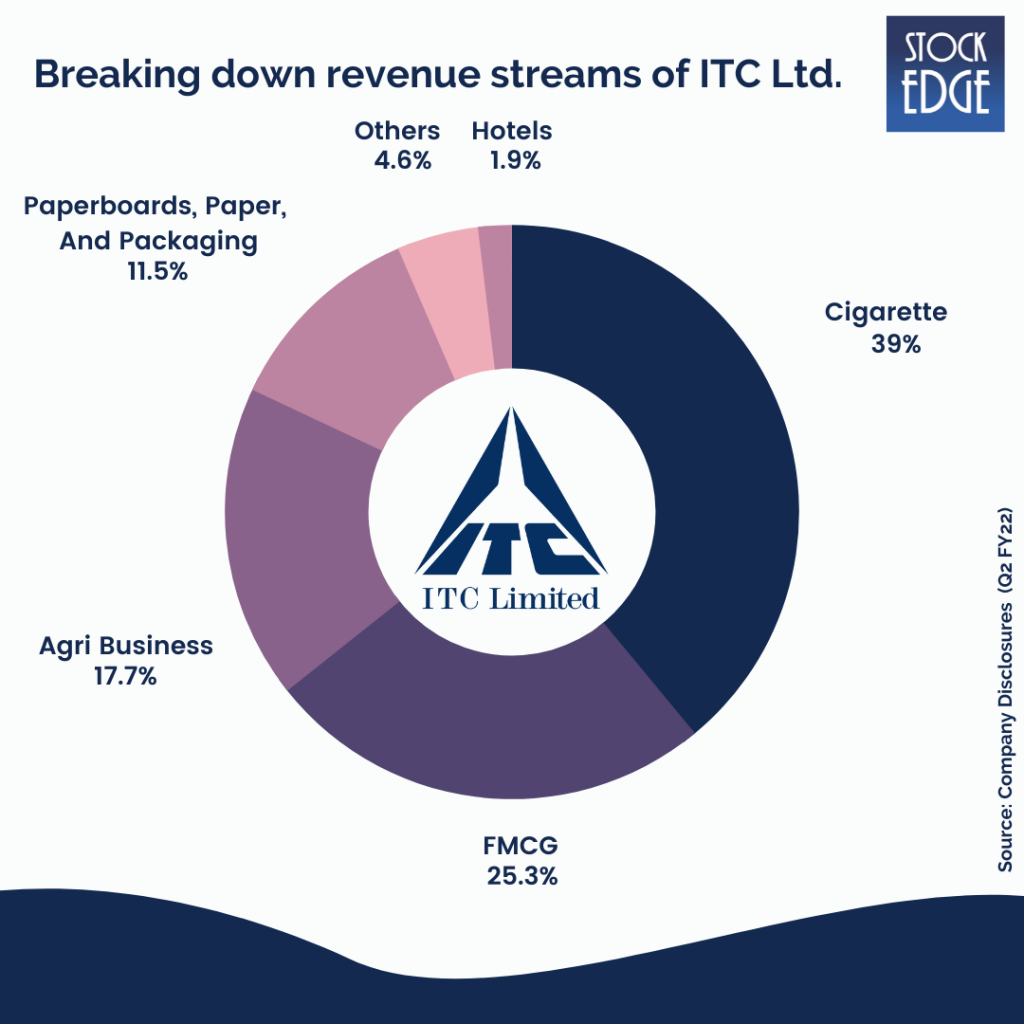 Strategy for inorganic growth
With a healthy cash balance, inorganic acquisitions will continue to play an important role in ITC's growth strategy for its FMCG business, despite increased dividend payouts and lower CAPEX in the Hotels business.
The recent acquisitions have allowed the company to enter new markets or expand its presence. Increasing sales growth through this channel is a deliberate strategy that will be an important cornerstone of future growth.
Last year (1HFY21), the company acquired the 'Sunrise' spice brand in an all-cash deal valued at Rs.2,150 crores which had sales of Rs.600 crore in FY20.
ITC's entry into the D2C segment
As per the latest corporate announcements, ITC will acquire a 16% stake in Mother Sparsh, a premium Ayurveda and natural personal care D2C brand, for Rs 20 crore. The all-cash deal is expected to be completed in two tranches over the next eight months.
Mother Sparsh Baby Care Private Ltd., established in February 2016, specializes in mother and baby care products. In FY21, they reported a turnover of Rs.15.44 cr., a 360% increase in topline revenue from FY20, when revenues were at 3.36 crore.
According to the management "the acquisition will help to enable access to the fast-growing direct to consumer (D2C) space in the 'personal care category, which has been identified as an area of interest."
This investment is also in line with Chairman Sanjiv Puri's 'ITC Next' strategy, which aims to build a future-ready organization with a digital-first culture.
ITC has been collaborating with the start-up ecosystem and experimenting with new distribution channels in recent years.
Adding Breakfast Items into its Menu
ITC has recently forayed into the fast-growing Rs.10000 Cr breakfast category with a ready-to-cook and ready-to-mix range and staples under the household brand "Aashirvaad" in its latest bid to expand its FMCG business.
They are pitching themselves against multinationals Kellogg, PepsiCo, and Nestle, and Indian companies MTR and Gits Food.
The company has introduced breakfast staples such as Rawa, suji, and vermicelli and intends to expand the brand into adjacent categories such as Dalia, poha, and multi-millet cereals.
In the ready-to-cook category, ITC has introduced idli sambhar, upma, instant poha, instant suji halwa, idli, and dosa instant mixes. It will also take 'Aashirvaad' into besan. Aashirvaad's category expansion will contribute to the portfolio's premiumization.
The reason behind getting into this category is that it generates higher margins compared with packaged commodities.
What Happens If ITC hives off its FMCG business?
According to Analysts at HDFC Securities, they anticipate greater appreciation of ITC's FMCG business value in ITC's overall valuation due to rising profitability, fully unlocking the value of the FMCG business may necessitate a potential company re-structuring.
ITC's FMCG business no longer requires assistance to fund its regular operations, and ITC's large cash reserves allow the FMCG business to make large acquisitions if the opportunity arises.
Given the massive revenue targets set for the FMCG business in the coming years, cash flows from the FMCG business may not be enough to fund its CAPEX requirements.
For quarterly results and updates, click here.
Also, to get more detailed analysis and Reports on Stocks, visit our Edge Report Section by subscribing to our StockEdge premium plans.
Bottomline
Well according to Analysts at HDFC Securities, aggressive top-line growth without a focus on profitability appears to be a flawed strategy. However, they believe that diversifying revenue streams was the right strategy for ITC because management had already identified emerging headwinds for its core business of cigarettes.
ITC has used cash from its core business to fund capacity in the FMCG sector. The FMCG industry is well-positioned to drive profitability in the coming future due to its capacity, distribution infrastructure, brand strength, and scalability.
Until then stay tuned for the next blog and keep watching this space for our midweek and weekend editions of 'Trending Stocks". And, share it with your friends & family.