Hey guys! Welcome back.
In this week's edition, we are going to talk about the 4th largest cement player in India, i.e. Dalmia Bharat Ltd., and try to decollate the cement industry. So, let's get started!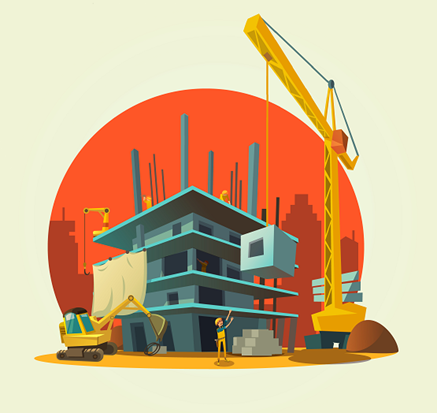 The Precedent
Between FY05-FY21, Dalmia Bharat Ltd. has transitioned from a 1.2 MT single-location cement company to approximately a 30.7 MT entity, growing aggressively through low-cost acquisitions as well as organic expansions. The company was focusing in the South with 12.1MT and East & North-East with 18.6MT. It is situated in 13 locations across 9 States. Dalmia Bharat is a market leader in super-specialty cement, which is in high demand from manufacturers of railway sleepers, oil wells, and airstrips. It is the country's largest slag cement producer. Now that the precedent has been set, let's take the discussion further and start decollating!
So shall we start with the Cement Business Analysis?
Let us first try to understand the two segments of the cement business: trade segment and non-trade segment.
In the trade segment, cement is sold to retailers through dealers and distributors. This generates higher margins for the manufacturer.
In the non-trade segment, the cement is directly sold to the clients. For eg: – A construction company buying cement for their project will generate fewer margins for the manufacturer because they are infra clients and they buy in volume.
Also, in the trade segment, the company uses "push marketing strategies" which basically means to "push" their products onto the end consumers. They do this by using various active marketing techniques like incentivizing the dealers, giving discounts & commissions, etc. Confused? Maybe? Maybe not? Well, let me simplify this with an example! When we go to buy cement for a repair in the house or for a renovation, we hardly ever understand the difference between seas of cement brands. We simply rely on the salesperson who acts as a major influence at the time of purchase. The salesperson, in this case, is the "Push" that is being incentivized by the dealer who is being incentivized by the company to push the company's products.
Since the segments are clearly defined now; we try to understand the pricing mechanism of the cement business.
The price is determined by demand and supply. It's a dynamic pricing market. Cement is a bulky material, so the greater the distance traveled by the cement bag, the greater the freight and handling costs involved, and the lower the profit made by the manufacturer. As a result, it is critical that the manufacturer keeps his production unit as close to the end customer as possible.
What makes Dalmia Bharat so special among his peers?
There is so much that the company has done to shine among its peers that we thought of jotting it down in a pointer format! Here we go:
The company has increased its blending & cement-to-clinker ratio.
It has modernized and upgraded its plants, resulting in industry-leading lower electricity consumption.
It has increased its use of alternative fuels.
Operating efficiency provides the company with a significant cost advantage over competitors in an environment of low demand, lower utilization, and rising costs.
Dalmia Bharat Ltd. provides a variety of cement variants through its brand portfolio of three marquee brands: Dalmia Cement, Dalmia DSP, and Konark Cement. These brands are available as PPC, PSC, Composite Cement, and OPC. Institutional brands include Dalmia InfraPro, Dalmia Infra-green, and Dalmia InstaPro.
Let's crunch some numbers! Finally, the 'Baniya' in me is happy!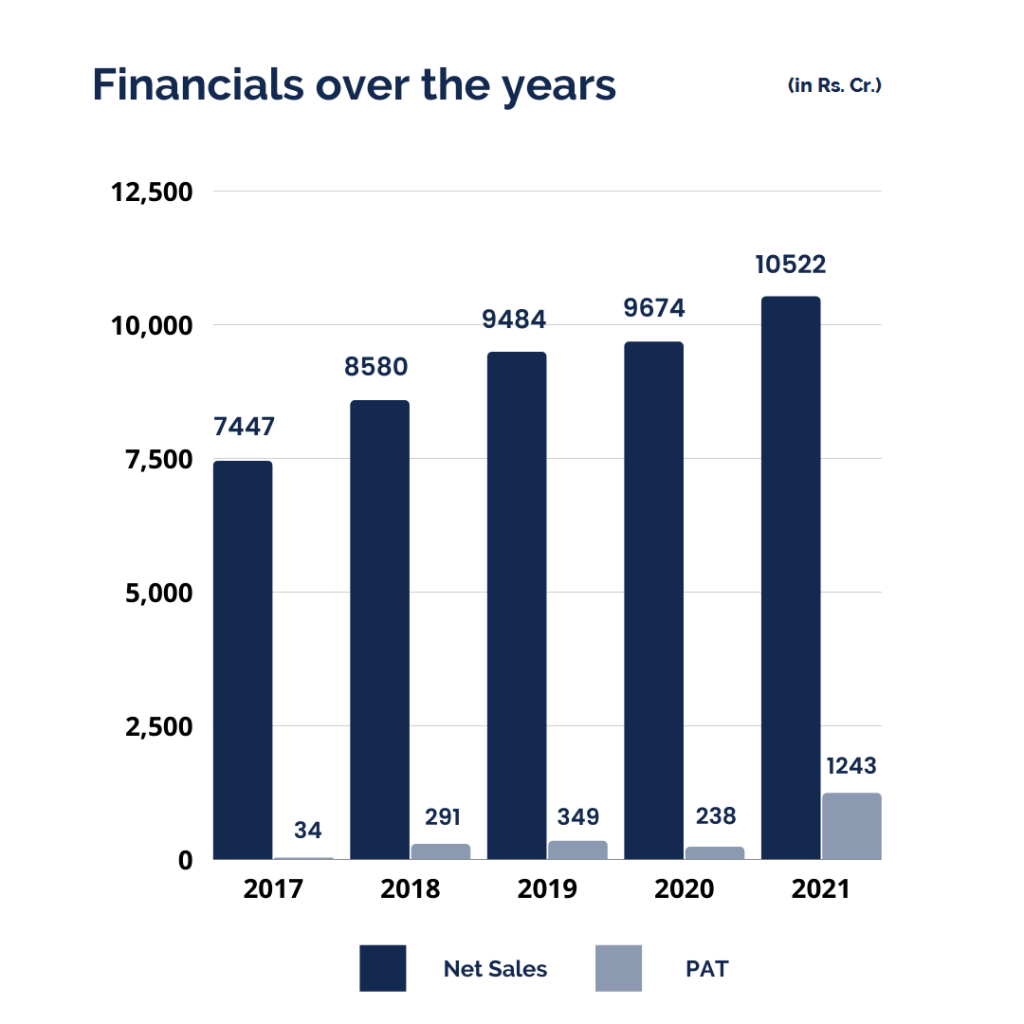 Dalmia Bharat's revenue has grown 41% between FY 17 and FY21— from Rs.7447 to Rs.10522 crores. Net profit has grown by a whopping 3556% from Rs.34 crores to Rs.1243 crores. EBITDA/Tonne increased 24% to Rs. 1333/Tonne in FY21. The growth has been so remarkable that the company's share price has grown by 194% from the last year. Despite the expansion, debt repayment was robust (Rs.2,224cr in FY21 & Rs.476cr in Q1FY22). The current net debt/EBITDA ratio is 0.08x, and the D/E ratio is 0.1x.
The Coach Maketh The Team!
The company is led by Mr. Mahendra Singhi, who was appointed Group CEO (Cement) in FY14. Mr. Singhi previously served as the Executive Director of Shree Cement where he worked for 19 years. He was instrumental in establishing Shree Cement as one of the most cost-effective cement players in India. His appointment to the Board of Directors has increased the company's cost competitiveness, resulting in higher overall profits.
The Road Ahead – Manzil Saaf Ho, Toh Raasta Aise Hi Aasaan Ho Jata Hai!
Dalmia Bharat has been generating healthy cash flows which have assisted in the de-leveraging of its balance sheet, the execution of acquisitions, capacity expansions to drive growth, and further strengthening of its market presence.
With cement demand increasing in Eastern India, Bihar, Jharkhand, and Odisha, the company continues to witness strong demand from rural housing because of the government's focus on infrastructure projects.
Recently, Dalmia Cement (Bharat) Ltd., which is a subsidiary of Dalmia Bharat Limited, signed 3 MoUs with the Govt. of Jharkhand to invest Rs.758 cr in the state. (Rs.500 cr in its manufacturing unit at Jharkhand Industrial Area Development Authority Bokaro, Rs.250 cr for establishing the solar power plant to provide clean energy to the state, and Rs. 8 cr for setting up Material Recover Facility and Legacy waste-Bio Mining activity for solid waste management under Ranchi Municipal Corporation.). The company plans to set up a new grinding unit, taking the overall cement manufacturing capacity at Bokaro to 6.3 MTPA.
Dalmia Bharat has also announced Rs.5000 cr additional CAPEX plans to reach 48.5MT by FY24, as well as a long-term plan to reach 110-130MT by 2031 while maintaining a strong balance sheet.
That's all from our end folks! We hope you liked our weekend read. Stay tuned for the next blog and keep watching this space for our midweek and weekend editions of 'Trending Stocks". Also, if you loved the way we represented Dalmia Bharat Ltd.'s story, show us some love by sharing it with your friends and family. Until then, take care and happy investing!