StockEdge is delighted to release StockEdge Version 8.3.
With every release, we onboard a few features that add significant value to our users of StockEdge in understanding the financial markets better.
In this release, we introduce the following features to our users:
Sector Rotation
Investment Cases
My Plans Section – Revamped
120 Days of Data in Market Breadth
Additional Facts in Trending Stocks
Continue reading below to learn more about these fantastic features:
Sector Rotation:
A sector is a group of stocks representing companies in similar lines of business. The basic premise is that these stocks can be expected to perform similarly. Sector rotation is a unique feature that will enable you to identify the movement of money invested in stocks from one sector to another as investors and traders anticipate the next stage of the economic cycle.
StockEdge facilitates analysis of sector rotation through three channels: 1) Breadth, 2) Delivery, and 3) VWAP
Breadth:
Market Breadth gives a bird's eye view of the sector's performance considering different indicators. It shows the percent/count of the stocks from the sectors that have a value above the value of the indicators like RS55, RSI 50, SMA 20, SMA 50, and SMA 100.
If the count or percent is high, it is shaded in green, in yellow if it is neutral, and in shades of red for a low count. Green shades indicate a positive stand, yellow shades indicate a neutral stand, and red shades indicate a negative stand. You will be redirected to the selected sector page when clicking any sector stock.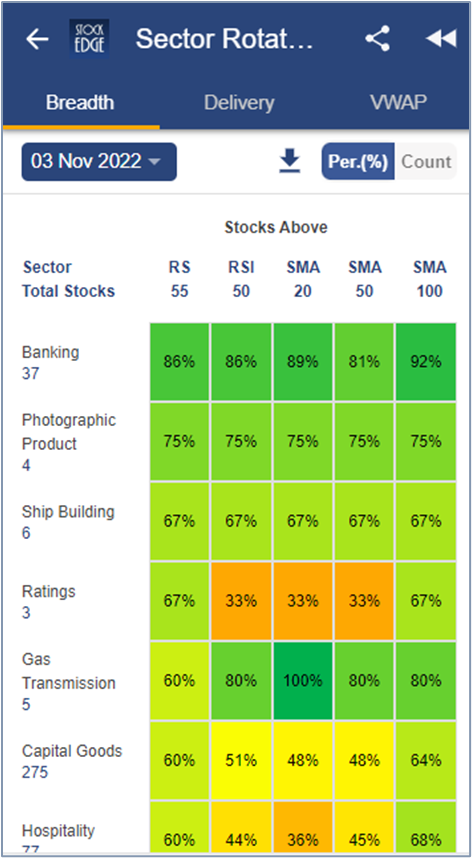 Delivery:
Delivery trading is when you buy a stock and take it into your demat account or sell a stock you hold via a debit to your Demat account. Intraday trading refers to buying and selling stocks the same day before the market closes.
In StockEdge, you get sector-wise total MCap and change compared to the previous trading day, volume (traded value), and delivery value compared with the average of the previous 5 days' volume and delivery value. You can analyze the sectors' activities by comparing changes in MCap, Volume, and Delivery. You will be redirected to the selected sector page when clicking any sector.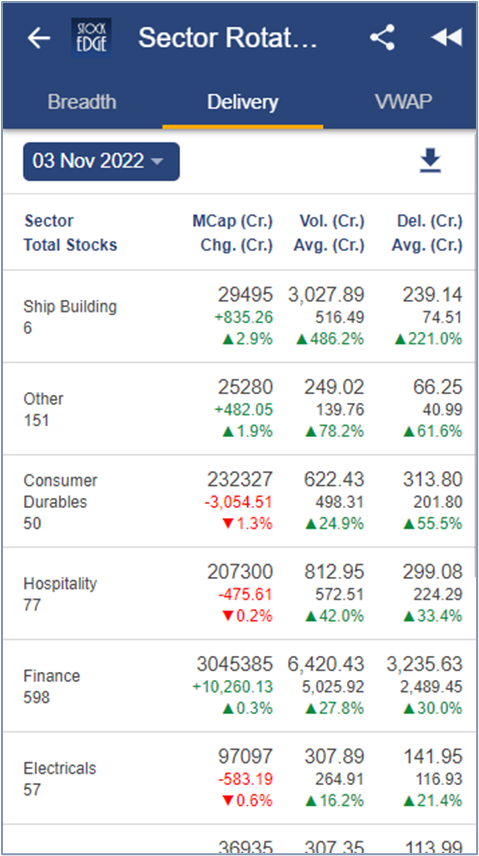 VWAP:
The volume-weighted average price (VWAP) is a measurement that shows the average price of a security, adjusted for its volume. It is calculated during a specific trading session by taking the total value of trading in the security and dividing it by the volume of trades. Traders and analysts use the VWAP to eliminate the noise throughout the day, so they can gauge what prices buyers and sellers are trading at on the stock or the market.
In StockEdge, you get sector-wise stock above or below their VWAP. VWAP column displays the number & percentage of stocks out of total stocks in the particular sector that satisfies the condition. This can be used to know the pricing insight into a sector's trend and value. You can understand how the sector performs depending on how many stocks in the sector follow the same upward or downward trend. You will be redirected to the selected sector page when clicking any sector.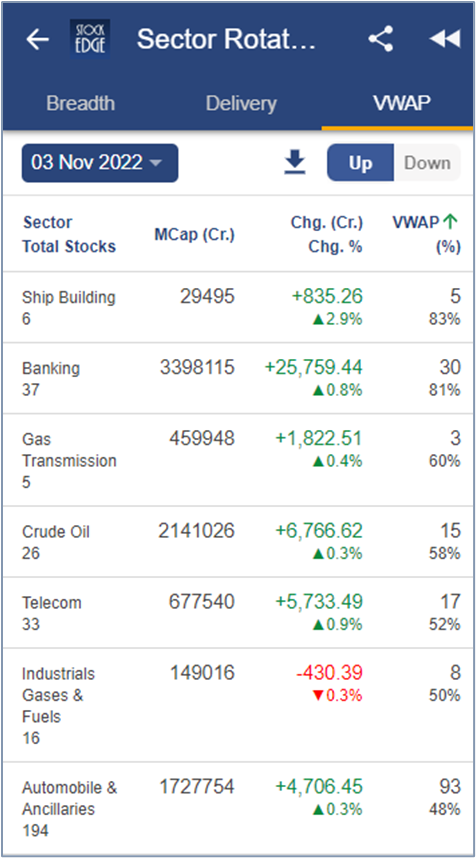 Investment Cases:
We are introducing "Investment Cases," a new section for all our users to help them invest in the basket of stocks that reflect an idea. StockEdge platform now provides an option to invest in ready-made portfolios created by SEBI registered Investment Advisors and Research Analysts. Investing in Stocks/ETFs (Exchange Traded Funds) is subject to market risks. Read all the related documents before investing. Investors should consider all risk factors and consult their financial advisors before investing.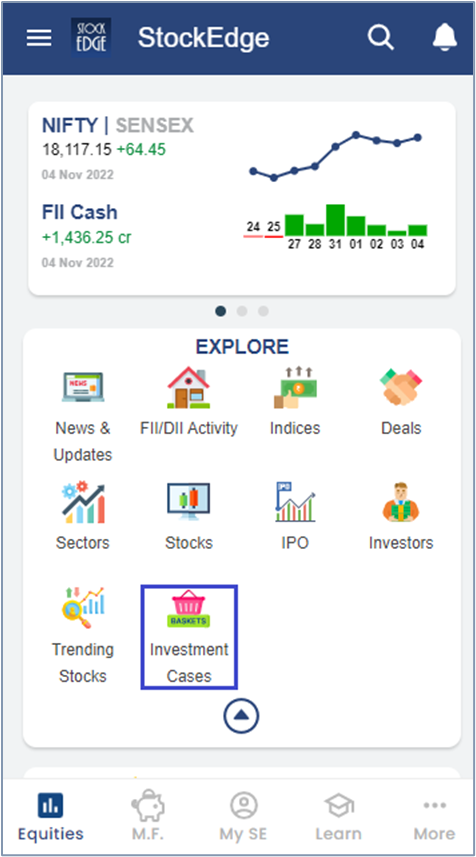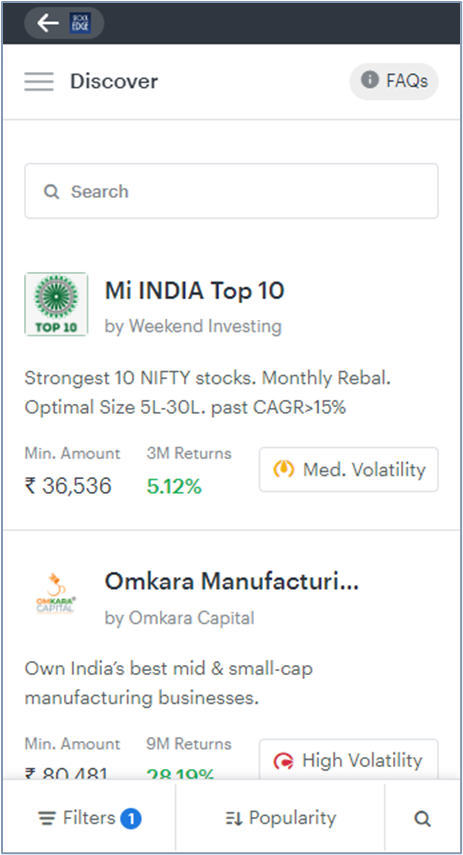 My Plans Section – Revamped:
To provide the most hassle-free experience to our users, StockEdge now allows renew and upgrade plans directly from the "My Plans" section. With the "Renew" button, you will be able to resume your plan or extend the period of validity of your plan. With the "Upgrade" button, you can upgrade to a higher plan. Users also get details of their plan- both current and past transactions and other relevant details in "View Details."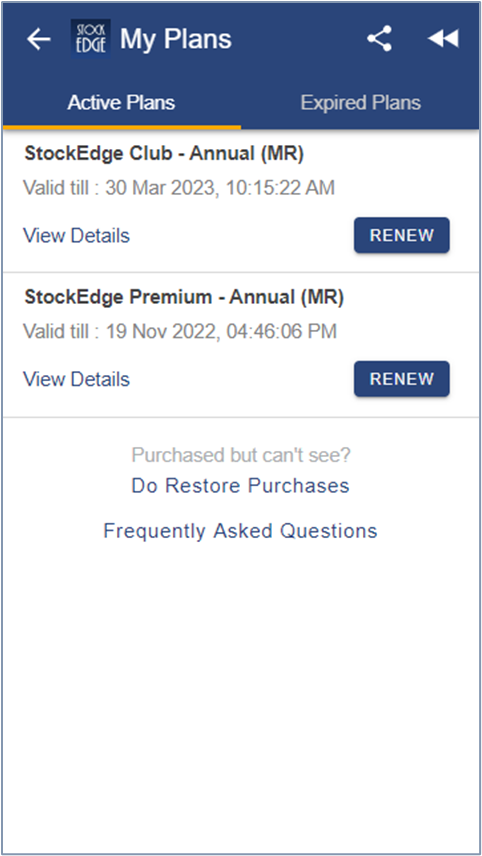 120 Days of Data in Market Breadth:
Market Breadth is a premium feature introduced by StockEdge, which gives an overall sentiment of the NIFTY 50 and NIFTY 500 stocks over different periods. To provide our users with enhanced analytics, StockEdge now provides market breadth analysis of the last 120 days.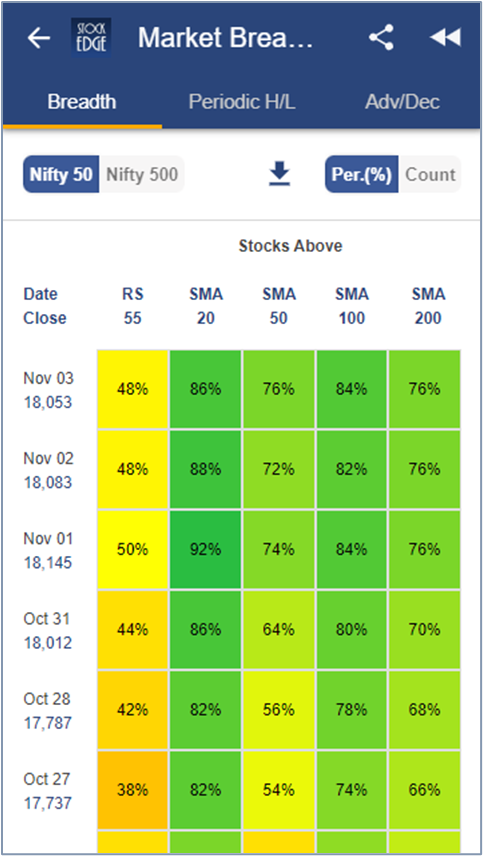 Additional Facts in Trending Stocks:
To provide our users with more details on stocks that are trending, StockEdge has added the following facts 1) Sector Name, 2) Last traded price 3) Percentage change in the stock prices.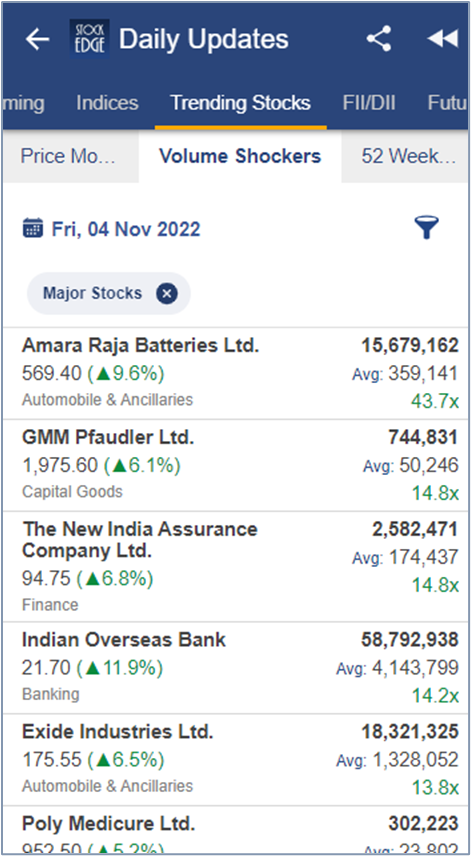 This is it for now from Team StockEdge. We hope these features enhance your investment journey and make StockEdge more valuable.
If you enjoy using StockEdge, don't hold back from sharing the platform with your near and dear ones.
Check out StockEdge's Premium Plans to get the most out of it. Also, watch this space for our midweek and weekend editions of 'Stock Insights'.