Let's discuss about Promoter Pledge. We are always unsure of investing when it's related to the stock market otherwise all our investments be it gadget or merchandise, we purchase after doing our own research.
Thus if we have invested in a stock and it's not performing well with all other parameters being fair then the problem could well lay with its promoters.
Promoter Pledge Shares
Promoters are the major shareholder of any company and manage its day-to-day affairs. When they need money, for any kind of work like a merger, acquisition, CAPEX, etc. then they pledge all or some of their shares with lenders. It means that these shares are offered as collateral to banks in exchange for loans.
So why should we care
Well, if the pledged share goes on increasing quarter after quarter or year after year then that sends a weak signal about the liquidity conditions of the company and also sends a dark cloud cover on the overall financial health of the company and vice a versa.
Thus if any micro or macros of the company or the economy changes then pledge shares would be the ones which will get invoked first by the lenders under whom the pledge lies. This leads to a fall in the share price. Thus many Investors do not want to invest in companies that have high pledged shares. Analysts too tend to stay away from these companies.
Kinds of promoter pledge
Now Increasing the pledge means that the promoters are going on pledging the shares. It means the financial weakness of the company is intensifying which is why after a period also the promoter is unable to revoke his pledge.
Similarly Decreasing pledge is a sign of financial strength and well being of a company. It gives us an idea about the efficient working of the company.
Zero pledge means that none of the shares of the promoters are pledged.
Low pledge filters out those companies where promoter pledge holding is between 0-20%
Moderate pledge filters out companies where promoter pledge holding is between 20%-40%
High pledge filters out those companies where the promoter pledge holding exceeds 40%
So let's understand where we can find the same in StockEdge App to stay away from these kinds of companies.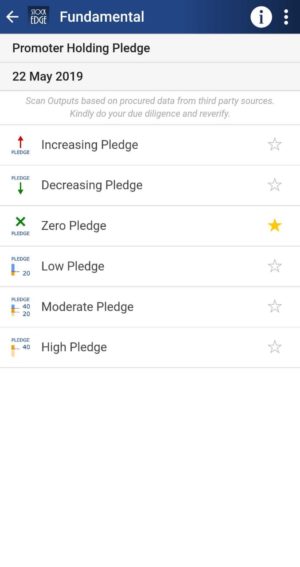 StockEdge Scan
We have a pre-made scan under Fundamental scan section in StockEdge app known as Promoter Holding Pledge Scans where you can filter out companies based on Increasing or Decreasing pledge, Zero pledge, Moderate, Low or High pledge in seconds.
Does this not make your investment easy?
Bottom-line
Knowing the shareholding pledge and staying away from high pledge companies is very important to safeguard your investment. Thus filters out companies having minimum pledge shares in seconds, for that subscribe to StockEdge. If you still do not have the StockEdge app, download it right now to use this interesting feature. It is a part of the premium offering of the StockEdge App.
Click here to know more about the Premium offering of StockEdge.

You can check out the desktop version of StockEdge using this link.