Ever wondered what happens to the operating cost of a bank when banks start giving out more loans i.e. when they keep on building their asset books. How much of the operating cost is appropriate for the bank? Is the bank spending too much to build assets? Well for this you need to understand banks operating cost to assets ratio!!! Read On!!
What is Cost to Assets Ratio(%)
Cost to Assets Ratio (%) is an efficiency ratio that measures the operating expenses, i.e., non-interest expenses, of a bank in relation to its size or the asset base.
The ratio is not impacted by changes in the interest rate and so provides a better picture of the bank's efficiency, in terms of how it is managing its expenses as compared to its assets.
Thus, the ratio helps in measuring the efficiency of a bank or financial institution at times when there is a significant change in interest rates or spreads.
You can also watch the below video on Everything you want to know about Operating Cost to Assets Ratio:
Importance
The ratio has a cost as its numerator and to achieve operational efficiency, it is important for an entity to contain its costs. Thus, lower the ratio better it is for the banks as it indicates better efficiency.
Moreover, a lower ratio also means that the asset base of the bank is sufficient to cover its operational costs. A higher level of asset is desirable, but not higher operational costs.
Thus, a bank which is achieving lower operating costs to assets ratio on a consistent basis is better in terms of operating efficiency.
Impact
Cost to Assets ratio indicates more of a bank's business mix rather than a basis for detailed cost analysis.
This can be well understood from the fact that a bank with a higher corporate lending will have a lower cost to asset ratio as compared to a bank having higher retail lending. This is due to the fact that though retail lending adds to the bank's asset size it is comparatively less in size than the additions made by the corporate lending.
It is to be noted, that banks in different countries have different cost structures. Thus, the ratio may fail to make cross border comparison of banks.
Ebitda Margin Formula
Operating cost / Asset ratio = (Operating Expenses/Average Assets)* 100
Explanation
Here, we take the example of HDFC Bank Limited. The bank's operating expenses for the current year is Rs 27,69,476 lakh which is available from its Profit & Loss Statement
Next, is the bank's total asset, which is Rs 12,92,80,571 lakh as reported in its Balance Sheet.
Thus, Operating Cost to Asset Ratio (%) = (27,69,476/129280571)*100 = 2.14%
So, HDFC Bank's operating cost is 2.14% of its total asset.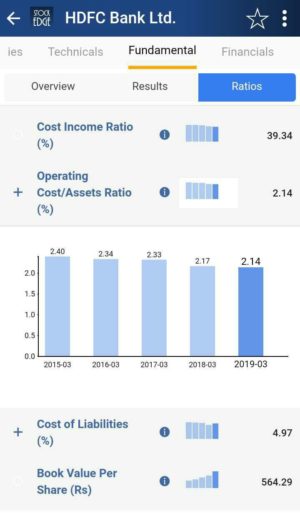 See also: Cost to Income ratio(%)
HDFC Bank's operating cost to asset ratio is consistently declining, indicating its operational efficiency in managing costs against increased assets.
Stockedge App
Nowadays we don't have to calculate operating cost to Asset ratio (%) on our own. StockEdge as an effective stock market analysis tool, gives us the operating cost to asset ratio of the last five years of any company listed in the stock exchange. We can look and compare operating cost to asset ratio (%) of any company and filter out stocks accordingly.
Suppose we want to look at operating cost to asset ratio (%) of HDFC Bank Ltd. for last 5 years then in the Fundamental tab of HDFC Bank Ltd., click on the fundamentals tab, we will get Ratios tab. Then in the Ratios tab click on the Efficiency Ratios, we will get operating cost to asset ratio(%) of HDFC Bank Ltd.
Bottomline
Operating cost to asset ratio is an important efficiency ratio for the fact that we are able to track the changes in operating cost with respect to changes in asset and also an indicator of the bank's business mix. It can be compared in time basis and with other companies to understand the efficiency of the banks.
With a click of a button, you can see the comparison of a company's operating cost to asset ratio for five years. Haven't subscribed to Stockedge yet? So what are you waiting for, subscribe immediately to use this free feature.
We also have paid featured scans based on Valuations, with the help of these ready-made scans you can with a click of a button filter out good companies. These scans are part of the premium offerings of StockEdge app.
Click here to know more StockEdge Plan.