Would you not want your business to earn more profitability, thus for that, you need to keep a tab on your expenses. So today we will understand a financial ratio known as the Cost to Income ratio which is specifically important to banks or NBFC's.
Importance of Cost to Income Ratio(%)
The Cost-to-income ratio shows the relation between the income and the cost involved in acquiring that income. It is an important financial ratio, particularly in analyzing banking stocks.
This ratio gives a clear view of how efficiently the bank is being run. There is an inverse relationship between the Cost Income ratio and bank profitability.
The lower a bank's Cost to Income Ratio, the more efficiently a bank operates which results in increased profitability. On the other hand, if the ratio rises yearly it means costs are rising at a higher rate than income which affects the profitability of the bank.
You can also watch the below video on Everything you want to know about Cost to Income Ratio:
Impact
Therefore the cost income ratio gives analysts and investors a bird's-eye view of Bank's efficiency.
Banks and other financial institutions often use the ratio to track how costs are changing compared to income so they can make strategic growth decisions.
How to Calculate the Cost to Income Ratio
To calculate the Cost Income Ratio, simply divide the Operating expenses by its Operating income for the same period. Operating expenses include all the cost of running the Bank i.e. Employee cost, Rent, Advertisement, etc. Operating income includes Net interest income + other income. (NII is interest earned – interest expended)
Cost to Income Ratio Formula
Cost to Income Ratio = Operating expenses / Operating income
Example of Cost to Income Ratio
Let us calculate the Cost Income Ratio of HDFC bank for FY19 from the below data.
HDFC Bank Operating Expenses for FY19 from Profit and Loss Account-: 27,694.76 (fig. In crore)
Operating Income = NII (interest earned – interest expended) + other income = 51448.06 (105,160.75-53,712.69) + 18947.05 = Rs70,395.11
Cost to income ratio: (%) = Operating Expense X 100 = 27,694.76 X 100 /70,395.11 = 39.34%
Operating Income
Thus, HDFC Bank Cost Income Ratio for FY19 is 39.34% which is 124 Basis point lower than the level of FY18, means operating efficiency of the bank has improved which will help in increasing the profitability.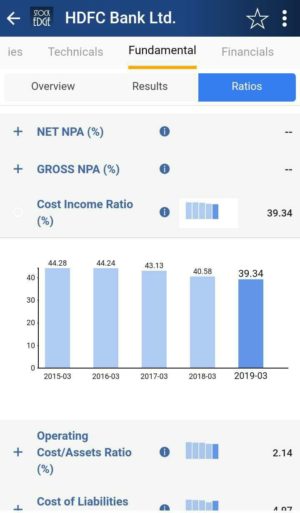 Earlier in 2015 HDFC Bank was spending Rs. 44.28 to Earn Rs. 100 but now in 2019 bank is spending only Rs.39.34 to earn the same, so you can see at a glance how efficiently the bank has improved its operating performance over the years.
StockEdge App
Nowadays we don't have to calculate Cost Income ratio (%) on our own. StockEdge gives us the Cost Income ratio of the last five years of any bank listed in the stock exchange. We can look and compare the Cost Income ratio (%) of any banks and filter out stocks accordingly.
Suppose we want to look at Cost Income ratio of HDFC Bank for the last 5 years then in the Fundamental tab of HDFC Bank Ltd., click on the fundamentals tab, we will get Ratios tab. Then in the Ratios tab click on the Efficiency Ratios, we will get Cost Income ratio (%) of HDFC Bank Ltd.
Bottomline
Cost Income ratio (%) is an important financial component to look at when analyzing the Banking stocks. It tells us about the profitability and operating efficiency of a business. It can be compared on a yearly basis and with other Banks to understand the strength of the Bank. With a click of a button, you can see the comparison of a Bank's Cost Income ratio (%) for five years.
Haven't subscribed to stockedge yet? So what are you waiting for, subscribe immediately to use this free feature? We also have paid featured scans based on Valuations, with the help of these ready-made scans you can with a click of a button filter out good companies. These scans are part of the premium offerings of the StockEdge app.
Join StockEdge Club to get more such Stock Insights. Click to know more!

You can check out the desktop version of StockEdge.