Hello friends,
Good news! We are happy to announce that StockEdge has released version 4.3.
In this version, we bring to you a yet again new feature both for our free and paid users which was a requirement pegged by many. Thus with new Government formation, we too give you access to an all new electrifying feature of share pledge details.
Thus what is a pledge share detail?
Well, many promoters pledge their shares in lieu of cheap loan for running their company. It can be a pledge for new acquisition or merger or a capex for expansion. Thus there are varied reasons for the promoters to pledge their shares.
So why should we care
Well, if the pledge shares go on increasing quarter after quarter or year after year then that sends a weak signal about the liquidity conditions of the company and also sends a dark cloud cover on the overall financial health of the company and vice a versa.
Thus if any micro of the company changes then pledge shares would be the ones which will get revoked first by the lenders under whom the pledge lies. Which leads to fall in the share price. So many Investors do not want to invest in companies which have high pledged shares.
So let's understand where can we find the same in StockEdge App to stay away from these kinds of companies.
StockEdge Scan
We have prepared a scan under Fundamental scan section known as Promoter Holding Pledge Scans. Under which you can filter out companies based on Increasing or Decreasing pledge, Zero pledge, moderate low or high pledge.
The Increasing pledge scan is for the free users and the other scans are all for our paid subscribers.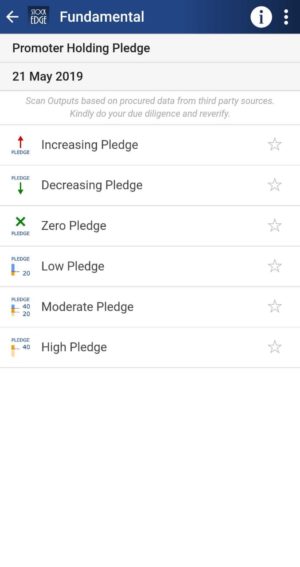 Company Shareholding Section
This pledge data is also updated in the shareholding section of the company which is free for our free version users and also for our paid members.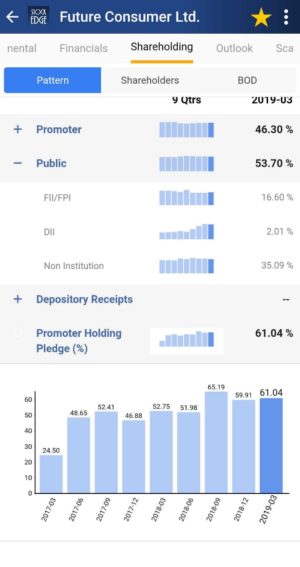 Edge chart Section
Next, you can even plot the pledge data in our Edge chart which is a paid version for our paid subscribers under the fundamental tab to understand the historic pledge data of the company for 2 years or 5 years.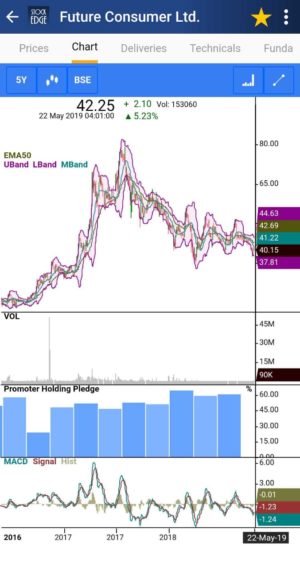 Bottom Line
These added features will help you make more informed decisions at a click of a button.  The pledge share data will help you to track down stocks which have weak or strong financials and help you make wise, informed decisions.