In this week's blog will look at the top 5 high-quality small-cap stocks for H2 FY23 identified by StockEdge analysts.
But before that let's try to understand what small-cap stocks are?
Stocks of small-cap companies that are publicly traded on a stock exchange are known as small-cap stocks.
Small-cap stocks are a good option for investors who want to generate higher returns on their investments. Individuals with a high risk tolerance and the ability to bear market risks may also be interested in this investment option.
According to SEBI rules, all companies ranked 251st or higher in terms of market capitalization are automatically classified as small-cap companies. Small-cap companies do not typically have a long track record. These businesses could be either new start-ups or businesses in the early stages of development.
In terms of market capitalization, these companies typically have less than Rs. 5,000 crores.
As a result, these firms have little to no market presence and are rarely included in broad market indices. These stocks are volatile in nature and are vulnerable to market risks when the market is in a low phase.
Advantages of Investing in Small-Cap Stocks
Individuals who invest in the best small-cap stocks benefit from the following benefits:
Greater growth potential – Small-cap companies typically outperform large-cap companies in terms of organic growth. Small-cap companies, on the other hand, have a greater potential to grow and acquire capital over time. This particular factor works in favour of smallcap stocks, significantly increasing their growth potential.
Fairly priced – When it comes to investing in the best small-cap stocks, major institutional investors must adhere to certain constraints; this directly limits their ability to drive stock prices higher. This gives small investors an advantage over institutional investors, allowing them to obtain small-cap shares at reasonable prices.
Quality stocks at low prices – Small-cap companies are under-recognized, and their stocks are under-priced as a result of possible market inefficiencies. With a little research and market analysis, investors can profit from such inefficiencies by purchasing quality stocks at a lower price.
Here is the Small-cap share list of H2 FY23: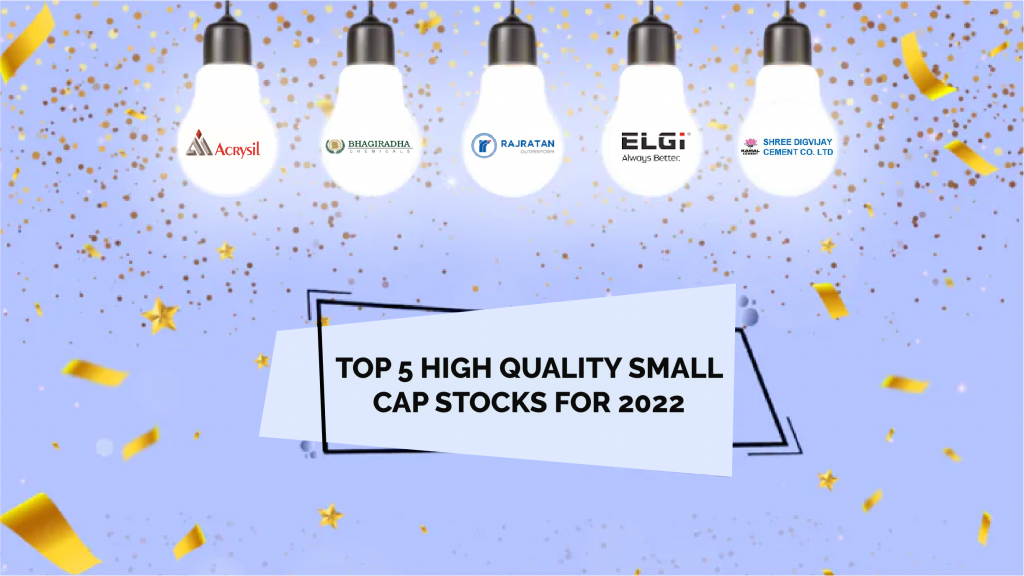 Acrysil Ltd.
Acrysil is one of only four companies in the world that has the technology to manufacture quartz sinks, thanks to Schock Technology (A German tech). Acrysil is the only company in India and Asia with a global level of quality, durability, and visual appeal. They also make kitchen appliances such as a chimney, dishwasher, fryer/barbeque, oven, and hob. Don't be surprised if you haven't heard of Acrysil because the majority of their products are exported. As of today this is acrysil share price
Acrysil is rapidly establishing itself as a full-fledged player in the Kitchen and Bath segments, with brands such as 'Carysil' and 'Sternhagen'. Have you heard of them? If not, please allow us to assist you. Sternhagen is a well-known German luxury brand that is wholly owned by Acrysil GmbH, a subsidiary of the company. Premium bath ware fittings, sanitaryware, and highlighter tiles are among the products in this portfolio.
Acrysil's bucket is full of these high-quality products, the majority of which are exported. Because the products are of high quality, the majority of them are classified as lifestyle items all over the world.
The company announced a strategic partnership with IKEA Supply AG (Switzerland) in August 2020 to manufacture and supply composite quartz kitchen sinks. This collaboration was also a game changer for IKEA, which has over 400 stores in 52 countries.
Bhagiradha Chemicals & Industries Ltd.
Bhagiradha Chemical manufactures agrochemicals such as pesticides, insecticides, and herbicides. BCIL established its manufacturing facility in the Prakasam district of Andhra Pradesh, spanning 36.50 acres, and began commercial production in 1995-96 and as of today this is the share price of Bhagiradha Chemicals & Industries Ltd.
Chlorpyrifos-Technical (Tech), Fluroxypyr-Tech, Triclopyr-Tech, Imidacloprid-Tech, and Azoxystrobin-Tech are the main products. The company is constantly expanding its product portfolio by introducing new products.
They see opportunities to manufacture several agrochemical products that are nearing patent expiration. They have already lined up some molecules for commercialization with the help of their R&D team. They are focusing on new domestic and international registrations in order to broaden their customer base while keeping in mind the products in their repertoire.
As India is an agrochemical net exporter. It is the world's fourth largest manufacturer and 13th largest exporter of agrochemicals. Its global agrochemical market presence has grown as a result of low-cost manufacturing, the availability of technically trained labour, seasonal domestic demand, overcapacity, better price realisation globally, and a strong presence in generic pesticide manufacturing. Exports increased at a 10% CAGR over the last decade.
Elgi Equipments Ltd.
Elgi Equipments makes air compressors and automotive equipment. They generate 92% of revenue from air compressors, whereas the remaining 8% is from automotive equipment. Elgi is also the second-largest player in the Indian air compressor market with a 22% market share and one of the top eight global companies. As of today this is Elgi Equipments share price.
They operate in 120 countries and have over 2 million compressors installed worldwide. Their manufacturing facilities are spread across India, Europe, and the United States. Their products are available in Europe, North America, Latin America, Africa, Australia, the Middle East, Southeast Asia, and West Asia.
However, their key focus markets continue to be the United States of America, Europe, and Australia. They have 200 distributors, 800 sales agents, and 1,200 service representatives worldwide.
Rajratan Global Wire Ltd.
Rajratan Global Wires is India's largest bead wire supplier to tyre OEMs (42 percent market share), and it remains Thailand's only local manufacturer expanding its footprints in local markets (20 percent domestic share). As of today this is Rajratan Global Wires share price.
RGW is a preferred bet (a quasi-auto ancillary play on tyre manufacturers) in India and Asia due to its focused management, improving return ratios, good corporate governance, and quality balance sheet.
MRF, CEAT, Apollo Tyres, JK Tyres, Bridgestone, Sumitomo, Yokohama, and other tyre companies rely heavily on Rajratan Global Wires.
Shree Digvijay Cement Company Ltd.
Shree Digvijay Cement has been an exclusive trendsetter in providing greater quality of Ordinary and Special Portland Cement. It employs approximately 300 Employees as well as has a Gujarat-wide network of more than 1,000 Channel Partners selling its Cement under the Brand Name "KAMAL CEMENT". As of today this is the Shree Digvijay Cement share price
Anil Singhvi is the Chairman, who was best known for his stint with Ambuja Cements. The company is debt free (Cement Businesses are capital intensive in nature, so a smallcap with no debt is what we look for) It has a Strong Distribution Network (1000+ channel partners).
They are investing in Renewable Power (8.1 MW hybrid wind and solar power) for Captive Consumption which will help the Co. to become efficient, reduce power & fuel cost and reduce carbon footprint
They have their own captive sea port in Sikka, Jamnagar (Gujarat) which can harbour and handle 3000-5000 DWT vessels along the jetty.
Also, they are one of the major players in the Oil Well Cement Market – HSR Class G (have clients in Ghana, Nigeria, UAE)
They a fully owned subsidiary company which is into logistics (services include Break-Bulk Cargo Import & Export, Warehousing, commodity trading, etc.)
They overcame the major challenge of Limestone Availability (secured new limestone deposit mines and today has 20+ yrs of limestone for sustaining current production)
What's the risk?
While small-cap stocks provide higher returns, they also carry a higher risk. Such investment options are not suitable for risk-averse individuals or conservative investors and are also less liquid as compared to large cap and mid-cap stocks.
These stocks need deep research and time to determine their effectiveness.
However, if individuals are unsure about their market knowledge, they can always seek professional assistance.
Join StockEdge Club to seek Professional Assistance
StockEdge Club is an exclusive platform for knowledge oriented discussions around the Indian Stock Markets. The platform has active market participants who believe in continuous learning and discussions around interesting ideas. The platform also has analysts who help you to unravel the mysteries of the market and assist you in understanding the fundamental and technical aspects of different stocks.
StockEdge Club Members can access the 4 clubs Fundamental Analyst Club, Technical Analyst Club and Stock Ideas Club & the FnO Club via this platform.
Until then, keep an eye out for the next blog and our midweek and weekend editions of "Trending Stocks and Stock Insights." Also, please share it with your friends and family.
Happy Investing!