The Story
Incorporated in 1986, Apcotex is one of the leading producers of Synthetic Rubber (NBR & HSR) and Synthetic Latex (Nitrile, VP latex, XSB & Acrylic latex) in India. As a result, the company has one of the broadest ranges of Emulsion Polymers available today. The company's primary raw materials are Butadiene, Acrylonitrile and Styrene, which are petrochemical-based products. Apcotex has a plant in Taloja, Maharashtra, for Synthetic Latex and High Styrene Rubber (HSR). Another plant is in Valia, Gujarat, acquired from Omnova for Nitrile Butadiene Rubber (NBR) and High Styrene Rubber. As of today's date, this is Apcotex Industries share price
Apcotex was started as a division of Asian Paints in 1980. It was spun off as a separate company in 1991 as Apcotex Lattices Ltd. It changed its name from "Apcotex Lattices Ltd" to "Apcotex Industries Ltd" in June 2005.
They have built a strong R&D foundation over the years, allowing the company to develop, manufacture, and export products while competing against global players such as BASF and Dow Chemicals. Furthermore, they offer value-added services that allow customers to improve the quality of their final product by utilising Apcotex's service team and application laboratory. In the speciality chemicals industry, the value-added service is a key differentiator for the company.
They sell different protective coating agents under the brand name ApcoBuild.
Apcotex faces significant risks in sourcing two primary raw materials — styrene and butadiene, downstream petrochemical products. Styrene is not manufactured in India, so the company imports it. Butadiene has only two manufacturers in the country, IndianOil Corporation and Reliance Industries.
Let us simplify their business model for a better understanding!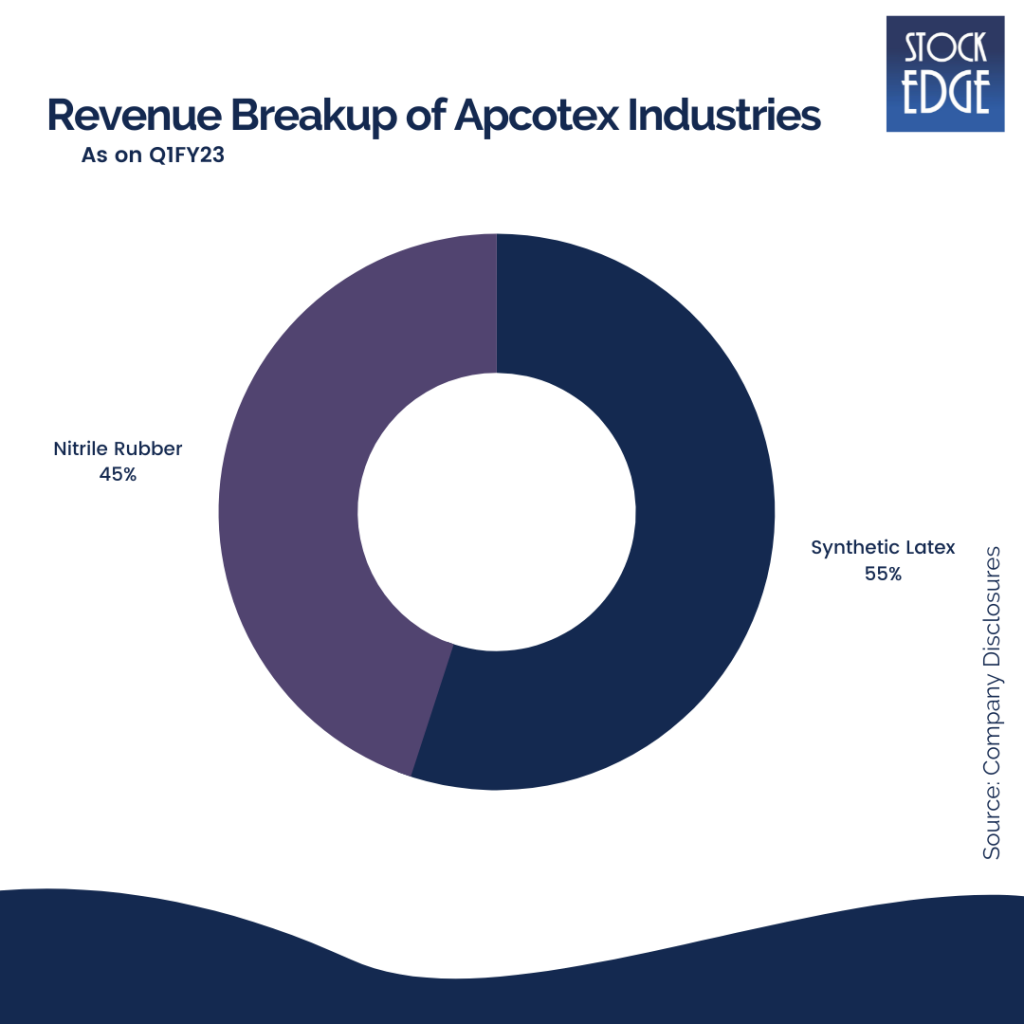 Apcotex Industries has been into two business verticals. (i) Synthetic Latex (ii) Synthetic Rubber. The company has various kinds of latex: VP latex, Carboxylated latex, SB latex, and Nitrile latex under the synthetic latex segment. In addition, these different latexes have been catered to other industries such as Auto, Paper, Construction, Carpet, and Textile which has the application of binding. The key properties of Synthetic latex are resisting heat ageing, abrasion resistance and softening. Clients include:- ITC, Asian Paints, Ultratech Cement, Welspun, BILT, JK PAPER, Pidilite Industries, MRF, SRF, Century Enka etc.
Under synthetic rubber, they have been manufacturing High styrene rubber (HSR). The High styrene rubber is suitable for the manufacture of high-hardness and low-density products. It has been used for Shoe-making, Electrical insulating material, Floor materials: rubber floor tile, industrial products like rubber roll, washers, hard rubber tubes and other sponge products, Sports industry: balls, roller skates. In contrast, NBR products find application in automotive components, rice de-husking rolls, rubber hoses, moulded rubber products, and other industrial products. Clients include:- Paragon Footwear, Jayshree Polymers, Parker Hannifin, Gates India, Armacell, Supreme Industries etc.
Over the years, they have evolved its product profile from a synthetic rubber manufacturer to a polymer specialist.
What are the entry barriers in the field of speciality emulsion polymers?
Producing emulsion polymers at a Large scale with consistent performance is a complex task. Apcotex offers different grades of synthetic latexes to meet the needs of its customers. Obtaining the necessary stability and consistency in speciality chemicals is time-consuming (manufacturing processes sometimes take years to stabilize).
Apcotex has achieved this criticality through years of R&D and has successfully demonstrated its ability to compete with its most significant chemical manufacturers. Technology and process criticality are long-term entry barriers in this industry.
Another critical aspect of the technology is polymer purity: Inorganic chemicals, such as soda ash and sodium hydroxide, are composed of very small molecules and, as a result, are less susceptible to contamination in the molecular structure during production than polymers. Polymer molecules are made up of thousands of atoms linked in a repeating pattern. A minor impurity in the molecule during the manufacturing process can significantly impact its physical and chemical properties. Other technical entry barriers include a production facility and the know-how to maintain a world-class facility.
Extended sales cycles: Sales cycles in the speciality chemicals industry are typically quite long. Gaining customer trust takes quite some time. Thus, the payback period for these products is thus extended.
Raw Material Handling: Butadiene, a volatile compound, is one of the critical raw materials used in the production of synthetic latexes. It is extremely flammable. Exposure to air and other gases can result in fires, explosions, or dangerous polymerisation. Butadiene is typically stored in tight cylinders at a temperature of around 10 degrees Celsius in a cool, dry, and ventilated location to avoid exposure to heat, air, or other oxidizing agents.
Let's look at the Financial Performance of Apcotex Industries.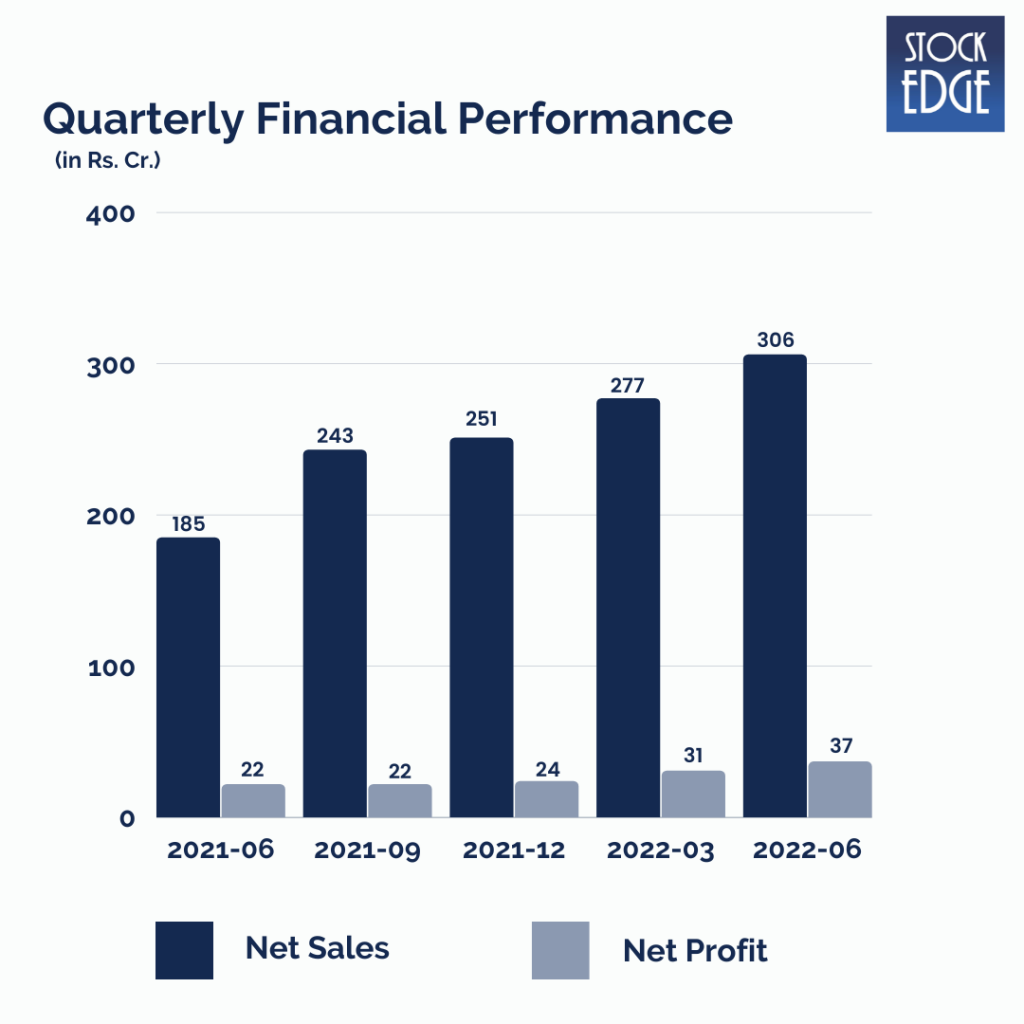 Apcotex Industries' reported the highest-ever quarterly top-line. They have been operating at full capacities since last quarter & therefore the growth came from increase in realisation. The revenue for Q1FY23 increased by 64% YoY & 10.5% QoQ to Rs.306 cr. As a result, the company reported EBITDA of Rs 48.5 Cr, up 61% YoY and 7% QoQ. EBITDA Margin was 17% on account of inventory gains and PAT stood at Rs 33.6 Cr.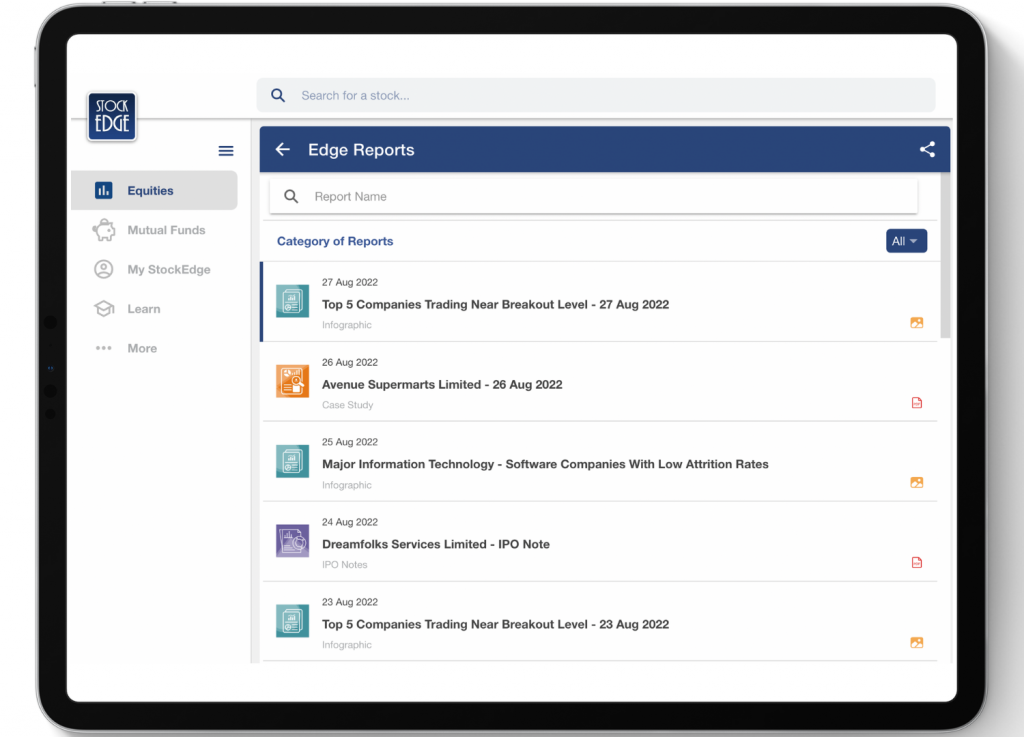 To get more detailed analysis and Reports on Stocks, visit our Edge Report Section by subscribing to our StockEdge premium plans.
How good is the jockey?
Atul Choksey (son of Champaklal H. Choksey, one of the founders of Asian paints) has been the company's Chairman for almost two decades. From 2005, Mr Abhiraj Choksey, son of Atul Choksey, was the Executive Director and in May 2010, he was appointed the Managing Director of the Company. He studied Bachelor of Science at the University of Pennsylvania, majoring in Engineering and Economics. In addition, he is a Bachelor of Science in Economics from Wharton Business School.
Road Ahead…
ApcoBuild, their product, has expanded its presence in existing geographies by adding new towns and villages in Maharashtra, Goa, and Gujarat. ApcoBuild is expected to contribute 10-15% to the top line in the next 2-3 years, according to management. The primary focus here is on product quality and positioning in the niche segment of leakages and water proofing, which will yield the best long-term results for the business.
Demand is expected to remain strong, but prices are softening in both international and domestic markets. The company currently holds the market leader position in almost all of its products and is expected to gain market share once the new capacities are operational.
Apcotex intends to concentrate on commercialising its new facilities in Taloja and Valia; the ramp-up period is expected to last 2-3 quarters from the date of commissioning. Furthermore, the company is focusing on ApcoBuild with a target market in Western India and expects this segment to perform well in the future.
The company is expected to do well in the future, with high growth expectations in some of the key end-user industries, a focus on the capacity expansion plan, increasing the share of the company's exports in the gloves and carpet segment, and a focus on further increasing market share and product portfolio expansion (XNBR Latex).
Due to its product placement and judicious customer selection, high gripping demand from customers, and planned cost-cutting efforts, management expects to maintain its EBITDA margin in the range of 14%-16%. The company expects to maintain/grow its key operational metric of EBITDA/ton, with top-line growth beginning in Q1 FY24 as new capacities sweat.
However, as with such companies, risks like uncertainties caused by the geopolitical tensions, high inflation in the global economy & decision on anti-dumping of NBR could affect the company's performance.
So we will have to wait and see how Apcotex Industries develops from here on out.
Until then, keep an eye out for the next blog and our midweek and weekend editions of "Trending Stocks and Stock Insights." Also, please share it with your friends and family.
Happy Investing!