In this week's blog will look at the 2 stocks identified by StockEdge analysts with strong growth momentum.
The auto sector is emerging from a three-year slump brought on by the economic slowdown caused by the pandemic. Improving macroeconomic conditions, the government's focus on infrastructure spending, and a gradual recovery in replacement demand will all contribute to the Commercial Vehicles industry's growth over the next 2-3 years.
The demand for passenger vehicles has been strong in recent quarters, but supplies have been hampered by a global chip shortage. It is expected that PV volumes will recover in the coming quarters as chip availability gradually improves.
The rural slowdown also impacted 2-wheeler demand, but there have been signs of improvement in the last 3-4 months, and recovery is expected to continue.
So, we decided to share 2 stocks which are quite strong and are going to benefit from the recovery in the auto sector.
Apollo Tyres Ltd.
Apollo Tyres is a leading tyre manufacturer in the auto sector with operations in India and Europe and an installed capacity of 7.9 lakh MTPA. Apollo has a significant presence in TBR (31% market share) and PCR (21% market share) in India. As of today's date, this is Apollo Tyres share price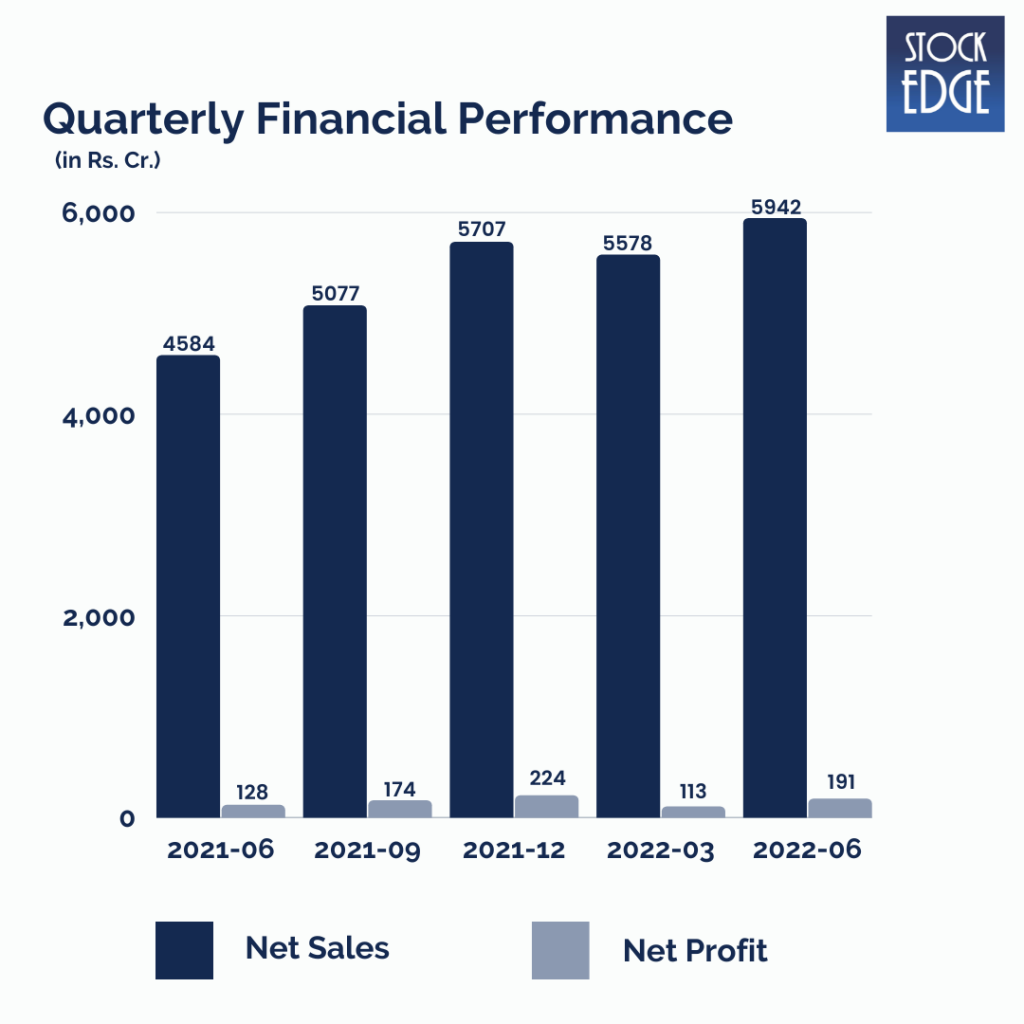 On a consolidated basis, Apollo Tyres reported its highest-ever quarterly revenue of Rs 5942 crore, a 6.5% QoQ (+29.6% YoY) increase due to a strong domestic market offset by a slower European market. The company reported its highest-ever standalone quarterly revenue of Rs 4436 crore, up 11.8% quarter on quarter (+33.5% year on year), due to improved replacement demand and an increase in OE volumes.
Europe Revenue stood at €151 million in comparison to €114 million in Q1FY22, registering a growth of 32% YoY. The company reported an EBITDA margin of 11.6%, up 40 basis points year on year. Gross margin remained broadly flat QoQ despite rising raw material prices, which were offset by price increases and improved mix. Employee costs decreased by 50 basis points year on year, while other expenses increased by 10 basis points year on year.
Going forward, it is anticipated that the OEM segment will improve as a result of the expected gradual recovery in the supply side situation in the domestic market. Replacement demand is expected to support growth momentum, which will be aided by policy initiatives and increased vehicle utilisation levels as activity levels rise on the streets due to re-opening of schools and offices. It is anticipated that margins will gradually improve as scale and price increases in the replacement segment increase.
Improving capacity utilisation with market share gains in PCLT, TBR and OHT (off-highway tyres) segment in Europe; improving profitability aided by specialisation of Dutch plant and premiumisation focus are expected to sustain operating performance in European operations.
In Q2 FY23, the management expects the raw material prices to increase and then flatten out, followed by a reduction in the long run which will help the margins to improve. The company also took a hedging position of ~80% of their total estimated power consumption for FY23 which will help the margins to improve.
Second Auto Sector Stock – Fiem Industries Ltd.
FIEM Industries is the market leader in two-wheeler lighting solutions in the auto sector. In the automotive components space, it also manufactures rear view mirrors, plastic moulded parts, and sheet metal parts in addition to automotive lighting. Their top clients are Honda, TVS, Yamaha, Eicher Motors, Harley Davidson, Hyundai, etc. As of today's date, this is Fiem Industries share price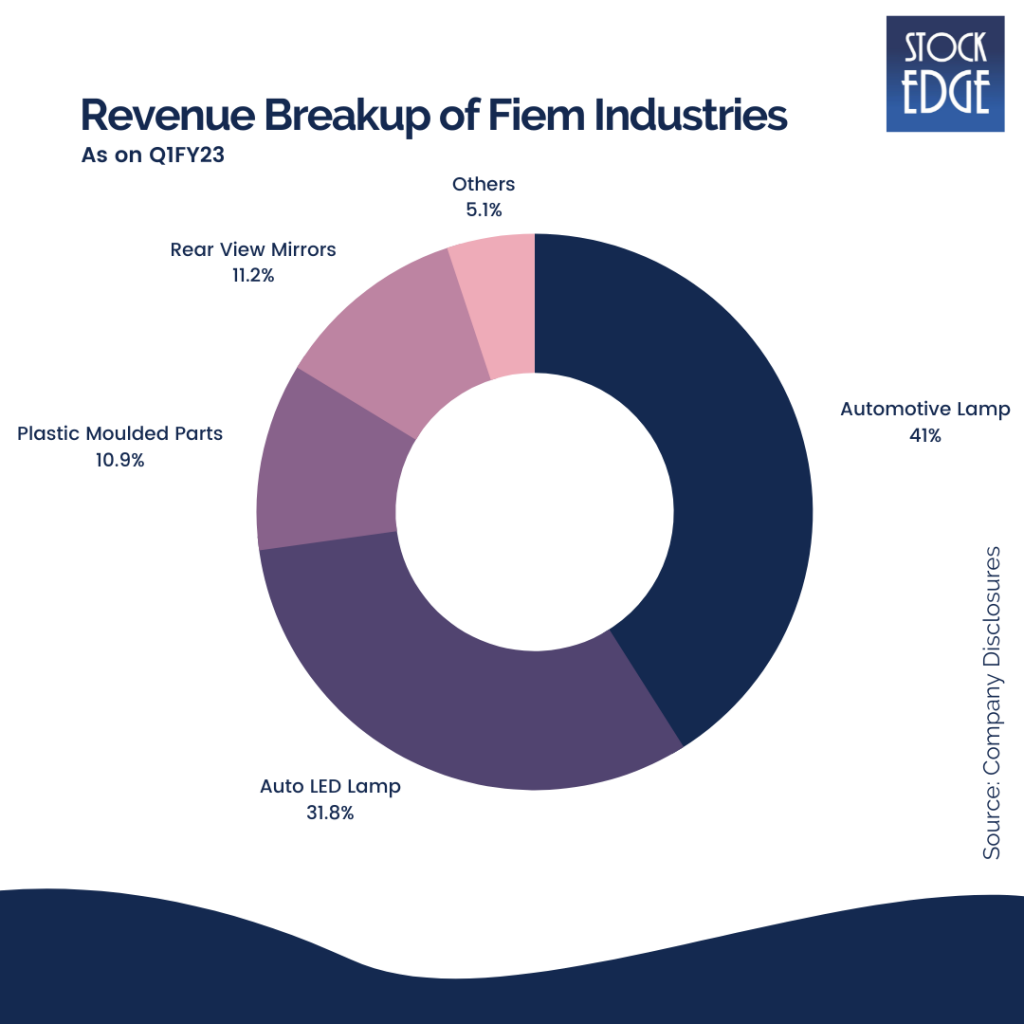 FIEM Industries reported standalone revenue of Rs 445 crore, a 9.2% decrease year on year due to increased two-wheeler production (up 7.2% year on year), offset by changes in product and customer mix. EBITDA margin for the quarter was 12.9%, up 10 basis points from the previous quarter due to higher employee expenses (up 170 basis points) and lower other expenses (down 180 basis points) on management initiatives, offset by flat gross margins. PAT was Rs 30.45 crores, a 4.9% decrease on a lower scale.
It is expected that the performance will improve further as two-wheeler OEM production volumes increases due to the opening of schools/offices and robust exports, as well as an increase in the share of EVs. In the long-term, FIEM would benefit from strong market share in incumbent OE players, new order wins from the growing e-2W segment, and higher content per vehicle from the gradual shift to LED.
Given the increasing adoption of EVs in 2W/3Ws, the exit from the JV with Aisan (for the manufacture of fuel injection systems for 2W/3Ws) is a positive development. With scale and cost-cutting initiatives, FIEM can improve margins to around 14% in the future, given the softening of raw material prices and the easing of global semi-conductor shortages.
However, as with companies in the auto sector, risks such as slower-than-expected CV sales volume growth, and slower-than-expected recovery in 2-wheelers due to extended semi-conductor shortages could have an impact on the companies' performance.
So we will have to wait and see how these companies from the auto sector develops from here on out.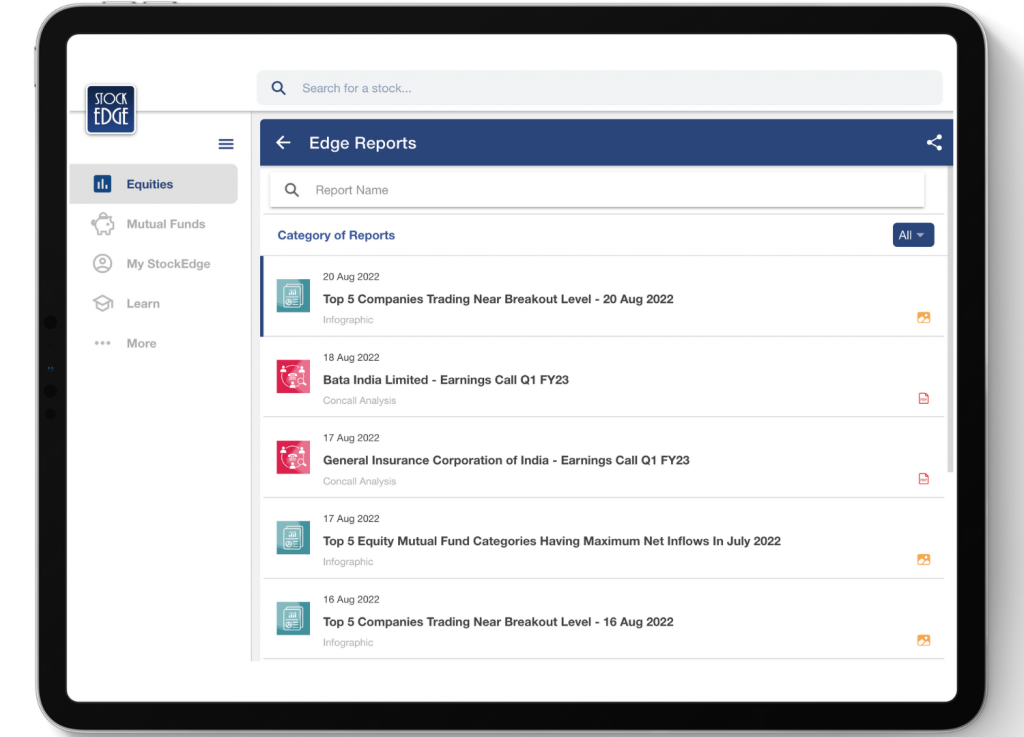 To get more detailed analysis and Reports on Stocks from various Sectors like Auto Sector, visit our Edge Report Section by subscribing to our StockEdge premium plans.
Until then, keep an eye out for the next blog and our midweek and weekend editions of "Trending Stocks and Stock Insights." Also, please share it with your friends and family.
Happy Investing!