The Story
KEI Industries (KEI) is one of India's leading and fastest-growing Wire and Cables (W&C) manufacturers with a comprehensive product portfolio ranging from Housing Wires to Extra High Voltage (EHV) cables. As of today's date, this is KEI Industries share price
KEI's market share in India's organised Wires & Cables industry is 7%. They enjoy a market share of 12% within the institutional segment.
KEI Industries successfully entered the EHV cables segment through a joint technical venture with Switzerland-based Brugg Kabel, anticipating increasing demand for EHV cables in transmission and distribution that outperforms conventional overhead lines. In addition, they have further strengthened their EHV division by pursuing forward integration through EPC project execution and backward integration through the start of in-house PVC manufacturing.
KEI Industries manufacture their products through 5 state-of-art manufacturing facilities (3 in Rajasthan/ 2 in Dadra and Nagar Haveli).
Product Portfolio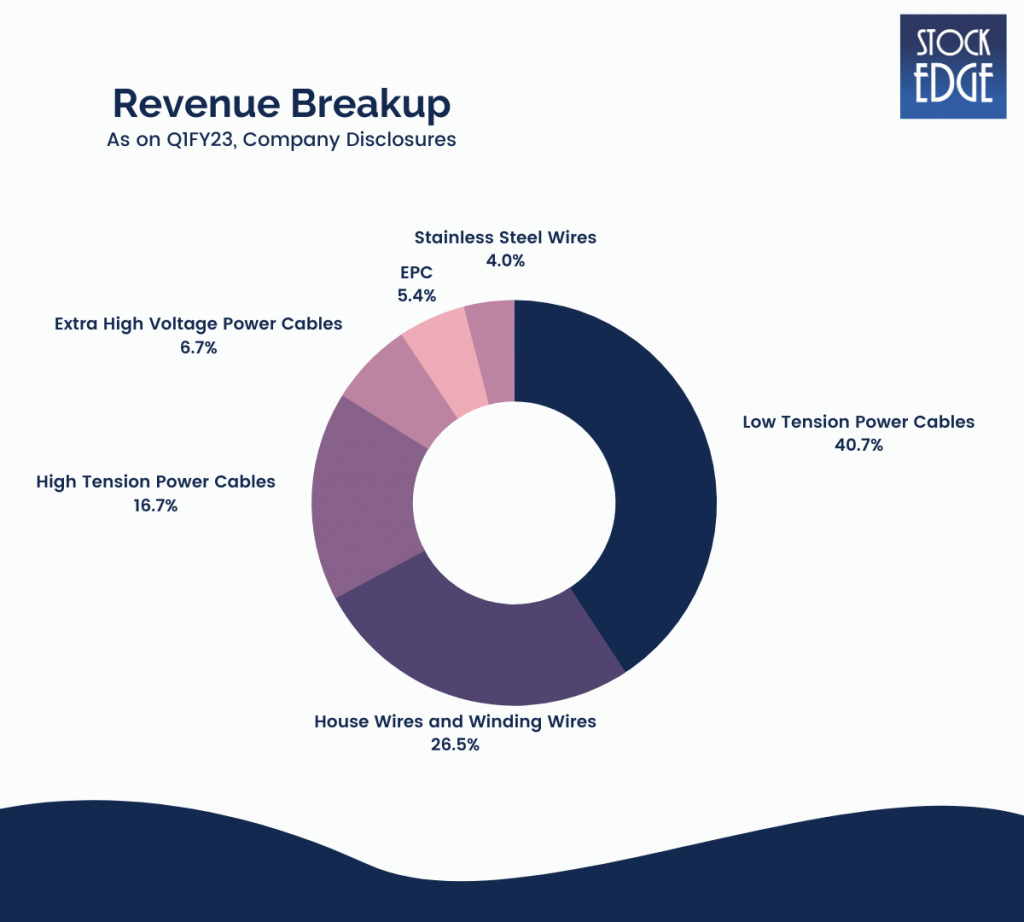 Cables – KEI Industries manufactures a wide range of cables that find applications in multiple key sectors of the country. The product range comprises the following:
• Extra-High Voltage (EHV), High Tension (HT) and Low Tension (LT) power cables
• Control and Instrumentation Cables
• Speciality, Single-Core and Multi-Core Flexible Cables
• Rubber cables
• Solar cables
• Fire survival/resistant cables
• Submersible marine and offshore cables
House Wires and Winding Wires – House wires from KEI Industries are used in residential and commercial constructions, and they provide dependability, energy efficiency, and the highest level of safety. KEI also produces high-quality winding wires that provide functional features like high-grade insulation and water impermeability for submersible motors, making them popular among pump manufacturers.
Stainless Steel Wires – KEI Industries manufactures stainless steel wires for use in industrial metal filters, electrical fencing, springs, wire forms, bearing rollers, wall ties, welding electrodes, surgical equipment, and defense, in addition to general-purpose wires. These items are used in various industries and are made under international standards and customer specifications.
Turnkey Projects – KEI Industries offers EPC solutions in Indian and international markets. They have a strong track record of efficiently executing turnkey projects while adhering to timelines and quality parameters, backed by their extensive domain experience and the expertise of a competent team. Design, engineering, supply, erection, testing, and commissioning of the various township, smart city, and infrastructure development projects and rural and railway electrification projects are among the primary services provided.
Let us try to understand each segment one by one!
Retail – KEI Industries' retail segment includes household wires and LT and HT cables. Thanks to superior quality products and higher brand recall, the company can carve out high margins from this business segment. Furthermore, a faster product offtake results in lower working capital requirements, resulting in higher return ratios. In light of these characteristics, the company continues to strategically expand its retail segment by proactively engaging in various marketing and sponsorship activities and strengthening its dealer network.
Institutional – Under the Institutional segment, KEI Industries provides high-quality Extra-High Voltage (EHV) cables, HT and LT cables, stainless steel wires, and turnkey EPC projects. Due to the high capital intensity, technical know-how, strong track record, and various compliance requirements to win projects. Over the years, the company has built a strong institutional business based on high-quality products, sophisticated manufacturing facilities, consistent R&D investment, and appropriate marketing efforts.
Given the low margin profile of new orders, the high competitive intensity, and the elongated working capital cycle, KEI has scaled down EPC (non-EHV).
Exports – KEI Industries has achieved significant global expansion due to its technologically advanced product portfolio that meets international standards. Today, the company exports EHV, MV, and LV cables to overseas customers, most of whom are oil and gas, renewable energy, and utility companies.
Let's look at the Financial Performance of KEI Industries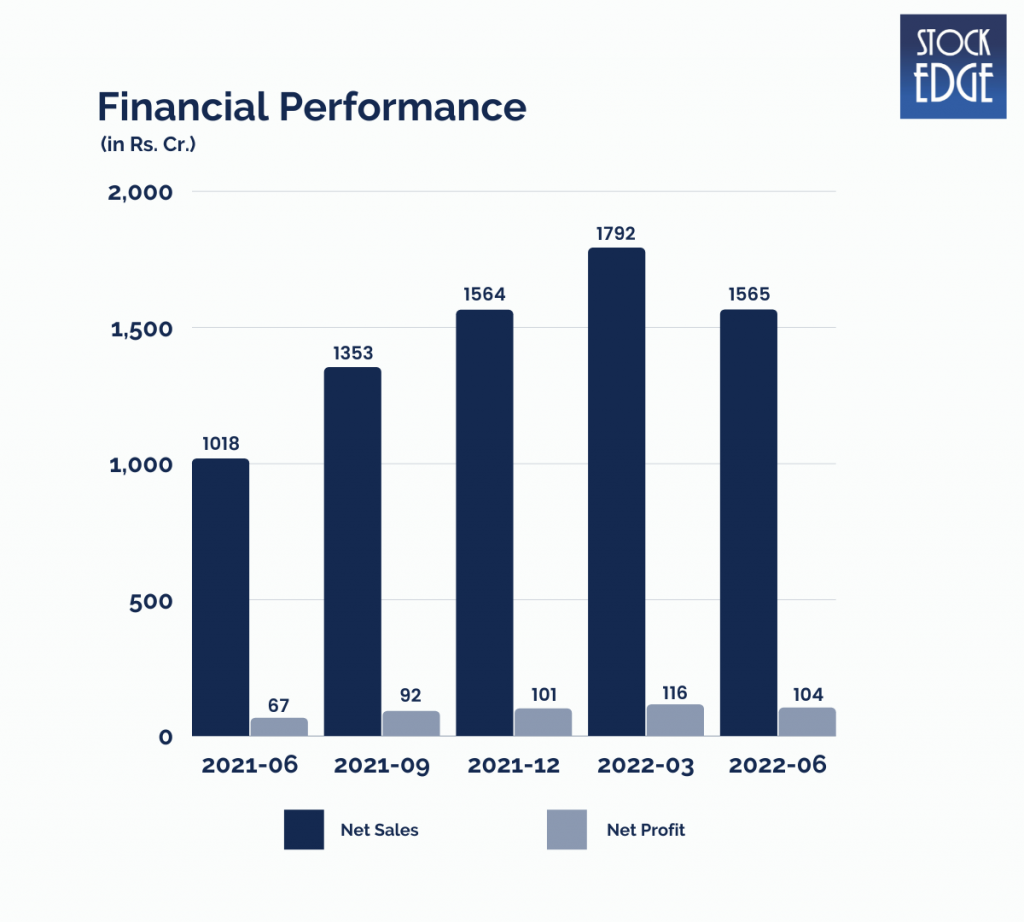 KEI Industries revenue grew 54% YoY to Rs.1565 crore. EBITDA grew by 40.1% YoY to Rs.160 crore. EBITDA margin at 10.42%. EBITDA margin declined due to fluctuation in input costs. PAT stood at Rs.104 crore. The management also highlighted that margin will be maintained in the range of 10.5-11%.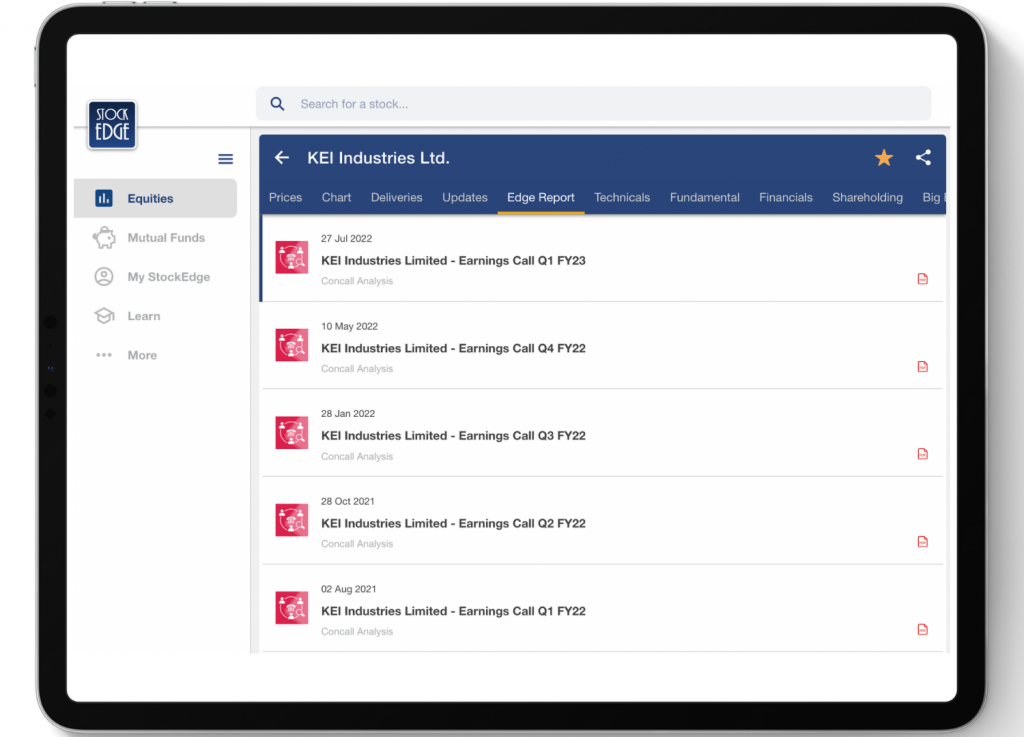 To get more detailed analysis and Reports on Stocks, visit our Edge Report Section by subscribing to our StockEdge premium plans.
Who is the jockey?
Anil Gupta currently leads the company. He is an M. Com by qualification and has about 40 years of experience managing the KEI group of companies. He is the Chairman & Managing Director of KEI Industries.
Road Ahead…
The management is eyeing to increase their sales through distribution network by ~30%-35% in FY23, to achieve the projected revenue goal of 16%-17% in FY23. It expects to deploy ~₹200-₹250 crore towards capex for the next three years.
The management highlighted that unorganised market share is shrinking every year. They have purposefully reduced their EPC business to concentrate on their retail business. Their network has grown to 1800 dealers as of Q1FY23, and they intend to expand even further.
The macroeconomic environment remains favorable for the cable and wire industry. The increased CAPEX allocation in the recent budget is positive for the industry.
However, as with such companies, risks like raw material price inflation can impact the company's performance. In addition, a delay in capacity expansion could affect the company's performance.
So we will have to wait and see how the company develops from here on out.
Until then, keep an eye out for the next blog and our midweek and weekend editions of "Trending Stocks and Stock Insights." Also, please share it with your friends and family.
Happy Investing!