An exclusive event "Techno Funda Summit" curated by StockEdge Club for the traders and investors' community.
Is the fear of recession gripping the global markets? The Dollar Index is at a 20-year high, a huge turmoil in the European and the US Markets, the S&P has broken its crucial support zone. Though the Indian markets have been outperforming the global markets, yet the market sentiment looks gloomy.
The market conditions have got even the professional market experts to reevaluate and rework on their market strategy. So you can imagine the state of the retail investors. These market conditions lead retail investors to fall into prey to bull and bear traps. However, with correct guidance and knowledge stock market participants can beat the market condition to be on the right side of the markets.
We, at StockEdge Club, are here to empower you, the retail investors of India. Conducting the Techno Funda Summit is one of our ways to show the right path to trading and investing. The Techno Funda Summit is a specially curated 2-day live event with 15 market experts and infinite learning & earning opportunities on 16th Oct and 17th Oct. 
If you're a retail investor looking for the right guidance to invest or trade in the stock markets, then this event is for you.
Know The Next Big Investing Theme: Generate your portfolio alpha by identifying the next multi-baggers with the experts.
Trade Live With The Experts: Trade real time with the experts as they explain the trading thesis and risk management.
Learn Trading Setups: Learn from the experts how the experts use their trade  setups live and trade in the markets.
Practice By Yourself To Master The Art: Participate by practicing real-time case studies, curated by our experts.
Assess Markets With Experts: Share your trade ideas with the experts during live markets. 
Master Your Emotional Quotient (EQ): Learning and creating strategies are all good, but what sets a professional market participant apart is acing your Emotional Quotient (EQ).
Meet your Key Speakers:
Vivek Bajaj  – A professional trader with ( experience of more than 15 years trading in equities, options, currencies and commodity markets. His passion towards data, analytics and technology is what makes Vivek Bajaj a financial market winner.
Thoviti Brahmachary – A Senior Technical Analyst with 30+ years of experience,  passionate about teaching and has trained over 5000 traders in equity, commodity, and currency markets across India. Heading the Association of Technical Market Analysts (ATMA), Hyderabad Chapter and associated with StudioN News Channel as Business Editor.
Jyoti Budhia – Passionate about stock markets from a very young age, Jyoti Budhia has 35 years of experience in the markets and is empaneled as a Trainer with the National Stock Exchange, Bombay Stock Exchange, National Institute of Securities Market (NISM), and many Reputed Institutions.
Akhilesh Poddar – A technical analyst with 20 years of experience, he is a CA Rank Holder & a CFA Gold Medalist. After working with Citibank's Investment Banking team for nearly a decade, he started his entrepreneurial journey in 2012. He has been an active trader and investor in equity markets since 2018.
Abhijit Paul – Passionate about technical analysis, trading & investments, he finds great value in teaching technical trading, something that he has been doing since 2005. He likes to design trading strategies for different market conditions. He is also an active trainer in the subject of technical analysis and trading for over 15 years, visits various business schools and institutions like IIMC, NSE Academy, NIBM Pune, BIBS Kolkata, India Infoline, Kredent Academy & elearnmarkets.com.
Gurmeet Chadha– A passionate stock market participant having 16+ years of market experience, specializing in stock investing with a focused approach to money management. He is MBA- Marketing & Finance, IMS Indore. Mr. Gurmeet has also worked for Citibank as a Vice President and Investments Head for the Northern Zone.
Ajay Sharma- An active investor in the market for more than 20+ years of experience. He is an MBA from IIM-Ahmedabad & IIT from (BHU). He worked with many global corporations helping them make investments decisions & also the co-founder of a hedge-fund investing.
Nikhil Gangil- A passionate value investor having 9+ Years of experience. He completed his M-Tech from IIT Madras & worked with many reputed Oil and gas EPC companies across several countries like Oman, Saudi and UAE and thus has industry experience in Construction, Infra, Steel, Oil, and marine-related businesses. He specializes in identifying strong sectors & stocks that have a lot of potential value.
Chetan Panchamia- An expert in equity trading & creating option strategies in Index options. He is a B.com graduate & completed his Diploma in Capital markets having 17+ years of experience in the market. 
Davinder Khurana- A professional trader and investor in the market for more than 7 years specializes in momentum based swing trading. He is a process-oriented trader with a laser focus on Risk management and Position Size.
Mukta Dhamankar- A full-time professional trader. She has 15+ years of experience in the market specializing in identifying profitable trades with the help of Point & Figure Charts & Ichimoku Cloud. 
Karan Sharma– An experienced investor & trader in the Equity & Currency markets. He is CFA charter holder having 10+ years of experience, specializing in Fundamental Analysis & Equity Research For Long Term Investments horizon. 
Kaushik Akiwatkar- A Derivative Trader and Investor. He has over 7 years of experience in trading and investing in the capital market. He has worked as Dean of Cresta School of Management, Science & Arts and as Director of Rishihood University. He has developed a unique way of identifying the trend of the Index and stocks using a noiseless chart – Renko.
Shuchi Rungta – An experienced trader for more than 15 years in the market. She is a B.com graduate & CFA Charterholder specializes in technical analysis & derivatives trading. 
Shrikant Chouhan- A SEBI-registered Equity analyst with 24+ years of experience in the stock market. He is Executive VP & heading the research team at Kotak Securities. He specializes in stock trading & creating derivative strategies in both short & medium term time frame.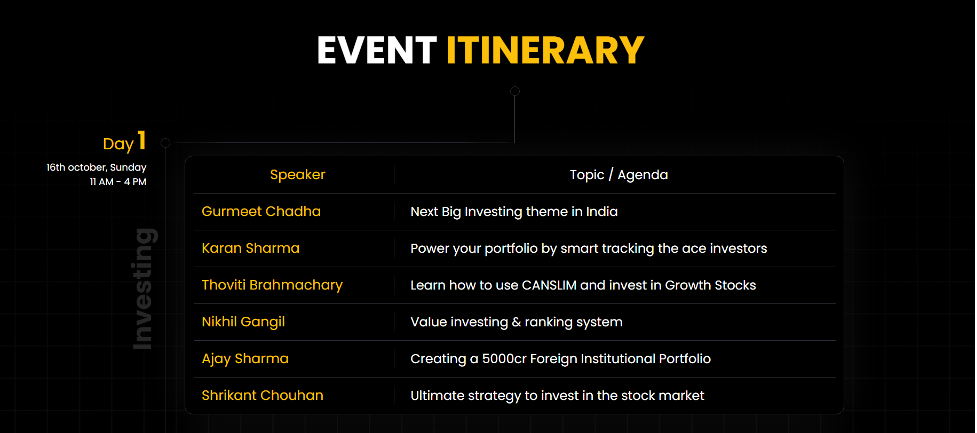 Everything said and done, with the above list of stock market experts, this is going to be a big opportunity for you to practise what they have been preaching for so long and trade and invest the right way.
Remember, a profitable investor or a trader knows the right mix of ingredients to make it big in the markets.
So, rather than scrolling twitter and telegram, to find the next big trend or the next profitable trade, why don't you learn it the right way and that too live with these stalwarts.
Attend the Techno-Funda Summit by becoming a StockEdge Club member today. This event is exclusive for StockEdge Club members only.
Until then, keep an eye out for the next blog and our midweek and weekend editions of "Trending Stocks and Stock Insights." Also, please share it with your friends and family.
Happy Trading!