The Story
Craftsman Automation Ltd. is a diversified engineering firm that serves automotive (73% of total revenue with a presence in multiple segments) and industrial OEMs (original equipment manufacturers).
In India, Craftsman Automation is the largest player in the machining of cylinder blocks and cylinder heads in the M&HCV (medium and heavy commercial vehicles) and construction equipment industries.
Their product lines are divided into three categories: automotive power-train, automotive aluminium, and industrial & engineering. They are headquartered in Coimbatore (Tamil Nadu) and operate 12 plants in India, including 10 satellite units and as of today this is Craftsman Automation share price
Let's try to understand each segment one by one.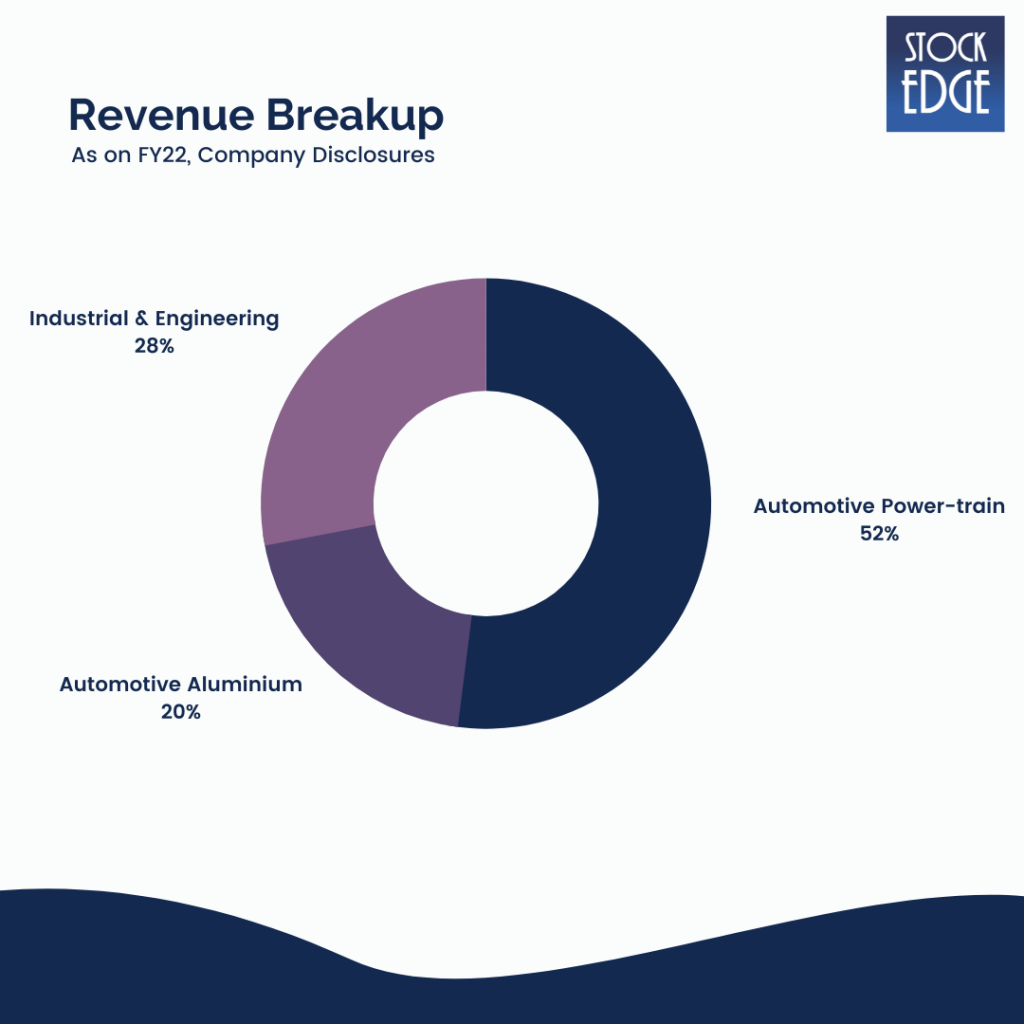 Craftsman Automation entered the automotive aluminium die-casting market in 2016 by leveraging its industrial die-casting capabilities (foundry + machining). They are involved in the complete manufacturing (casting + machining) of products such as crank cases and cylinder blocks for 2Ws, engine and structural parts for passenger vehicles, and gearbox housings for HCVs.
They are one of the few players in the country with capabilities in high pressure, low pressure, gravity, and sand die-casting technologies, as well as an in-house tool room.
Craftsman Automation manufactures automotive power-train components such as engine crankcases, cylinder heads, camshafts, transmission housing, differential carrier, and axle housing under this segment. The cylinder block and cylinder heads are relatively high-margin products when compared to transmission products.

Craftsman Automation began as an industrial and engineering company and has focused on growing this segment by leveraging its in-house engineering and design capabilities, as well as process capabilities such as aluminium die-casting, machining, fabrication, and so on. They have built a diverse product portfolio over the years across two sub-segments: (1) storage solutions and (2) high-end sub-assembly and contract manufacturing products.
Craftsman provides complete solutions for conventional/automated storage and manufactures products such as pallets, racking, shelving, vertical storage solutions, automated storage solutions, and so on for a variety of industries including FMCG, e-commerce, logistics, auto, pharmaceutical, and electronics.
The High-end sub-assemblies and contract manufacturing products sub-segment includes a variety of categories such as aluminium power transmission products, gears and gearboxes, material handling equipment, tool room, mould base, and sheet metal, and special purpose machines.
Let's look at the Financials of Craftsman Automation!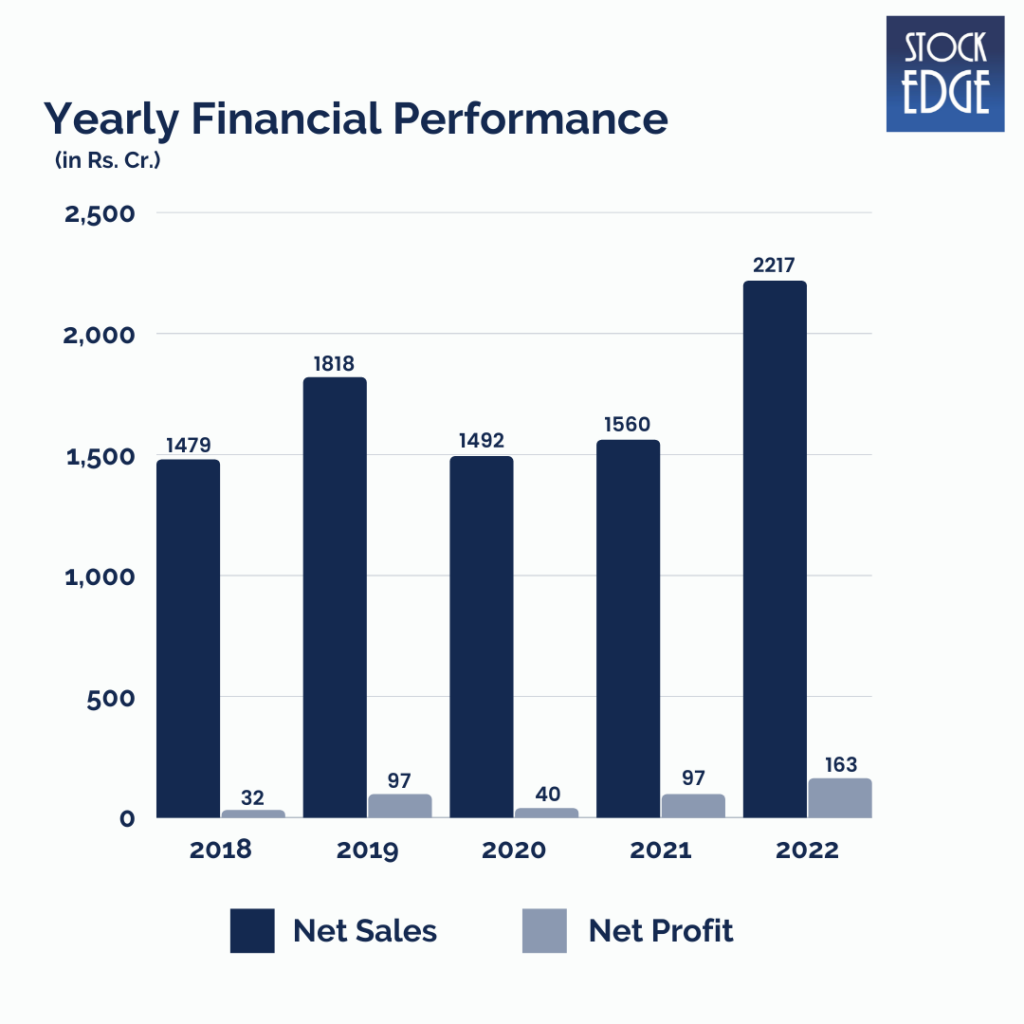 Craftsman Automation recorded a top-line growth of 43% in FY22, reaching its highest-ever revenue of Rs.2217 crore. EBITDA increased by 22% to Rs.534 crore, with EBITDA margins of 24%. In FY22, PAT increased by 68% to Rs.163 crore.
On a YoY basis, Quarterly revenue (Q1FY23) increased by 56% to Rs.677 crore, owing to strong performance across all segments. EBITDA increased by 53% to Rs.165 crore, with an EBITDA margin of 24.4% compared to 24.8% a year ago. The net profit was Rs.57 crore an increase by 137.5%.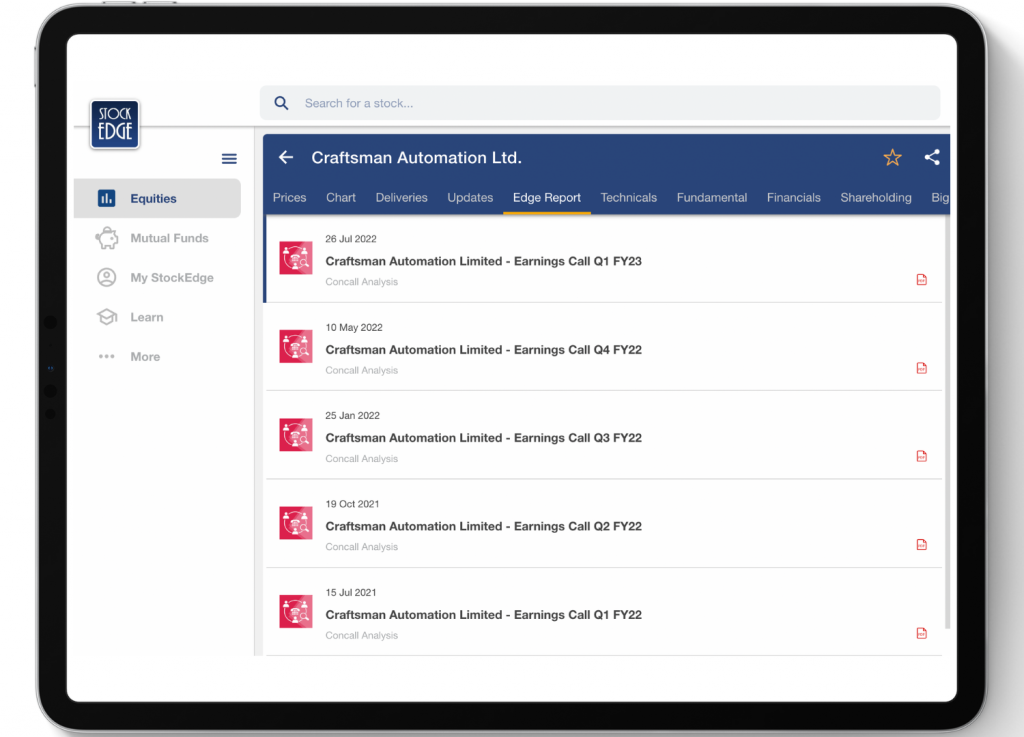 To get more detailed analysis and Reports on Stocks, visit our Edge Report Section by subscribing to our StockEdge premium plans.
Who is the jockey?
Craftsman Automation is led by Srinivasan Ravi who is the promoter, chairman, and managing director. He is a first-generation entrepreneur with over 34 years of relevant industry experience and a mechanical engineering degree from PSG College of Technology in Coimbatore.
Road Ahead…
The management expects a 20% increase in revenue and EBITDA in FY23. They also stated that it expects Craftsman Automation to continue growing at this rate for the next 3-4 years.
The management cautioned that the pickup in Q2FY23 does not have the same momentum as a year ago, but it also expects normal growth in Q3FY23, as opposed to Q3FY22, which was much lower than in Q2FY22. They stated that raw material prices had begun to correct and that they had begun to pass on the benefits to customers. Going forward, management expects operating leverage to improve margins.
On the business level, current capacity utilisation is around 70% and can increase to roughly 90% for individual segments. The management expects loan levels to fall by Rs100 crore by the end of FY23. This year's capex is expected to be between Rs.220-230 crore, according to the management.
However, as with such companies which are capital intensive in nature, risks of excessive financial leverage can impact the Company's performance. In addition, any slowdown in automotive and industrial & engineering sectors could affect the Company's performance.
So we will have to wait and see how Craftsman Automation develops from here on out.
Until then, keep an eye out for the next blog and our midweek and weekend editions of "Trending Stocks and Stock Insights." Also, please share it with your friends and family.
Happy Investing!