The Story
When a demerger takes place, good businesses start commanding better valuations as the stock market doesn't want to see companies get into unrelated businesses. Instead, they favour companies splitting and going in for standalone companies.
Only when such companies demerge they come into the limelight of the investor community, and market participants get interested in them, leading to value unlocking.
Piramal Enterprises Ltd. is one such leading conglomerates in India, having a presence in financial services and pharmaceuticals businesses. In addition, the company offers retail loans and wholesale financing in the financial services division. As of today's date, this is Piramal Enterprises share price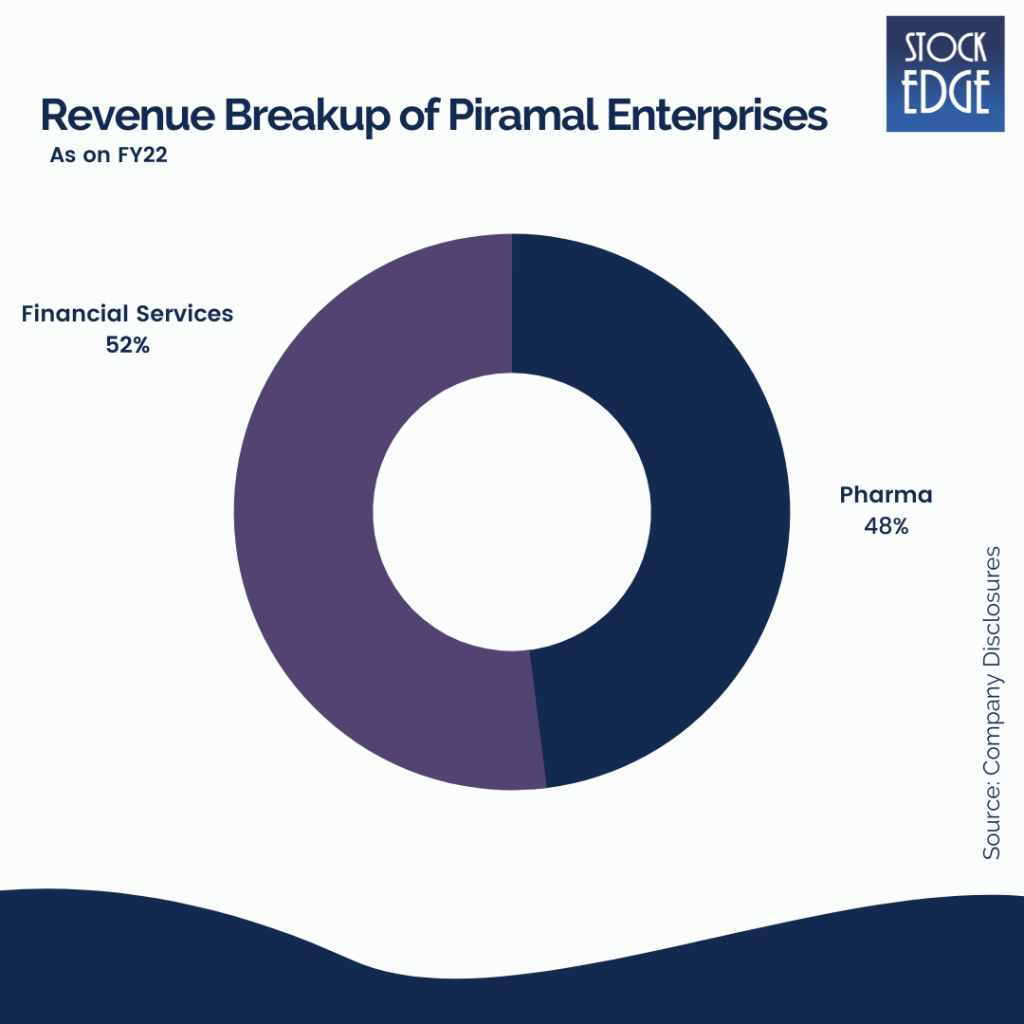 The retail portfolio comprises housing loans, but the company has planned to diversify the retail book to include innovative tech-driven unsecured loans, SME credit, two-wheeler, education, WC loans, and personal finance. In addition, the company provides financing to real estate developers through wholesale lending, including construction finance. Corporate lending, which accounts for a small portion of wholesale lending, provides companies with customized funding solutions in industries such as infrastructure, renewable energy, auto components, etc. They have equity investments in Shriram Group, a leading financial conglomerate in India, and lending business.
How will demerger help Piramal Group to unlock value?
Let's get this straight. After the demerger, each company will have its board of directors and management team. This will assist businesses in pursuing their respective growth plans through various business strategies.
They have a strong new product pipeline, consisting of +30 SKUs at various stages of development and approval. As a result, they expect near 15% growth in the near term for the overall Pharmaceutical business and to reach between 25% to 28% in the next 3-5 years.
Piramal Enterprises currently owns 80% of Piramal Pharma Ltd., with Carlyle Group holding the remaining 20%. The pharma business will be vertically demerged from Piramal Enterprises and consolidated under Piramal Pharma Ltd under the demerger plan. Piramal Pharma Ltd.'s two wholly-owned subsidiaries, Hemmo Pharmaceuticals and Convergence Chemical, will also be merged.
Regarding financial services, PHL FininvestPvt. Ltd., the NBFC entity, will merge with Piramal Enterprises to form a large listed NBFC in India. On the other hand, PCHFL, the merged HFC formed due to the DHFL acquisition, will continue to be a wholly-owned subsidiary of Piramal Enterprises.
As a result, Piramal Enterprises shareholders will receive four shares of Piramal Pharma for every one share of Piramal Enterprises.
The NCLT approved the demerger of Piramal Enterprises' pharma business on Friday, with the parent company retaining the financial services business.
Let's try to understand its Pharma Business.
Piramal Pharma provides a portfolio of differentiated products and services via end-to-end manufacturing capabilities in 15 global facilities and a global distribution network in over 100 countries. PPL is the largest CDMO player, accounting for 59% of sales, followed by Complex generics and OTC, which account for 30% and 11% of sales, respectively. Furthermore, in the Indian formulations market, PPL has a 49% joint venture with Allergan, a leader in ophthalmology.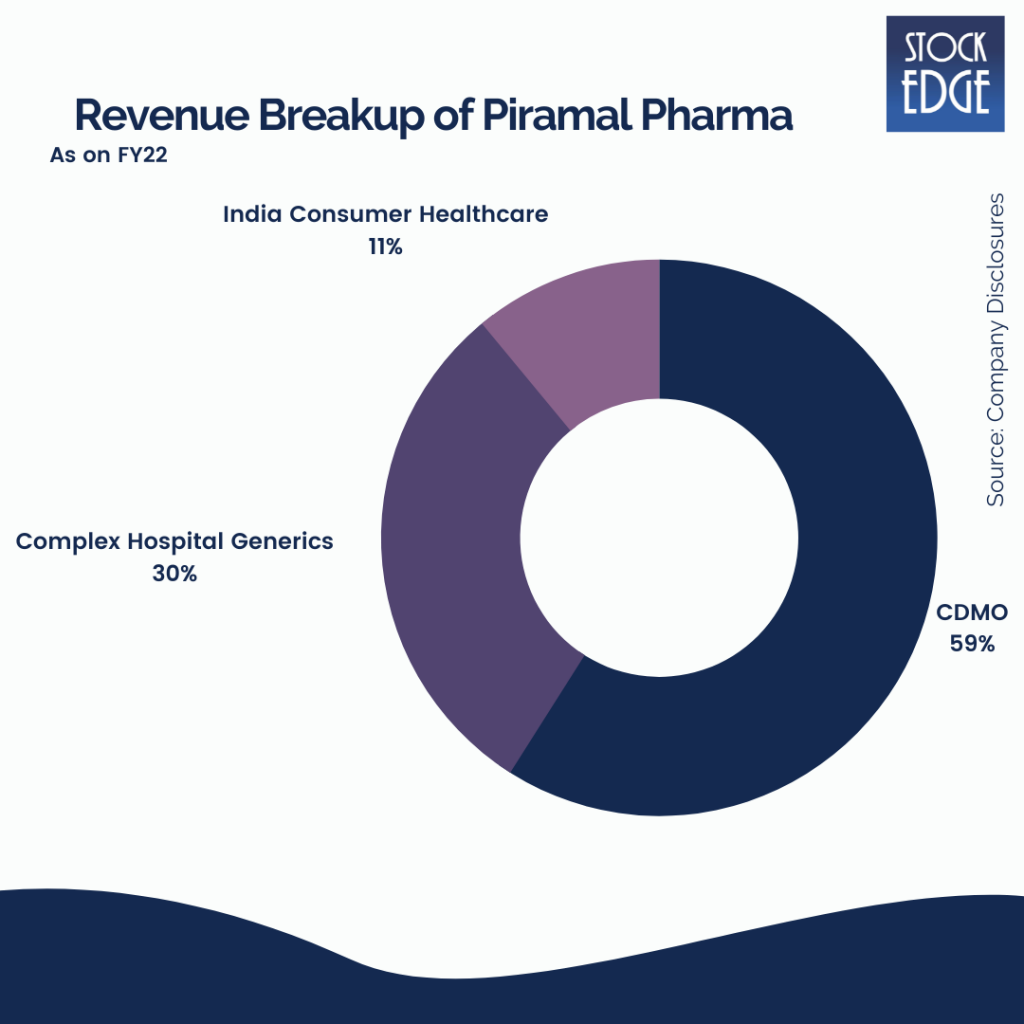 The CDMO segment
They are one of the world's largest contract development and manufacturing firms. The high potency API, Antibody Drug Conjugate, and Peptide APIs are the primary growth drivers for the segment.
PPL's CDMO segment serves B2B clients and includes all of the world's leading innovators. They have over 500 clients. Their CDMO segment is further subdivided into drug discovery and development, contract manufacturing, and contract manufacturing. The increasing filing of molecules demonstrates the management's confidence in sustaining growth in this segment. In addition, they benefit from lower logistic costs because their plants are located closer to their clients, who are spread across North America, Europe, and Japan.
Complex Hospital Generics (B2C Segment)
A complex generic contains a complex active ingredient, a complex formulation, a complex route of delivery, or a complex drug-device combination. Complex generics are a lucrative market for pharmaceutical companies, but only if they can adapt to a more complicated and challenging development process. Piramal's portfolio in this segment includes inhalation anaesthesia, injectable pain, anaesthesia and antibiotics, and intrathecal therapy products.
They have a defensible and differentiated portfolio across these key hospital focused products and a strong pipeline of products across various stages of development.
Consumer Healthcare Segment
'Over-the-Counter (OTC) Medicines' refer to legally permitted drugs to be sold by pharmacists without a prescription. Piramal Pharma's consumer health care division (OTC) is India's 11th largest consumer health care company.
Piramal Pharma's OTC has a diverse portfolio of 21 brands across key categories, reaching 7 crore consumers each month. Saridon, Supradyn, I-Pill, Tetmosol, Lacto, and Little's are among the company's well-known brands.
Piramal's product lines include skincare, women's health, analgesics, digestives, vitamins, minerals, and supplements. The portfolio consists of 21 brands, six of which are among India's top 100 OTC brands. With the help of a 1,200 person salesforce, their OTC segment has a Pan-India footprint coverage of 250,000+ outlets across India.
Saridon, their flagship brand, is the most popular in India. They have implemented a multi-channel distribution strategy that includes pharmacies, cosmetic stores, modern trade, and e-commerce. Piramal, in particular, has established a presence on all major e-commerce portals.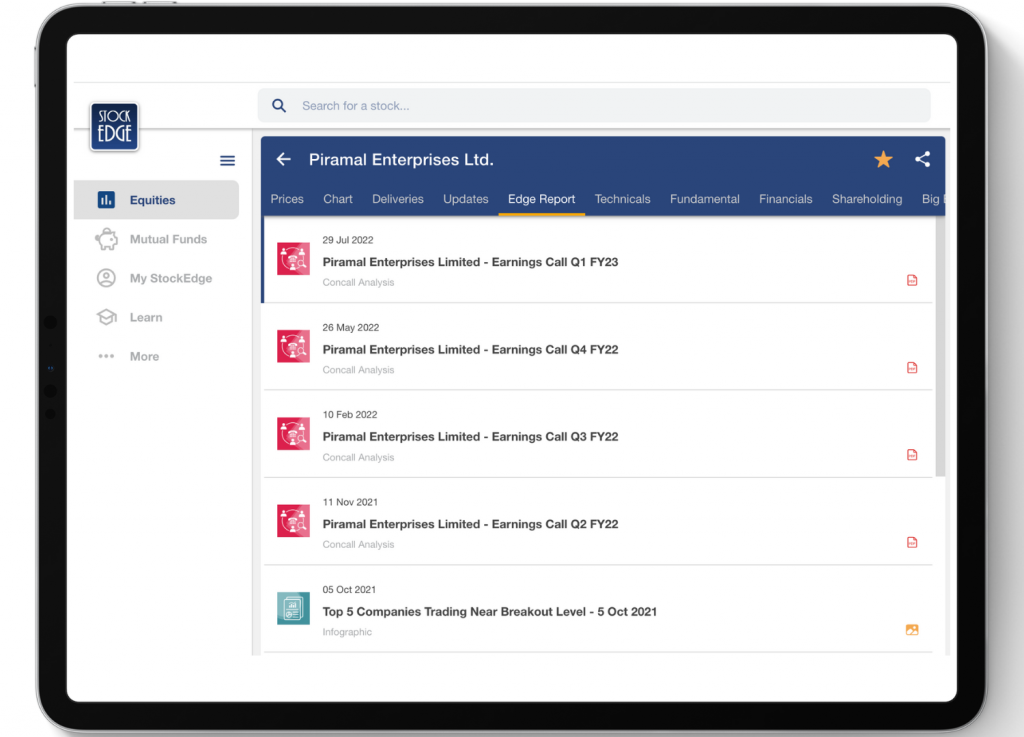 To get more detailed analysis and Reports on Stocks, visit our Edge Report Section by subscribing to our StockEdge premium plans.
Let's look at the Financials of Piramal Enterprises Ltd.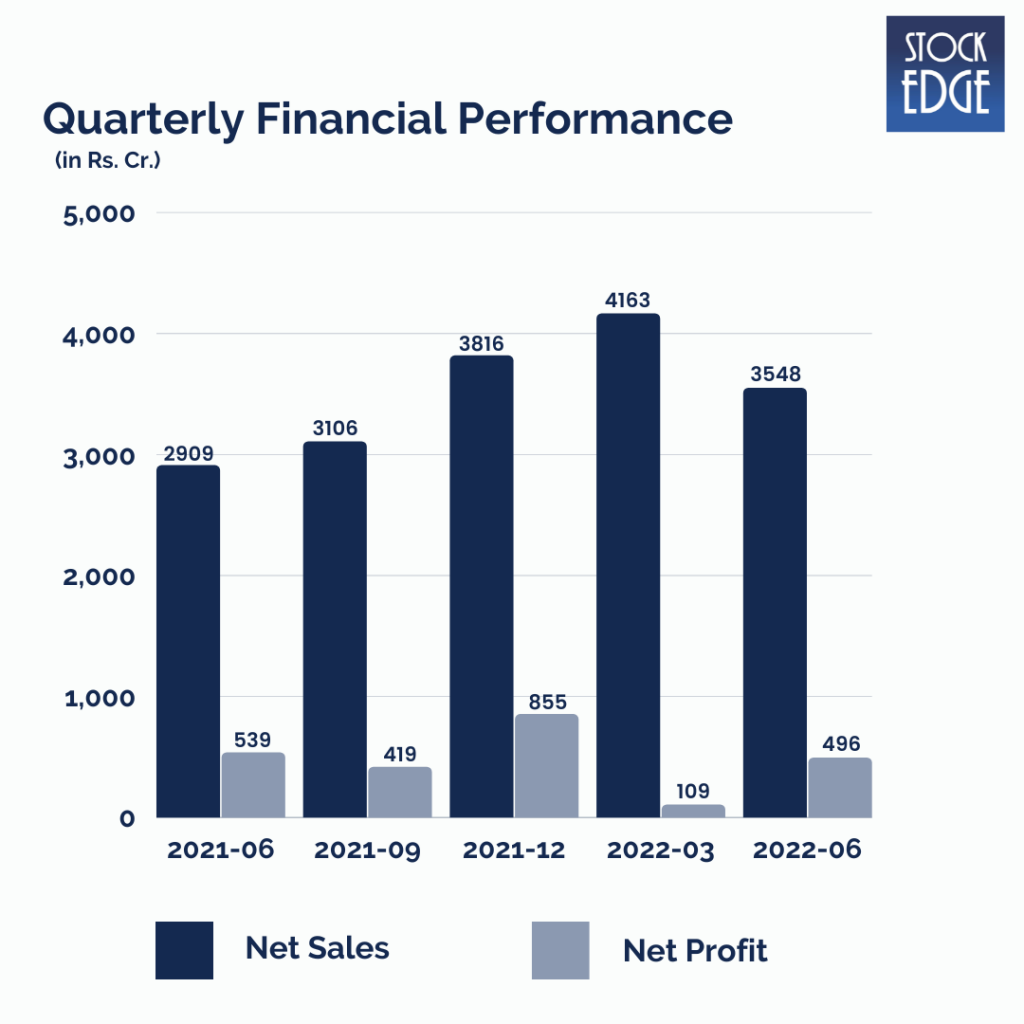 In Q1 FY23, revenues grew 22% YoY to Rs35.5bn and PAT at Rs4.86bn. Pharma business revenues grew 9% YoY to Rs14.85bn for Q1FY23, driven by 8.5% YoY growth in global pharma, supported by 16.6% growth in OTC business. EBITDA margin declined 140bps YoY to 11% due to slow growth in the CDMO segment (8% YoY) owing to execution challenges.
Road Ahead…
The company's pharmaceutical business is experiencing a strong recovery, and the demerger of its pharma business is expected to be completed by Q3 FY23. As a result, their financial services business management will concentrate on expanding the country's branch network. As a result, they intend to open 100 new branches in FY23 and expand to 500-600 branches in 5 years. It will also activate nearly 100 MFI branches across 4-5 states in near to medium term.
The company is pursuing a two-engine strategy in retail lending, which will drive scale and growth. The first is phygital secured lending, and the second is embedded finance or digital lending.
According to management, disbursements would be increased to 5x-7x by the third quarter of FY23.
While the picture appears to be very rosy in the eyes of our readers, let us warn you that there are certain risks as well.
Lower-than-expected retail disbursements, as well as lower-than-expected pharma business margin and growth performance, can have an impact on investor sentiment.
So we will have to wait and see how the company develops from here on out.
Until then, keep an eye out for the next blog and our midweek and weekend editions of "Trending Stocks and Stock Insights." Also, please share it with your friends and family.
Happy Investing!